Sunday, 24 June 2007, Paris, Le Marché aux Puces
Written 25 June 2007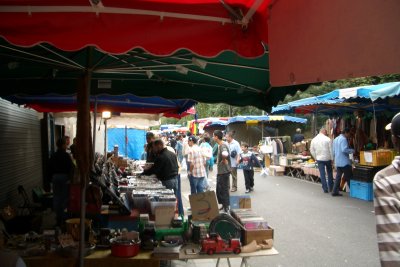 For years, I've been saying, every now and then, "Wouldn't it be fun to see one of the famous Paris flea markets?" but it took a write-up of one of them in Champs Élysées (the French audiomagazine that has done so much for David's French comprehension) to convince David of the idea. So Sunday morning, we took the metro to the Porte Saint-Ouen to visit the largest and most famous, which is open every Saturday, Sunday, and Monday and stretches most of the way from the Porte de Clignancourt to the Porte Saint-Ouen. (Paris's ring road, the Boulevard Périphérique occupies the space once taken up by the wall that surrounded the city, so all the metro stops where the metro lines intersect it are named "Porte" this or that, after the various gates in the wall.) The flea market (which translates literally from the French, "le marché aux puces") is huge, probably a square kilometer though it's shaped more like an octopus than a square, and encompasses everything from actual brick-and-mortar store fronts enclosing seriously expensive antique furniture and paintings to interior galleries lined with clothing stores to tents set up to sell t-shirts and jeans to every possible grade of new and used books to guys with tables bearing jumbled heaps of unsorted used plumbing parts to kids with a towel spread on the sidewalk selling candy bars. And buskers, restaurants, food carts, and fish mongers. One store sold only goods seized by customs (large knives, pornography, and everything in between). A street stand consisted of a sort of fortress built of stacked wooden boxes—hundreds of them—each containing a different size, shape, or color of glass, wooden, ceramic, or papier maché bead. A permanent glass-fronted store inside an interior gallery sold only pop-up children's books, and pretty spectacular ones! I photographed about one quarter of a large bin filled with nothing but disembodied watch faces. We were sort of half-heartedly looking for books and doing our best not to look at paintings, lest we buy more.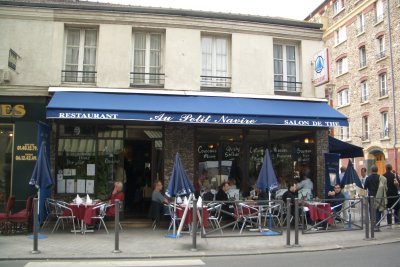 At lunch time, we settled on a small, busy restaurant called "Au Petit Navire" (at the little ship), largely because they had couscous. It was decorated with innumerable model ships, paintings of ships, carved half-hull models, and other nauticalia, and it turned out to be great. David had a salad that consisted of a heap of cold boiled potatoes, covered by lettuce and tomato, in turn covered with slices of moist, garlicky Lyonnais sausages studded with pistachios, all doused with vinaigrette. I finally got my couscous, the only one of the trip (sorry, CJ; wish you'd been there to share it), and it was terrific. It was billed as couscous of roast lamb and merguez (slender lamb sausages, flavored and colored red with pomegranate juice). It consisted of a platter bearing a heap of couscous (particularly fine-grained and fluffy), a handful of golden raisins, big slices of cooked zucchini, thick wedges of something bright orange and very tender (sweet potato, I think, but maybe pumpkin or squash), an 8-inch merguez, and a large, meltingly tender and succulent braised lamb shank. On the side were a glass bowl containing tender wedges of turnip, carrot slices, and celery chunks swimming in about a quart and a half of broth and a small plastic goblet containing a couple of tablespoons of incendiary red harissa sauce, with its own tiny spoon. The chick peas promised on the menu were nowhere in evidence, but I enjoyed it none the less for that. According to established tradition, I took up a scoop of broth with the ladle provided, stirred some harissa into it, poured the mixture onto my couscous, piled a few vegetables on top, and dug in. I could probably have finished it (well, maybe not all the turnips and broth), and maybe even still have been able to walk, but we had dinner reservations in less than seven hours, so I forebore.
After walking a few more kilometers of flea-market aisles, tunnels, alleyways, squares, galleries, and malls, we called it a day and caught the metro back to École Militaire, the stop nearest our hotel.
Then, alas, it was time to pack seriously for the next day's flight. With the help of the colissimo carton, we made it all fit and were squared away in plenty of time to get ready for dinner.
Our final reservation was at Espadon (literally, "swordfish"), the restaurant of the Ritz Hotel, in the elegant and expensive (especially expensive) Place Vendome. We took the metro back to Concorde and strolled the last few blocks through a very upscale shopping district. As we crossed the Place Vendome, 15 or 20 people dressed in roaring 20's outfits were boarding a bus in the shape of an antique trolley. They pulled away as we approached, and we never did figure out what they were a propos of.
The decor of the Ritz is, needless to say, extremely ornate, and I found the mix of real and artificial vegetation odd—it seems to me that (at what they charge for rooms and meals) they could afford more real and less fake, or at least better fake. I was impressed, though, with the large, real willow tree in the center of the dining room. The poor thing was clearly in some distress but hanging in there. I hope they change it out from time to time, or at least turn the gro-lights on it when the restaurant is closed.
Soon after we were seated, a young woman with black hair in a tight chignon and a spectacularly beautiful gauzy white blouse with a flared stand-up color was shown into the room, pushing a baby stroller occupied by a cute a little girl, maybe 9 months old. They joined the proud papa, already at table, and posed while the waiter took their picture. He was clearly American; we think she was Spanish, or perhaps Italian. The baby was amazing good and spent most of her time in a high chair chewing on her mother's beaded evening bag. At one point, when she fussed a little, her father picked her up and took her out briefly before they came back and she was happy again. After the first course or two, she got restless, so they put her back in the stroller, and the hostess greeting patrons at the door took her out into the gilded velvet and crystal corridor, where we could see her althernately playing patty-cake with momentarily unoccupied waiters and being wheeled up and down the hallway in a hilariously amusing slalom pattern, for a good hour while her parents ate their dinner. She came back for dessert and was still awake and going strong when they left.
We also ate our dinner, and a delicious one it was. David ordered the "monochrome menu," which was red that evening. Accordingly, his service plate, bread plate, and water glass were whisked away and replaced with red ones. I ordered à la carte. With the bread, we were served both a sweet butter and a salty Breton butter from St. Malo, the best we've had this trip.
First amuse-bouche: mild pink tomato cream over a bit of green basil jelly, topped by a minute grape tomato and a diamond-shaped slice of Parmesan. Small slice of olive "fougasse" (special Provençal bread)
Second amuse-bouche: For me, a small, tangy gaspacho. For David, a cube of cold foie gras topped with a layer of bright red gelled cherry sauce.
First course: For me, beef marinated in herbed oil, "pousse pied" (purslane, Portulaca oleraca), and chanterelles. It took the form of a perfected formed dome of thinly sliced raw beef enclosing diced raw beef mixed with herbs and seasonings. On the side, purslane leaves had been laid out in a semicircular fish-scale pattern and littered with tiny chanterelles. At the table, the waiter spooned more herbed oil, chanterelle dice and pine nuts over the top. The garnish was a single tiny cherry tomato hollowed out to serve as a vase for five different herb sprigs, dressed with their own (two drops of) vinaigrette. Delicious. David got a geometrically laid-out plate of bright-pink roasted langoustine tails with a vinaigrette based on raspberry purée and fresh raspberries. Note the red plate, red food, red everything.
Third course: David got a roasted filet of rouget (red mullet, Mullus surmuletus) garnished with bright red piments d'Espelette and a strip of puff pastry topped with neat rounds of confit tomato. The tomatoes and pastry had an outstandingly delicious toasty butter flavor. Wow. I sat out this course.
Fourth course: David had rare roasted breast of duck, which he pronounced head and shoulders above those we've been eating. It was sided by a hash of the duck leg meat, in turn topped with a bright-red roasted peach, and garnished with red currents and currant sauce. I had outstanding veal sweetbreads. When I ordered them, the maitre d' asked how I wanted them cooked, usually a dead giveaway that the chef is one of those who subscribe to the newfangled (and infinitely inferior, in my opinion) practice of cooking sweetbreads directly from the raw state, leaving them oddly spongy. I specifid "a point" (medium rare) and hoped for the best. What I got was perfectly cooked sweetbreads, crisp on the surface, smooth and creamy inside. They had clearly been properly blanched, weighted, and chilled before final cooking, as is traditional (and for good reason). I don't know what "medium rare" had to do with it, but they were superb. They were napped with a thin foamy green-coffee sauce. On the side I got a strange dish that seemed to consist of a thin layer of puff pastry topped with delicate custard, in turn topped with basil leaves and minced mushrooms—good, but I'm not sure what it was supposed to be.
Cheese: I chose Puligny Saint-Pierre, Brillat-Savarin, and a soft herb-covered brebis (mostly for David, since he sat out this course, and this was the first cheese trolley we have ever encountered in France that did not include at least one blue cheese). From the selection of dried fruit offered, I selected one large medjool date, which turned out to be outstanding with the Brillat-Savarin, which is extremely mild and creamy. The Puligny Saint-Pierre, a favorite of mine, was excellent.
Predessert: a quenelle of cheesecake sorbet, on a bed of nuggets of crispy "crumb crust." Yes, it tasted just like cheesecake.
Dessert: For both of us, "rice pudding" with strawberries, mine topped with coconut ice cream and David's with strawberry sorbet. It was served in what I think of as a caviare dish, consisting of an upper glass bowl that fits into a lower glass bowl that, for caviare service, would be filled with ice. Espadon put a little supplementary fruit down there. (Last year at the Bristol, they filled the lower chamber with green water and dropped in a dry-ice chip, so that dessert arrived trailing a plume of smoke—the waiter warned you not to drink the green water.) This "rice pudding" seemed to consist almost entirely of whipped cream—I encountered perhaps 10 widely separated grains of rice in my serving—but the strawberries were, once again, excellent.
Postdessert: For each of us, a filled cream puff about an inch in diameter, coasted with coarse sugar, served in a small glass with a little raspberry purée.
With the dessert, they brought us each a round white dish with a deep circular depression in the center, like a candle holder (you can see one in the photo of my dessert). After the postdessert, they took them away again. As we ate the desserts, I watched carefully for seeds or stems that we were supposed to discard in them, but there were none. We never figured out what they were for.
previous entry List of Entries next entry