Saturday, 23 June 2007, Amiens-Paris; Farewell to CJ
Written 24 June 2007

Up at the crack of dawn on Saturday (well, 6:30 a.m., actually a good hour after the crack of dawn, but a whole lot earlier than we've been getting up) and out without breakfast to get CJ to Roissy Charles De Gaulle by 9:15 a.m., for her 11:15 flight to Rome. For once, we abandoned the side roads and took to the freeway, covering the distance handily in the allotted time. We turned in the rental car (which, of course, took way longer than it had any right to), made sure we'd completely emptied it of all our belongings, and headed for the terminal. A little research revealed that CJ's flight left from Terminal 1, at the opposite end of the airport from where we were in Terminal 2 (for some reason, Terminal 3 is in the middle, between Terminals 1 and 2). To get there, we had to take the little automated train, which we'd never used before. CJ had used it when she arrived, though, so she knew the drill, and we saw her off through security in plenty of time. Now, we can only wonder what wild tales she's telling her mother about travelling with those weird Thistles, who visit a lot of cemeteries, are excited by potato flowers of unusual colors, and intently study entirely empty fields where something happened 500 years ago.

This trip, for the first time, we've actually bought more stuff than will fit in our suitcases for the return trip, so after a leisurely breakfast at an airport café in Terminal 1, we took advantage of the presence there of a small branch post office to buy a "colissimo" box. "Colis" is French for "parcel," and a "colissimo" is a sturdy postage-paid cardboard box with reinforced corners into which you can pack up to 6 kg of anything you like. We bought one for the U.S., in which to ship books to our home address. Of course, later, we realized that we were one under our allowable count of checked bags, so we just checked the box of books as luggage—next time, we'll bring along a small, collapsible bag inside a suitcase for the trip over and checked as baggage on the way back.

That done, we set off to find a taxi into the city and found the taxi stand strangely difficult to locate. We found it eventually—and we learned a lot in the process: When I was giving CJ advice about her arrival in France, I told her that, if she missed us at the airport, she should go to the bustling taxi stand just outside the international-arrivals terminal, that if she caught her taxi there, she could be sure it was legit and safe. The trip to our hotel should cost about 40 euros. I warned her (as I would anyone travelling alone) against accepting a ride with just any Joe Blow who pulled up to her at the curb and claimed to be a taxi. That's how people, especially women, get their luggage stolen and/or themselves kidnapped. When we arrived ourselves that morning, we found CJ waiting for us, but we came into a completely new section of terminal and couldn't locate the taxis stand. As we were standing at the curb studying the various direction signs, a guy asked if we were looking for a taxi, and when we said yes, told us we were on the wrong side; c'mon with him. He took us back inside, across a short hallway, and out at another curb, where—Aha!—his taxi was waiting, by itelf. I even pointed out to the others that this seemed like accepting a ride with Joe Blow, but there were three of us, the car looked like a taxi and had a meter, and we were tired, so we loaded up and headed off. He took us by what seemed to me rather an unnecessarily scenic route, and the trip cost 78 euros! I chalked it up to the currently bad exchange rate, inflation, the number of passengers, and CJ's overweight suitcase.

Yesterday, though, as we were looking for the Terminal 1 taxi stand, we were accosted by a guy, right inside the terminal, who offered to take the two of us and our luggage to our hotel, in an individual limo, for a fixed price of 75 euros. When I told him that was too high and we'd rather find an ordinary taxi, he went into a song and dance about comfort, convenience, and knowing the exact price in advance and how a taxi would run us at least 60 euros anyway. We finally spotted the taxi sign, but when I told him to get lost and walked away, he chased after me saying, if 75 was too high for the limo, how about 50 for this nice white minivan parked just outside? I didn't even bother to tell him that, just two weeks earlier, we'd arranged a minivan ride to the airport from Paris for 18 euros a head; we just kept walking. David told me on the way that, while I was blowing off the first guy, another had accosted him with a similar proposition. Anyway, we finally reached the taxi stand, way down at one end of the terminal, where about 10 taxis were waiting, just for us, as no other passengers were in sight. We hopped into the one at the head of the queue and were taken to our hotel (quite near the one from two weeks ago), by exactly the same route (apparently it's the most efficient for locations in the 7th arrondissement after all), for a grand total of 38 euros.

So be warned. This is a new phenomenon, which we've never encountered in Paris before—presumably because the taxi stand used to be directly in front of passengers emerging from customs and airport security, where you couldn't miss it. We still haven't located the one in the new area of Terminal 2 where we first arrived, but I'm sure there is one, and it's definitely worth the trouble to find it. It's hard to believe that the airport-limo lobby is rich or influential enough to have arranged for taxi stands to be out of the way and poorly signposted, so I'll make the charitable interpretation that the airport authorities are trying to encourage passengers to take commuter rail into the city and catch their taxis there—non-taxi transport was well signposted.

Strangely, on the taxi ride, as we crossed the Alma Bridge, David did a double-take as he spotted a colleague standing by the rail taking pictures. "Scott something," he said, "He got his degree with Hessler a few years after I did. What was his last name?!"
We're quite happy with our present hotel, the Relais Bosquet. It's air conditioned, provides free high-speed Wi-Fi (a great rarity in France; most hotels charge for it), is in a great location, has an elevator and a fine shower, and serves a good breakfast. Our room even has a view of the Eiffel Tower. Its only inconvenience is that only one key per room is issued, which must be inserted into a slot in the room before the lights and AC will work and which must be left at reception when you go out—a system I find extremely annoying.
Once we reached the hotel and dropped off our luggage, we set off in search of lunch en route to the Orangerie, the museum at the Concorde end of the Tuilleries gardens where Monet's famous large "waterlilies" panels are displayed. On the way, I found myself taking pictures with an entirely new eye. We've visited this area many times before, so we have photos of most of the sights, but not digital ones! So I took a bunch of new ones, enjoying the freedom to take several, at different angles and zooms, looking for the best view, without worrying about (a) spending 50 cents every time I clicked the shutter and (b) running out of film. Here's David, near the École Militaire, posing with his buddy Vauban, who designed and built all those great fortresses and citadels.
We found lunch at Brasserie Le Solferino, corner of Boulevard St. Germain and rue Solferino. David had a Salade Montagnarde (greens, tomatoes, potatoes, raw ham, and Cantal cheese). I had a Salade Nordique (greens, tomatoes, potatoes, smoked salmon, pickled herring, and white anchovies. Both were drenched in the same excellent vinaigrette (balsamic and oil emulsified with a little cream?).
When we were last at the Orangerie, it was a dump—an ill-advised renovation years earlier had cut off the natural light, rearranged the paintings into a configuration other than the one Monet intended, and resulted in ceiling leaks and other defects that actually damaged the paintings. Just last year, they finished a massive new renovation that reverses all those mistakes, and the result is lovely. Even better than the water lilies was the exhibition, a floor below, of the private collection of Paul Guillaume (an early 20th-century Paris art dealer), which was continued and expanded by his widow, who married a guy named Jean Walter, so it's described as the Paul Guillaume-Jean Walter collection. They knew everyone in the Paris art world, but the collection contains mainly works by Renoir, Cézanne, DeRain, early (pre-cubist) Picasso, Modigliani, and Soutine (whose style makes me think he suffered from severe astigmatism). In addition to the paintings, the exhibition included a room of information about Guillaume and one containing one full-scale and two miniature reconstructions of rooms in his house, showing how the paintings were hung. The two blank frames represent paintings that weren't identifyable in the photos used to produce the reconstruction.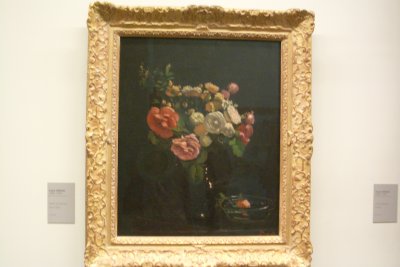 Another exhibition was of (largely abstract) art by a guy named Kirili, all of which was inspired by Monet's water lilies. Finally, at one end is a display of some archeological discoveries made during escavations for the renovations. We recommend the Orangerie highly.
Written 25 June 2007
From the Orangerie, we walked the short distance to W. H. Smith on the rue de Rivoli, our favorite English-language bookstore in Paris, where we can get new books by British authors like Terry Pratchett and George McDonald Fraser much sooner than in Tallahassee. On our way back across the Place de la Concorde, David suddenly remembered his colleague's name—"France! Scott France! I knew it was something to do with Paris!" And 10 minutes later, after we had recrossed the Seine and were strolling toward Invalides, we ran into him, walking the other way! He had just arrived in Paris to work with a French colleague (to whom he introduced us) on a large set of coral samples that no one had had a chance to work up. He cracked us up by saying, "See, I've even got the uniform" and pulling from his backpack an olive-green hooded REI rain jacket identical to the ones we were wearing!
Our restaurant for the evening, Le Violon d'Ingres, was just three blocks away, via the wonderful pedestrian shopping area of rue Cler, so we had a pleasant stroll there. Unusually, this restaurant actually expects to do two complete services in the course of an evening, so they started us early—it was our only 7:30 p.m. reservation of the trip. As soon as we sat down, they brought us their standard amuse-bouche: a dish of neatly trimmed, bright red radishes, a slab of butter cut from a 10-kg block on the sideboard, and a dish of coarse salt (together with an empty dish for the "tails"); that's how the French eat radishes—with butter and salt—and very good they were, too, crisp and sweet. With David's usual glass of champagne, they brought only a couple of country-bread toasts. Throughout the meal, the espresso machine was in constant use, not because people ordered coffee, but because the barista spent most of her time using it to steam the labels off wine bottles so that diners could take them home a souvenirs!
The restaurant's menu is less elaborate (and less expensive) than many, so the meal went quickly. I started with a "pressée" of tongue and foie gras, a sort of loaf formed of many layers of thinly sliced tongue separated by very soft paté of foie gras, accompanied by a salad of cooked green beans and shallots. David had a "millefeuille" of tomato, "tourteau" crab meat, and avocado. We exchanged tastes, and I picked the small bits of avocado out of the crabmeat salad before eating it (alas, too little too late; apparently the salad had been marinating with the avocado for quite a while and had absorbed it active ingredients, as eating about a teaspoonful of it gave me a stomach ache by bedtme.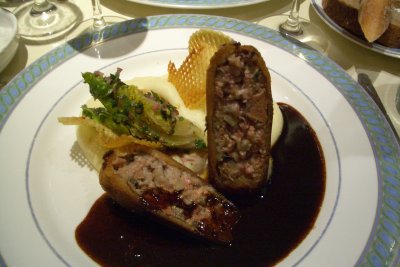 Main course: David ordered the "veritable cassoulet Montalbanaise," of which he was able to eat about a third. It included a link sausage, a fat slice off a large-diameter sausage, a slab of roasted pork, a great deal of confit duck, and plenty of creamy white beans, all in a rich sauce—probably about 4 lb of food in all. I had "andouillette de pied de porc pannée" (a pig's foot that had been hollowed out; the contents stripped of their inedible parts, chopped, and stuffed back in; and reconstituted as a sort of pig's foot sausage, then fried crisp on the outside). It was served with delicious mashed potatoes, house-made waffle potato chips, a wedge of "sucrine" lettuce dressed with bacon, and a rich sauce based on cooking juices and wine lees. Yum.
Cheese: The restaurant offered only two cheese: a rather mild young St. Nectaire and a Yonne montagne. Both excellent.
Dessert: David ordered a "cremeux" of raspberries, which turned out to be very rich fromage blanc, topped with some sort of sweet herb sauce and fresh raspberries. I had strawberries and cream with crisp meringue and a sweet mint "pesto." We exchanged tastes, and each of us declared the other's merely interesting but our own superb—exactly as it should be. It never ceases to amaze me how much better French strawberries are than American ones, especially the Garriguettes (like the ones I had that night) and the Marras des Bois.
We were home so early that we got to watch the Eiffel Tower's 10 p.m. sparkle cycle from our hotel-room window. This rather blurry shot doesn't do it justice; the whole tower is thickly covered with white lights, each of which flashes every second or two, out of synch with all the others, making the structure sparkle and twinkle brightly all over—an amazing effect.
previous entry List of Entries next entry