Friday, 22 June 2007, Amiens
Written 22 June 2007

This will be our last full day with CJ. We'll drive to Amiens, visiting Crécy on the way, then tour at least the cathedral in Amiens. If time permits we'll do the art museum as well.

. . . Later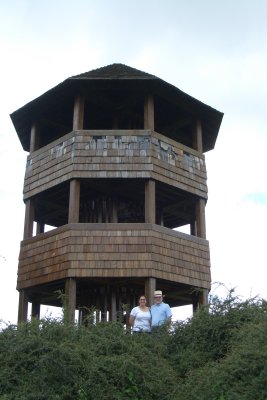 No time for the art museum. We stopped at Crécy-en-Ponthieu (not the same Crécy we visited earlier, along the Chemin des Dames) to see the site of Edward III of England's victory over Philip VI of France on 26 August 1345, near the beginning of the 100 years' war. It was the occasion on which the Prince of Wales took a bunch of ostrich plumes from the body of the Duke of Luxembourg and adopted it as the personal emblem of the king's son, which it remains today. Crécy is certainly the least heralded, least well marked, and least well maintained of the sites we've visited, but it has one great feature—a wooden observation tower overlooking the battlefield and equipped with an orientation table showing where all the troops were aligned. It stands on the site of the windmill from the top of which Edward directed the battle. We were struck by the many similarities in the pre-battle campaign, battle plan, French setbacks, and outcome between Crécy and Agincourt.
Back on the road, we followed the "restaurant this way, honest" signs to a back street in the village of Fienvillers, where we had quite a nice lunch at the Auberge du Village. David ordered the menu of the day: country-style paté; grilled "colin" (saithe or Atlantic pollock, Pollachius virens) with hollandaise sauce, fries, excellent Brussels sprouts, rice pilaf, and salad, and a dessert. I ordered steak tartare (which came with a raw egg yolk, salad, carrot slaw, fries, and four condiments: ketchup, mayo, minced shallots, and "bbq sauce," which I thought tasted more like A1 sauce; the idea was to season the raw beef with the egg yolk and condiments to taste), and CJ got another "bavette" steak with peppercorn sauce (which came with sprouts, fries, and salad). CJ ordered a "poire belle Helene" (a cooked pear with hot chocolate sauce, ice cream, and whipped cream), and I ate the ice cream (coffee and apple) that came with David's menu.
We got to the "Central and Anzac" hotel in Amiens at about 2:30 p.m. (to discover that our rooms were fourth-floor walk-ups), checked in, hauled our luggage up all those stairs, then set off for the cathedral. On the way, a French lady asked us directions—the first time this trip; glad to see we're not losing our touch.
The cathedral was as spectacular as we remember it. The famous maze set in the floor of the nave that penitents walked (and apparently still walk) on their knees was covered by rows of chairs—the space was being prepared for a concert—but the amazingly high vaulted ceiling still took my breath away (and the frightening curve you can see as you sight up the slender stone columns is still as frightening).
Here, I show the famous "weeping cherub" and just one of the several extremely detailed haute relief decorations around the choir. Alas, we'll miss the nightly son-et-lumière, as we'll be on the way to the evening's restaurant, as usual. We strolled around the outside and the inside of the cathedral until our feet gave out, then walked back to the hotel via the canal and its famous view of the "quartier St. Leu," the (literally and figuratively) colorful collection of shops and restaurants that line the far bank, gradually quickening our steps as the drizzle began and became heavier, until we dashed into the hotel just as the rain started in earnest. We'll have to leave first thing tomorrow morning to take CJ to the airport, so we declined breakfast and settled our bill in advance. I also took the opportunity to verify with the management that "Anzac" stands for "Australia–New Zealand Army Corps," which served in this area in WWI. The clerk said that, traditionally, former members of that unit who came back to the area to visit always stayed at the Anzac Hotel. "We have many Australian and New Zealand war cemeteries near here," she said, "too many."
Dinner tonight will be at l'Aubergade, in Dury, a village a few kilometers south of Amiens.
Written 23 June 2007
The drive to l'Aubergade was a little hair-raising—not inherently difficult or lengthy, but the highway construction and the amazingly complicated interlocking rotary intersections on the inner ring road of Amiens made turning left a scary experience. We made the same drive again this morning, on our way out of town, and it was much easier the second time.
The "market menu" provided nonfish choices for all the courses, so we all ordered that. Our service plates and bread plates, which stayed on the table throughout the meal, were flat squares of slate. The bread choices were plain, sesame, and "céréale" (i.e., full of all kinds of grains seeds); the latter was particularly good.
First amuse bouche: A cool, velvety-smooth green purée of leeks, topped by a puff of fish-flavored whipped cream. They brought CJ one without the fish.
Second amuse bouche: Warm, smooth, fluffy green pea soup with minute croutons and a fried sage leaf. Delicious! (For scale, take note that that's a demitasse spoon in the photo.)
First course: I had a salad of shredded skate's wing with diced tomato, diced lemon flesh, capers, wild asparagus, greens, vinegar, and sesame. Yum. David and CJ both had a slice of cold chicken and foie gras, embedded in aspic with vegetables.
Second course: CJ had medium-rare roasted rabbit on a bed of potatoes crushed with herbs, surrounded by two graceful, ivory-colored "comets" of celery-root puree and the reduced cooking juices. David had sautéed filets of daurade on a bed of shredded vegetables with green beans, tomatoes, artichokes, cumin, etc. (the waiter's description of it went on forever; we particularly like this waiter's descriptions, which were slow, clear, and very detailed). I had "le veritable chou farci"—real stuffed cabbage—a soft-ball sized, slightly flattened sphere made up of concentric layers of savoy cabbage and a mixture of veal, pork, and fois gras, all enclosed in a large cabbage leave and napped with a rich reduction sauce. It was served on a bed of "peasant style" braised carrots and celery root. It was very good, and I'm glad I've now tasted what stuffed cabbage is really supposed to be like (without tomato, for one thing), but it's not going to crowd roast pigeon or sweetbreads out of my future menu choices.
Cheese: The brought us each a set assortment of livarot (a rather mild, young one), a fresh chevre, and boulette d'Avesne, accompanied by a small salad and thin slices of fig bread and olive bread. I traded CJ my livarot for her chevre.
Predessert: Tiny pistachio crême brulées. When all three of us said "pistachio?!" the waiter realized his error, snatched CJ's away, and brought her instead a miniature sundae dish filled with chocolate cream and topped with mint ice cream.
Dessert: CJ had a "rose window" of strawberries on a spice-cookie crust with ginger ice cream. David and I had a dessert described as peaches roasted with honey and olive flavors, which turned out to be a little ball of white chocolate fudge surrounded by slices of roast peach, all sandwiched between two large, green, olive-flavored macaroons, in turn stabbed through with a skewer of peach chunks and olives. Vanilla ice cream and minced roasted olives on the side. Odd but good.
With the usual mignardises, they served us a bowl of home-made marshmallows flavored with lemon, banana, and "pêche de vigne" (peaches poached in red wine).
The drive back was less scary, mostly because it was all right turns rather than all left turns, and the parking garage was so open and empty that I felt up to parking the car myself—in most French garages, there's a pillar every two (minute) spaces, and they're parked up solid at night, so I get out and make David park the car!
previous entry List of Entries next entry