Thursday, 21 June 2007, Agincourt
Written 21 June 2007
We took time after breakfast in Arras (which featured a local speciality I had never tried before—endive jam—which is just what it sounds like and quite good) to stroll through the two large, beautiful town squares, which are, unlike, e.g., the one in Lille, actually square, or at least rectangular. They're both lined with arcades and medieval houses "en colombage" (i.e., with their ridgepoles perpendicular to the street)—actually, we understand, the houses are reconstructions, as most of the town was bombed flat during the world wars. We photographed the lovely church and town hall but didn't take time to tour them. You'll note in the photo that the small oak trees in the squares are planted in large, white, wooden boxes, like the ones orange trees live in that are transported into and out of orangeries. As we approached the first square, one of those trees, in its big box, was making its way slowly into, and then off down, the street, loaded on a large fork lift. I don't know where it would have been going on a sunny day in June—perhaps it was ill and needed some time in the greenhouse.
We left Arras about 11:30 a.m. and on our drive toward Montreuil stopped at the Duisans British Cemetery (1917-1920), a fairly large one, by the roadside out among the fields. The graves markers there were the most varied we'd seen so far. Each marker bore the insignia of the soldier's unit, from the Black Watch to the King's Own to the Household Guards, dozens of them. A number bore Canadian maple leaves, and there were even two rows of German graves.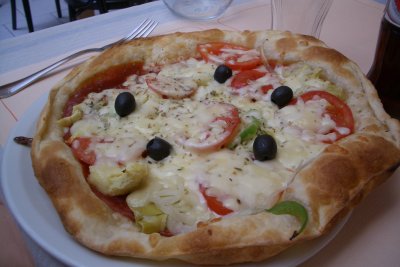 We stopped for lunch in St. Pol-sur-Ternoise at a little brasserie, clearly recently opened and with a spare modern decor, called the La Ternesienne, a very successful choice. David had a scallop of turkey with a mushroom cream sauce and fries. I chose a "complete" buckwheat crêpe (filled with fresh tomatoes, cheese, cream, lardons, mushrooms, onions, and an egg). It was delicious, and CJ raved about her vegetarian pizza (a very flaky crust filled with tomato sauce, artichokes, fresh tomatoes, peppers, olives, oregano, and cheese. She had the additional treat of green apple sorbet—a favorite of hers that isn't often available. St. Pol is a very small, quaint town, but it's at an unfortunate confluence of major routes, so a steady stream of large, noisy trucks pours through it, on streets not designed for vehicles that size.
At Hesdin, we turned aside for a couple of hours, following the trail of life-size medieval-soldier cut-outs that show the way, to visit Agincourt (which the French spell Azincourt), site of Henry V's historic defeat of the French on St. Crispin's Day (25 October) 1415 (you know, "Once more into the breach, dear friends," in front of Harfleur, and then a couple of weeks later, "Gentlemen in England now abed will curse their fate they were not here . . . and hold their manhoood cheap" . . . etc., before defeating the French, who outnumbered them ca. 4 to 1). We toured the museum, attended the automated multimedia slide and animatronic show, then did the driving tour of the actual battlefield, now planted in grain and flax.
When the rain started, we drove on, through increasingly hilly country, dotted with occasional modern windmills (for power generation), where the proportion of dairy farming steadily increased, to Montreuil, where we are now installed in the extremely plush and charming Château de Montreuil and anticipating another lovely gourmet dinner, right here in its dining room. Our large room is equipped with a flowered chintz sitting area, pale-green wicker breakfast table and chairs, elegant little writing desk, a large flat-screen TV with DVD player, stereo sound system with CD player, and its own small library ranging from Barbara Taylor Bradford to A Girl's Guide to Handicrafts to Graham Kerr's The New Seasoning to Les Morts Qui Parlent by the late Vicomte Eugène-Melchior de Vogüé (of the Académie Française) to French translations of My Friend Flicka and its sequel.
Written 22 June 2007
Definitely among the most memorable meals of the trip! While we sipped our apperitifs in the cosy lounge (where open bottles of three different champagnes rested in a large bowl of ice, ready for pouring), we munched the amuse-bouche (long, flaky spiced pastry straws and rounds of cucumber filled with chèvre), studied the menu, and consulted the maître d'hôtel. We wanted the seven-course, chef's-surprise tasting menu, but he was skeptical that it could be done without fish, nuts, and nut oils (of which the chef is apparently fond). As usual, though, the chef came through like a champ, rearranging things to custom tailor a seven-course feast that avoided fish, nuts of all kinds, avocado, melon, cucumber, and buckwheat (gosh, we're a picky group!).
David and CJ ordered the wine pairings as well, so they sat down to a veritable forest of glassware.
First course: A timbale of crabmeat salad and finely julienned mango with peppermint pesto, decorated with bright blue borage flowers, chervil, and nasturtium petals. Gorgeous and delicious!
Second course: For David and me, filet of bar roasted on the skin with sautéed chanterelles, a zucchini flower stuffed with tiny vegetable dice, and the accompanying baby zucchini, all drizzled at the table with a tasty reduction sauce. To CJ, they served two of the largest roasted langoustine tails I've ever seen, drizzled with a butter sauce. CJ fairly swooned over their flavor and texture, and David and I looked on just a little enviously.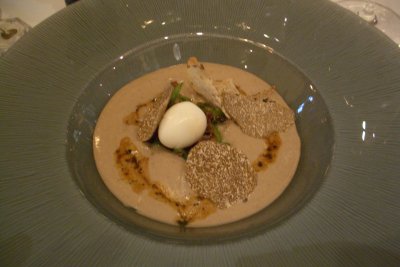 Third course: Mushroom soup, but what mushroom soup! hot, fluffy, velvety purée topped with fine julienne of fresh seaweed, shavings and slices of speckly-brown summer truffle, and a soft-boiled quail's egg and drizzled with an infused spice oil. Wow. Definitely a contender for best savory dish of the trip. We'll have to see whether CJ ranks it above her vegetable ravioli at Château de Fère.
Fourth course: Pink roasted veal "Rossini style" (that is, topped with a slice of sautéed foie gras), accompanied by root vegetables (a neat cylinder of turnip, a poached green onion, and a tiny cooked radish), a white purée (of celery root, I think, with garlic), a drizzle of very dark reduction sauce, and a pillowy potato gnocchi (toasted crisp on one side) and drizzled at the table with another sauce.
Fifth course (cheese): David chose very old mimolette, a Corsican brebis coasted with herbs, and bleu d'Auvergne. I had a small crottin-like chevre, a larger ashed chevre, and bleu de Bresse (a "blue Camembert" type), all excellent. CJ chose Camembert and, on the waiter's advice, pavée d'Auge, in which she discovered a new favorite. Once the cheese was served, and the special hazelnut bread passed around (plain white for CJ), out came the (count 'em!) 11 little glass dishes of condiments! I chose a few walnuts to go with the blue and a little thick honey for the chevre. David chose herbes de Provence for the brebis and a little house-made chutney for the mimolette (his plate shown here). CJ stuck with straight cheese.
Sixth course (first dessert): A small panna cotta topped with diced strawberries in a lemon-verbena syrup, in turn topped with a small quenelle of liqueur-laced pear sorbet. Yum!
Seventh course (second dessert): A whole, warm, caramelized, puff-pastry tarte tatin of perfumy-flavored white peaches, with rich house-made vanilla ice cream. The waiter deftly sliced it at table side into six slices and served two to each of us, ice cream on the side. Yum again!
We declined coffee, and they didn't offer us mignardises. We had seen them served to other tables—red fruit paste and an assortment of moulded chocolates, probably all riddled with nuts.
This one may take "best dinner of the trip. " As we strolled the grounds after dinner, I listened, but we seem to have chosen the one village in France that hasn't scheduled a concert on the evening of 21 June, the day of the national music festival (or perhaps just not one that could be heard at a distance—surely a demure string quartet was playing somewhere).
previous entry List of Entries next entry