11 July 2006,Paris
Wednesday, we got had a leisurely breakfast, and took the tram to the station. It's so easy and convenient that it was more appealing than getting a taxi, even with the luggage. Ten minutes from the door of our hotel (including getting to the tram terminal, buying tickets, boarding, and waiting for the tram to move) we were on our way. Ten minutes to the station and another five to get us and our luggage from the tram into the station—piece of cake. The TGVs to Paris run about one an hour, so we bought tickets for 10:28 train and acquired our usual train picnic: butter and raw ham baguette sandwiches and pastry. No "chaussons aux pomme" (puff-pastry apple turnovers) were in evidence, so I got "gourmandises" at Paul's— croissant dough spread with pastry cream and sprinkled with chocolate chips, folded over, and sliced into 2- by 8-inch strips before baking. Yum.
The TGV took us to Paris via Angoulême and Poitiers in a smooth, swift 3 hours. We took a taxi from the Gare de Montparnasse to our hotel, the Hotel André Latin, on rue Gay-Lussac, dumped the luggage, and set off to explore the neighborhood. The first thing we encountered was the Institut Oceanographique, just a block away, where David's two-day meeting was to be held. It's a wonderfully old-fashioned brick-and-stone building with a square tower on one side, a beautiful bronze octopus over the door (trimmed with whelk and scallop shells), twining seahorses on the doors themselves. It's a branch of the same institution, founded by Albert I of Monaco, that owns and runs the oceanograhic museum in Monaco.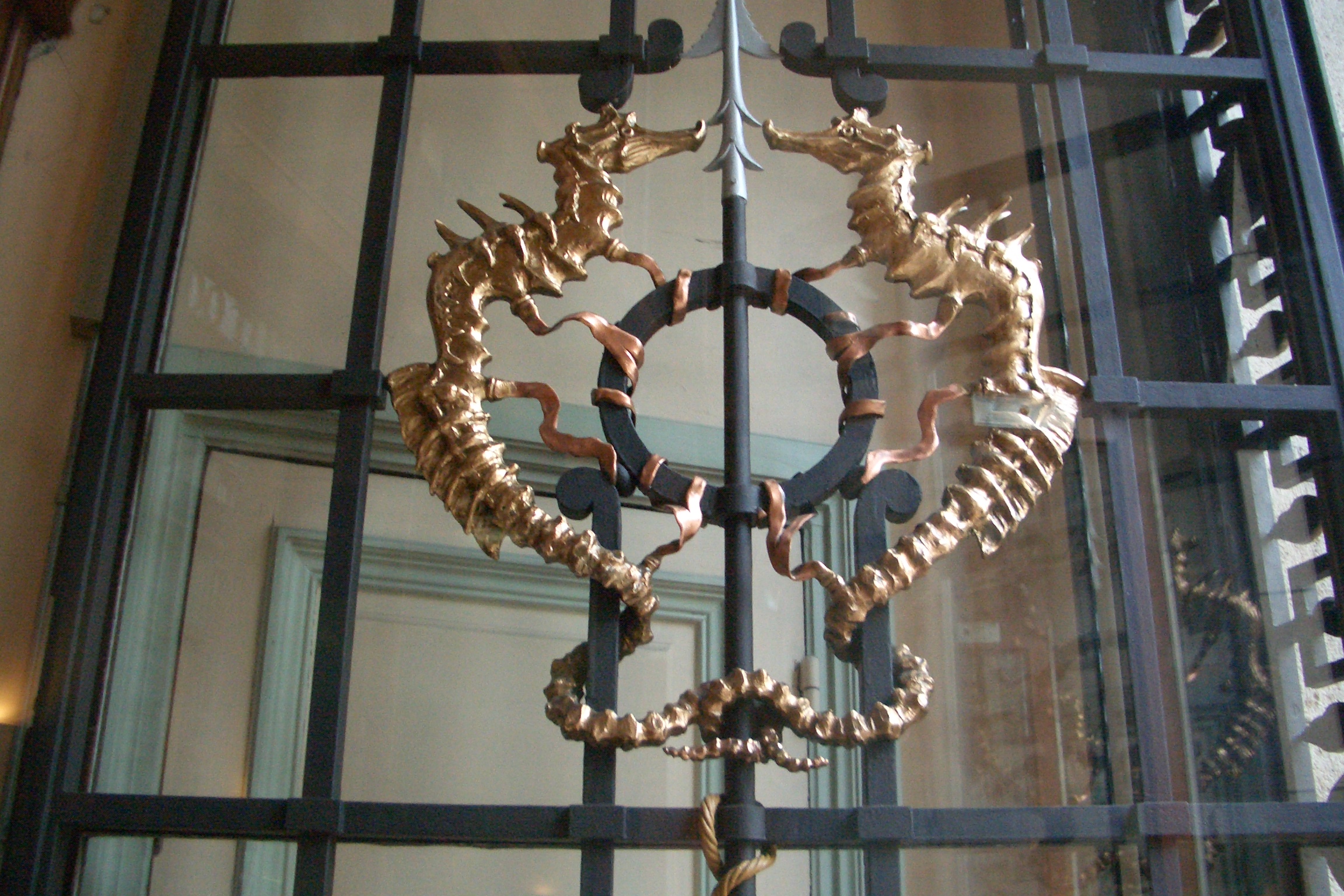 The next thing we encountered was (were) our good friends and colleagues Andy Gooday and Lisa Levin, who had also just arrived (independently) and were out getting sun to help with jet lag, so we joined them for a long walk around the nearby Luxembourg Gardens, where coincidently, a youth orchestra was giving a concert (they must have crammed 100 musicians onto that little round bandstand, not just elbow to elbow but practically cheek to cheek; if it hadn't had railings, the outer ones would have fallen off!); we never did find out who they were. (Please note that Lisa wishes to disclaim responsibility for the sunglasses she is wearing, which she had to buy en route and, she assures me, are not those she would have chosen if given a greater selection.)
Dinner that night was at Taillevent, about two blocks from the Arc de Triomphe and the Champs Elysées. The name means "clipper ship," but the restuarant does not have a nautical theme; it's just named for somebody who called himself that. Once again, we ordered the tasting menu, so we ate all the same things.
Amuse-bouche: Yet another gazpacho, this one with a few whole capers in the bottom and garished with a drizzle of deep-green basil-infused olive oil and a small scoop of savory mustard ice cream. Extremely slender and fragile pastry straw on the side.
First course: Foie gras crême brulée garnished with julienne of green apple, a sliver of crisp crepe, and a fried basil leaf.
Second course: Small cheese ravioli with stewed mousseron mushrooms.
Third course: Sautéed filet of rouget with two sauces and braised baby vegetables. The paper-thin lemon slice was first simmered gently in sugar syrup then dried carefully in the oven until crisp and sweet like a cookie.
Fourth course: Boned and rolled saddle of baby lamb stuffed with whole lamb kidneys and roasted rare. Served with braised baby artichoke hearts and sautéed gnocchi. Surrounded by a lamb reduction sauce so rich it tended to congeal on the plate. An outstanding dish—definitely a contender for best meat course of the trip. The kidneys were so tender they had a texture almost like foie gras.
First dessert: "Snow eggs," soft egg-shaped poached meringues with raspberry liquid centers, resting on gelled fresh strawberry soup. Garnished with a chocolate straw, a whole raspberry, and a sprig of fresh marjoram. Note the plate of mignardises at the right-hand side.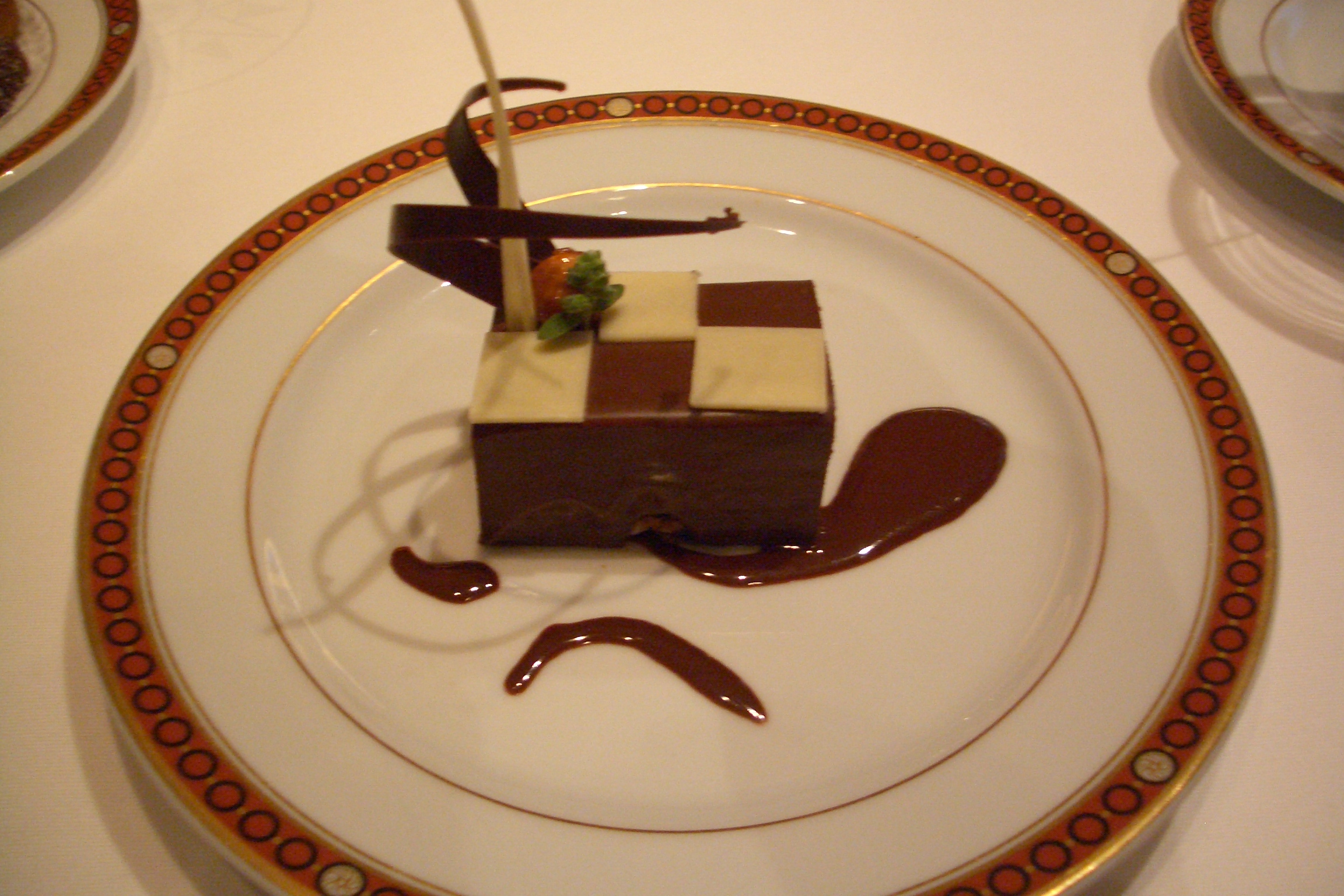 Second dessert: "Hazelnut checkerboard," a square of chocolate-hazelnut ganache decorated with black and white chocolate squares and curls and a whole glazed hazelnut.
Ordinarily, the desserts would have been served in sequence and followed by the mignardises, but this was the night France played Portugal in the World Cup semifinals. Thousands of Parisians had gathered on the Champs Elysées to watch the match on giant screens in the street and in myriad bars and restaurants. Groups of riot police were posted at every street corner for blocks on either side. So we suggested to the maitre d' that it would be nice to be safely out of the neighborhood before the game ended; he concurred and arranged to have all three served simultaneously. We were therefore able to give our desserts the attention they deserved and still catch the subway home in time to watch the last nine minutes of the game in our hotel room. As we walked from the subway stop back to the André Latin, every bar, brasserie, café, and restaurant was marked by a crowd of 30-40 people outside on the sidewalk, peering in over the heads of the customers at the big-screen TV inside, so we were able to check the score every few steps, all the way. When France won, our neighborhood rioted, too, but there just aren't enough people in Paris to fill every street wall to wall, and the Champs Elysées was a big draw, so the local revels were more thinly spread—lots of shouting, cheering, chanting, marching, and singing, punctuated by some fire crackers and progressing to lots of driving rapidly up and down the streets honking constantly and with people standing up through sunroofs waving flags, cheering, and singing.