10 July, Entre Deux Mers
Quai Zaco was closer to our hotel than Pavillon des Boulevards, so after dinner on Monday, we just left the car where we'd parked it and walked home. Tuesday morning, we were due to return it, though, so we walked and window-shopped back to the Hangar 15 parking garage to get it. (As we passed Quai Zaco, I stopped in to confirm that the power was back on at Pavillon des Boulevards, before calling to cancel the reservations we had originally made at at lower-rated restaurant for that night; the lower-rated place was closed on Mondays, which is why we went to Quai Zaco rather than just trying to reverse our Monday and Tuesday reservations.) On the way, we walked by the cruiser Colbert, a WWII-vintage ship now moored permanently as a museum, but we didn't have time to visit it—we always accumulate more things to do than we get one on each trip. From Hangar 15, it was a straight shot down the river bank to the Europcar agency, at the train station. Turning in the car always takes much longer than it has any reason to, but we finally got it done and took the tram back to our hotel. A ticket costs 1.3 euros (from a dispenser at the stop that will either issue a single-use ticket or top up your "subscriber's card), and it's good for unlimited rides and connections for an hour, so if your errand at the far end is short, it's even good for a round trip. We took the C line, which begins at the train station, ends half a block from our hotel (right next to Quinconces), and stops 5 places in between. It took 10 minutes, end to end. It was quiet, air conditioned, and comfortable; the doorsills are low, the floor flat, and the aisles wide. It never went very fast (after all, it's sharing the street with droves of pedestrians and clangs like a San Francisco cablecar at every street crossing), but it also never stopped for red lights or traffic jams. It has no overhead wires and obviously no live rail (since dozens of pedestrians are always crossing the tracks on foot), but each tram has one of those accordian-extensible connectors on its roof anyway, which usually lies flat, in the folded position. We speculate that they run on batteries and use the connectors to charge up from overhead connections at the terminals. A fine system altogether.

We got a good lunch (went halves on a ham and cheese omelet with fries and a salade landaise) at the Hotel des 4 Soeurs around the block from our hotel, then presented ourselves three doors down the street at the tourist office for our winery tour. They piled us all on a bus and set out for the "Entre deux mers" region, the triangle of land bounded by the tidal portions of the Garonne and Dordogne rivers as they converge on the Gironde estuary at Bordeaux.

Back in '83, when we went on several of these tours on successive days, the guide would hold forth for 10 minutes in French, then supply a halting two-sentence English translation. This time, we had an excellent guide who spoke very good English, had all the technical vocabulary at her fingertips in both languages (she grew up in a lcoal wine-making family and is married to an Englishman), and gave French and English equal time and great detail. Sometimes she even amplified on the French when giving the English version, on the theory that Americans tend to know less about the general wine-making process than the French do.
First, we visited Château Lestrilles, near La Sauve. That's the proprietor (Monsieur Roumage) on the left, the guide in the middle (in the colorful outfit) translating for him, and a couple of fellow tourists on the right. Here, we're in the "chai," where the wine ages in oak barrels (each barrel holds 300 bottles' worth). The "château" is not castle-shaped, but that's not the criterion for calling itself one. For Bordeaux wine-making purposes, a château is a wine-making operation that uses only grapes raised on its own, contiguous property; takes its own wine(s) through all stages from crushing to fermentation to aging to bottling, all on its own premises; and meets some other standards of processing like not using additives, etc. Lestrilles is in an area covered by three different "appelation controlées" (i.e., names restricted to wines from certain geographic areas), but I don't remember what they all are.
Next, we visited Château Lafitte Laguens, no relation to Lafitte Rothschild ("lafitte" turns out just to mean "hills"), near St. Germain du Puch. In addition to being legally a château, and looking like one, Laguens promotes itself as a banquet and reception venue. You bring in your own caterer and rent one of their beautiful two reception rooms, one seating about 200 and the other up to 800!
Lafitte Laguens is in the "Premier Côtes de Bordeaux" region; that is, it is on the Bordeaux side of the first range of hills visible from Bordeaux, a region 5 km wide and about 40 km long, parallel (but not adjacent) to the Garonne River.
On the way back to the hotel, I studied the map and realized we were on the freeway that's visible from the terrace and the hotel rooms at St. James, where we've eaten twice and stayed a night two years ago. Sure enough, the view worked both ways, and we were able to pick out the distinctive rust-colored facade of the hotel up on the bluff. As the crossed the bridge over the Garonne, the guide pointed out the dozens of tiny fishing shacks out on stilts over the river, each with its little bridge to the bank. Their little wooden dericks suspended square, horizontal nets, which we were told are used to fish in the river for "carrelets" (plaice, I think).
Back in Bordeaux we had just time to shower and change before setting out for our second attempt at dinner at Pavillon des Boulevards, this one successful. It was raining a little, so we took a cab both ways (the tram doesn't go that direction yet).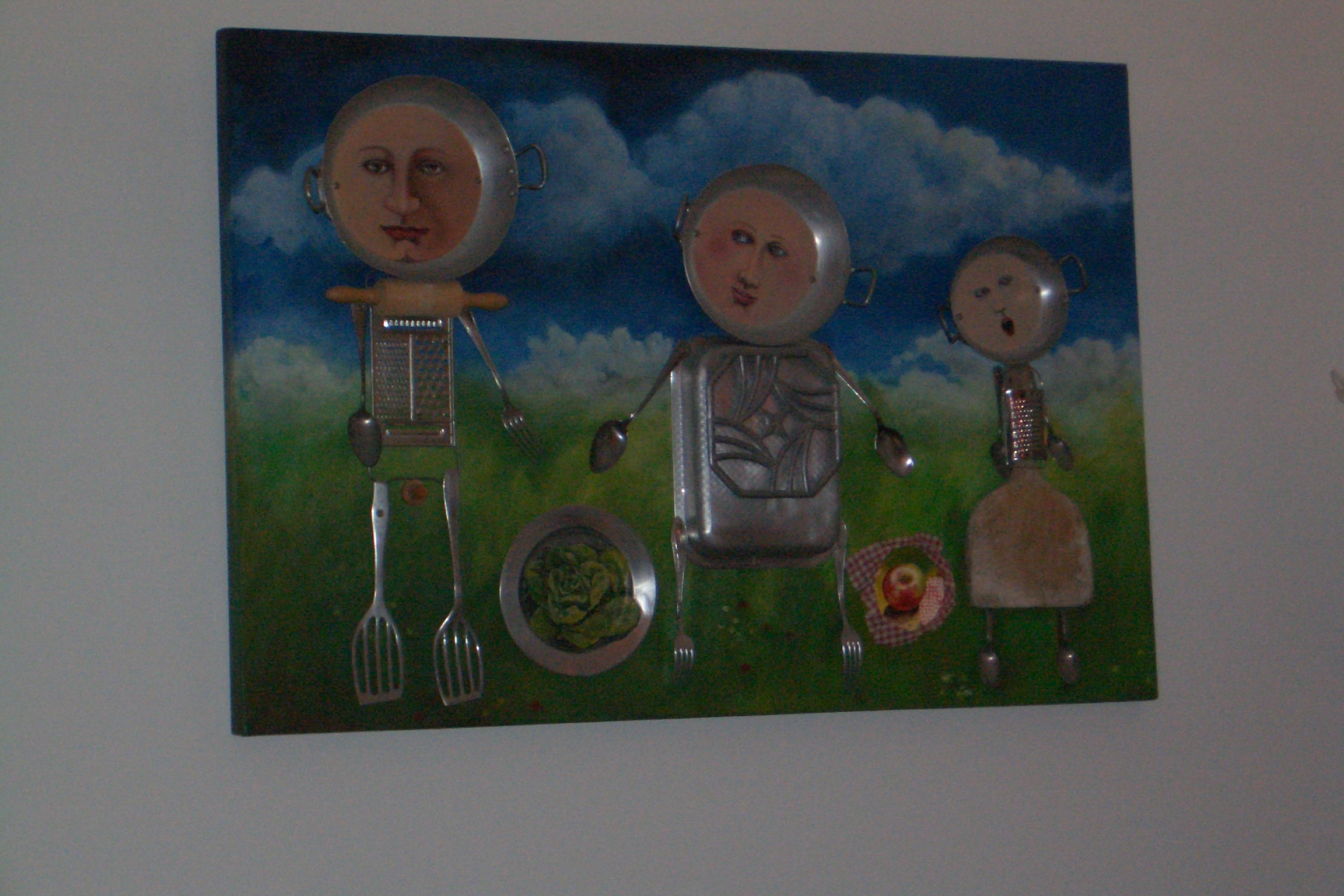 We were greeted with effusion and once again treated to complimentary champagne, and as usual, we ordered the tasting menu. During the dinner, a spectacular thundershower came and went, so we sat inside rather than in the garden as we had in the past. And this time, the miracles of digital photography permit me to show some of the whimsical art on the walls. The piece over our table featured a fanciful but voluptuous reclining semi-nude, wearing only two soup ladels and a trivet.
While we studied the menu, two Brazilian journalists photographed the room, carefully working around us. They will apparently write the place up for their Brazilian travel magazine; they interviewed and had dinner with the chef in a separate room during the rest of the evening.
Once the food was ordered, David consulted with the sommelier, who was new, quite young, and very enthusiastic and eager to please. He talked faster than anyone we have ever heard, in English or in French. When David asked for a recommendation for a local vintage that would go well with the tasting-menu courses (which were chef's suprise—we didn't know what we would get), he offered four choices in rapid succession, for each of which he reeled off, at blinding speed, all its characteristics, merits, faults, vintages available (and their variations), grape blend, methods of vinification and aging, best food pairings, region of origin, history, and pedigree. His diction was excellent, so we could follow everything he said, but only by paying such close attention that no neurons were left over for remembering it all. David nonetheless caught enough to make a reasoned choice, and pronounced himself very pleased with the result.
Amuse-bouche: Bites of raw tuna on buttery pastry, tiny savory cream puffs, and—to our delight—the miniature peanut tarts we remembered from last time. They're mini tart shells filled with peanut halves in a caramel-colored sauce, and they are outstanding: sweet, salty, buttery, crisp, melting, altogether delicious.
First course: Chilled, thick, rust-colored crab soup (made with "étrilles, little 2-inch crabs that are delicious but notoriously difficult to eat) topped with salt-cod whipped cream. In fact, the first five courses and both desserts were cold; cold dishes are the chef's specialty, and he's a genious at them. Items we didn't order included a lobster milkshake, cold truffle mousse, foie gras crème brulée, and (an old favorite) cold asparagus soup with black-olive ice cream. Even though we could clearly see that the chef was not in the kitchen during the service, we had no fear, since all his best dishes are prepared in advance.
Second course: Cold foie gras ravioli accompanied by a cold compote of apple and carrot cooked with apple-pie spices.
Third course: An egg shell filled with, from the bottom up, bits of raw oyster, a fragile and delicious herbal mousse, and a poached quail egg. The oyster was very salty and the egg unsalted, so the idea was to scoop to the bottom on every bite so that the flavors exactly balanced each other. Excellent!
Fourth course: Crab salad atop an icy cucumber granité and topped with a pansy blossom.
Fifth course: Two slices of raw tuna sandwiching a little spoonful of delicious white-bean purée, three individual white beans (summer cocos), and a little spoonful of deliciously seasoned tuna tartare topped by one of the chef's trademark tomato splats, all garnished with streaks of a soy reduction. The splats are wonderful. He makes a thick, sweet, herby tomato sauce, then drops small spoonfuls onto a flat surface, where they splat into 1- to 2-inch disks, which are then baked/dried/whatever until they're as crisp as potato chips. They just explode with flavor when you bite into them. (The red flecks on top of the salt-cod whipped cream are crumbs of tomato splat.)
Sixth course: The first hot course. Two perfectly seasoned grilled prawns, a piece of asparagus tempura, and a 3/4-inch ball of seasoned mashed sweet potato rolled in finely grated coconut, all garnished with an Asian-influenced sweet-and-sour sauce.
Seventh course: The second hot course. Buttery grilled fish (St. Pierre, I think) with pineapple compote and minced, lightly cooked cauliflower .
Eighth course: The last hot course. Boneless truffled chicken—truffle slices were inserted under the skin before the chicken was braised, and for the first time, we thought maybe they had some taste (though it was very subtle)—with creamy mashed potatoes, dark chicken deglazing sauce, truffle slices, and miniature hand-made potato chips.
First dessert: Ginger-peach ice cream (I think; I should have kept better notes); a "trompe-l'oeuil" sushi made of a crepe, rice pudding, and a raspberry center; and a crisp, transparent fan of what looked like hard caramel but was much less sweet. We think it may have been a rice-flour-and-sugar slurry brushed onto a hot surface and cooked until crisp.
Second dessert: Timbale of chocolate cream, a sheet of crisp chocolate with coconut and something else in it, and another sweet ice cream (I confess I've forgotten the flavor). I usually find these solid chocolate creams overpoweringly cloying after a long meal, but this one was perfect. The man really is a genius at cold dishes.