9 July 2006, Bordeaux
Monday (3 July), we checked out of La Maison Rose and drove from Eugénie les Bains to Bordeaux,via Langon. We had intended to have lunch in Langon, on the Charonne River, where we stayed for a night a few years ago, but everthing was closed. Where do French office workers eat lunch on Mondays, anyway? The only place open was the former "Lion d'Or" (now named after it's chef, whose name escapes me), where we stayed and ate before, but it's too fancy a restaurant to serve the sort of salad lunch we were looking for. So we went on to Cadillac for salads at a pizzaria called Les Remparts, right under the walls of the old town.

In Bordeaux, when we checked into the Hotel Majestic on rue de Condé, people were busy breaking down very elaborate tents and marquees both along the Allées de Tourney (where we parked the car) and all over the huge nearby Esplanade des Quinconces. The Bordeaux wine festival had ended just the night before; I don't know whether it's an annual thing or just every four years or so, but it's big! The Baron Lafitte Rothschild had a palatial complex, as big as two or three double-wides, of tents and mobile refrigerators, right by the main entrance. The whole set-up was dominated by a gigantic statue of Bacchus carousing astride a gargantuan Bordeaux bottle. Apparently, all the wineries, brokers, buyers, and whatnot were set up on the Esplanade and the restaurants and bars on the Allées de Tourney.

Our first order of business was to visit the tourist office and book for the following afternoon's winery bus tour. They run one or two a day year round. Most visit a château and a co-op, but as it happens, ours visited two châteaux.

Next, we walked down the Cours de l'Intendance, which had been a major traffic artery, to the Place Gambetta to visit a favorite bookstore of ours. Since our last visit two years ago, all the construction underway then has been finished (well, actually, moved to the northern part of town), the trams they were installing are up and running, and the street has been given over to pedestrians and tram traffic only! Bordeaux was among the first cities in France to have all-pedestrian shopping streets (at least where the streets would have been big enough to carry cars), and they've now got many more—it really becoming a very attractive and pedestrian-friendly city. A 10-year construction project is also underway to transform all the old disused riverfront warehouses and docks into parks and underground parking.

When we got to the bookstore, it was closed, for no good reason we could see, since according to its posted hours, it should have been open, but we also needed to go to the post office next door, and that was open. We spent the rest of the afternoon strolling down the nearby Rue Bouffard, known for its antique dealers, vaguely hoping to come across a painting we liked (and could afford). The good news is that we immediately found a shop with gorgeous still-lives in the window, just the sort of thing we liked, but from the look of it, they would be way out of our price range, and of course, in keeping with the growing theme of our Monday, the shop was closed, and its only opening hours would be during our winery tour. A few doors farther along, we came to a more promising place. It had a wide variety of paintings inside, and a sign on the door promised that "all the pieces we sell are entirely individually hand-painted by professional copyists." It was a forgery shop! But of course, forgery is not illegal so long as no fraud is involved—it's perfectly legal to copy a painting, or to commission a copy, so long as no one ever claims it's anything but a copy. Of course, it was closed, but I plan to look it up on the internet when we get home and at least check out their prices.

Finally, we walked back along a different pedestrian street to the good old rue St. Remi, near our hotel, to check the window of the frame shop where we bought our wonderful chrysanthemum still life a few years ago. It had a couple of promising things in the window, but of course, it was closed.

So we didn't get much shopping done. Fortunately, we've been lucky enough in our shopping elsewhere that we didn't have much space left in the luggage anyway.

In the evening, we had reservations at a favorite of ours, le Pavillon des Boulevards, where we'd eaten twice before. The chef's cold asparagus soup with black-olive ice cream is wonderful. We've usually walked there in the past, but it's a goodly hike, and we still had the rental, so we set off by car. For once, my planned route worked perfectly (we had a map that showed the one-ways), but as we passed the restaurant, casting about for a parking space, David, at the wheel, suddenly found himself in the middle of a major intersection—four two-lane-each-way roads and a bus lane—that was in total chaos! Cars were driving every which way through it, from all directions at once, dodging pedestrians. As we extricated ourselves from the other side and pulled over into a vacant space, wondering, "what the heck was that all about?!," we looked back and realized that all the traffic lights were out, and the intersection wasn't being treated like a four-way stop or rotary, as convention would call for, because cars on the larger street were arriving so fast they were in the intersection before they realized anything was wrong! We very cautiously picked our way back across the intersection on foot and arrived at the restaurant exactly on time, only to be greeted by the distraught hostess (the chef's wife) with the news that their power had been off for two hours (a ditch-digger had cut an underground power line in nearby construction) and that the restaurant was dead in the water. They hadn't been able to do any of their prep cooking, none of the appliances worked, the gas stove was dead because the gas lines were controlled by electromagnetic valves; even the phones were down! She was tearing her hair because it was the night the results of the bacalaureate exams were announced, and she was booked solid with people planning celebrations, only some of whom she had phone numbers for.

After some discussion, we decided to rebook for the following night at le Pavillon and to eat that night at their other restaurant, Quai Zaco, a much less formal G-M honorable mention. The chef was just leaving, with one of his cooks, to go help in that kitchen, which was going to be overwhelmed if everybody did the same thing, so we went back for our car and followed him down to the river. As it turned out, his help wasn't needed in the kitchen—actually there wasn't really room for another person in there—but once his wife had finally called or otherwise headed off all the reservations at le Pavillon she came down and helped wait tables, stopping by ours to apologize about every 15 minutes.

The kitchen was open to view, though glassed in, but we were about as far from it as possible. On the way to the restroom, though, I got a good look at the two 20-something women in baseball caps manning the skillets and two 20-something guys working the cold station. The food was pretty good, although nowhere near as elaborate of refined as the Pavillion.
First course, David: Gazpacho (notice a trend here? gazpacho is all the rage this summer) with a large goat-cheese ravioli in the center.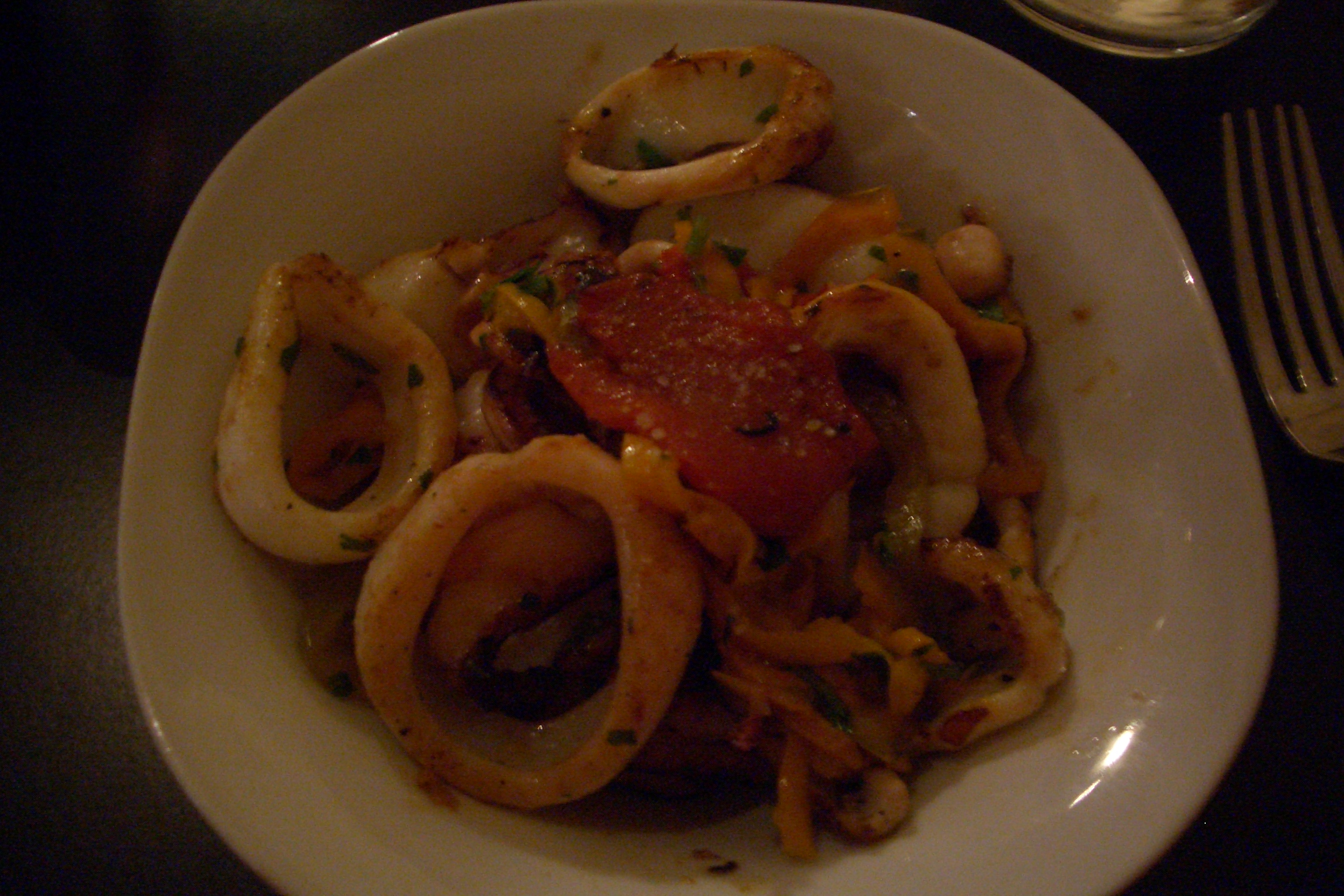 First course, Anne: Squid "à la plancha," i.e. grilled, with stewed tomato, grilled onions, and lots of garlic.
Second course, David: Beef steak with a rich reduction sauce, chanterelles, and crisp potato pancakes.
Second course, Anne: Tuna steak with braised baby artichoke hearts, a sauce based on puréed roasted red peppers, mashed potatoes, and wisps of deep-fried leek.
Dessert, David: Pastry disks layered with strawberries and whipped cream, strawberry sauce and strawberry sorbet on the side.
Dessert, Anne: Upside-down caramelized apricot tart with apricot sorbet, whipped cream with caramel sauce on the side.