25 June 2006, Playing the Palace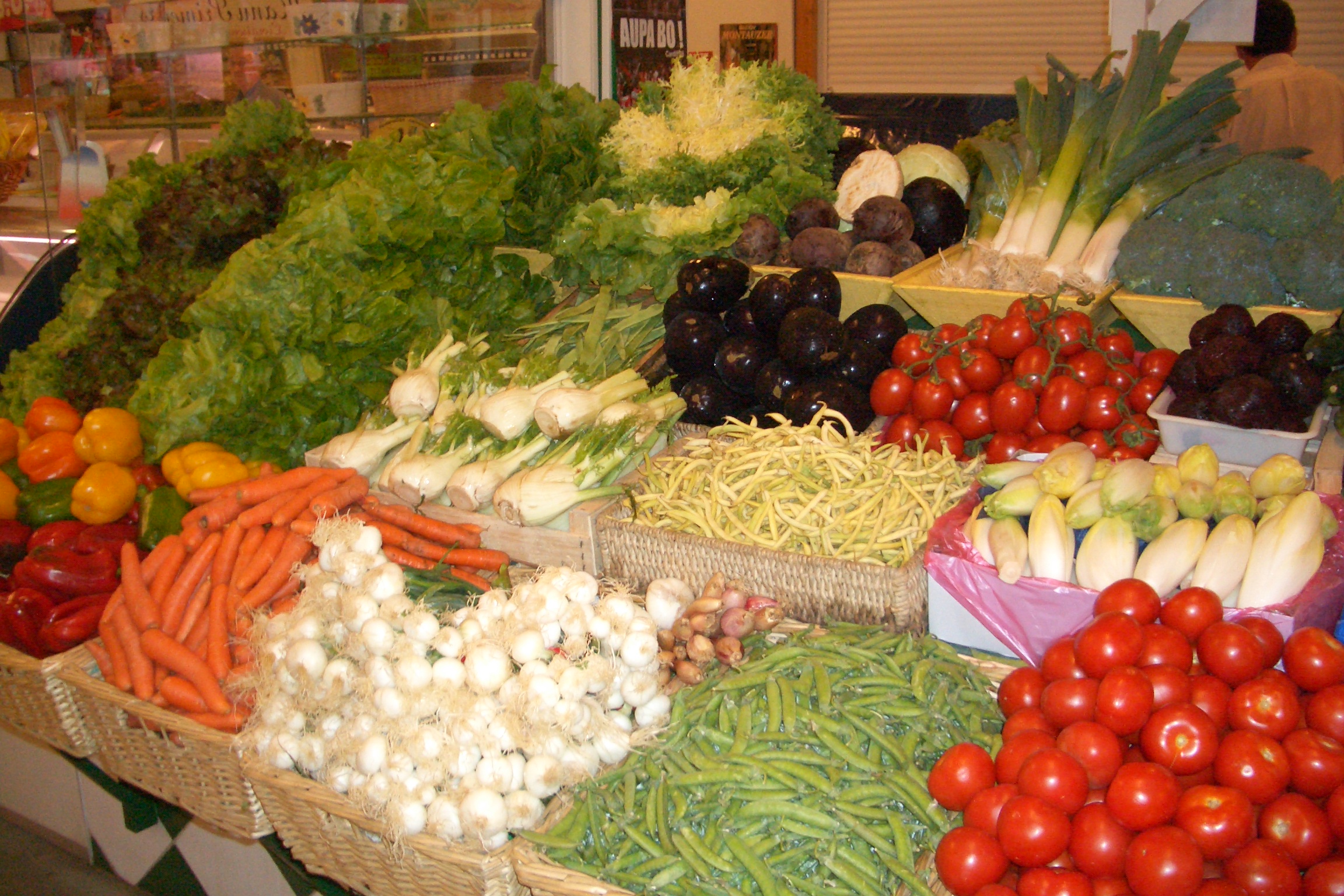 Saturday morning, I got up early and went out before breakfast to check out the local central market. Unfortunately, I was so early that it wasn't really open yet—it doesn't open until 9 a.m., really late by French market standards—but I got to watch much of it being set up. As usual, the produce, meat, and fish displays gave me the serious gimme's (the lettuce alone is to die for), but the lack of kitchen restrained me. I almost bought some cheese and cherries, but we eat way too much on these trips as it is . . . .
The seafood vendors had only just started laying out their displays, so you can still see a lot of bare ice in the photos, but note in the first photo (toward the left-hand end of the row) the whole monkfish posed with a lemon in its mouth and in the second the bins of whole eels (upper left), dressed squid, and whole fresh sardines.
After breakfast, we walked out to the lighthouse, which is at the other end of the Grande Plage. The sky still looked threatening, so we brought along our raincoats, but we also wore our straw hats, which should not be exposed to rain (it's always a gamble). I carry a large plastic bag in my raincoat pocket, into which I can put my hat and my handbag if need be; David zips his hat inside his raincoat and walks around looking pregnant.
During the walk we noticed the curious phenomenon of a little wooden fishing boat towing two small objects behind it, rather far out, past the breakers. I whipped out my binoculars and discovered that the small objects were riderless jet-skis! Once on station, well off the beach and beyond all the surfers, the boat dropped anchor and pulled the jet-skis alongside, where two guys in wetsuits straddled them and set off zooming up and down the coast! Our theory, borne out by a couple of days' observation, is that some fisherman has discovered a more lucrative use of his boat. He takes tourists out beyond the swimming and surfing areas and charges them by the hour to zoom around on jet-skis. I wonder whether he charges extra to putter over and fetch them when they lose track of time and run out of fuel 300 yards out!
It did rain most of the way back, but not very hard. While waiting for the Musée de la Mer to reopen after its lunch break, we had a pleasant lunch at Les Bains de Minuit (the Midnight Baths or, more probably, Midnight Swimming), overlooking the Port Vieux. I had mussels steamed with garlic, parsley, and shallots, and David had what was billed as a salad but turned out to be a very small pile of greens smothered under a heap of tender vinaigrette-dressed green beans, sautéed slices of duck breast, and slabs of sautéed foie gras. Below on the sand, three little kids were getting surfing lessons from one of the local "surf schools."
The Musée de la Mer (Museum of the Sea) was great—beautifully laid out and scientifically sound. Lots of information on the various local fisheries and fishing methods used over the years and on the local marine and terrestrial topography and geology. In the basement they have a good aquarium; it's not Monaco, but very good for its size. My favorites were the baby "roussettes" of two species, very small, slender sharks (the adults are only about a foot long). The babies had hatched from their eggs but were still encased in their "mermaids' purse" egg cases—you could see them wriggling and shifting inside the translucent cases. The museum's centerpiece, though, is their tank of five seals. Four of them were adult rescue cases, but the fifth, less than a year old, is the offspring of two of the others, one of very few cases of the survival of a seal born in captivity. They have a whole room documenting her life, from the time they realized her mother was pregnant right up until the present. You can watch the seal either through the large picture window into their tank or from the surface, out on the museum's roof-top terrace. One of them slept on the bottom through most of our visit.
In the evening, we went to Villa d'Eugénie, in the Hotel du Palais, a GaultMillau 17/20. The dratted people had lost our reservation, but they seated us in "Siberia," a side room where a group of seven very casually dressed middle-aged Spanish speakers were having what was obviously a regular meeting for dinner and cards. We have reservations there again on Monday night, so I've borrowed our hotel's printer to print a copy of the e-mail from them confirming our reservations. We'd better get a better table next time.
Anyway, the food was very good once we got the reservation thing squared away. We both had the "Menu Eugénie":
Amuse bouche: Puff-pastry sandwich of smoked salmon on a bed of dill-flavored wilted cucumber julienne.
First course: cold lobster chunks in a sort of gaspacho with a quenelle of tomato-basil sorbet.
Second course: Roasted rouget (red mullet) balanced on top of a baby-squid risotto and roasted baby squid, surrounded by squid-ink sauce. The roasted baby squid was particularly good.
Third course: Two rare chops each from rack of baby lamb roasted under a chorizo crust, accompanied by a roasted yellow tomato stuffed with an eggplant ratatouille mixture and a thin slice of roasted eggplant wrapped around the same mixture.
Cheese: The standout course—these people really know how to choose and care for fine cheese. David chose Cantal, Fourme d'Ambert, and Bleu de Bordeaux (the first two vaches, the third brebis). I got a tall, dry, cylindrical chevre; St. Marcelin; and Valençay. The latter two were absolutely outstanding—just the right degree of proteolysis and no trace of ammonia or acridity. Wow.
Pre-dessert: A martini glass with vanilla mousse in the bottom, topped with a cold soup of red fruits, a quenelle of lemon-verbena ice cream, and a chocolate straw.
Dessert: Half a poached white peach with lemon-verbena ice cream, black current syrup, whipped cream, a small cluster ot sugar-crusted red currants, chocolate straw and garnish, sprig of fresh lemon verbena, and a sort of meringue comet trailing over the edge of the glass. The chocolate garnish is imprinted with "NE" and the imperial crown because we were sitting in what had been the imperial residence of Napoleon III and empress Eugénie. At the right-hand side of the photo, you can see the corner of the mignardise tray, featuring a bite-sized passion-fruit éclair topped with chocolate shavings.
Strangely, the large metal service plates that marked our place settings when we sat down remained on the table through the entire meal (very unusual indeed!); each used plate was removed and the next course placed right on the service plate. Every place else, including the very same restaurant two nights later, the service plates were snatched away before we even had a chance to order. My theory is that our tablecloth had a hole in it that they were anxious to conceal.