25 June 2006, Campagne et Gourmandise
From the museum in the church, we took a taxi to the rental-car agency (our old friends Europcar). We'd hoped for a Renault Clio like the one we drove on sabbatical, but instead we got a Volkswagen Polo (okay, but not as nice as the Clio) and successfully navigated our way back across town to the hotel's parking lot. We therefore had our wheels in time for dinner at Campagne et Gourmandise, which is some little way out of town, on the route to Arbonne.

It was a beautiful, mild evening, so they seated everyone on the terrace, with a hazy view of the Pyrenees in the distance. The cute little golden European bumblebees (bourdons des prés, Bombus pratorum) were buzzing around in the lavender next to our table, and goldfinches were zooming by all the time. I'm sure the proprietors already know that they won't get that third Michelin star until they dress their waiters in something other than short-sleeved red-checked shirts.

While we studied the menu, we were served three rounds of amuse bouches: first smoked salmon; then canapés of foie gras, tapenade, and crabmeat; then a tiny dish of vegetable vichysoise with miniature green beans in it. The "paprika" on top turned out to be cayenne, but delicious nonetheless.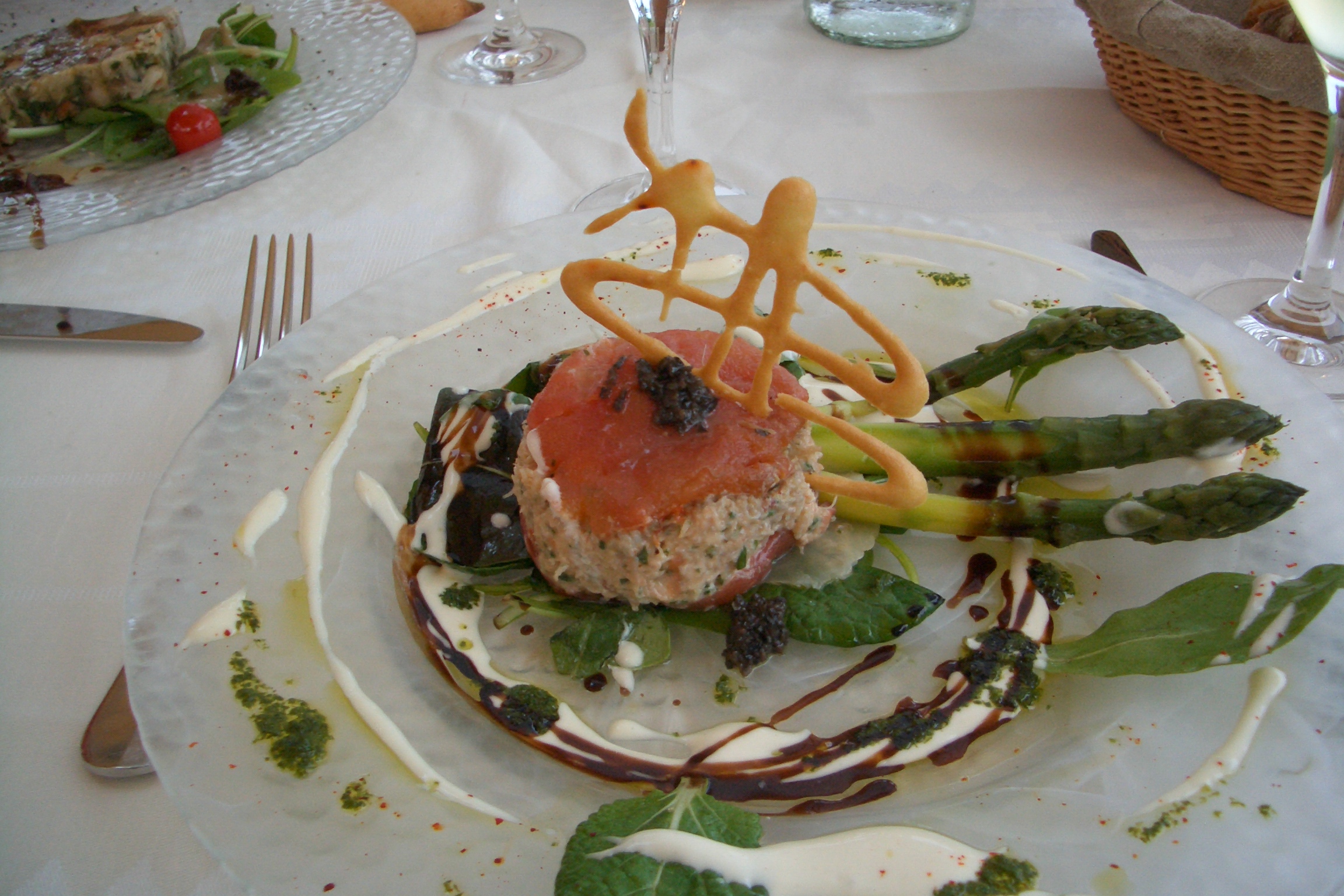 David started with a peeled tomato stuffed with cold crabmeat salad, asparagus, and three sauces drizzled on the plate (the abstract object on top is made of crisp crepe batter). I had a cold "mosaic" (a slice from a chilled, gelled loaf) of boneless rabbit, veal sweetbreads, and cubes of foie gras, garnished with a little salad and outstanding little balsamic-marinated mushrooms.
David's main course was roasted medallions of monkfish in a mushroom sauce with a spectacular shrimp risotto that will probably be a contender for best dish of the trip. I had poached hake (usually called Atlantic whiting in the U.S.) with spring vegetables and a green olive-oil-herb sauce. Good but not spectacular. Once again, we were struck by how much tenderer European vegetables are than American ones. Ours have way too much cellulose bred into them, for durability in shipping.
For dessert, we split a raspberry vacherin (a crisp meringue shell filled with vanilla ice cream and topped with house-made raspberry sorbet, delicious fresh local raspberries, and raspberry sauce) and a vanilla mousse studded with marinated strawberry chunks, topped with a strawberry sauce, and "bottomed" by a cooky soaked in kirsch. Yum. They were so beautiful and tasty that we ate them before remembering to take pictures.
As we dined, the mist gradually closed in and hid the mountain view. Just as we finished, David looked up and said, "could that be thunder?" Nah, must be a truck on the highway or something. But within moments, drops began to patter on our patio umbrella, and the waiters suddenly went into high gear, scrambling to move everyone inside before the skies opened. We scurried across the parking lot through a scattering of fat drops and jumped into the car just in time to avoid getting drenched.