Friday, 22 July 2016, Atlanta to Tallahassee
Written 25 July 2016
In case you've ever wondered, the Atlanta Airport does theoretically close down at night—i.e., planes stop landing and taking off, and many of the businesses close—but the building never sleeps. The lights stay on, the floor zamboni circulates endlessly, a cop on a segway cruises up and down the concourse, the maddenly monotonous tuneless wallpaper-jazz muzak plays continuously, and the "May I have your attention please, this is an airport security announcement . . ." recording plays every 15 minutes, like a clock chiming the quarter hours, 24/7.
We took our blankets down to a quiet corner opposite gate B33 and tried to get some sleep. I won't say that the floor was "surprisingly comfortable," but it was in fact "surprisingly not as uncomfortable as I expected." The carpet was thin, but it helped a little. My new microbead neck pillow worked pretty well as a regular pillow. And we were pretty tired. I didn't really sleep, but I at least dozed for a while, and eyeshades kept out the lights.
Still, we were pretty much up again by 5 a.m. (which was, of course, 11 a.m. for us), by which time our 8:48 a.m. flight was already listed as running 10 minutes late. Restaurants opened by 5:30 a.m., so we had a nice hot breakfast, and our flight to Tallahassee was not further delayed.
We finally got home about 11 a.m., with all our luggage, to find water dripping, nay pouring, out of the garage ceiling, all over David's pile of wood for woodworking, as it clearly had been for some time—the AC's condensation drainage line, in the ceiling over the garage, was blocked. If the problem had been in the house, the cleaners would have spotted it long since, but of course they never went into the garage. Westminster Oaks sent someone right over to fix that problem, and what with grocery shopping, dealing with accumulated messages, etc., .we managed to stay up all day, but boy did we sleep well that night!
Then, Saturday afternoon, we noticed that the AC wasn't actually working; it had gotten up to 79°F in the house. Not sure what to do about that late on a weekend afternoon, we called security to ask the procedure, and they sent somebody (not a regular WO staffer, but some outside guy) over who fixed it promptly—the guys who did the first fix hadn't reattached the drainage line correctly, so the condensation was ending up in the air handler. Now the AC's back on, and everything seems fine, so we're probably overlooking something . . .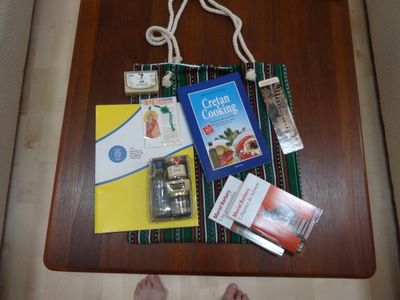 Here is my assembled swag from the trip: In the background, the red, black, and green striped tote bag distributed to meeting participants on Crete (men got red ones designed to be used as backpacks, ladies this shoulder model); the Cretan cookbook I bought in Matala; a souvenir bookmark from Gortys; two French novels by Muriel Barbery; and the four items I won in the meeting raffle (a bar of soap; a little square basket stuffed with Greek goodies; a Korean bookmark with a green tassel; and a yellow cardboard portfolio from Università degli Studi di Urbino Carlo Bo).