Special page on the Lyon market

Written 1 September 2016 (happy Academic New Year's Day!)

The central market in Lyon is named, of course, for Paul Bocuse, the city's most famous chef (see my diary entry at http://www.bio.fsu.edu/~thistle/blog11/11-06-14.html for our dinner at his restaurant). I expected it to open at 3 a.m. and to be the sort of bustling and chaotic market I've seen elsewhere, where farmers and itinerant vendors show up and heap their wares attractively on rickety folding tables.

What I found was completely different. It was more of a food shopping mall, where every vendor had a permanent shop. It wasn't even adjoined by a sprawling parking lot to accommodate such farmers and itinerant vendors on "big" market days! I can only assume that all that takes place in rotating neighborhood markets scattered through the city. But I still wouldn't mind living next to the Bocuse market.

When I showed up, ca. 8 a.m., very little was open. I hung around, making repeated circuits of the aisles, and watched as it gradually came to life. Everything that was going to open seemed to have done so by about 9:30 a.m., and shoppers were only starting to appear.

In addition to what I've pictured and described below, the place houses four or five oyster bar/fish restaurant sort of places, all of which were closed for the summer. The photos are arranged more or less in the order I took them, not according to the organization of the market.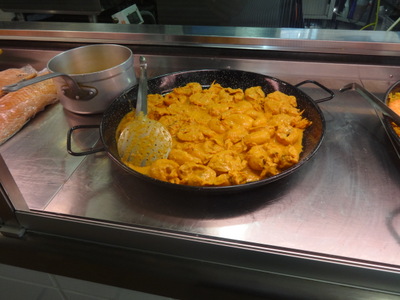 The first thing I came to as I entered was this huge paella, a popular take-out food picked up by shoppers on their way home to lunch.
Right next to it was the pan shown at the right, filled with short, fat little cuttlefish in "Amoriquaine" sauce, also presumably for take-out.
The paella and cuttlefish had been prepared in advance and set aside on the warming plates. At right angles to them (just visible at the top right corner of the paella photo), facing the market entrance, was this row of impressive paella-pan-sized burners, to be deployed as needed.
The fresh fish vendors were among the first to set up. From right to left here are filets and cheeks of monkfish, fresh frog legs (toward the back), huge prawns (mostly buried in ice), the bright red "rouget barbets" (red mullet, the label specified "fished in the Atlantic"), a fan of whole dorades (or daurades, the label wasn't up yet), whole "omble chevalier" (arctic char), and others whose labels are too blurry to read and that I can't identify from the photo.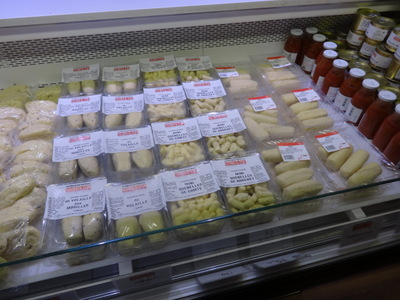 Here, at the left, we have rabbits: whole (wrapped in plastic, with the liver displayed in the body cavity), hind quarters, saddles, and, in the back, forequarters.
At the right are quenelles, a specialty of Lyon. A quenelle is a cylindrical or football-shaped dollop of a 50-50 mixture of cream-puff dough and a flavored purée, typically pike. The dollops are poached in water, fished out and cooled, and sold in that state. At serving time, they are baked or poached in a sauce until they puff up (thanks to the cream-puff mixture) into light, fluffy sauce-covered dumplings and served blazing hot, before they can settle back to a denser texture.
I had heard of quenelles flavored with pike or other fish, and occasionally poultry, but these came in a much wider variety: salmon, dried salt cod, black olive, sundried tomato, pesto, and poultry. Some of them were even labeled "nature," i.e. "plain," containing nothing but cream-puff dough and a little unflavored cream sauce (though the label warned the allergic, "may contain traces of fish"). I guess all the flavor is added to those by the sauce.
The display even included tiny, 2-tsp quenelles for serving with cocktails! I haven't made quenelles in ages; I'll have to try some of these new flavors. In my travel diaries, you'll often see me referring to "quenelles" of ice cream, mousse, etc. That's because the word actually refers to the football shape, traditionally formed by a skilled cook weilding two large spoons. It's still a popular shape of anything served in dollops.
This shop sold pâtés baked in crusts, some of fine-grained liver, others of coarse-ground pork, and still others of one type with a core of another embedded in the center. Some had truffles in them, others were studded with pistachios or bits of ham. Because the meat always shrinks inside the pastry during baking, a rich aspic mixture is poured in through a hole in the crust after they're cooked, to fill any voids. Some were even made of veal or chicken. Prices ranged from ca. 20 euros/kg to nearer 50. Behind the loaves were china terrine dishes filled with chicken in aspic, parsleyed ham in aspic, and head cheese. On the shelf below were shrink-wrapped packages of smoked duck breast slices and quail legs. To the left of those were long skinny mini-pâtés in crust, again for cocktail parties.
David tells me, from his subscription to French current-events tapes, that the "apéro" (short for "aperitif") party, what we would call a cocktail party, is now all the rage in France, and suddenly "apéro"-sized portions of everything are appearing in the markets.
The first bakery to open up started by displaying these amazing cakes in colors not found in nature. The one at the top is shaped like a cartoon lady-bug, and the one below it seems to be a cake shell filled with multiflavored candy truffles.
The same place displayed these beautifully assembled pastries, each accompanied by a detailed description of what was inside. In the back are rectantular plastic boxes containing several flavors of loaf cake and a metal tray of assorted petit fours. Note the attention to detail—on each little square raspberry tart, one of the berries is turned upside down, its rim dipped in powdered sugar, and a tiny green business card has been tucked between the berries.
These odd little spheres are the French idea of cocktail sausages. They were displayed by a shop that specializes in dry sausages (you can see a cross-section of a salami-like sausage behind them), and they have simply stuffed their regular sausage mixtures into narrow casings, then twisted the casings every inch or so to make tiny versions. The flavors shown here are labeled "roquefort," "plain," and "walnut"; the orange ones at the from right are unlabeled.
This bakery specialized in savory pastries: squares of thick-crusted pizza, little sausages wrapped in pastry, small pâtés baked under lattice crusts, quiches, onion tarts, etc.
The one at the right, in addition to sausages (one at the back is labeled "truffled mortadella"), featured fresh pasta, especially raviolis and agnolotti filled with many different flavors like dried tomato, salmon, lemon, ham, eggplant, bolete mushrooms, and artichokes. In the flat rectangular packages are sheets of the tiny "ravioles" that we've eaten so many of on this trip.
Here's a huge display of what I can only characterize as "marinated stuff"—anchovies in two flavors, olives, cherry peppers (stuffed with cheese or tuna), grilled asparagus, stuffed grape leaves, artichoke hearts (plain and grilled), cheese wrapped in bresaola or speck, dried tomatoes, grilled eggplant slices, eggplant rolls, tiny buton mushrooms, octopus, squid (plain and with pesto), mussels, etc. As you can see from all the labels, the name of the shop was "Ciao Ciao."
And here are the famous "pralines." The are almonds (though I've even encountered peanuts) coated with sugar, which is always of this pebbly texture and this violent pink color, and the French are made about them. Apparently, they are the quintessential summer food—something you only got at the beach or on vacation, the way we used to feel about cotton candy and candy apples before they became universally available. Personally, I can take or leave them, but French chefs are fond of incorporating them into desserts. I've even had praline pie.
A brief digression on the word "pralin/e/é, which does multiple duty in French: "pralin," as a mass noun, is pulverized almond brittle (without the pink coloring). It's frequently incorporated into French desserts. Julia Child gives the recipe and treats it as a staple, to be kept on hand in the freezer for use in baking. The sugar-coated nuts are considered feminine and and are therefore "pralines" with the "e." They were invented in the 16th century by a chef who named them for his patron. "Praliné" means "pralined," and it can mean flavored with pralin, but more commonly, especially in Belgium, it means a bite-sized chocolate coated candy, like the ones in a Whitman's Sampler. The Belgian version of the name actually comes from a different root and is only coincidentally similar to "pralin" and "praline." In Louisiana, of course, "praline" means something else entirely, but that's another whole story.
This display of sweet breads (made by a "boulanger," a baker, as opposed to pastries, made by a "patissière," a pastry chef) includes a heap of brioches into the dough for which a large quantity of pralines were kneaded.
These pastries, in the same shop as the previous photo—their baker is apparently also a pastry chef—include tarts and tartlets of lemon, apple, apricot, and red fruits, as well as several flavors of tuile cookies, individual fruit clafoutis, and little individual melting chocolate cakes. And in the back at the right-hand side, loaves of praline-studded cake.
The display at the right is of vegetable savories. At the left, in foil dishes, are little tarts of spinach and chevre and a special on mixed-vegetable gratins, two for one. In the middle are eggplants stuffed with sliced tomatoes and baked, and to the right of those are spherical zucchinis stuffed with a meat mixture and baked. Behind them are some meat items: a flat cake of ham and cheese baked in puff pastry, a loaf pan filled with chicken wings in some sort of sauce, and what looks like a loaf of something with a chunk of salmon embedded in the center.
The case at the left here contains everything you need to make a full-fledged Alsatian "choucroute garni"—sauerkraut braised with pork product: pork cracklings (at the left), sauerkraut, chunks of smoked pork head and tail, and seven other cuts of salted, cured, and/or smoked pork. Out of sight to the right are four or five different kinds of German sausage.
In the photo at the right, around the corner from the array of savory pastries shown above, is a stack of fat sausages baked inside loaves of brioche (of two sizes, another specialty of Lyon), plus more miniature pâtés baked in crust.
I just can't keep my camera off the fish. Here's a better view of the display I showed above. At the back right, you can see a bowl of seasoned salmon tartare for sale by the pound. The sea bream now have their label and are in fact daurades, the best kind.
At the right is a better view of the far end of the display. It starts with omble chevalier at the right, then sole, then bar, a bright red fish whose label I can't read (but that's the fish's skin you see, not the flesh), then filets of sole and some little striped mackerel at the far end. This merchant didn't, but some of the other fish sellers marked every species with, in addition to the common name, the Latin binomial. Let's hear it for them!
I didn't get photos of the crustaceans, but Breton tourteau crabs were going for 13.90/kg, Breton clawed lobster for 59.00/kg, and Breton spiny lobster for 110.00/kg!
I came across only one green-grocer. At the left here, left to right, pale pink tomatoes; green-shouldered red tomatoes; spherical, golden, and pale green zucchini; and conventional tomatoes, small eggplants and a few bell peppers in the back.
In the shot at the right are, again left to right, oval cherry tomatoes, red tomatoes, mottled yellow tomatoes, striped green tomatoes, and the famous "noir de Crimée," Crimean black tomatoes. All of these tomatoes are ripe; they are just of different-colored varieties.
The bins shown at the left here contain exotics we've encountered in retaurants—tiny green "combavas," which are like little wrinkled limes; Physalis fruits in their little papery "Japanese lantern" husts, and green almonds, still covered with their fuzzy fruits. On top are pineapples, and beyond the almonds are large green Florida avocados. They also had the smaller, black Haas avocadoes.
In a deli case (back out in the main market, not in the green-grocery) were assorted smoked salmons. The Norwegian filets on the left were 62/kg; the organic Irish ones on the right were 72/kg. At the left-hand edge of the photo were raw sliced salmon, salmon marinated with dill, smoked tuna and swordfish, and smoked cod row. At the right-hand edge was a dish of smoked herring marinating with carrots and onions. Farther along in the case were big bowls of ready-seasoned tartare of salmond, both coarse and fine cut, rilletes of salmon, fromage blanc with chopped salmon, and dill-infused cream sauce for salmon.
The shop at the left here sold duck products. The long yellow cylinders are tubes of foie gras for slicing. To the left of them are vacuum-packed whole fatted duck livers (an extra 2 euros/kg for the deveined ones. Then a few shrink-wrapped whole raw duck breasts, then china terrines of many kinds and grades of duck and foie gras terrines and pâtés, then at the far end, whole ducks.
Somebody, not this shop, was also offering large jars of ready-made cassoulet.
The photo at the right is of part of a cheese display—in the foreground several kinds of small goat cheese; in the back, harder "pressed" sheep's-milk cheese. Each label has a little hand to mark the description of how the cheese was made, a little map of France to mark where it acame from, and a little image of an animal to show what kind of milk was used.
One of the cheese displays was even offering a nice goat cheese in a rather suggestive conical shape and calling it by a border-line obscene name. I do not incude a photo.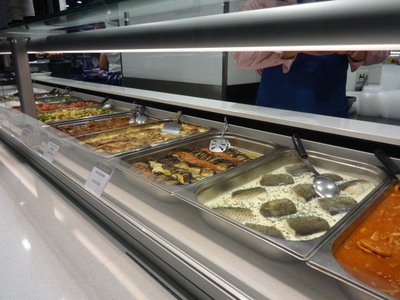 These two photos are from a "traiteur," which is usually translated "caterer" but usually refers to a place that prepares food for take-out. The marinated stuff above is another example.
Here we have squid rings in tomato sauce at the right-hand edge, then chunks of poached fish in a cream sauce, then something called an "Arlesienne" (a feminine thing from Arles) consisting of layers of baked eggplant, zucchini, and tomato seasoned with thyme, gratin dauphinois (potatoes au gratin), and braised pork in a brown sauce. Beyond that, disappearing out of sight, were small creamer potatoes, then whole tomatoes and large mushrooms stuffed with meat and baked, then basmati rice and fresh green beans, chicken drumsticks in a tomato sauce, and what looked like either chopped shiitake or marinated herring.
In the photo at the right are prepared cold salads from the same place: shredded carrot, cold ravioles in dressing, marinated shrimp, "tomato tartare," melon with ham, lentils vinaigrette, marinated tomatoes and green beans, a sort of rice tabouleh, pasta salad, cucumber tartare, orzo salad, etc., etc.
Here we are, back at the paella stand near the entrance, where a young man was making use of one of the large burners to sauté flour-dusted frogs' legs.
And, at the far end of the counter with all the foie gras products, a whole raw ham for sliocing.
In a confectioner's window, I found these marzipan candies, Disneyfied in the front, more traditional in the back, and all surrounded by chocolates. The same window featured slabs of halvah of several flavors and all kinds of Greek, Turkish, and middle-eastern pastries and confections.
Last of all, I visited a large fancy-grocery store in the corner of the market. At one end, it featured these gorgeous glacé fruits. I think the thing the pineapple is resting on is a whole, peeled, glacé melon. Below it are kiwi slices, orange slices, whole peeled pears, whole strawberries, wedges of lime, you name it.
Here's the other side the platter, where you get a better view of the whole glacé prickly pears (as well as the kumquats and citrus peel! Amazing.
You could also buy the fruits singly or in your desired assortment. The brown-and-white things are small brown figs, glac&eacute, then slit open and stuffed with blanched almonds, and the items to the left of them are, yes, whole glacé chile peppers, specifically the famous "piments d'Espelette"!
The store stocked, in addition to an amazing assortment of French items, lots of American and British foods: Aunt Jemima pancake mix and syrup, Hershey's chocolate syrup, Arm & Hammer baking soda, Pam cooking spray, cornstarch, cream of tartar, masa harina, Heinz pickles and ketchup, British chutneys, French's mustard, those McCormick brand envelopes of taco seasoning, veggie dip, fajita seasoning, etc., Hidden Valley ranch dressing, sweet pickle relish, three flavors of bottled BBQ sauce made with genuine Budweisr beer, British marmalades and mincemeat, A1 sauce, Worcestershire sauce, . . .
I didn't even include photos of the several poultry displays, including chickens, duck, turkey, pheasants, quail, partridges, and guinea hens. Or at least half of the deli offerings. I was pleased to see that the several places in the market that offered dried pasta all offered the same brand—de Cecco, my own personal choice.
Finally, just across the street from the market and next door to our hotel was an ordinary chain supermarket, so I ducked in there on the way back just for comparison. The only useful thing I found there that I hadn't seen at the market was little plastic tubs, each containing a couple of salt-preserved lemons. The produce was very sad looking, the Granny Smith apples were half brown, and the eggplants and peppers were all a little shriveled. Tough job running a supermarket across the the Bocuse!