Monday, 11 July 2016, Shopping and the little white train
Written 19 July 2016
A good but not great breakfast at this hotel. They had no decaf, so I had tea, David asked for hot chocolate. The croissants and bread were excellent, and the buffet also provided yogurt, ham, salami, and slices of a good soft buttery cheese. Jam and honey; Nutella.
We took our time, as we knew the stores where we hoped to shop didn't open until 9:30 a.m. (some of them not until 10 a.m.). On our leisurely way back to the shopping street we'd found, I got this shot of David in front of the white municipal theater (the one that faces city hall, which is out of the shot to the right) and this beautifully spruced up blue building. I'm not sure what it was, but the Wedgewood effect was lovely.
We started at FNAC, which turned out to be inside quite a sizable mall concealed inside the historic fa&ccedcil;ades on the street, There, after several tries at finding the right section in the book department, we found the two Muriel Barbery books I was looking for, L'Élégance du Hérisson and Une Gourmandise (i.e. The Elegance of the Hedgehog and Gourmet Rhapsody), both of which have been recommended to me by more than one friend. You can get them in French from Amazon, but at exorbitant prices for plain little paperbacks.
We considered getting a Michelin Green Guide but found that we'd have to get two or three to cover all the places we're going on this trip and that each would be very heavy and cover only one or two relevant cities, so we decided just to wing it.
I then presented myself at the smart phone counter and explained what I needed—a SIM card that would give me a temporary phone number in France and make my new Android smart phone work there. The friendly and knowledgeable clerk replied that he could sell me a SIM card but only one with a phone wrapped around it—FNAC sells phones but doesn't really stock separate SIM cards—and that I would do much better to go to the Orange store, conveniently located next door to the mall entrance.
There, we were greeted by a sort of triage clerk at the front door who, on the basis of what we wanted, took my name and directed us to a little waiting area in the back. From there, a nice middle-aged lady called me up and walked me through the process. A basic French phone number costs 9.99 euros and includes 5 euros' worth of phone time. I chose to add another 10 euros' worth of time, which brought my total phone time to 22 euros' worth because you get two euros' worth free with the purchase. She said that should give me about 42 minutes of calling within France, as long as I turned off data transfer. A call to the U.S. would cost 1.25 euros per minute. She then installed the new SIM card, did all the on-line registration and whatnot needed to activate it, and handed me back a functional phone that worked in France!
So for 20 euros, I got a phone number good for a month. If I were going to stay in Europe, I could, of course, top it up and renew it monthly. Because we're going back to the U.S., though, we'll lose any money left on the card when it expires in early August. If I find I have lots of money still on it after I've made my last oligatory call to reconfirm reservations, etc., I'll turn data back on so we can use it for mapping, weather forecasts, etc. in the last few days of the trip. Good deal. And in the process, I learned the French word for the octothorpe (i.e., the #); it's called a tièse, pronounced "tee-EZ."
I had brought along a tiny, sturdy pastic bag in which to put my old SIM card (which is about the size of my little fingernail) for safe keeping so that I can reinstall it when we get back to the U.S. I hope that transfer will be seamless and that the phone will just go back to talking to my U.S. service supplier.
Then it was back into the mall, which happened to include an even more conveniently located luggage store than the one we'd seen the day before, where I bought a new computer case. When we went back to the hotel to drop off our packages before lunch, I gave the old one to the desk clerk in case someone on the staff might find it useful. I also found the hotel's water system wonky (air in the lines, toilets constantly running, intermittent brown water). Apparently there had been an outage during the morning (we'd seen workmen coming and going from nearby manholes), and it wasn't back to normal yet.
We found lunch at a place called l'étage. David's choice was billed as a tomato salad, but as you can see the tomatoes occupied only a small portion of the plate. They were the special "coeur de boeuf" (beef heart) variety, and they had been peeled, sliced, and seeded, then pressed into a cylindrical mold to form a neat round stack, then drizzled with basil oil and decorated with a single basil leaf. They were delicious! To bulk them up to the status of lunch, the chef added two slices of toast (one plain and one paved with slices of grilled zucchini), some salad greens, several slices of excellent raw ham, and the white object at the back left, which we first thought was a very large poached egg but when broken open proved to be a lump of fresh mozzarella!
I ordered salmon tartare, which came with salad greens and fries. I asked for and got mayo for the fries, which was also good on the salmon, which wasn't very highly seasoned or flavorful.
We asked for a carafe of water to drink and got this wonderful chilled bottle of tap water. It says "Eau de Valence, mise en bouteille par notre ville" (Valence Water, bottled by our city).
And just because David complains that I don't take enough pictures of him, here he is, waiting for his tomato salad. The words behind him say things like "bon appetit" and "it's nice to share" and "good quality" and other random restaurant-relevant phrases.
Next up was the Office de Tourisme (our long walk on Sunday afternoon meant we knew where everything was when it opened on Monday).
Valence provides no walking tours beyond the items marked on the tourist map our hotel had given us, but we noticed that the little white tourist train was parked out front, so we noted its next departure time and went out to visit items on the map until then. We had already visited Napoleon's statue, and we'd walked by the famous "house of heads" (a stone façade decorated with lots of carved heads), so we headed for the cathedral.
Its side entrance (now the principal one) is located in the Place de l'Université, although the original entrance through the west portal opened on Place des Clercs. At the left here is a view of the Place de l'Université, facing away from the cathedral. The modern faç on the far side is the renovated university building that now houses the city's museum of art (unfortunately closed Mondays and Tuesday mornings).
Written 21 July 2016
The photo at the right shows the interior of the cathedral. It housed nothing remarkable from our point of view—a marble bust of a beloved bishop (he looked like a character and a nice guy), a very worn carved stone tympanum above a doorway that merited a page of interpretation posted below it, a couple of handsome side chapels.
But everywhere we looked were signs and arrows pointing to the famous "pendentif," providing no further explanation than its fame and location, which seemed to be behind the cathedral. I'd seen the word on signs the previous day, so I looked it up just be sure, and yes, it means "pendant," something that hangs, like something you'd wear on a chain around your neck. We walked around back, and sure enough, there it was—this massive square structure, with David in the photo for scale. On a nearby wall was a short text by famous southern-French poet Frédéric Mistral about another Mistral, who was apparently a relative of his. Below that was a quote from some other famous French literary personnage saying, "We speak of Frédéric Mistral in the same tone we used to speak of Homer." So what the heck was it?
Later research on the internet revealed that a "pendentif" can also refer to a particular style of circular vaulted ceiling in which the vaulting continues down (i.e., hangs) at the corners all the way, tapering to a point where it reaches the ground. This particular structure was a funerary monument to a local bishop named Mistral and was originally inside the cathedral's cloisters, which have since been destroyed. It's famous mostly for the perfection of its structure and particularly for the beauty of its single "pendentif" vault.
Walking back toward the little white train, we passed this interesting phenomenon—a section of the stone pavement that lifts and folds back to reveal a cluster of super-heavy-duty electrical outlets and other connections. We guessed it must have been left open after all the equipment for the soccer game was cleared away—French cities tend to designate one or more "fan zones" for big games, where they set up huge outdoor TV screens.
The little white train took us on a pretty good tour, a major feature of which was caryatids. Aside from the House of Heads, which went with all heads, they seemed to be the major design feature chosen by wealthy historic families of Valence.
Some were full-length people, others reduced to just busts or even heads.
Here, left, is the south façade of the cathedral and what is now the main entrance.
Apparently, one wealthy resident was tired of Caryatids and wanted something different. He built this house on a Moorish theme, with horseshoe arches and mostly geometric rather than figurative decoration.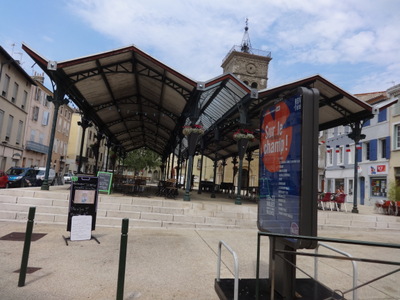 This iron and glass market canopy was built in the age of Eiffel, when wrought iron was all the rage. I forget whether Eiffel himself had a hand in this one. At any rate, it's been replaced by a more modern building (a thing of beauty itself), and this one now shelters mostly café tables.
The photo at the right is the sole remaining gate of the old city wall. That wall looks pretty thin to me—perhaps they only preserved the decorated façade.
After the little train, we headed back to the House of Heads, which my on-line research said would be open until 6 p.m., only to find that the once-weekly tour of the interior had taken place during our train ride. The interior courtyard and the one-room city museum on the ground floor were, in fact, open until 6 p.m.
The photos here show the interior courtyard (left) and the ceiling of the passage between the courtyard and the street. The museum was very well done and highly informative but not very photogenic—most of the displays consisted mainly of text, with small photos.
When we went back to the hotel to change for dinner, the water supply was still wonky. I never did get cold water back in the sink, but fortunately, the shower had both hot and cold.
Dinner was at l'Épicerie, where we were greeted effusively at the door by the chef, who was dressed in a red checked shirt and jeans. He seemed to spend most of his time in the dining room or answering the phone, but the food was good anyway.
The amuse-bouche was warm green-pea soup with chives. What looked like croutons were actually cubes of something soft—fish or chicken mousse maybe?
For the first course, we were each brought one of these odd litle pregnant sporks.
The first course itself, for both of us, was ravioles dressed with braised oxtail and cubes of foie gras. Not a bad combination at all.
David's fish course was filets of rouget (red mullet), with little slices of zucchini. I had roasted filet of cod with a lemon-butter sauce over black "forbidden rice."
David's meat course was pigeon, which came with terrific green beans and a sort of creamy mushroom hash.
I had veal kidneys, properly pink inside, with the same accompaniments, plus some tiny new potatoes.. I would like to drag every chef in Tallahassee to that restaurant to taste those green beans. They were, to coin a phrase, tender-crisp. The chef started with tender green beans and cooked them but not so much that they ceased entirely to be crisp. Tallahassee chefs start with huge, miserable tough beans and,in terror of overcooking them, pour a little boiling water overthem, and serve. Eating them is like chewing tree twigs. Yuk.
For dessert, we both ordered the chef's assortment: Clockwise from the top, a square of moist cake, a dish of lemon mousse, a little wedge of chocolate cake with custard sauce, a spoonful of baked custard, a sprig of fresh red currants, and (in the center) a wedge of nougat glacé (nougate ice cream) with a coulis of red fruits and some wedges of fresh apricot.