Saturday, 9 July 2016, Heraklion to Aix-en-Provence

Written 15 July 2016

So David got to keep the pillow that the hotel found for him to replace his missing one, but not for free. They sold it to him at the discounted rate of 10 euros! At least he'll be able to sleep on a pillow he likes for the next couple of weeks.

We had had the hotel call ahead to arrange a taxi to the airport to pick us up at 9 a.m. (for an 11:20 flight), but we were ready early, so they called the driver, and he showed up within minutes. The taxi was beautiful&mmdash;a Mercedes so plush he insisted I put my computer case in the trunk, lest its hard plastic feet mar the leather upholstery! He himself was dressed in a natty grey suit and tie and wisked us to the airport door in exactly Google's predicted time for 12 euros (just 2 more than your ordinary scruffy taxi-off-the-street would have charged).

We were therefore at the airport is plenty of time, but the wait passed quickly in conversation with colleagues who were waiting for their flights. One of them was the father of the kids who drew the raffle tickets, travelling home to Brazil. His wife and the kids were on a different flight.

The Aegean Airlines flight to Athens was on time—Heraklion's airport is busier than the one in Athens, as it handles an amazing throughput of tourists in season; they've got the system down pat. We were served beverages and cookies on the way.

Because we had to change terminals to catch our flight to Marseille, we had to claim our luggage, then check in and go through security again. At that point I learned that the telescoping handle on my rolling computer case would no longer extend. It worked when I rolled it onto the plane in Heraklion but not when I carried it off in Athens. Suddenly, maneuvering my luggage around was a lot more awkward and tiring. Fortunately, we had the time to deal with it.

The flight to Marseille was also on Aegean, and we were served an outstanding pastitsio on the way. My own should come out so good! And, again, the bread was warm. Aegean is very proud of having been voted best regional airline in Europe. Listen up, Delta. I don't even insist you feed us oftener—I know you need to save money—but when you do feed us, talk to Aegean's chef first!

We were a little surprised to go through passport control and customs in Marseille, but the times being what they are, we couldn't complain. The airport shop was right where I remembered it from 2013, so I was able to cross off the first two items on our arriving-in-France shopping list—a road map of the relevant region(s) and a half-dozen half-liter bottles of Evian. From the outside pocket of my suitcase, I produced a canvas tote bag and a flattened cardboard six-pack to corral the water bottles while we drive.

After wrestling my luggage over to the rental car place, we had a looong wait. A British couple travelling with five children and a ton of luggage couldn't go anywhere, because Enterprise had not come up with the two car seats—one large and one small—that they needed and had gone to great trouble to arrange for ahead of time. The office was very busy, and just one guy was left on the counter by himself. All the other agents were chasing car seats or helping other clients who found problems with the cars they were picking up or turning in.

We weren't in a hurry, so we just waited our turn. Many more people were stuck in line behind us than in front. Always in the past, Bill (our agent at Adventures in Travel) has sent us to Europcar, but this time for some reason it was Avis on Crete and Enterprise in Marseille (although we drove right by large Europcar lots both places). We'll have to ask him about that.

At last, we heaved my miserable heavy luggage into our car, broke out a bottle of Evian each, and set out for Aix-en-Provence, where we stayed at the same hotel (Le Concorde) we were at in 2013. The car's GPS took us straight to the hotel, but we missed the turn into the narrow alley leading to its subterranean parking garage, and there was no going back. I tried setting the GPS to renavigate us there, but it immediately directed us the wrong way down a one-way street. Forget that—after a little circling, trying to find the way back by ourselves, we just drove into the Carnot parking garage and dragged the luggage the two blocks back to the hotel.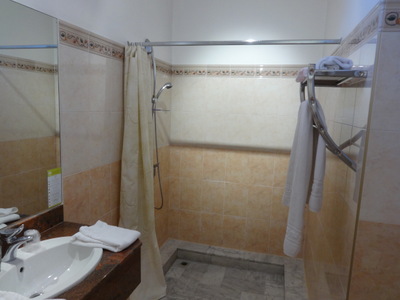 This time around, although we still had to drag our luggage up three steps to get to the lobby, the elevator went all the way to our rooms, and the bathrooms were "en suite." Mine turned out to have a magnificent marble-floored walk-in shower.
It was also the best-wired hotel room I've ever been in, with (count 'em) seven available and easily accessible electrical outlets, plus a bunch of other jacks and plugs. The photo at the right shows just the cluster above the desk.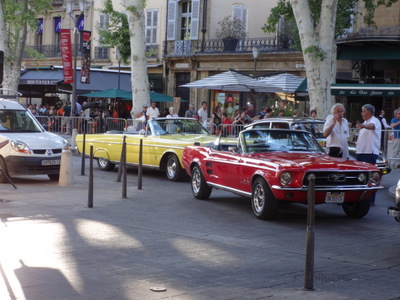 Once we'd settled in, we set out to stretch our legs and to look for (a) a luggage store where I might replace my computer case, (b) a bookstore (I was looking for a couple of books that ought to be cheap but that I couldn't find in French except by mail order for exorbitant prices), and (c) a store that might sell us a European SIM card for our cell phone.
We found none of the above, but we stumbled on an amazing assemblage of lovingly restored antique cars, in the process of forming up on the Cours Mirabeau! More were arriving by the minute and being waved into their positions in the line-up. We admired them for a while as we strolled down the street, and I just had to take another photo of the fountain shown at the right. It's (one of two) supplied by a natural warm spring, so its big globular rock is coated with vegetation and stays green and flourishing (even blooming) right through winter.
Our dinner for the evening was at Côté Cour. Its name is doubly a pun. First, it's by the side of a street called the Cour Mirabeau. Second, the French often speak of "côté jardin," "the garden side" (i.e., the front of the house) and "côté cour," "the courtyard side" (i.e., the back of the house), and the restaurant is located in the inner courtyard of its building.
As you can see in the right-hand photo, it was open to the sky when we dined there, although the glass ceiling and canvas sunshade could be slid closed as needed.
The meal was a wonderful plunge back into the world of French cuisine.
While we studied the menus, they brought this sardine can full of sardine spread. It arrived with the lid in place, but the waiter lifted it off to reveal the spread inside. The white globe contains coarse salt, and the paper bag a handful of miniature baguettes.
The waiter also brought over the blackboard listing the evening's specials, none of which we decided to order.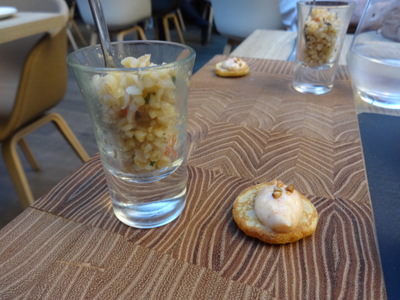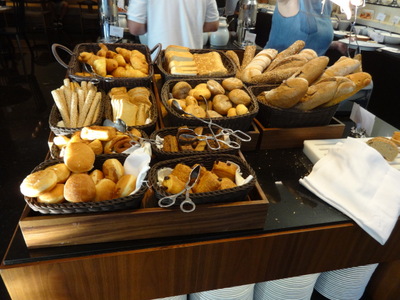 The official amuse-bouche consisted of, for each of us, a crisp blini topped with a puff of taramasalata and a small glass filled with exceptionally flavorful and perfectly textured bulgur tabouleh.
We chose the "Menu Plaisirs Gourmands" at 45 euros, which offered two choices for each course. David started with foie gras with granny smith apples, passionfruit gel, and ginger. The apples appeared as coiled thin slices, the passionfruit as small yellow pools, and the foie gras as a block topped with a layer of granny smith jelly. Toasted brioche on the side.
I had the zucchini blossom stuffed with crabmeat, with cucumber jelly, yuzu, black olives, and a crisp made of rice but tinted green. The tiny baby zucchini that came attached to the blossom was sliced up and, with other vegetables, formed the base on which the stuffed blossom rested.
David's main course was shoulder of lamb confit (i.e., slow cooked) for 36 hours, with black garlic aioli (the dark-gray splodges), braised red peppers, and little veggie stacks of grilled zucchini and eggplant.
Mine was grilled red tuna topped with one (rather tough and sandy) razor clam. On the side, grilled cherry tomatoes with anchovies and black olives on a bed of grilled eggplant.
The tuna was not "seared," as is the present fashion, but cooked very gently, so as to remain moist and tender throughout.
Each of us got a bowl of these scrumptious mashed potatoes flavored with olive oil, butter, and crême fraiche, then heavily sprinkled with fresh chives.
David's dessert was a "hot chocolate mousse," which he said was like a very good chocolate pudding.
Mine was apricot Pavlova. Rather than a crisp meringue base topped with whipped cream and them with fruit, this one was a layer of cream topped with a dome of crisp meringue, in turn topped with thin slices of apricot poached in basil syrup.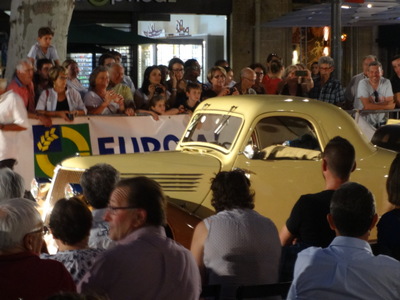 When I cracked open the meringue dome, I found it filled with basil-flavored stewed apricots. They didn't quite get the meringue dry throughout, so parts of it were pretty chewy, and I think they assembled it at the last minute, rather than ahead of time so that the meringue could get tender, but it was nevertheless delicious.
Our stroll back to the hotel led us past the antique cars again. This yellow one was being presented as we went by.
As the banner says, this was "The Old Steering Wheels of Provence," and each car was being driven forward in turn to have its make and year announced, its salient features pointed out, and it period-costumed drivers identified.
The light was low, so I had trouble getting sharply focused photos of the cars that were moving, but this one at least serves to give an idea of the resplendent colors and gleaming chrome.
Here's the yellow car again, back in its assigned parking spot. It had an old-fashioned rumble seat (called a "mother-in-law seat" in French), which was demonstrated during its turn in the spotlight, but I didn't manage to get a good photo.
Here, at the end of the street is good old King Renée le Bon, standing patiently on his plinth overlooking the parking area.
Among my favorites were this bright red sports car (an MG?) and this great old "woody" wagon.
Finally, as we continued to walk toward the hotel, we encountered the line of big brass nail heads in the sidewalk announcing that we were walking in the footsteps of Cezanne.
Unfortunately, it was very hot, and in the course of the evening, all the hotel's guests came back to their rooms and turned up the AC full blast, with the result that the power failed a couple of time, but it was quickly restored, so no harm done.