Monday, 30 May 2011: Uphill and down
Written 1 June 2011
Monday morning, we rendez-vous-ed at 8 a.m. for an expedition in search of breakfast. The hotel provides a lovely buffet, but unless you're planning to chow down on eggs, bacon, cheese, cereal, etc., it's not worth 15 euros/head. At the Café Cenrale, we could get just the French-style breakfast we wanted, for much less, but ordering it was a circus, because our hyperactive waiter kept jumping to conclusions and couldn't seem to understand that we didn't want to order the standard fixed-price "formula"—I wanted bread and butter and (not or) a pain au chocolat, and I didn't want fruit juice; Margaret wanted fruit juice but no hot drink; David wanted decaf, black; CJ wanted cappucino, not decaf, with her pain au chocolat. Unfortunately, on Mondays many bakeries are closed, so they were out of pains au chocolat; instead, we got yesterday's rewarmed croissants—merely excellent, whereas the day before they had been superb.
We'd been threatened with thunderstorms Sunday evening and a rainy morning, and promised cooler weather for Monday afternoon, but none of the above materialized. We splurged on another cab to the Jacquemart-André museum on Boulevard Hausmann and joined the line just before its 10 a.m. opening time. Since we were first there, the museum has gotten much better known and more popular, and with good reason, as it's a fabulous take-in. A few of the rooms were occupied by a temporary exhibition that we didn't see, but the stuff that was displaced was our least favorite—stiff medieval religious icons on gold backgrounds—so no harm done. The museum's audio-guide is still among the best around, and the house alone is worth a visit, independent of the art collection.
I was again puzzled by the painting depicting Saint Bonaventure holding the "tree of redemption." What's with the pickle? I mean, I'm all for attributes, those characteristic items that appear in paintings to let you know what saint you're looking at, but a pickle? Margaret volunteered that she'd heard of people who traditionally hide a pickle-shaped ornament on the Christmas tree&mdahs;the kid who finds it gets a prize or something. Could that have something to do with Saint Bonaventure. [Not added later: Not according to what I could find on the web. Any clue anybody?]
For lunch we repaired to the museum's tea room for an assortment of salads, all named for artists featured in the museum. Margaret had this heap of cold tortellini topped with slices of salted beef and skewers of tomato and mozarella, pitcher of vinaigrette on the side. I had the Vigé-Lebrun, which included salad greens, dill-marinated raw salmon, shrimp, a rosette of "tarama" (a fluffy fish-egg mousse, herring I think), and warm potatoes topped with crême fraiche and chives.
CJ had the salad with chicken and tropical fruit (hold the grapefruit, which, like her mother, she detests) all piled into a bowl consisting of a tomato-flavored "feuille de brik" baked crisp). David's "Tiepolo" salad was topped with slices of scallop terrine and the marinated salmon and sided with the crême fraiche and chive sauce and a little round zucchini soufflé. CJ selected a strawberry-flavored pastry from the trolly, David had a bowl of fromage blanc with sugar, and Margaret and I had ice cream (caramel and coffee for me; caramel and chocolate for her).
After consulting our city and metro maps, we walked a few blocks north, through the Parc Monceau, to catch the metro to Anvers, at the foot of the Butte de Montmartre, just a couple of blocks downhill of the lower end of the funicular. Margaret, David, and I took the funicular up the hill, but CJ, truly her father's daughter, took the stairs. She easily beat us to the top because only one car of the funicular was running, and we had to wait through several cycles to get on. (CJ may be small, but she runs the loading dock at a large bookstore and personally shifts several tons of boxed books daily. A 150-yard stairway is as nothing to her, and if you accost her in a dark alley, she'll pick you up and pitch you into the street.)
As usual, on the last few flights of steps above the funicular, which form a sort of natural amphitheatre for buskers, someone was belting Piaf tunes through a portable amplifier, accompanied by a guy on a little electric keyboad. Neither Margaret nor CJ had visited before, so we spent a good while admiring the mosaics and stained glass inside the basilica (I say it again; bring binoculars). It was pretty crowded, and some of the shrines were ablaze with votive candles, enough to be uncomfortably hot if you got too close. No photography allowed, more's the pity.
Having started at the top, we then found that, as planned, all our walking for the rest of the day was downhill. From the basilica, we strolled through and around the Place du Tertre, crowded as usual with café tables and with densely packed artists painting and selling souvenir pictures. Some specialize in cutesy florals, some in quaint views of Paris, some in portraits painted from photos (which you presumably leave at least overnight), some in quick charcoal sketches from life (a wonderful one of David hangs in our hallway at home), etc. Margaret and I were accosted by a rather obnoxious old guy who tried to talk us into letting him paint Margaret's portrait for 60 euros. When Margaret said we wouldn't have time, just as I said it was too expensive, he lectured us sternly for not having our story straight and making clearly specious excuses, because both couldn't be the problem at once. I hope Margaret wasn't disappointed, because I wouldn't have dealt with that creep no matter how cheap or quick he turned out to be.
A little farther down the hill, we stopped in at the Espace Dali—Margaret is a Dali fan, and David and I were eager to compare this collection with the one we'd seen in Brussels last year. I find a good deal of Dali baffling (including the melted clocks, which, even when their symbolism is explained, leave me cold) and the rest enchanting. I love the rhinos and elephants on stilts and the female torsos with drawers in them and the wing-footed snail and lip sofa shown here. The snail's left wing doesn't show up very well, because it's edge-on to the camera, but it's feathered like a bird's wing.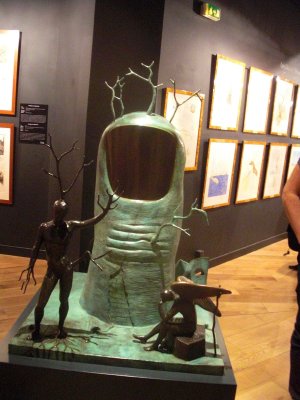 Here we see a large bronze thumb with its entourage and St. George slaying (or "terrassant," as the French say) the dragon. Apparently wings on a snail are sufficiently Dali-esque to speak for themselves, but in some of his otherwise more rational-looking work, he feels obliged to insert trademark touches, like crutches (the dragon's tongue, some of the thumb's twigs, supporting the seated angel's wing and many of the lamps around the sofa) and the transformation of the dragon's wing into flames. I'd be curious to know whether the Dali thumb predated or followed César's.
And just when you've looked at your 400th confusing mostly-abstract watercolor and decided that the man just couldn't draw, you come to one that includes six different butterflies, easily identifiable to real species and portrayed with precision worthy of a field guide. I also enjoyed the life-size piano whose legs were those of life-size cancan dancers and a bronze torso of Venus, sliced and offset at hip height to reveal the egg (life) and ants (death; he looked closely at butterflies but had apparently never seen a real ant) within her. A melted clock replaced her head (because, I am reliably informed, beauty is both fleeting and timeless). And some abstract-ish glass-paste objects (I had forgotten, if I ever knew, that Dali collaborated with the Daum glass people), including an "antiflower"—okay, it was green; otherwise, I didn't see it as particularly antifloral.
While CJ, Margaret, and I finished the museum, David studied the map and plotted our route home, so after a brief uphill stretch (the museum is under ground, so we had to climb back out of it) we hiked farther downhill to the "Poissonière" metro stop and headed home to get ready for dinner.
Our reservations were at Le Violon d'Ingres, just a few blocks away. Again, the maitre d' recognized us from previous visits and seated us at the same table we've had the last two times. They'd done a little redecorating, and to my surprise, their standard amuse-bouche of radishes, butter, and salt has been changed to bread, butter, and salt—a better combination to my way of thinking. David started, as usual, with a glass of champagne, and with it, they brought tiny puff-pastry ham-and-cheese pizzas, small gougères, and slices of toast.
When we came to the real food, CJ and David both started with foie gras (shown above), hers hot (left) and his cold and encased in brioche and aspic (right). Margaret had a beautiful salad, in a bowl about 16 inches across that united all the traditional caesar ingredients but took them to a new level entirely. The chef was using a lot of "sucrine" lettuce this year—a kind of miniature romaine, very crisp and sweet, with heads about six inches tall. In the center of the salad, under the slices of prosciutto and Parmesan, was a mound of it, cut in thin shreds and tossed with miniature croutons. Around that he arranged five quarters of a head and dressed the whole thing with a very light vinaigrette with bits of ham and shallots in it. Finally, he served a creamy, anchovy-flavored sauce to be added as needed. Margaret ate the whole thing, which was bigger than her head! I got a thin, crisp tart of phyllo pastry filled, or rather topped, with a creamy garlic sauce, frog legs, thin slices of smoked eel, and bits of crisp fried garlic and parsley. It was delicious! (And apparently made from a three-legged frog.) The decorations around the edge of the plate are oil with scattered drops of balsamic vinegar.
And that was just the starters! For the main course, both David and CJ had roast pigeon and declared it delicious but difficult to eat because it was on the bone. When the waiter came by later with a finger bowl, CJ was delighted to learn that fingers were therefore permissible and reattacked the legs, which she had set aside. Margaret had crisply pan-roasted "bar" (sea bass, Dicentrarchus labrax) with almonds on a bed of wild spinach and surrounded by a ring of capers in vinaigrette and more almonds. The piece she gave me was delicious!
I couldn't help ordering veal sweetbreads again, and was again delighted with the result. Perhaps a little less fine-grained and creamy than those at l'Ami Jean but with even better flavor. As the (rather blurry, sorry 'bout that) photo shows, they were served with carrots and the same mixture of fresh peas and individually peeled baby broad beans as the pigeon. These two are in season at the moment, and chefs are making the most of them. Notice also the lightly cooked whole leaves of sucrine added to the mix.
The cheese course was set—we each got two slices of Saint Nectaire, from different makers, with a little salad on the side.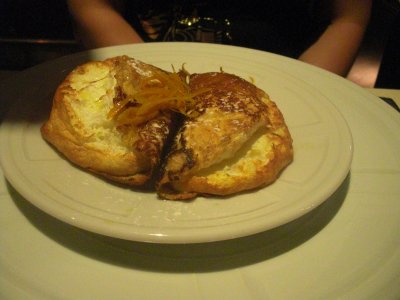 For dessert, CJ had orange-flavored souffléed crêpes (described on the English, but not the French, menu as "Suzettes") with candied orange peel and a little pitcher of warm Grand Marnier-rum sauce.
David had chocolate canneloni— sheets of chocolate pasta (real pasta with lots of cocoa added to the dough before it was rolled out) rolled into cylinders around a chocolate filling, served on a bed of stewed raspberries, and garnished with chocolate "sails" and fresh raspberries. He declared it delicious and surprisingly light.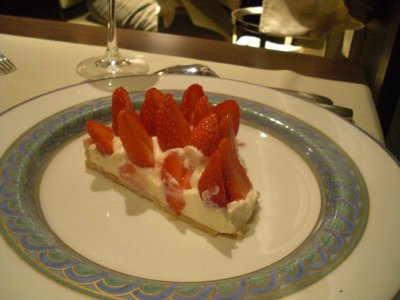 Margaret chose the dessert of the day, which they brought to the table to tempt us: a fresh strawberry tart with a creamy filling.
I had "caramelized rhubarb strudel," decorated with a lovely assortment of fresh fruit, rhubarb ribbons, and part of a vanilla bean. The end that was most caramelized (with a blowtorch, I would guess) was good, but I didn't care for the texture of the pastry at the pale end. (Also, I think my appetite took kind of a hit with the cheese course, which was quite large. I ate all the fruit, though.)
The mignardises were house-made caramels and madeleines. I had only a caramel, but CJ tried the madeleines. Having no tea handy, though, she did not immediately embark on an epic novel.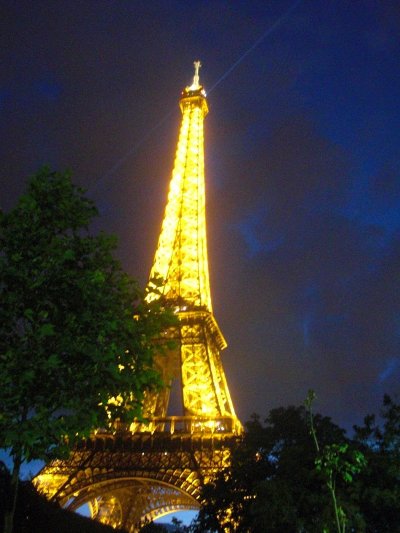 Finally, after dinner, we once again strolled toward the Champ de Mars to look at the Eiffel Tower, this time from several blocks closer, before heading back to the hotel.