Saturday, 28 May 2011: Getting over the jet lag
Written 28 May 2011
At Charles De Gaulle Airport, as has always been the case in the past, we found that they had completely redesigned and rebuilt the airport since our last visit, two years ago. But at least this time it's well signposted. We emerged from the jetway into an elevated glass corridor and started following the baggage claim/exit signs—along the corridor, around several corners, up an escalator, along another corridor (this one long enough to involve two segments of moving sidewalk), down an escalator, around a few more corners, into an (above-ground but not elevated) automated train for a ride to another building, along more corridors, down another escalator, and around a few more corners until we finally encountered the usual huge hall cordonned into switch-backed crowd-control lanes for an extremely perfunctory passport check. Then another hike to baggage claim. We'd spent so much time getting there that we hardly had to wait for the luggage at all. Then more corridors and corners, through customs, which seemed to be entirely unmanned and to consist solely of deserted inspection tables and automatic doors that let us out of security and into an area we actually recognized. If we'd had anything to declare, I'm not sure we'd have been able to find anyone willing to listen. But after all that, we were pleased to find ourselves at the old familiar, well-designed and well-regulated taxi stand we used to use a few years ago and were shortly on our way to the hotel. For some reason the driver took us in through the Porte de Vincennes, on the west side of the city, rather than on the east side, as the last few have. I thought it was longer, but David said he preferred the new route.
When I travel, I always crave something hot, greasy, and salty, so I grabbed some nachos in Atlanta. But when David staggers off a long-haul flight, he always wants a hot chocolate, so we left our bags at reception (it was 10 a.m., so we never entertained any hope that our room would be ready for check-in) and walked around the corner to the wonderful pedestrian shopping section of the rue Cler. Café Centrale served us outstanding, strong, dark, thick, old-fashioned hot chocolate, which we sipped while people-watching for a half-hour or so. (In the photo, David peruses the International Herald Tribune while we wait for our chocolate. He had already read Le Monde on the plane.) That fortified us for a morning of exploring the neighborhood on foot, shopping not very vigorously for postcards, books, antiques, art, and a new Gault-Millau guide but mostly soaking up sunlight, to help with the jet lag. We got the Gault-Millau guide—50% thicker and heavier than the last, because they've added bed-and-breakfast places—and a postcard, but the art and antiques around here are neither to our taste nor within our budget, and the bookstore was sold out of the Nicole de Buron novels we were looking for. Spotted a great pharmacy sign in the rue Cler. Pharmacies in France are marked with large illuminated green crosses, which are typically programmable, so that individual pharmacists can set them to blink and flash in distinctive patterns, but this one was hteonly one I'd ever seen that started as a green outline and filled itself from the top with falling Tetris pieces!
On our walk, we encountered these lovely two-foot long door handles (on the rue Grenelle, I think). I don't know why the lizard on the left should be chewing on an ear of corn; perhaps he's extracting the tasty corn-borer grubs. In a different block, we found a bicycle rental (or perhaps bicycle lending) stand, where dozens of bikes were linked up, ready to be checked out. In Lyon, I think the transaction is free, although you probably have to leave a deposit of some sort. Good idea. [Note added later: No, it's not free, even in Lyon, but it's inexpensive. You subscribe by the day, week, month, or year and are given a code, tap card, or some such that lets you unhook a bike from the rack. Each bike comes with its own lock, so that you can lock it when you have to leave it during your time of possession. When you're done with it, you can return it to the rack where you got it or to any other rack with a vacant post. We saw people using them all over Lyon, where they are very abundant.]
I also spotted some great punning business names, like "Cler de Lune," a clothing store on on the rue Cler, and "Tome Dom" (the bookstore on rue Saint Dominique where we got the GM guide). "Dom Tom" in French is the collective nickname for the "Domaines et Territoires Outre Mer" (i.e., the French "Overseas Domains and Territories" like New Caledonia); "Tome Dom" comes from "tome" meaning book and "Dom" for the street name.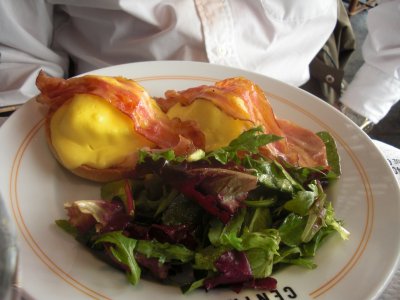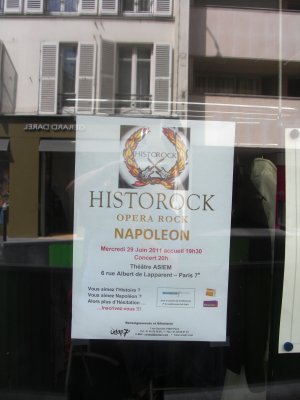 At lunchtime, we went back to the Centrale, where I had a house omelette (bacon, gruyère, and stewed tomato) and David had eggs "bénédictine"—lovely organic poached eggs smothered in much better and more authentic hollandaise than you ever get in the U.S. but nonetheless different from real American eggs Benedict. Each egg was topped with a slice of fried pork that approximated low-sodium American bacon (rather than the authentic Canadian bacon) and was resting on a round baked object that we concluded was what you would get if a French baker worked from a description of an English muffin but had never seen or tasted one. Both very good, though. For dessert, we split a sort of cakey, cheesecakey, dumplingy round pastry, selected from an assortment displayed on a tray. I didn't catch the name, but I'll watch for them in bakery windows, where they will be labeled.

On the way back from lunch, to check into the hotel, we spotted this poster in a shop window (surrounded by reflections of the building across the street) for "Historock," a rock opera about Napoleon that will be playing later this month. What will they think of next?

So now, as usual, David is napping in the room while I write in the lobby, which is pleasant in a sleak, modern kind of way—large bookcase featuring coffee-table books and French classics in inexpensive new bindings, sunny breakfast room with extensive buffet (now bare) and view of the top of the Eiffel Tower out the back, big bouquets of fragrant lilies.

Tonight, we have reservations at Chez l'Ami Jean, an old favorite from previous trips.

Written 30 May 2011
At Chez l'Ami Jean, chef/proprietor Stéphane seemed more cheerful and jovial than in the past. I think he's rather proud of his reputation as a curmudgeon, though, so he kept up a show of gruffness. He did give us a smile and wave from his usual station here at the kitchen passthrough (note the caricature of him as Superman at the right; other long-time staff members appear on the same wall, as Wonder Woman, Batman, etc.). I think he recognized us (or, more probably, our unusual name on the reservation list) from previous visits; in fact, when David stopped at the passthrough to compliment him at the end of the meal, he reached out to shake hands, just as though we were regulars (which, I guess we are, although infrequent ones). The photo at the right is my view of the restaurant, toward the entrance from our table in the back, before it filled up. We arrived about 20 minutes early for our 8 p.m. reservation, but by 8:15 p.m., it was hopping.
The amuse-bouche was, as usual, dark bread with a fiercely garlicky spread based on yogurt or fromage blanc.
David ordered the 42-euro menu; I was seduced by à la carte menu items.
First course, David: "Mitonné" of beef (a sort of cold, jellied potroast) with carrot purée and surrounded by pale flavorful foam. He raved about it.
First course, me: A half-dozen roasted langoustines, served hot, with mild herb vinaigrette, complete with all the paraphernalia—china bowl for debris, shell cracker, crab fork, and large moist towellette. They were good, but I've had better, or perhaps just more to my taste. The meat was very soft-textured and therefore difficult to extract from the shells. It won't lure me away from my favorite preparation—boiled 3 minutes in salted water, then served cold with mayo.
Main course, David: three cuts of "porcelet" (piglet), some salted-cured and some fresh, all braised and served hot, with silken buttery mashed potatoes and stewed lentils. The tastes he gave me were outstanding!
Main course, me: Braised sweetbreads on a bed of finely diced (French-style) bacon and green peas cooked in the juice of stewed carrot tops and decorated with three wisps of dried grass/hay (mine were stuck into the sweetbreads and standing up, but we noticed that, when things got frenetic in the kitchen, the chef didn't take the time—he just tossed them onto the plate. Also outstanding. When it arrived, I speared just one of the little stewed bacon bits to taste, and wow! Amazing flavor, and the rest of the dish lived up to that preview. At the lower left is a sprig of, ficoïde glacier, iceplant, sparkling all over with tiny crunchy blisters of sap. We had the leaves as a garnish two years ago in Chablis, but this was a sprig of the green fruits—a little more acid than the leaves, but if anything even more delicious.
For dessert, we split the "riz au lait" (rice pudding) that came with David's menu and still couldn't finish it—each serving is about a pound and a half. Two years ago, I found it a little below Stéphane's usual standard, but this year it was back to its full glory—drizzled with "confiture de lait" (like sweetened condensed milk) and served with fluffy, creamy "dairy caramel" and a little dish of buttery grilled almonds and hazelnuts. One of my favorite desserts in the world.
Even if the food weren't so good, just watching the place operate would be worth the price. The room is small and was soon packed tight. The wait staff of three had to scootch between chairbacks to circulate among tables, ducking over and under each other and each other's trays, and every time someone arrived at or left one of the tables around the edges, the whole table had to be pulled out to let in or out the diner with his back to the wall. Meanwhile, Stéphane and his brigade of about four juggled plates like crazy and shouted orders back and forth, slicing and dicing, grilling and frying, glazing and saucing, dodging each other just like the waiters, and calling out to the servers, "Table 7's ready, now! 11's under my hand!" Truly amazing that every dish reached its destination promptly and none was spilled down anyone's back.