Tuesday, 27 July 2010: Waterloo to Brussels
Written 25 July 2010
We thought about going back to Le Pain Quotidien for breakfast, but breakfast in the hotel came free with the room . . . .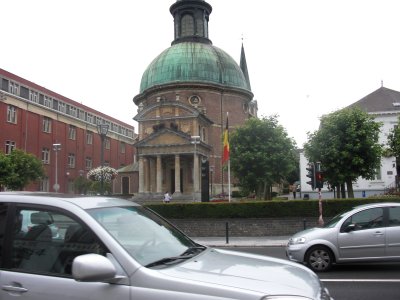 First, we visited the church, because it opened earlier than anything else. It had a nice madonna and child (clad, as were many in Belgium, in a white linen dress) and a lovely carved wooden pulpit, but it main claim to fame is its large collection of memorials plaques dedicated to people who fought in the battle of Waterloo (from the size of your hand to ornate marble and bronze affairs larger than doors)—all on the British/Dutch side, of course. These two were both medium-sized, one dedicated to the memory of a scion of the Howard family who is actually buried at Castle Howard in England. The other commemorates all those who fell in the battle and was erected "by a few brothers in arms and countrymen."
Outside the church, on the parvis, was this more modern monument marking the resting place of a WWII deportee to Auschwitz, laid to rest with sacred soil from three battlegrounds. It was dedicated in 1976 by two Belgian princesses.
The inscription at its foot read "The risk of death was their daily bread."
From the church, we moved on to the tourist office, right next door, to ask when the Wellington museum opened, whether the battle-field tour trucks were running again, and where we could find a chocolate shop. The nice lady answered the first off the top of her head (half an hour yet), called the museum at the butte to ask about the second (no, but maybe this afternoon), and reeled off a list of four chocolateries within a couple of blocks. So we improved the shining half-hour in shopping for chocolate gifts—our hotel for that night (our last in Belgium) was located too near the airport to be in good shopping territory (and I hate shopping for stale chocolate in duty-free at the airport). The first shop was closed, the second was Godiva (not my favorite), but the third (Neuhaus) was perfect.
By that time, the Wellington-headquarters museum was open, and an excellent museum it was. It started off, of course, just like the Napoleon one—once again, we learned who slept and strategized where, viewed many Wellington artifacts, etc.—but out back (across the courtyard where a mother cat was nursing half-grown kittens) in what had been the barn was an excellent set of hour-by-hour maps of the battle, with clearer descriptions than I had yet enountered of what happened when and why and what the consequences were. Interspersed among them were many period documents, personal accounts, anecdotes and other interesting bits of information. On each of the maps, each group of soldiers was marked with the name of the commander in charge, and at one point (near that farm that Napoleon's brother kept battering all day), I spotted the name Byng! Now how many Byngs could there be?—it had to be either the Byng of "Bingo Crepuscule" from Sebastien Japrisot's Un Long Dimanche de Fiançailles (called A Very Long Engagement in English) or a relative. David insisted it couldn't be the same one, because Japrisot's Byng fought in WWI, 100 years later, but I thought it might be, because only his portrait appeared in the book, and that might have dated from 1815. David was right, though. When I got home, I looked them up. Japrisot's Byng was the grandson of the Byng who fought with Wellington at Waterloo—very military family.
In another part of the courtyard was a small grave marked with a marble slab that read, "Here liest the leg of his Majesty's illustrious, brave and valiant Lieutenant General the Earl of Uxbridge commander-in-chief of the English, Belgian and Dutch cavalry . . . ." The loss of Uxbridge's leg is a major theme in Waterloo-related art.
Even the gift shop was great. It featured, among other things, this whimsical poster of "Champignon Bonaparte," and a GI-Joe style action figure of Napoleon with removable clothing, boots, spurs, riding crop, marshall's baton, hat, miliary decorations, and the famous gray coat.
Now our "everything" tickets were down to just one item—that dratted battlefield tour. So back to the tourist office we went, where the nice lady called to enquire again. Repairs were still ongoing (and had been for quite a while; the truck-load of spare tires was on site while we were climbing the butte, and the repair guy was working away), but the tours were expected to resume after lunch. The 1:30 p.m. tour was full, but we might be able to get into the 2:30 p.m. tour. We thought long and hard but decided that would run us too late in the day. Time to cut our losses, have lunch, and then head for Brussels.
Them came extensive discussions, also ongoing since the day before, between the tourist lady and the museum guy about just who was supposed to refund our money for the tour. Each thought the other unreasonable, but at last the lady reimbursed us, and we went our way.
For lunch, we chose Restaurant Brasserie du Couvent, in an alleyway off the main street. It was decorated with murals of river scenes and was full of locals, most apparently regulars.
We had made no plans for dinner—once again, the location of the night's hotel did not bode well for restaurant prospects—so because we would probably have to settle for a modest dinner, we felt a little freer to indulge at lunch. David chose the day's blue-plate special: stuffed tomatoes. It took the form of two large tomatoes, hollowed out and stuffed with a ground-veal meatloaf mixture and baked, accompanied by a large mound of garlic mashed potatoes.
I took advantage of my last chance at mussels and fries and order the mussels in curry cream sauce. The fries came in yet another variation on the nonpaper paper cone. The well at the bottom was filled with tartare sauce for both the mussels and fries. Note that the fries were U-shaped in cross section, like some I got in Dijon last year. Inexplicable but good.
Then, alas, there was nothing for it but to pack up and head off to Brussels. The drive was short and actually rather scenic, since the route ran through the large park southeast of the city, but I was worried about finding the hotel. The directions on its website were in very quaint English but seemed clear enough. The map that accompanied them bore no relation that I could see to anything on our Michelin maps of the area (and the more detailed map showed the hotel as being located in the middle of a large blank space amidst a tangle of freeways, without so much as an aproach road near it), but as long as we didn't miss a turn, the directions might work.
Accordingly, we ignored all route numbers on the hotel's map and got onto what Michelin said was the ringroad around Brussels. So far so good; we came to the "Zaventem Airport" exit and followed it toward Brussels as instructed, following "Brussel Evere," whatever that is. Next we were supposed to take exit 4 to "Diegem Industrie-zone," then turn right at the traffic light. We passed exit 3 but never came to an exit 4. We did come to a traffic light, so we turned right. The directions then specified our route through three rotaries, none of which we ever encountered, but presently, there was the hotel. And, yes, it was the right one. They had our reservation and everything. Inexplicable.
The hotel was one of a tight cluster of Accor hotels: a Formula 1 (the one where reception is automated and you never even see a person), an Etap (no frills, but a step up from the F1), an Ibis (another step up, where we were staying), and a fourth we couldn't see the front of. In the central parking area they all shared was this astonishing cross between an ATM and a vending machine that dispensed hot pizzas, in 3 minutes according to the claim painted on the front. You made your selection (choice of four flavors) on a touch screen, shoved in your money (10 euros—bills, coins, or credit card plus PIN), waited your 3 minutes, and collected your pizza from a slot in a picturesque painted "brick oven" below the touch screen. "Careful," the sign said, "it will be very hot!" I assume it comes in a box. Another sign painted on the machine said, in four languages, "Enjoy your meal. Cutlery is available on request from the reception desk of your hotel." It even provided a little roof to stand under in case you had to wait your 3 minutes in the rain.
Once we were checked in and had offloaded the luggage, it was time to drive back to the airport to turn in the car. These hotels were the most air-travel-oriented I every encountered—for example, their lobbies included airline departure boards just like the ones at the airport (although they didn't bother to list flights leaving within the hour; if you were still at the hotel, it was too late for those anyway)—and one of their features was a shuttle that ran about every 30 minutes back and forth to the airport, so we just planned to take the shuttle back. They even gave us a little slip of paper with the schedule printed on it, which turned out to have very little to do with actual reality.
Finding the airport was easy—all signs pointed to it—just a matter of retracing our route to the road we turned off at the traffic light and following it in the other direction, past the freeway we had exited from. I was glad we wouldn't then have to find our way back. We returned the car without difficulty, pointing out with some annoyance the problem with the license plate (which, fortunately, was still securely scotch-taped in place), found the hotel-van pick-up zone, and were studying the schedules posted there (which bore no relation to either our printed slip or reality) when a sleek black SUV with the "Pullman" logo stopped at the curb. It was driven by a uniformed chauffeur and had an actual stewardess on board! According to the posted schedule, the Pullman shuttle was operated by Accor, so we just asked if they were going to the Ibis, too. Yes, they were, so off we went, with a half dozen other folks, none of whom, as it turned out was going to the Pullman. Pullman hotels turn out to be yet another Accor line, rather dressier than the Ibis. The fourth hotel in our cluster was a Pullman. Strangely, on the route taken by the SUV, we encountered all the landmarks in the original directions, including the three rotaries, and came upon the hotel from the other direction on the access road. Inexplicable.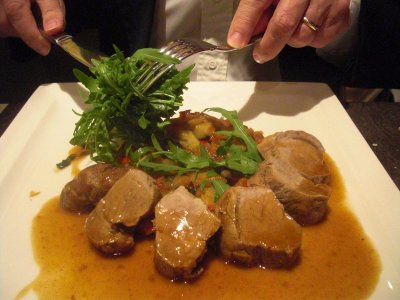 As it turned out, we did not need to resort to the Pizza's Box; the Ibis had a decent restaurant in its lobby. But before we committed ourselves there, David said, "Let's just stroll over the Pullman and look at their restaurant. Their restaurant turned out to be closed for the summer, but the limited menu being served in the bar still looked better than the Ibis, so we had dinner there, with just one other party.
David had a starter of smoked salmon with a quenelle of something tasty (rhubarb compote, maybe? under the parsley), then roast veal with a very good ratatouille and arugula salad.
I had a main course of "duo de solettes"—two small whole flatfishes (minus heads and tails), sautéed meunière style, over a bed of sautéed spinach with bacon and tomatoes. Excellent! I don't really know what a "solette" is—maybe just a baby sole or maybe a different species altogether (sand dabs, maybe?). FishBase doesn't recognize the name "solette," and Google Image isn't much help. Alone, the term pulls up a bazillion pictures of shoes, and with the word "fish" added, it brings up just one other image, also of a "duo of solettes" with different vegetables, being served somewhere else in Belgium. They were definitely tasty, though.
My cheese course turned out to be copious but not especially good. Even the waiter wasn't sure which cheese was which, and none of them was much to my taste, but at least I got to try the assortment.
Finally, we split a dessert that was sort of a cross between crème brul&ecute;e and bread pudding. Pretty good. Not the best meal of the trip, but way better than we had any right to expect, staying in an Ibis hotel under a flight path in the middle of an industrial park. And the Pullman lobby featured not just airline departure boards but actual airline check-in kiosks, right there next to the elevators!