Saturday, 10 July 2010: Brussels with Jacques Brel
Written 11 July 2010
Saturday morning, the breakfast room was much calmer, but much of the help didn't seem to speak either English or French (or, in at least one case, even Flemish). I managed to order hot chocolate, but when David tried to order decaf when he came down a few minutes later, we had to go through along song and dance to convey the concept, and then it came twice delivered by different waiters, once in a cup, which he drank, and once in a pot, which he distrusted. In the process, I, for some reason, got a second order of hot chocolate, so David switched to that.
The hotel desk was happy to sell us stamps, at 1.5 euros per postcard! They didn't know how much the post office charged, but I knew it couldn't be that much. So while David practiced his talk, I hiked off up Anspachstraat, where I easily found the post office to which they had directed me, but it wouldn't open for 20 minutes yet, so I might not be back by the time David came downstairs looking for me, so I contented myself with hitting the ATM next door for some euro-cash and walked back. When David appeared, we set of again for the post office (only about five blocks), where I was able to buy our stamps for the trip. In France, we buy 20-gram "prêt-à-poster" prestamped envelopes, which are cheaper than postcard postage and permit one to use the entire area of the postcard for writing (and will even hold two postcards, if they're not extra heavy), and because they're good from year to year, I usually just buy a fistful, without bothering to count exactly how many we'll need. But Belgium produces that kind of thing only for use within the country, so I counted up our various projected destinations—15 USA, 1 GB, 1 France, 1 Norway, 1 Thailand, 1 New Zealand—which turned out to be three "Europe" stamps and 18 "everywhere else" stamps. At 21.90 euros total, clearly cheaper than the hotel.
The queuing system in the post office was great! When you enter, you press a button on a little machine that dispenses a numbered ticket—I was number 093. Then you retire to one of a whole wall of comfy benches (room for maybe 40 people) to wait for your turn. Overhead, video monitors display the last three numbers called and to which window. A little chime indicates that a new number has been called. I had to wait through about 20 numbers, but a dozen windows were open for business, so the queue moved briskly. After a few minutes the monitor chimed and displayed "093, window 7," where the nice lady helped me sort out my postage needs. In the process, I learned that the francophone Belgians count, "soixante, septante, huitante, nonante, cent" (i.e., sixty, seventy, eighty, ninety, a hundred), much more convenient for speaking and math than the French-French practice of counting "soixante, soixante-dix, quatre-vingt, quatre-vingt-dix, cent" (i.e., sixty, sixty-ten, four-twenties, four-twenties-ten, a hundred).
The next stop was the W.H. Smith/Waterstones bookstore, only a few blocks farther along and our only chance at a British English-language bookstore on this trip. David was able to get a Terry Prachett and a Wodehouse that were both new to our collection.
Next on the agenda was the Jacques Brel walking tour, but it was lunchtime, so we walked back toward the Brel center, on the other side of the Grande Place, reading menus all the way. In the end, we went on past the Brel center, back to the Place des Grands Sablons (a few steps from our restaurant of the previous night), which was lined with promising lunch establishments, and settled at a place on the corner, which advertised an air-conditioned interior (as usual, all the locals were sitting outside in the full sunlight, at about 80°F; we'll eat at that temperature, but not without shade!).
We both ordered the "salade landaise," the menu item that lured us in, and were delighted to find that, not only was the salad excellent but the chef had gotten an A in "garnishing" at cooking school. For each salad, he/she had somehow molded a "feuille de brik" (an impossibly thin disk of Moroccan-style pastry, like filo but way more tender) into a sort of morning-glory shape and deep-fried (or maybe baked) it until shatteringly crisp, fragile, and absolutely grease-free, and then stuffed it with arugula, a couple of pieces of sweet and chewy roasted tomato, and a piece of foie gras. That whole assembly was then added to a plate of a different mixture of salad greens topped with more slabs of foie gras, walnut meats, and slices of duck ham rolled around yet another kind of salad and secured with skewers. In addition to the delicious vinaigrette on the salad, the whole plate was then drizzled with balsamic syrup. Wow! Beautiful and delicious.
Written 12 July 2010
The Brel tour originated at "Éditions Jacques Brel" (Jacques Brel Publications). They had a museum, but we opted for just the walking tour. We were issued our audioguides (available in French only) and given the usual little route maps. The acoustics of the headphones were really good, but to wear them with our hats, we had to wear the headbands around the backs of our necks, and they weren't usefully adjustable, so we had to hold them in place pretty much continuously.
The extensive narration in the audioguide was by France Brel (Jacques's sister), Miche Brel (his wife), and several other siblings and offspring and was interspersed with recordings of commentary on his life and philosophy by Jacques himself. Best of all, the walking time between stops on the tour was occupied by Brel songs, chosen to correspond appropriately to the locations. For example, walking around the Place Ste. Catherine, we heard the infectious "C'était au temps où Bruxelles bruxellait!"—difficult not to dance and sing along. The narration gave the impression that Brel's married and family life was much more successful and tranquil than I would have gathered either from his song lyrics or from the fragments of his life story I've heard over the years. I'm going to have to read an actual biography to get the story straight.
The tour led past many famous Brussels landmarks (while the narration explained their relevance to the Brel family and Jacques's life). At the left is the view down over a formal garden and across the city (back toward our hotel). The equestrian statue (facing away from the camera) is Albert I, beyond that and lower down (not visible in the photo) is a statue of Queen Elisabeth (of Belgium), facing him. At the right is a Calder mobile standing in a fountain (right behind me when I took the photo of the garden). The top segment rotates slowly in the breeze—I waited for it to turn broadside, so that its shape would be visible.
Further along, among a cluster of large imposing (government?) buildings, I spotted this lovely clock, surmounted by a dapper metal gentleman in a top hat, waiting patiently to strike a large bell. We didn't wait around for his performance.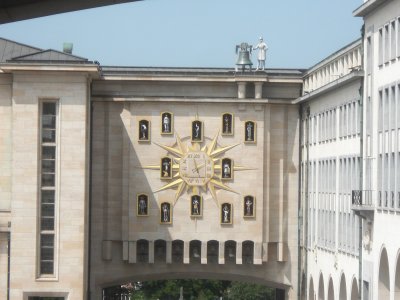 At several points, on the tour as well as in the Grande Place and elsewhere, we encountered the brass scallop shells embedded in the sidewalk that mark a pilgrim route to Santiago de Compostella. Presumably the large, two-towered cathedral is a stop on the route.
The tour route led us right past the cathedral. (It also led us, at one point, past the window of a tapas bar, where one could see little dishes of tapas going by on a conveyer belt! I'd seen that in sushi restaurants, but for tapas, it was a first.)
This white marble monument, apparently (in the artist's intention) an allegorical scene of some kind, is popularly called "Hugo dépouillé par les banques" ("Hugo despoiled/stripped naked by the banks"). Victor Hugo apparently spent some time in financially induced exile in Brussels (at the same time as Karl Marx!). The tour narration also revealed that the forest of yellow flagpoles with blue and yellow banners outside the Royal Library, which we've walked back and forth through several times, is a work of Buren. Of course, I should have known. He's the same one who perpetrated the forest of (or, perhaps more exactly, stubble-field of) truncated columns in the courtyard of the Palais Royale in Paris.
Somehow, we never found time to visit the city museum or even the office of tourism, so we actually learned much less about Brussels and its history and monuments that we usually try to in a new city. I don't even know the name of the cathedral or what most of the buildings we passed were. We did finally see the Centre des Beaux Arts (which we'd been seeing signposts to and posters for events at since our arrival). It's a large, ornate building topped with a row of brightly colored flags, and it's prominently labeled, and universally known, as the "Bozar" (a phonetic spelling of "Beaux Arts").
The route of the tour led, at one point, back through the shopping galleries we had strolled through before, where I got this photo of a wonderful sculpture (perhaps two feet tall) of a koi. I couldn't be sure through the glass (and all the reflections of passers-by) whether it was clay or metal. I don't think David cared for it, but I thought it was great (much more beautiful than actual live koi).
Outside the gallery, we found this "trompe l'oeuil" painting, just completed (yesterday, as we walked by, the artist was still working on it) on a wall connecting two separate sections of the famous "Leon de Bruxelles" restaurant. It now has branches all over Paris (and presumably elsewhere), but in the 1950's, Jacques Brel and his friends used to frequent this, the original restaurant. We also walked past a large bookstore (right next door to the place where we had lunch on Thursday) that, in the 1950's, was a night club/performance space where Jacques and those same friends hung out and sometimes performed.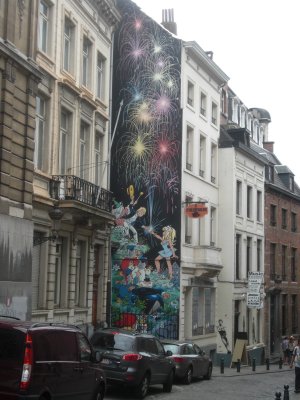 When our feet gave out, we took a shortcut back to the Brel Center, where we sat on a bench in the air conditioning to listen to some of the segments of the tour we didn't get to (especially the ones we would walk through on our way to dinner that night). Then, on the way back to the hotel, we passed this wall painting, not exactly trompe l'oeil but fun nonetheless. Belgium, like Angoulème in France, is a center of cartooning—for example, it's the home of Tintin, who is portrayed elsewhere, furtively descending a trompe l'oeuil fire escape with dog and companion.

Dinner was at "La Belle Maraichère," in the Place Ste. Catherine. It wasn't far, but we left the hotel early so as to stroll past a few more Brel sites. As the narration on the audioguide had said, the whole neighborhood has changed, and the old haunts are all under new management, but we passed the bar where Jacques and Miche got engaged and the corner where Jacques and his father used to buy pastries for Sunday dinner (from a baker whose wife had been born a Brel); apparently the were both fond of chocolate and used to buy extra pastries to eat on the way home.

We reached the Place Ste. Catherine and located the restaurant with time to spare, so we started to stroll around to kill time, but the sky had clouded over, and when the first rain drops started, we took shelter under the restaurant's awning, read the menu in the window, and finally went in early. (A decal in the window revealed that the restaurant is a 15/20 in the Gault Millau guide, so such a guide for Belgium must exist.) The restaurant was already half full of couples young and old and of family parties, some celebrating birthdays. By the time we were halfway through dinner, torrential rains were falling, thunder was crashing, and a stiff breeze was flapping the awning outside.
We ordered the Menu Gastronomique at 55 euros. After an amuse-bouche of a bowl of cold "gray" shrimp in the shell (each about 1 inch long; many restaurants are advertising them now, so they must be in season; they're called gray shrimp, but they're really mostly pink). The menu began with fish soup with croutons and rouille, but rather than being a thick reddish-brown purée like the usual French version, it was a thin but rich reddish-brown broth full of leeks, chunks of fish, and mussels. We spread the rusty-colored, garlicky, slightly spicy rouille thickly on the croutons and dropped them into the soupe. Delicious! Someone at another table ordered the soup as his main course, and his came with larger pieces of fish, lots of mussels in the shell, and a bowl of grated cheese as well as the rouille and croutons.
For the second course, I chose terrine of skate and king crab with green herb sauce. You can see the layers of solid boneless skate and the circle of solid king crab embedded in a smooth mousse of both. The sauce was a sort of green herb mayo. It came with a salad mixture much like my Thursday lunch—green beans, diced tomato, Belgian endive. David chose fricassée of lobster, which came in a rosy cream sauce with lots of leeks and green onions and was accompanied by a bowl of rice to add to the sauce. He gave me a couple of bites and the head, which still had a fair amount of meat in it.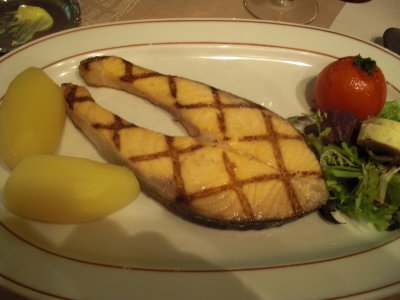 For the next course (the main one?) I chose wild Atlantic salmon, which took the form of a thinnish steak, perfectly grilled. On top of the greens at the right (next to the delicious roasted tomato), you can see two disks of shallot-laced butter, to be melted over the fish (and optionally over the potatoes!). Perfect. David got the sole "Bréval," a whole small sole, cooked, boned, reassembled, and napped with a cream and white wine sauce laced with tomatoes and mushrooms. It came with delicious mashed potatoes that had been browned under the broiler. Excellent!
The cheese course consisted of bleu des moines, Herve, and what I've been assuming was Brie or Camembert but which is apparently some locally made look-alike. I'll have to try to find out the name. The French generally serve only token bread with cheese (sometimes a special flavor, like walnut or date), and never butter. The Belgians, on the other hand, seem always to reload the bread basket and to bring a fresh pot of butter for the cheese course. The cheeses were accompanied by a little tuft of undressed salad (that would never happen in France, where even a leaf of garnish is always dressed) and some slices of soft, sweet apple.
Dessert was a duo of "soufflées glacées" (frozen soufflés), one of chocolate and the other of "imperial mandarin orange." The chocolate was good, but the orange was much better. It was garnished with threads of confit orange zest and thickly studied with tiny cubes of the same.
The rain that had pelted down through much of the meal let up by the time dessert was served, and it stopped altogether in time for us to walk home but left behind a much more pleasant temperature for the stroll.