Thursday, 8 July 2010: Brussels, jet-lagged
Written 8 July 2010
We had tailwinds all the way and landed in Brussels, at 8:05 a.m. local, after only 8 hours 11 minutes in the air. Kind of a wait at passport control and another waiting for the luggage, but we strolled through the nothing-to-declare customs lane without a hitch and caught a taxi into town immediately. I had the name and address of the hotel, as well as quite a clear Google map of its location, but the driver apologetically refused the map, explaining that he was required to enter the address (rather laboriously) into the GPS system newly mandated by changes in the taxi regulations. He managed to enter it, after three tries, then set off for the city, resolutely ignoring all its instructions. The patient French-speaking lady in the GPS speaker never said anything about recalculating, but she would say "move into the left lane in 300 m; move into the left lane in 100 m; move into the left lane now; turn left now, now!" (driver stays in middle lane and goes straight); "move into the left lane now; prepare to make a U-turn in 100 m; make a U-turn now! (driver stays in middle lane and goes straight); "prepare to move into the right lane in 1.6 km"; etc., etc. We had agreed before leaving the airport that the hotel was right near the Bourse (the stock market, a major city landmark), but even when we got downtown, the driver disregarded all instructions and the patient lady kept coming up with new ones, ignored in their turn. Finally, the driver pulled up to the doorman of another hotel and asked how to find the Marriott, got simple and straightforward directions, ignored those, but shortly pulled up at the hotel anyway. Bizarre.
Our room still wouldn't be ready for a couple of hours, so we dropped off the luggage and headed out on foot in search of hot chocolate (David wanted a hot chocolate), the Grand Place, and lunch possibilities. At 10:30 a.m., most restaurants had stopped serving breakfast and were preparing for lunch, but we found the hot chocolate at "Exki" an organic fast-food restaurant chain (the name is a homonym for "exquis," meaning "exquisite," and on all the signs the "i" is a carrot). Excellent hot chocolate, so little sweetened that they provide sugar with it in case you think it needs more. It was great just the way it was.
We wandered around the Grand Place and its surrounding streets for a couple of hours reading menus (tough choices!), pricing postcards (expensive in that neighborhood; a euro and up per card), and window shopping. Lots of windows featured Belgian lace, still made by hand on special velvet-covered rollers by little old ladies using from 10 to 50 or more cylindrical bobbins of thread (each the size of my index finger) and a million tiny pins. Many others featured chocolate, like these heaps of truffles (in another window of the same shop, we saw cute suspended jellyfish made of clear blown glass as well as bowls of "veritable cuberons," which are inch-tall purple conical candies that turn out to be a specialty of the region made of raspberry paste). Both the Tour de France and the World Cup are in progress. I didn't see any chocolate bicycles, but many shops displayed the life-size chocolate soccer balls I remember from our visit to France during the last World Cup in 2006. The World Cup finals are coming up soon, so maybe the chocolatiers will switch to a bicycle theme after that, as the Tour de France will continue. Another chocolate shop offered little paper cones filled with chocolate-dipped fresh strawberries, for munching while sight-seeing.
During our walk, we chanced across "Aux Armes de Bruxelles," the only Brasserie Flo in Belgium! The menu looked really good, but David wasn't up for a full-sized meal because we have serious dinner reservations for this evening. We went instead to Café Restaurant l'Ogenblik; I think an ogenblik is a wink or a glance. It was located in one of three beautiful intersecting covered shopping galleries where we window-shopped some extremely upscale stores. According to the decals in its window, it's been in the Michelin guide for the last four years, but we couldn't look it up because we don't have the guide with us. (That was a matter of some discussion. We habitually plan each year's trip from the previous year's Gault-Millau guide, then leave that guide home and buy a new one in France to bring home with us. No point in buying a new Michelin Guide for Belgium, as we don't forsee coming back here next year, so we debated whether to bring along the one we had but decided it wouldn't be worth the weight.)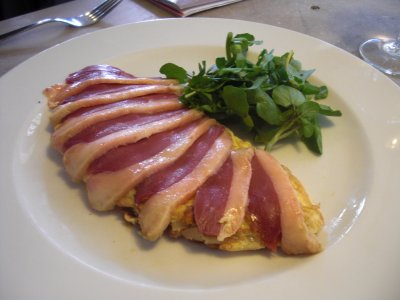 The place served excellent crusty, chewy bread with a ragged chunk of equally excellent butter carved from a big slab in the kitchen. I ordered the "salade gourmande"—a heap of vegetable salad (baby green beans, diced tomatoes, finely shredded Belgian endive, thinly sliced muchrooms, coarsely chopped parsley) dressed with a creamy vinaigrette and surrounded by langoustine (Nephrops norvegicus) tails and slices of cold foie gras. The plate was decorated with streaks of balsamic syrup.
David ordered "l'omelette aux girolles et magret de canard," an omelet of chanterelle mushrooms paved over the top with slices of duck magret, i.e. duck-breast ham, accompanied by a little heap of watercress. Yum. Mine was good, but I think his was better. We'll get back to the Brasserie Flo another day, if only for afternoon tea.
The Grande Place is certainly grand. As we approached from a small side street, I got this shot of the flamboyant gothic spire of the magnificent city hall that forms one side of it, then as we emerged into the place itself, this photo of the rest of the façade. To get a photo of the whole thing at once, you have either to rent a helicopter or to buy a postcard. I opted for the latter. The gilded figure at the top of the spire is an angel, wings akimbo, flourishing a sword and shield, which I take to be the archangel Michael. The side of the place opposite the city hall is formed by the "king's house," now the museum of the city of Brussels, and the two ends by a whole assortment of ornate guild halls and merchants' mansions, as seen here.
One whole corner of the place is taken up by the largest guild-hall of all—that of the brewers. We deduce that the gilded equestrian figure over its door is emperor Charles V (called "Charles Quint" in French and "Kaiser Karel" in Flemish).
So now we're back in the hotel room, watching the French coverage of the Tour de France (it's all bicycles, all the time, for hours at a stretch, because nobody is playing soccer just now). Frankly, I'm surprised no vuvuzelas have turned up along the spectator-lined route. The coverage is spectacular—dozens of scooter-mounted handicams, roadside cherry-pickers every few kilometers, a couple of helicopters—and every time they pass through a village, the commentators digress to give all sorts of historical, architectural, and cultural information on the local points of interest, while the helicopters televise the aerial view, swooping down to show, e.g., the way you can see right through the steeple of Notre Dame de l'Assomption in some little village near Fontainebleau. We're surprised at how many of these places we've actually visited over the years! The hotel thoughfully provides an electric kettle and several flavors of tea, so we're enjoying decaf English breakfast and plotting our trip to Restaurant JB, where we have reservations tonight. It's farther than we care to walk, so we'll probably take a cab.
The view from our room is of the handsome (19th-century) façade of the Bourse and, behind it, the spire of the city hall. Of course the photo inevitably includes two for our Great Cranes of Europe series. I can see six tower cranes from our window, and that doesn't count the two smaller, mobile ones currently in use in the Grande Place, erecting a huge stage and band shell for Sunday's Festival of the Flemish—I'm not sure whether to be glad or sorry that we'll be out of town by then.
This photo shows more of the interior of the shopping gallery we walked through earlier.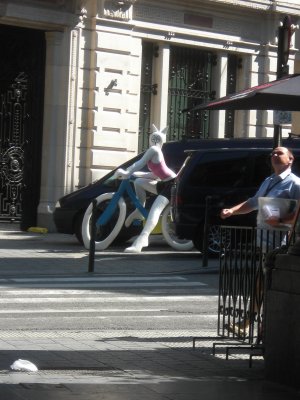 Out the windows at the far end of it we could see this surprising piece of what we can only assume to be art, right in the middle of traffic.
Written 9 July 2010
In the end, we decided to walk to the restaurant after all, since our feet were in good shape, and we could always take a cab home. The driving distance was a little over 2.5 km by Google map and somewhat shorter as the pedestrian walks. We allowed plenty of time so as to sight-see on the way got there just about on time for our 8:00 p.m. reservation, as usual the first to arrive. By the time we left, only two other parties had come in, so only a single waiter was on duty. Through the open kitchen door we could catch glimpses of two middle-aged men in chefs' blacks (many chefs around here dress all in black rather than all in white; who knows why) and an older lady in a white apron. We don't know who or what "JB" might be. The logo of the restaurant is a sort of jagged spiral, prominent on their business card, and they've had a number of them made up in silver and use them like paper-clips on the napkins at the place settings.
We both ordered the menu at 36 euros (a very good deal).
To start with, I chose cold seared tuna with Asian flavors and and a salad of noodles and "algae" (actually mostly Salicornia, a seaside flowering plant). Not very French/Belgian, of course, but excellent nonetheless.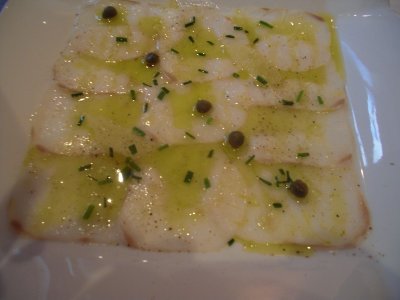 David chose "carpaccio" of cod. What the chef seems to have done is to take a very hot plate and pave it with neatly tesselated petal-thin slices of raw cod, add a sparse sprinkling of cooked potato bits, season the whole thing carefully, add a drizzle of olive oil, snipped chives, and a diagonal line of capers, and serve it up. The result was a very thin layer of extremely fragile and tender barely poached cod seasoned to perfection. Great!
For the main course, we both chose seared sea scallops with asparagus risotto, surrounded by a golden saffron sauce. Delicious! The three-way combination was wonderful, the risotto exactly al dente, the scallops tender and sweet. The only flaw, if it even was a flaw, was that after eating it I found my teeth covered with oxalic acid scuzz. I don't see how you could get that from scallops, asparagus, saffron, rice, or anything else we could detect. I can only guess that some of the green color of the rice came from spinach, or perhaps the flavorful (and oxalic acid laced) water spinach had been cooked in. Odd.
The choice for dessert was between a cheese plate and a duo of desserts, so we got one of each. The cheese plate, garnished with pieces of dried date, apricot, and fig, consisted of Vieux de Bruges (with a dark rind, a little Gouda-like, excellent), a small wedge of Chaource (knocked our socks off; we love Chaource, and this one was superb!), a slice of "bleu de moines" (blue cheese from monks), and a square of r Herve (apparently a Belgian specialty; it looked like American-style Muenster but had more flavor and is, understand, classified as similar to Limburger).
The duo of desserts were (a) a quenelle of excellent house-made rhubarb sorbet, topped with another house-logo spiral made of light hard caramel, and (b) a little heap of particularly tender, sweet, and juicy berries smothered in sabayon (a sort of sweet, wine-flavored, hollandaise) and caramelized ever so lightly on top. Also excellent.
After only three courses and such a restful day, we decided, as it was still broad daylight, to walk back to the hotel as well. After all, considering the restaurant reservations we've got lined up, we're going to need all the exercise we can get.