Tuesday, 27 May 2008, Nancy to Châlons-en-Champagne
(Written 30 May 2008)
After a last express breakfast in Nancy, as we headed to the car, we could hear, as usual, a merle singing somewhere nearby. A merle looks, acts, and sounds almost exactly like an American robin, except that it's entirely black (except for the male's bright yellow bill). We've heard them everywhere we go this year, but particularly in Nancy, where they haunt the public gardens and the interior courtyards of buildings. We never seemed to be out of earshot of one, even when we seemed to be in entirely urban settings. From Nancy, we headed for Châlons en Champagne. When we were there 20 years ago, it called itself Châlons-sur-Marne, but it has recently reassumed the name it held before that.
Our first order of business, though, was to go back and try again to visit the "bois brulée" and "croix de la redoute." Knowing where to look for the signpost, we found it easily this time, almost within sight of where we had abandoned our previous attempt to reach it, but after just two photos, the camera hiccupped and jammed. It was on, the lens was extended, and the screen showed whatever you pointed it at, but a little yellow light blinked continuously, and nothing we could do would alter its state in any way. Panic! I've really come to rely on that little camera! Thumping it gently (in the hopes that the problem was mechanical and that a thump would jar it loose) didn't work, so we assumed the problem was electronic and just set it in one of the wells of the console between the seats and left it alone, in hopes that, given time to think, it would sort itself out.
The battle of the redouts, of which bois brulée was a part, was among the struggles for control of the St. Mihiel salient, a couple of years before the salient was finally rolled up. The French were holding two wooden redouts with a curtain wall (actually a wooden palisade, I think) between them, reinforced by the usual trench system and facing the well entrenched (as it were) German forces in concrete-reinforced trenches (the photo shows David, his hood pulled tight against the drizzle, exploring a German machine-gun emplacement). Although the horror of Verdun went on for over a year, over a much larger area, and involving many more troops (and therefore in the end many more dead in absolute terms), the 3 months of "la redoute," culminating in the three climactic days at bois brulée, are generally regarded, horror for horror, as the worst and remain a symbol for the French of staunch resistence. At the end, of the forces manning that section of trenches, only two men remained alive and unwounded when relief arrived, but they held the trench against the attempted German advance.
According to the survivors of bois brulée, the dead and wounded were continually sinking into the mud or being buried, dead or alive, by incoming shells. The wounded cried out for hours, sometimes for help, other times to be put out of their misery. The incident is remembered particularly for the rallying cry of one of those last two men standing: "Debout, les morts!" He was desperate, half out of his head with fatigue, and really angry at all those dead guys lying around doing nothing, so among other things, he yelled essentially, "Stand up, you dead slackers, and fight!" The dead didn't, but some of the wounded did, and they managed to hold off that last German assault.
The explanatory signboards there were really interesting. One talked about construction of wicker or wire "baskets" which were filled with stones and used to shore up the walls of trenches. Another was about the discovery, by one of the troops, who was a science teacher in civilian life, that you could intercept the German field-telephone traffic by sticking an antenna into the ground. Practice at the time was to connect the phones with one wire and to use the ground as the other to complete the circuit. Thereafter, the French were able to keep their telephone communications secure by using two wires rather than the ground.
After spending some time walking the trail (n a light rain), reading the signboards, and visiting the large wooden cross erected at the site, we drove on to St. Mihiel, where we had lunch at the Pont-Aven, the restaurant that had been closed earlier because of Mother's Day. David had the salade lorraine (warm creamed potaotes and bacon) and I had the "formule à 11 euros, which consisted of the starter of the day ( melon, raw ham, and a small salad), a grilled andouillette (i.e., a sausage stuffed with, yes, tripe) accompanied by green beans and a delicious mustard cream sauce, and a chocolate-filled crepe. I ate the melon and gave David the ham, and we split the crepe. Very nice little place, but the camera was still on the fritz.
From there, we drove on to Châlons (which name is apparently a corruption of a Latin name commemorating the defeat nearby of Attila and his huns by the local gallo-roman army under General Aetius in 451 A.D.) and found the hotel rather more easily than usual. We also found a pay-and-display parking space right in front of it that, with the addition of about 2.50 euros, we could keep until 9 a.m. the next day! After checking in, I turned my attention to the camera. It had apparently run its battery all the way down, because the yellow light had gone out and the display had gond blank and dark, but it still didn't respond to any buttons. I put it on its charger and hoped for the best. In the meantime, we went for a stroll in the drizzle (and encountered a covered shopping mall, where we bought three French novels—two Marcel Pagnols and a Patrick Cauvin— and a new Gault-Millau guide), located the evening's restaurant (just a few blocks away), and visited the tourist office, which we left again without talking to anybody, because everyone there was on the phone and never hung up.
Back at the hotel, I found, to my delight, that the camera had entirely reset itself and had gained enough charge to respond normally to all commands and to take pictures. Whew! So I sat down to work on this blog, and . . .
(Written 27 May, 6 p.m.) Well, drat and a half! In bringing my various entries up to date, I have arrived at the inescapable conclusion that today is 27 May! Meaning that we had reservations today (and not tomorrow, as I thought) for the vinyard tour out of Epernay, that the Ibis in Epernay was expecting us today to pick up David's hat, and that we'll now have to do the 60-km round trip to Epernay just for the hat, because the vinyard tours don't run on Wednesdays! And I have to reconfirm our restaurant reservation for the 29th today. I called the Ibis; no problem, we'll pick up the hat tomorrow. I called the vinyard-tour lady, and she was very gracious; she had just assumed we'd changed our minds because of the drizzle; no, she hadn't had to turn anyone else down because of our reservation; and no, there was no need to pay for the missed tour; it was very nice of us to call and to offer to pay. I called the restaurant in Paris: busy, busy, busy, no answer, no answer. I'll keep trying.
(Written 30 May 2008)
So no vinyard tour this week, but we might possibly be able to do it when we're in Reims next week. Keep a good thought. I did manage to get through to the Paris restaurant and reconfirmed the reservation.
Dinner was at Restaurant Jacky Michel (tomorrow's will be, too). We were puzzled at first as to why the otherwise sober and classical restaurant would have a large painting on the wall showing a montage of people involved in various kinds of aerobics, until we realized that they were circus performers. Châlons is the proud home of a major circus-training center.
We chose the simple, four-course menu "Au Fils du Temps" ("As Time Goes By"), but we knew we were in trouble when we saw the size of the amuse-bouche. We each got a whole roasted onion (I've lifted the top off mine for the photo), hollowed out and filled with snails in herb cream sauce, and a cylinder of seasoned zucchini purée, differently seasoned chopped raw beef, sprouts, and peanuts. Delicious, but rather larger than amuse-bouches usually run.
First course: "Potato tart" with local white asparagus, arugula salad, fresh herbs, and cheese. The potato tart turned out to be a sort of mashed-potato/flour pancake topped with the other stuff. It was outstanding, but it was not small.
Second course: "Parmentière" (i.e., potato dish) of duck with foie gras. The chef first lined a heavily buttered mold with thin slices of potato, fanned into a decorative circle, then added a layer of boneless duck confit, then a thicker layer of mashed potato and baked the whole thing until the lower layer crisped and browned. Then he turned it out on the plate, surrounded it with rich reduction sauce and small roasted onions, and topped it with a slab of sautéed foie gras and a branch of fried parsley. Again, it was outstanding, but it was, frankly, large.
The cheese course was similar to others, but again, the cheeses had been "dry" cured rather than allowed to get runny. Delicious, but I like runny better.
Dessert: Roasted French toast with sautéed strawberries and fromage blanc ice cream, sprinkled with mint chiffonade. I happened to get a very sour strawberry on the first bite, but the rest were fine.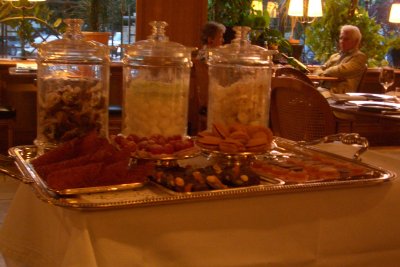 Even though we did not order coffee, they brought the mignardise tray, which offered chocolates (several kinds), two flavors of fruit paste, orange-flavored tuile cookies, small three-raspberry tarts, and large jars of caramels, nougat, and marshmallow(s). I accepted, despite the waiter's encouragement, only a single tuile, but David said the chocolates were excellent.
previous entry List of Entries next entry