Sunday, 25 May 2008, Mother's Day in historic Nancy
(Written 27 May 2008)
The hotel offered three breakfast choices: the monster buffet for 15 euros, elaborate continental in your room for 9 euros, or "express" at the bar for 6 euros. We opted for the last, which consisted of hot drink of one's choice, a miniature baguette, butter, and jam. I couldn't resist walking through just to look at the buffet, though: It included mini-crossants and pains au chocolat; brioche; three kinds of bread; three kinds of cheese; sliced ham and salami, hard-boiled eggs plus fresh eggs and a cook-'em-yourself hot-water bath; a chafing dish with scrambled eggs, bacon, and sausage; lots of jams; honey; Nutella; yogurt; applesauce; whole apples and kiwis; dried fruits; several kinds of dry cereal; madeleines; many kinds of tea in bags and half a dozen kinds of loose tea (individual teapots provided); pear tart; cut melon, strawberries, and mixed fruit; sliced bread and a toaster; orange-squeezing machine with dispenser; and a make-'em-yourself griddle on which up to six 4-inch crepes at a time could be cooked.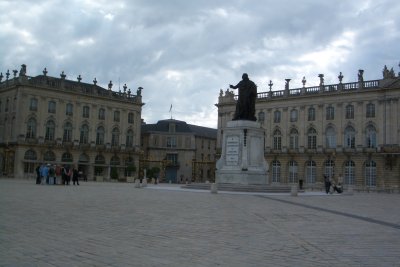 Then, if course, it was off to the tourist office, which was about three blocks from our hotel, in the Place Stanislas, rightly considered one of the most beautiful, if not the most beautiful, in Europe. It is magnificent. What you can't see very well in these photos is that all the sconces and trim around the square, the elaborate wrought-iron gates at its corners, and many decorations along the tops of the buildings are gilded, and in the sun, they shine brilliantly. Two corners are occupied by wrought-iron gates and the other two by fountains like this one. It's not quite square, about 105 x 125 m (meaning, you could drop two American football fields into it with a little space to spare). It's named for Stanislas the Benificent, deposed king of Poland and father-in-law of Louis XV. The short story is that, during Louis XV's reign, the duke in whose territory Nancy lay swapped his duchy for a duchy in Italy, and Louis took the opportunity to give the duchy with Nancy in it to Stanislas, who'd been tossed out of Poland. Stan was a really nice guy and very fond of his son-in-law. He spent all his time and money making things better for the residents of Nancy, including laying out and building this lovely square, which he named for Louis. The locals loved him, so later, after the central statue of Louis was destroyed in the revolution, they put up one of Stan instead and renamed the square in his honor.
My favorite part of Nancy's history, though, was a couple of hundred years earlier, when Charles le Temeraire, who owned territory on both sides of Nancy, decided he wanted to complete the set and annexed the city and its surroundings. To the rescue came Renée II, age 17 (grandson of our old friend Renée le Bon, Count of Anjou), who stirred up the locals into rebellion, beat Charles, and took back the city. Now Renée le Bon, and presumably his grandson, had possessions all over the place; besides being counts of Anjou, they were, for example, kings of Aix en Provence and of Sicily. What I don't remember is whether they owned Nancy, or whether Renée II just thought it needed the help. I suspect the former. Charles was killed in the battle (though not by René personally), and afterward, his stripped body (spoils of war, you know) was found half frozen into a local lake. The art in the local museum features a lot of portrayals of this episode and seems about evenly divided between considering Charles the injured party and implying that he had it coming.
The tourist office sent us off with audioguides and a map to tour the historic center of the city. (In some cities, use of the guides is free; in others, they want 4-5 euros.) Instead of the usual hand-hand phone-receiver kind of thing, these were MP3 players about the size of a pack of gum, worn on a lanyard around the neck and listened to through earphones on wires that sprouted out of the lanyard at shoulder height. Annoyingly, you had to readjust the volume every time you paused and restarted them. Otherwise, they were great. They must be a lot more expensive than the other kind, too, because instead of just asking for a driver's license or some such for security, they wanted an 85-euro deposit per person!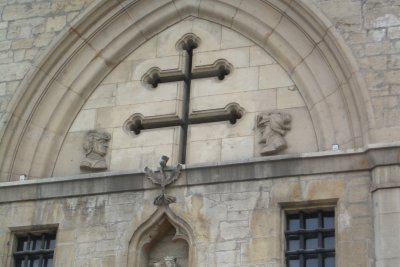 Nancy's architecture is much more recent than Metz's. Only this gate, la Port de Graffe, with its two round towers remains of the old city wall, and this closer view of the double "cross of Lorraine" reveals the carved stone thistle below it. I forget whether the thistle came with Renée or with Stanislas, but one or the other made it the emblem of the city.
We stopped into one of the churches along the way for part of the mass, then continued our walk. The lines were literally out the doors of chocolate shops and florists—Mother's Day is a big deal.
Partway along the tour, we decided to break for lunch, and after debating the distance decided to hike the six blocks to The Brasserie Flo Excelsior, accross from the train station. As the name implies, it's another of the chain and another featured in our coffee-table book. Through the windows, we could see that it was half empty, but we were turned away by a harried maitre d' who said he was sincerely sorry but that it was Mother's Day, they were booked solid, and church would let out in two minutes. He rather implied that it wouldn't be safe to stand in the doorway when the mob arrived.
So we retreated around the corner to an Irish pub (one of four we counted, just along the route of the historic tour), where David had an interesting salad topped by a mixture of scallops (with their orange roe, in the French style) and bacon flamed with Irish whiskey and then simmered in a cream sauce. I had an excellent omelet of bacon and gruyère. As we walked back past the Flo to resume the tour, we saw that, yes, it was hopping. Every table was filled, and people were waiting at the door. We encountered one other American in the Irish pub (from what he said to the waiter, we gathered that he was the last of a group from some sort of conference that had been eating lunch there all week), and I heard two young men speaking English in the Place Stanislas at one point, but mostly in Nancy we were alone among the locals. Metz, on the other hand, seemed full of tourists, but more of them spoke German than English.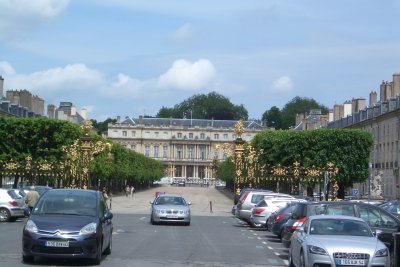 By way of this lovely triumphal gate dedicated to Louis XV, which separates the Place Stanislas from the much smaller Place de la Carrière (a much smaller little side-place, shown at the right), the tour brought us back to the tourism office, where we turned in the MP3 players (and got our deposit back), the scanned the display of leaflets for the next thing to do. We knew we wanted both to do the "École de Nancy" Art Nouveau walking tour (the following day, when our feet had rested) and to visit the museum of the École de Nancy, but we hadn't yet located the latter. Instead, our eye was caught by a brochure for river cruises. The next one was an hour long, left in 20 minutes, and was billed as being 500 m from where we stood. Perfect.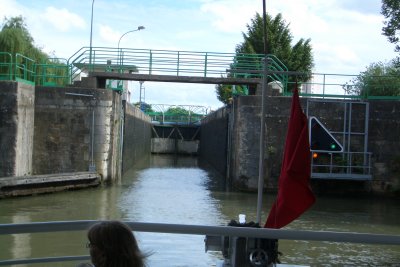 So we set off for the Quai St. Catherine and boarded the Bergamote (a bergamot is a special kind of citrus fruit, which Nancy is famous for making candy and other things in the flavor of; it's also the principal flavoring that distinguishes Earl Grey tea). It does lunch and dinner cruises, and sometimes half-day excursions, but we were signed up for an hour's cruise upstream to a suburb, mainly to experience going through its lock (a 3-meter rise). The boat could have held 40 or so, but we were among only 7 passengers, so the captain pretty quickly abandoned the microphone and loudspeaker and just gathered us around. We didn't pass much in the way of "sights"—the point was mostly the lock, but we saw ducks and interesting plants and got into a chat with a couple of locals who recommended a book on the École de Nancy. Approaching the lock, I'd have sworn the boat wouldn't fit, but it did, with about an inch to spare on each side, and we were duly lifted to the upstream level, where we turned around and came back. Interestingly the walls of the lock were pretty bare—no bivalves, no vegetation, though the downstream walls just outside the lock, where the spray flew when the lock emptied, were covered with lovely stands of maidenhair ferns and liverworts).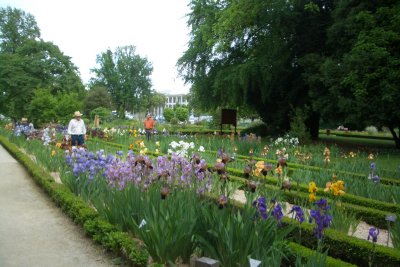 Walking back from the cruise, we came upon a lovely park with flower beds laid out phylogenetically and with a magnificent planting of iris cultivars.
(Written 28 May 2008)
Nancy doesn't have much in the way of rated restaurants, so we had chosen one of our evenings there to devote to Moroccan food and had reserved at Le Marakech, a sort of honorable mention in the guide. The nibbles placed on the table while we looked at the menu were not promisingly authentic: one saucer full of peanuts and another full of ordinary, supermarket-grade, pimento-stuffed olives. I started with a "brik à l'oeuf," a round, flat, crisp pastry package containing a soft-cooked egg. David had one that included, in addition to the egg, some meat and onions. Then on to the main course. I ordered the most complicated couscous (the "darna" I think) and David the most complicated tagine (the "marakechi"), and the waiter proceeded to cover the table in dishes.
David got just one dish (the round, brown ceramic one) because tagines are cooked all together, in the serving dish topped by a conical lid with a hole in the top. It contained lamb, chicken, prunes, onions, raisins, almonds, and sauce. We got a basket of bread to share, and everything else on the table was part of the couscous: a platter of the fine, pale couscous itself; a bowl of broth full of carrots, potatoes, and zucchini slices; a bowl of onion sauce full of chickpeas; and a platter bearing a quarter of an excellent roast chicken, a chunk of meltingly tender braised lamb shoulder, a slightly overcooked merguez (a lamb sausage), and a brochette of tender grilled lamb chunks. And, of course, a little round bowl of inciendary harissa sauce (that's a dollop of it at about 11 o'clock on the edge of my plate. Wow. We ate and ate, and it was all delicious, but of course we couldn't finish it. While we munched, the restaurant started to fill up; in particular a party of four men and a woman came in who must have just come from their weekly duplicate bridge date, because they discussed, for a good hour, how they could have, should have, might have played a certain hand, which seemed to depend crucially on the handling of the small diamonds (and shaking their heads over the fate of the unfortunate partnership who wound up playing it in two hearts).
Finally, we gave up trying to eat everything we were served, declared a victory, and headed back to the Place Stanislas, where I had a delicious café liègeois and David a decaf while we watched the lights come on around the place.
previous entry List of Entries next entry