Thursday, 22 May 2008, Metz by audioguide
(Written 24 May 2008)
After an entirely satisfactory breakfast at the bakery across the street, we set off, as usual in a new town, for the tourism office. When we got there, we found the little white tourist train (a beloved tradition in French cities) sitting there five minutes from departure, so we boarded; it's a good way to get oriented. Unfortunately, after five minutes, we were still the only ones on it, so the driver came back and told us, "Everybody out; I don't go for less than 10 people." Okay, so much for the little white train.
In the tourism office, though, they gave us maps and cheerfully lent us (in exchange for a Florida driver's license as collateral) a pair of audioguides—those great little electronic devices that give you a guided tour at your own pace. Each time we came to a location that was numbered on our little audioguide map, we pushed the buttons, held the audioguides to our ears like telephones, and got the full low-down. The tour started in the Place d'Armes (right in front of the tourism office), then led us into and through the adjacent cathedral, and off across this cute little wooden bridge over the Moselle (complete with swans), and off down the river.
After a couple of hours of walking, looking at interesting stuff, and having its history explained to us at length (including the building where we'd had dinner the night before and the tiny octagonal Templar's chapel, which we never did manage to catch open, though we showed up when it was supposed to be), we paused for lunch at a brasserie (Alsatian food, of course) and, although we were tempted by the heaps of steaming sauerkraut variously garnished with seafood or with pork products, and by the giant cold seafood platters, we settled for something of a more reasonable size: flammenküchen, which are disks of bread dough rolled cracker-thin, topped with stuff (usually sour cream, bacon, onion, and/or cheese) and baked in a ferociously hot oven (this place claimed their ovens were at 400 degrees C!). David's, shown here, includes sliced potatoes and an egg. I had the three-cheese version. They're sort of German pizzas, but apparently tomato is never involved. They're delicious.
The rest of the walking tour then took us back to the tourism office, via several churches and other points of interest, including this odd, 20-foot dragon, suspended on wires in mid air over the intersection of two small streets. It must be a tourist attraction of long standing, because a ubiquitous feature of Metz sidewalks is little six-inch triangular arrowheads engraved with stylized images of major points of interest and pointing toward them. Most intersections have at least one and sometimes two or three, set right into the cement. We haven't found them very useful because, of course, you have to know what you are seeking looks like and be able to recognize it from a stylized representation. We had hitherto been baffled by those that clearly depicted a dragon, but sure enough, here it was. We still haven't figured out what it's apropos of. No plaque; no Asian-oriented businesses within a block—maybe it's where the entrance to Chinatown used to be.
[Note added 6/11/08: Once we were back home and back on the internet, I looked it up. It seems, according to local legend, that the ruins of the Roman amphitheatre outside the town of Metz were long infested by snakes, led by a huge and ferocious dragon—a nuisance to the town because it tended to eat people who ventured too near. Along came St. Clement (though he was just Clement at the time), intent on converting the town to Christianity, and as part of the process (or at least a metaphor for it), he marched right out to the amphitheatre, tied a string around the dragon (or the "graouilly" as it's locally called), led it out, and forced it and all its snaky little friends to cross the river and disappear forever from the lives of the people of Metz. Everybody was converted, Clement became the town's first bishop and later a saint, and the dragon has been a symbol of Metz ever since. During festivals, a large (life-size, I suppose) and fearsome stuffed dragon was paraded through the streets, and at the end, the town's children got to beat it with sticks. I'm told one of these processional dragons is preserved in the crypt of the cathedral, but we didn't see it. I'm not sure whether the one suspended over the rue Taison is an old processional dragon or was constructed for the purpose. For a better photo, go to Google Images and search on "dragon metz."]
Back at the tourist office, we turned in the audioguides and recovered the driver's license, then went next door to the local city museum. The Michelin green guide said to allow a couple of hours for the museum, so we figured we'd knock it off before dinner. Ha! Not only had we only begun to see what they had after two hours, we couldn't even find our way out! First, it's huge, a couple of entire historic buildings have been incorporated into it, and parts of others have been rebuilt inside it. The courtyard includes a working forge and a weaving studio (neither functioning while we were there). Yet you're always in an intimate space. You start with room number 1, then follow the sequence, in chronological order, from earliest antiquity through history to the present. Each little room leads to the next. Where labels and explanations are provided, they are thorough and excellent. In some rooms, though, you are just presented with unlabeled rows of, e.g., roman pottery or medieval glassware, because the new arrangement is so recent it's not yet complete. (They were busily working toward completion when the European Union mandated universal access for the disabled, so they had to stop and spend their time—and money—on that.) The place is an absolute labyrinth! The brochure includes no floor plan (they had one, but it's now hopelessly obsolete, so we just went by the ubiquitous fire-evacuation plans), and it will be difficult to provide one, because the chronological route leads up stairs, down, around, up half flights, across bridges—it's amazing! At one point, we found ourselves in a reconstructed portion of a Metz street illustrating its medieval architecture and explaining an interesting local innovation in roof and gutter design. The next arrow invited us to climb the spiral staircase inside one of the towers, and suddenly we found ourselves on a bridge, looking down on the roof of the house, and perfectly able to see how the gutters and downspouts worked! Also up there were portions of stone spiral staircases, partially disassembled to show how they were constructed with solid cores or with open cores. A few rooms later, we found ourselves in a reconstructed interior, looking out through windows we had seen from outside. We were passed by one school group on its way somewhere, and I think we encountered only one other couple in the whole place. Otherwise, it was just us and the docents, one every two or three rooms. When our feet gave out for the day, we just addressed ourselves to one of them, and rather than try to tell us how to get out, he guided us, by a system of shortcuts, back to reception! Back at the hotel, we washed up and changed, but rather than walking all the way back to our restaurant, which was uptown near the tourism office and museum, and because it was beginning to rain, we took a cab. The rain passed during dinner, so we were able to walk home.
Our restaurant was "Au Pampre d'Or" (i.e., "at [the sign of] the golden spray-of-vine-leaves-with-grapes").
Amuse-bouche, both: a glass cup of greenish asparagus-flavored foam, a tartare of St. Pierre (Zeus faber), and a warm pâté en croute. The foam was good; the raw fish was outstanding, flavored with onion, fennel, and something creamy; and the pâté was surprisingly reminiscent of our lunch on the way to Épernay.
First course, David: Warm green asparagus withbaby morels, a poached egg, and a Parmesan crisp.
First course, me: Tartare of oysters and salmon. The salmon tartare, again flavored with onion and fennel and bound with something creamy was placed in the oyster shells and the diced oysters were placed on top. Excellent!
At this point came a looong pause. About when it was getting ridicuous, the waiter brought each of us a little scoop of mirabelle sorbet "to improve our patience." Mirabelles are a local specialty, but they're way out of season, so the chef must have purée in the freezer to make sorbet with. Even after we finished our sorbet, we waited a good long time for the next course.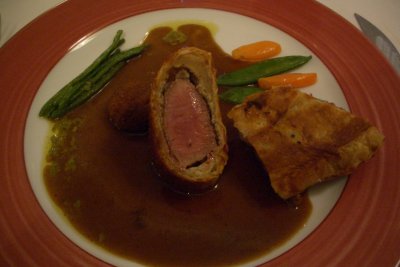 Second course, David: Baron of lamb, a sort of lamb Wellington, richly flavored with herbs, in a pool of rich reduction sauce. Besides the vegetables decorating the plate, he got a shallow, covered, iron pot full of ratatouille (in which the slices of vegetables were fanned into decorative circles, as in the movie of the same name).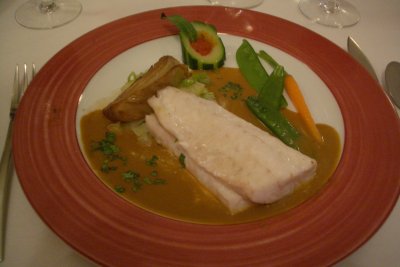 Second course, me: Filet of sandre (Lucioperca lucioperca) in a shellfish sauce with an assortment of vegetables, including a roasted quarter of a large fennel bulb on a bed of leeks. A tad overcooked and somewhat underseasoned, but okay.
Predessert, both: Traditional île flotant, i.e., two marble sized dollops of soft meringue poached in milk, chilled, and served floating in a pool of thin custard sauce and drizzled with caramel syrup.
Dessert, both: "Déclinaison autour de la fraise" (theme and variation on strawberries). The stuffed strawberry was good, the cylindrical stack of strawberry and vanilla ice creams was better, and the tall glass filled with pink whipped cream on top of red syrup was outstanding, but neither of us particularly cared for the strawberries in syrup in the wine glass. Note the bent spoon, hanging neatly on the side of the glass. We first encountered this concept last year in Picardy, and now it's everywhere—we've been served bent spoons at least three times so far this trip. The idea is surprisingly practical.
On the way home, we passed through a fair-sized demonstration (When we first spotted it, David said, "Oh, look, up ahead—people being French"). They were carrying what seemed to be labor-union signs of several sort, chanting, singing something I didn't recognize, and at one point carrying a lighted railway flare, which was pouring out copious smoke. The banner in the lead had already passed us by, and we never did figure out what they were demonstrating for or against. It was peaceful enough, but way too noisy to ask anyone about the issue.
previous entry List of Entries next entry