Thursday, 8 May 2008, Planning ahead . . .
(Written 8 May 2008)
As usual, we got started on our travel planning in late February and ran into the usual odd snags—restaurants and hotels already booked up five months in advance, highly rated restaurants that permanently closed up shop three weeks before I called them; restaurants that seemed never to answer their phones. But I got all the arrangements squared away in good time.
The timing of this year's trip was determined by two events that happened to fall conveniently close together. David was invited to attend a week-long conference on bar-coding of species, to be held in Wilhemshaven, Germany, in early May, and our Parisian friend Françoise—grecophile and aspiring grecophone—invited us (without much hope of success) to attend a gala concert by the Greek chorale she's a member of, to be held at Unesco headquarters in Paris on 30 May. The itinerary was another of David's ideas. Having toured the western end of the French World War I territory last summer, he thought we should go look at the eastern end this year, in Lorraine and part of Champagne.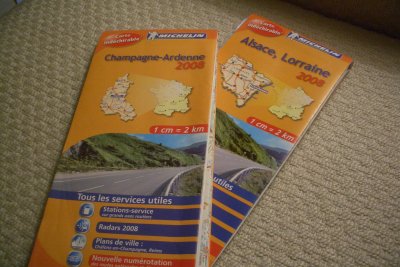 So we studied the map and the calendar and arrived at a scheme: David will fly to Germany on 10 May to go to his bar-coding conference, then will fly back to Paris on 17 May. I'll leave Tallahassee on the evening of 16 May, and we'll arrive at Charles De Gaulle airport within 15 minutes of each other, meet at the rental-car counter to pick up our wheels, and set off forÉpernay, in the Champagne country. After a pleasant interlude spent visiting various towns in the northeastern part of France, we'll drive back to CDG, park the car, and take public transport into Paris to spend the nights of 29 and 30 May and attend Françoise's concert, then go back for the car and resume our northeastern tour. Because Françoise won't have time to spend with us in the run-up to the concert, we'll drop off the car definitively at CDG on 4 June and spend a couple of days with her in Paris before flying home (on separate planes!) on 6 June.