Friday, 15 June 2007, Valley of the Ourcq
Written 15 June 2007

Quite a nice breakfast they have here: hot drink of your choice; basket of small baguettes, croissants, pains au chocolat, and chaussons au pommes (apple turnovers); orange juice; stewed prunes; yogurt; raspberry and apricot jams; and butter.

When they asked us last night at dinner whether we wanted breakfast and when, David cracked up both waiters by saying he wanted his at noon. In fact, breakfast is served from 8 to 9:30 in the dining room and until 10:30 or so in your room. We chose 9 a.m., but to my surprise, David appeared downstairs before 8:00! We waited around a while before taking our seats in the dining room, then a while more while the waiter served those ahead of us. He had just brought our (decaf) café au lait when, at the appointed hour of 9, CJ straggled in, wearing her "I'm out of bed and dressed; what more do you want?" t-shirt. She hadn't felt well in the night and decided she'd rather just have her orange juice, cup of tea, and apple turnover and go back to bed. We accordingly left her to her own devices, after verifying that she could get lunch right there in the hotel, and set off to tour the valley of the Ourcq.
The Michelin driving circuit we planned to follow started in Meaux, so we drove there first, then set off on the little country roads they recommended, visiting, for the first half of the tour, monuments and cemeteries dedicated to the French and German troops killed during the fighting that swept back and forth across that area in September of 1914. That part of the circuit ended just about at lunch time, so we started scouting the little villages we passed through for cafés and brasseries, and to our great surprise, we couldn't find any! Apparently the same trends are affecting the French countryside that we see in the U.S.: everyone works in Meaux or commutes to some other city, the children are bused to consolidated schools three towns over, so the little towns are utterly quiet and deserted at 12:30 p.m. on a Friday. The post office, bar-tabac, and corner grocery are closed for lunch. The brasserie is closed for good. We finally left the circuit to drive to the slightly larger town of Betz, where we found nothing except a sign advertising "Le Poivre et Sel," a hotel/restaurant 2 km further along, in Antilly, which turned out to be a "Logis de France," which boded well. When we got there in 1:30 p.m., the last two diners were ordering dessert and all the other tables were set for dinner. The sign said "lunch from noon to 2 p.m.," but the lady at the desk had to check with the kitchen to see whether they could still serve us. Fortunately, they could. We each ordered the "formule à 18 euros," which included either starter, main course, and drink or main course, dessert, and drink: I ordered oeufs cocotte with foie gras sauce (the closest thing we've ever encountered to the magically delicious eggs with foie gras at the late, lamented Bistro de Gala in Paris), fish of the day (bar with beurre blanc), and a quarter of Vittel. David ordered rable de lapin (saddle of rabbit; he found the sauce bitter) and red fruit bavarian, which came in a spongecake crust. We split the starter and dessert. Both main courses came with quenelles of coarse purée of carrot and potato and a delicious zucchini-egg-and-onion mixture. The eggs weren't quite up to the Bistro de Gala's, but they were very good indeed.
It was getting late by that time, so we skipped part of the second part of the tour, which covered mainly the Canal de l'Ourcq. The Ourcq, once an actual river, was kidnapped by Paris several hundred years ago and simply diverted into the city. It still provides a good deal of Paris's drinking water. We saw the start of the canal at Mareuil-sur-Ourcq, then cut off the rest of the circuit by taking the direct route back to Château-Thierry and our hotel. That route led right past the cemetery at Belleau Wood that we visited yesterday, so we stopped in to visit the wood itself, behind the memorial chapel, where you can see the traces of shell holes, trenches, and abandoned weaponry. A small group of Americans were being shown around by a British guide, and we wondered whether they were from one of the barge tours on the nearby Marne. That's how we first visited the cemetery, during our barge tour in the 1980's, but on that occasion, we saw only the cemetery—this was our first chance to visit the wood itself, which was the site of a fierce and punishing battle in which U.S. Marines took the wood, in June of 1918, 89 years ago next week, despite entrenched and determined German opposition. The whole wood was renamed in that brigade's honor and is now preserved as a memorial to them. Most of the trees have grown up since, but a few older ones have that distinctive "furry" look, caused by dozens of branchlets that grow right out of what would normally be the smooth lower trunk, below the main branches. That happens to trees that have been badly battered; cell-to-cell connections in the trunk are disrupted, and many small groups of cells find themselves isolated and try to regenerate independently. I couldn't find any trees that showed more definitive signs, but some of them could have been alive at the time. As we walked the paths in the wood, this big orange slug and many of its friends were doing the same thing.
Written 16 June 2007
CJ passed a restful day at the hotel, uninterrupted by the chambermaid, as I requested at the desk on our way out. Just as well, as the chambermaid turned out to be a little compulsive. We're not disorganized unpackers, and I had, as usual, made sure nothing was in the way of making the beds and that our suitcases were closed and set aside. When we came back, our suitcases, which we had stood out of the way in corners, were stacked up on the one little luggage rack, with my computer case (and computer) teetering on the top, four feet off the floor! My travel clock is apparently allowed on the bedside table, but everything else I had put there was put back into one of my suitcases or on the top shelf above the closet, as was everything we'd left on the round glass table in the room. We immediately did a complete search of the room to find everything and put it back where we expected to find it—part of the routine we have developed over years of travel to ensure we don't leave things behind in hotel rooms. If we were staying longer, I'd have to have a little talk with the management.
After the same apperitifs and munches as yesterday, we chose the lesser tasting menu.
The amuse bouche was a small glass of yesterday's cream of fennel soup (without the particulates), a dish of diced salmon and chanterelles marinated "à la greque," and a saucer of gravlax (lightly cured raw salmon). For CJ, they substituted plain chanterelles à la greque and yesterday's melon soup.
First course: For David and me, a slice of foie gras pressed between two hazelnut shortbread crusts and small quenelles of diced pear cooked in red wine with cinnamon. For CJ, plain foie gras, unsullied by hazelnuts.
Second course: For David, lightly seared salmon arranged over a beurre blanc sauce with fine sorrel chiffonade with asparagus on the side. For me, filet of daurade (Sparus aurata) roasted on the skin with a slightly sweet reduction of "bouillon aux épices" (spiced bouillon) accompanied by fluffy couscous and spring vegetables (snow peas, wild asparagus, carrot, zucchini, green beans). For CJ (by special arrangement), langoustine tails, sautéed chanterelles, and asparagus in a butter sauce with tiny diced vegetables. All excellent.
Third course (for everyone): pan-roasted breast of guinea fowl, a triangle of phyllo dough stuffed with the minced leg meat of the guinea fowl, macaroni baked with cream and cheese, and lightly sautéd spinach. For my money, not different enough from mature French chicken to justify the price differential, but very good in its own right.
Cheese course: For David, salers and bleu d'Auvergne. For me, coulommiers (on CJ's recommendation) and more of that great chevre from Poitou-Charentes. For CJ, just coulommiers.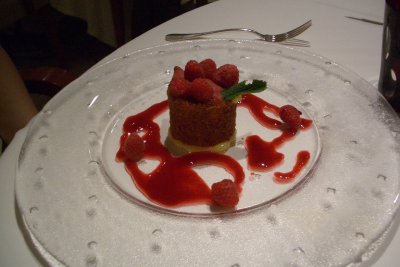 Dessert: For David and me, Paris-Brest praliné (a ring-shaped cream puff filled with whipped cream flavored with pulverized almond brittle) accompanied by citrus segments of three kinds, candied citrus peel, and blood-orange sorbet. For CJ, a cylinder of crisp coconut filled with lemon cream and coarse red-fruit sorbet both topped and surrounded by raspberries and raspberry purée.
A little too much food seemed to be the consensus—just one piece of guinea-fowl breast would have been plenty.
Here's the view from our room, as David captured it during the late afternoon.
previous entry List of Entries next entry