Monday, 11 June 2007, Jules Verne
Written 11 June 2007

A shorter day today. We agreed to meet at 9:00 a.m. for breakfast, to go off to Shakespeare and Company, a famous non-French language (mostly English-language) bookstore on the left bank, facing the Île de la Cité. I was a total slug-a-bed, sleeping until 8 a.m. and lazing around for a while more. David wanted his laundry turned in at the desk by 9 a.m., though, so I woke him at 8:30 a.m. as agreed and took the laundry downstairs to meet CJ. CJ came down at 9 a.m. as agreed, but by the time she and I had finished breakfast, David still hadn't appeared. He woke up again when I came in to brush my teeth and just said to leave him a note where to meet us for lunch.

I had to call restaurant Jules Verne to reconfirm the evening's reservation, and I managed to waste 35 minutes trying (a) to make the hotel's phone system work (they finally admitted it wouldn't and let me call from the front desk) and (b) to make my way through the restaurant's phone tree. When I finally spoke to a person, there was that tense moment when, after I gave all the details and he went off to look up the resevation, he same back and said, "How do you spell that name again?" Fortunately, on the second try, he found it.
So CJ and I went off to visit the Japanese garden and the monumental art at UNESCO headquarters, just a block away. We walked all the way around the block, looking for the entrance and enjoying the plaques mounted on the wall listing various UNESCO World Heritage Phenomena (as opposed to World Heritage Sites), like a kind of Japanese opera, and some Indonesian tribe's dance tradition, and the tango. When we reached the entrance, we were told that the garden and the art are indeed open to the public—for groups, on reservation, five days a week and for individuals, during guided tours only, Tuesdays at 3 p.m. in English and Wednesdays at 3 p.m. in French. So we went out and photographed the large red abstract metal sculpture by the entrance and went off in search of a lunch venue. I managed to get this surprisingly good shot of the area inside the wall by holding the camera up over my head and shooting blindly through the cast-iron grating.
We settled on the Royal Gambronne on the Boulevard de Garibaldi (where I got this shot of CJ with a statue in a small park; the guy does have a small knife, hidden behind CJ's shoulder) and walked back to get David, who hadn't yet waked up to read my note saying that we'd come get him between 12:30 and 1 p.m. After a short delay he emerged, though, and we led him back to the restaurant while he awakened gradually en route.
He ordered a "salade Auvergnat" (greens, boiled egg, diced Cantal cheese, raw ham, tomatoes, croutons). I had a "salade Gersoise" (shown here; greens, green beans, boiled egg, tomato, slices of stuffed goose neck (a rich and succulent poached sausage, literally formed in the skin of a goose's neck), slices of duck-breast ham, and small toasts topped with foie gras. CJ's "croque monsieur pain de campagne" turned out to be 10 x 5 inches and about an inch thick (salad on the side). All delicious. We had fun watching the clientel come and go—from suited and tied business people having three-course lunches at tables to a blue-jean-and-t-shirted work crew who came in for coffee and sandwiches at the bar. Two lawyerly-looking types were playing the French version of Super TextTwist as an arcade game in the back by the pay phone.
From there we headed straight to the metro and Shakespeare and Company, which truly is a phenomenon. It has apparently moved once and changed hands a couple of times since the proprietor used to lend Hemmingway and his buddies money and let starving artists sleep there when they got evicted from their garrets, but care has been taken to preserve the quaint and ramshackle aspects, and it is a truly fine bookstore. In one of the windows is a little sign saying "City Lights Books," which rings some kind of bell. Isn't it in San Francisco? I guess S&C may be under foreign ownership.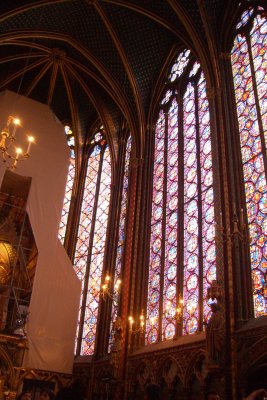 Consulting our level of ambition, the time, and our copy of l'Officiel des Spectacles (35 eurocents at any newstand; indispensable) for opening hours and days, we decided next on the nearby Sainte Chapelle, which CJ wanted to see again. The line wasn't bad, and we got to spend a long time just sitting and studying the magnificent stained glass, first from one side of the chapel and then from the other. The apse was obscured by canvas-covered scaffolding. Advice to travelers: bring binoculars! They're great for studying stained glass mounted 80 feet above your head.
Dinner tonight at Jules Verne, the restaurant on the second level of the Eiffel Tower, rated GM 16/20. Should be a hoot.
Written 12 June 2007
David had developed a blister on his heel (experienced walker, well-worn shoes—go figure), so we took cabs to the restaurant and back. We arrived early and strolled around under the Eiffel Tower taking photos before presenting ourselves, at the appointed hour, at the south pillar and riding up 123 meters in the restaurant's private elevator. The liveried elegance of the experience was only slightly marred by our being crammed in with seven other people and the waiter escorting us. The elevator was glass walled, so we could see all the mighty girders glide past and Paris recede below our feet. I was dismayed to see that someone, not content just to carve up helpless trees, had poured something (herbicide? salt solution?) on one of the huge lawns of the Champs de Mars in the shape of an enormous heart, which stood out in brown, dead grass against the green background.
At the top, we were shown to our table, which was set right against the glass, facing slightly to the right of the Arc de Triomphe. Despite the hazy conditions, the view was magnificent, and at 8 p.m. it was still broad daylight. The restaurant had found a wonderful solution to the dilemma of lighting. The room as a whole, decorated in black and silver, was rather dim, lit only by the individual adjustable tensor lights on each table. Ours shed quite a pleasant light on the menus and the food from about (seated) shoulder level, without creating glare, reflecting off the windows, or overbrightening the room. In keeping with the cast-iron mechanicality of the tower, the handles on many of the silver serving pieces, like the butter dish and the sugar bowl, were sterling silver hex-nuts!
We chose the six-course tasting menu, then entered into long negotiations with the waiter about CJ's allergies. Meanwhile we munched on the initial amuse-bouche: tiny hot cheese gougères. Once we had ordered, the main amuse-bouche arrived: cold cream of tomato soup topped with assorted diced vegetables. The effect was of a very French take on gaspacho.
First course: a soup bowl in which intensely flavored aspic had been layered with an almost-liquid emulsion of foie gras (two layers of foie gras, three of aspic) and topped with neat batons of black truffle. The truffle was black all the way through and actually had a little flavor. The rest had lots of flavor. On the side, a small, individual brioche, split, toasted, and set askew in the little pan in which it was baked.
Second course: a single large roasted langoustine tail seasoned with ginger and finely shredded candied citrus peel on a bed of baby vegetables.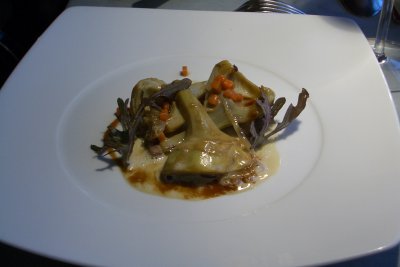 Third course: baby purple artichokes from Provence, halved and peeled down to just the edible parts, stewed in a creamy sauce with chanterelles and diced carrot and garnished with sprigs of purple salad greens (to remind us they were purple artichokes, since all the purple part had been peeled off in the preparation).
Fourth course: filet of small-boat turbot, with baby spinach and lemon-infused button mushrooms and strips of roasted red pepper, which the waiter surrounded at the table with a pool of excellent beurre blanc. Because CJ can't eat fish, they brough her instead a cylinder of rolled and roasted Bresse chicken, stacked with a couple of roasted crayfish, baby broad beans, and a fat asparagus spear, the whole surrounded by a rich chicken reduction sauce.
Fifth course: A neat cylinder of pan-roasted veal in a rich reduction sauce, sided by a sweet, perfectly cooked baby (not "baby-cut") carrot, a pearl onion, and a slice of the most flavorful potato I've ever tasted—it had all the robust taste of a russet potato roasted in its skin, all the salt-cream-and-butter of the best mashed potatoes, and all the creamy texture of baby new potatoes, all packed into one slice about 2x3 inches. Extraordinary. We notice that, when we order beef, duck, or liver, we're asked how we want it cooked, but veal always comes medium, slightly pink in the center. The chef knows best.
Sixth course: a chocolate hazel"nut"! a concoction of cookie and hazelnut chocolate ganache molded into the shape of a large hex nut. It was somehow glazed with a shiny mixture that gave it a bronze caste, and the center was filled with a silky chocolate cream. Mixed into the ganache was that stuff that gives it what I call "sparkle-crispness"; I've never figured out what it is, but it gives creamy desserts a wonderful texture. CJ got, instead, a rum savarin: a yeast-based spongecake in the shape of a donut set on a ring of grilled, glazed slices of fresh pineapple. At the table, the waiter filled a little pitcher with rum, straight from the bottle, poured a good deal of it into the center of the cake, which soaked it up amazingly, then left the pitcher for CJ to add more if she wanted. Vanilla whipped cream on the side.
It was still daylight when we arrived, so we got to watch the day fade and the lights of Paris come on. Twice while we were there, the tower's "twinkle lights" came on. I always thought they were randomly timed, but it turns out that, since 2000, when they were installed in celebration of the millenium, they come on for 10 minutes every hour, on the hour. The effect is spectacular.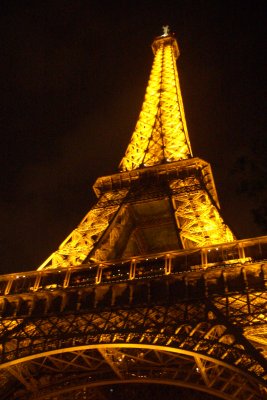 previous entry List of Entries next entry