Saturday, 9 June 2007, Paris at last
Written 9 June 2007

We're here. David and I set out from home about noon on Friday, 8 June, and were dropped off at the airport by friend and colleague Trisha Spears. We were plenty early for the flight to Miami, so we split a gyro and a giant cookie, then waited around a while. The plane for our flight was late arriving in Tallahassee, so our nice long layover in Miami turned into just enough time (especially because we flew out of the Air France area three concourses away instead of out of the Delta area).

The Miami airport was a real zoo. Not only not enough chairs for everyone, but not enough floor space for everyone to stand on, so we were packed in elbow to elbow, having trouble staying upright when nudged by a neighbor, because our feet were wedged in among everyone's luggage. What with late and slow boarding, being pulled aside and sat down on the group W bench for some time while Air France cancelled and reissued our Delta boarding passes, then a long wait on the runway, we took off more than an hour late.

Our seatmate turned out to be a biological oceanographer on the faculty at the Rosenstiel School of Marine and Atmospheric Sciences, University of Miami, who had just accepted a job at the Monterey Bay Aquatic Research Institute! She was on her way to a small meeting in Roscoff, and she and David knew lots of the same people. The world gets smaller every day.

My clever plan to listen to the CD's of The Dante Club to encourage myself to go to sleep on the flight fell flat when the CD player stopped working about 10:30 p.m., so I had another long sleepless flight, punctuated by watching Hugh Grant and Drew Barrymore in Music and Lyrics and the stewards' not bringing water around often enough. Dinner was okay—couscous taboule topped with a generous portion of quite good smoked salmon, filet of sandre (which must have been catered from France, since sandre doesn't grow in North America), vanilla cake, chocolate pudding (Kozy Shack, clearly American), good bread, good brie.

We figured we'd missed CJ by being so late, but her flight was delayed as well, so she elected to wait for us, and we rendezvoused, as originally planned, somewhat after 10 a.m. (local time). As usual, they had completely remodeled Charles De Gaulle airport again. After an interminable taxi, we parked right next to a building, but still deplaned into buses (and it takes a long time to empty a Boeing 747-400, one bus at a time), then an even more interminable bus ride, winding and zigzagging over about a square mile of territory, never sighting any building we recognized, and turning, so far as I could tell, about a net 410 degrees to the right in the process (and sighting, on the way, a mock-up of the midsection of the new gi-normous Airbus passenger jet, being used to perfect the necessary oversized jetways). We were finally dropped at the door of concourse 2E, as usual, but the concourse we entered through it bore no resemblance to any building we'd ever been in before. It featured a much smaller, practically intimate, passport-control space; a nice, efficient luggage-claim area; and a "nothing to declare" route through customs that was practically invisible—we were through it before we realized we'd come to it! We were surprised but pleased, as we emerged into a completely unfamiliar outside-security zone, to find CJ there waiting for us. To our further surprise, no signs directed us to taxis, and when we found them, the stand was unlabeled and pretty informally run. But we made it to the hotel by quite a (probably unnecessarily) scenic route.

CJ's room was ready, so we dumped all the luggage there and set off in search of lunch, which we found at the Bar Brasserie le Duquesne on ave. Duquesne. David had an "omelette compagnard" (potato and lardons, those great French "bacon bits" the size of french fries) and salad, CJ opted for "omelette parisienne" (mushrooms) and salad, and I had the salad de chevre (goat cheese) with lots of shredded carrots, sliced tomatoes, and raisins. Very mustardy vinaigrette all around. Part of our walk there was through the Avenue de Saxe market, and as usual, I found it very hard to resist buying groceries, even though (a) I had no kitchen in which to prepare them and (b) we had lots of restaurant reservations.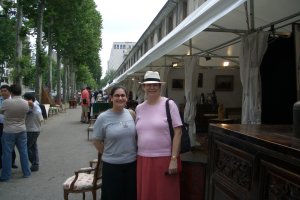 During the taxi ride, we had also spotted a large open-air antique market lining two walls of the École Militaire, which turned out to be the 10-day Salon de l'École Militaire, ending on 10 June. We toured the whole thing (spotting, in the process, this group of antique purveyors lunching on roast chicken on the sidewalk outside their stall, next to their truck) and, true to our past form, bought our art for the trip during our first hour of sight-seeting—a circular oil about 8 inches in diameter of a bunch of red grapes (probably a fragment of a larger painting) for me and a small still life of a copper tea kettle, tangerines, daisies, and lilies of the valley for David (he poses with it below while the vendor makes up the receipt. I don't know whether times have changed or these vendors were just more up to date, but the elaborate cardboard packing that characterized our last art purchase was by-passed, and both pieces were securely enveloped in "bûlle," bubble wrap.
We walked for a while more and paused for citrons pressés (and Vittel for me) at a brasserie on the Boulevard de Latour-Maubourg before walking home via the rue Cler. A citron pressé usually consists of a tall glass with the juice of one lemon in the bottom, to which the drinker adds sugar and water to taste. These, though, were tall glasses entirely full of lemon juice, so David and CJ had to approach them circumspectly, as there was precious little space for either sugar or water until they'd drunk a fair amount of the juice. Now CJ and David are napping, and we'll soon set off for dinner at Chez l'Ami Jean, on rue Malar. We've been joined at the hotel by a large (but quiet and organized) group of English honors students from Oklahoma. Hope they don't all want to breakfast at the same time we do.
Written 10 June 2007
We forgathered in the lobby at 7:30 p.m. as planned and strolled to the rue Malar; as envisioned, it took just half an hour. The restaurant features "specialités Basques." When David commented to the waiter how busy they were, he shrugged and said, "About as usual; we turn people away every night." We heard discouragingly little French spoken among the other diners, but a mixture of other languages, mostly from people who also spoke French. While we studied the menu, we were served dark bread with a mixture of fresh goat cheese, fresh chives, and powdered piments d'Espelette (those special red chili peppers grown in the Basque country).
David started with "fine gelée de porcelet," a terrine of tender shredded baby pork in aspic. I had "monté d'andouille," cold slices from a very large tender cooked "chitterling" sausage (shown here), surrounded by a reduction sauce full of tiny dice of mushrooms (I think). CJ had "mousseline d'oeuf de poule" (hen's egg chiffon), a heap of truly amazing egg fluff, vanishingly insubstantial on the tongue but full of flavor, topped with house-made purple potato chips, lavishly sprinkled with fresh chives, and garnished with a bay leaf. All three dishes were garnished or sided with "croquant printanière," an assortment of extremely thinly sliced and very flavorful raw or cooked vegetables (carrot, very sweet turnip, asparagus, whole peas, etc.), spears of raw wild asparagus, and more purple potato chips. All just what we wanted!
David's main course was roasted breast of chicken (crisp, juicy, tender, and flavorful), I had whole veal kidney roasted (rare) with "ratte" potatoes in "demi-sel" butter, and CJ had a whole duck breast roasted (medium rare) on its skin and glazed with honey and coriander. All were sided with a roasted vegetable medly into which chunks of dried piment d'espelette had been stirred.
For dessert, David had fresh sheep's milk cheese with cherry jam and some other garnish. CJ and I both ordered the "riz au lait" (rice pudding, mine sprinkled with toasted almonds and hazelnuts and hers not), sided with cinnamon-flavored whipped cream. It was sublime. They gave us a big bowl containing about a half gallon of it, drizzled with "confiture de lait" (sweetened condensed milk?) and a big wooden spoon stuck in the middle (shown here after CJ and I had each eaten as much of it as we could), so that we could ladle it into our individual dishes. David also gave me some of his cherry jam, which was, on the pudding, if anything, sublimer still! Wow.
And all of this for 30 euros a head! Wow again.
We enjoyed a leisurely stroll back to the hotel in the cool of the evening and were off to bed by 10:30 p.m.
previous entry List of Entries next entry