Ci gît . . .
posted 17 May 2005 (updated 5/June 2005)

Written 13 May 2005, ca. 11:00 p.m.
Back in Villefranche a couple of months ago, when we started thinking seriously about our time in Brittany, we first checked to see whether Pierre & Vacances had a résidence near Ifremer (it doesn't), then looked on the web for gîtes in the neighborhood. Gîtes (pronounced "zheet") are small, often spartan vacation rentals with cooking facilities. The British call them "self-catering cottages." The word comes from the archaic French verb "giser" (to lie), which otherwise survives in the language today only in the phrase "Ci gît . . ." (Here lies . . .) on gravestones. Gîtes come in all forms, from purpose-built clusters of vacation cottages, to vacation condos like Pierre & Vacances, to old travel trailers in somebody's back yard, to unused garage appartments— you name it. They are thick on the ground in Brittany. Most of the ones near Plouzané that met our needs were already taken for some or all of the requisite time period, but the one we settled on was still available because all the dates on its website were accidentally marked "taken," and I didn't notice before inquiring. Gîtes are typically rented for a week or two at a time, so we're getting 10% off for staying for so long—the owners would ordinarily have to clean it every week. It's described as a "maisonette" (house-ette) attached to an old farmhouse, well sheltered from the wind. It's all one big square room with cathedral ceiling. One corner is walled off to the form the bathroom (with adequate, ready-made shower!), and steep wooden stairs lead up to a loft half the size of the lower floor. It has a group of three glass window/doors and a small kitchen window on the front wall and a skylight on the back slope of the roof. An electric rolling shutter can be lowered over the doors at night.
It's equipped with a double bed upstairs and bunk beds downstairs, lots of closet and cabinet space, a small washing machine (but no dryer), a full size fridge, a four-burner gas stove, a microwave, and lots of pots and pans. Not as many dishes or as much silverware as at Pierre & Vacances. No TV, no dishwasher, no telephone (although the owners have lent us an unused cell phone, which we can learn to use once we get around to purchasing a little chip card for it). Bed linens and towels aren't usually included (apparently the French bring their own along when planning to stay in a gîte), but in view of our situation, Patrick and Patricia have lent us some from their huge supply.
When we pulled into town on the evening of Sunday, May 1, we had a map showing the location but not a street address, so we pulled over about where it should be, and I asked a passing little old lady where Mr. and Mrs. Doll lived. She directed us to the yellow gate two houses further along. When I thanked her, I wished her a happy May Day, reminded of the date by the big bouquet of lilies of the valley she was carrying—on May Day, French people all give each other sprigs of lily o f the valley. She immediately presented me with my very own sprig—very French.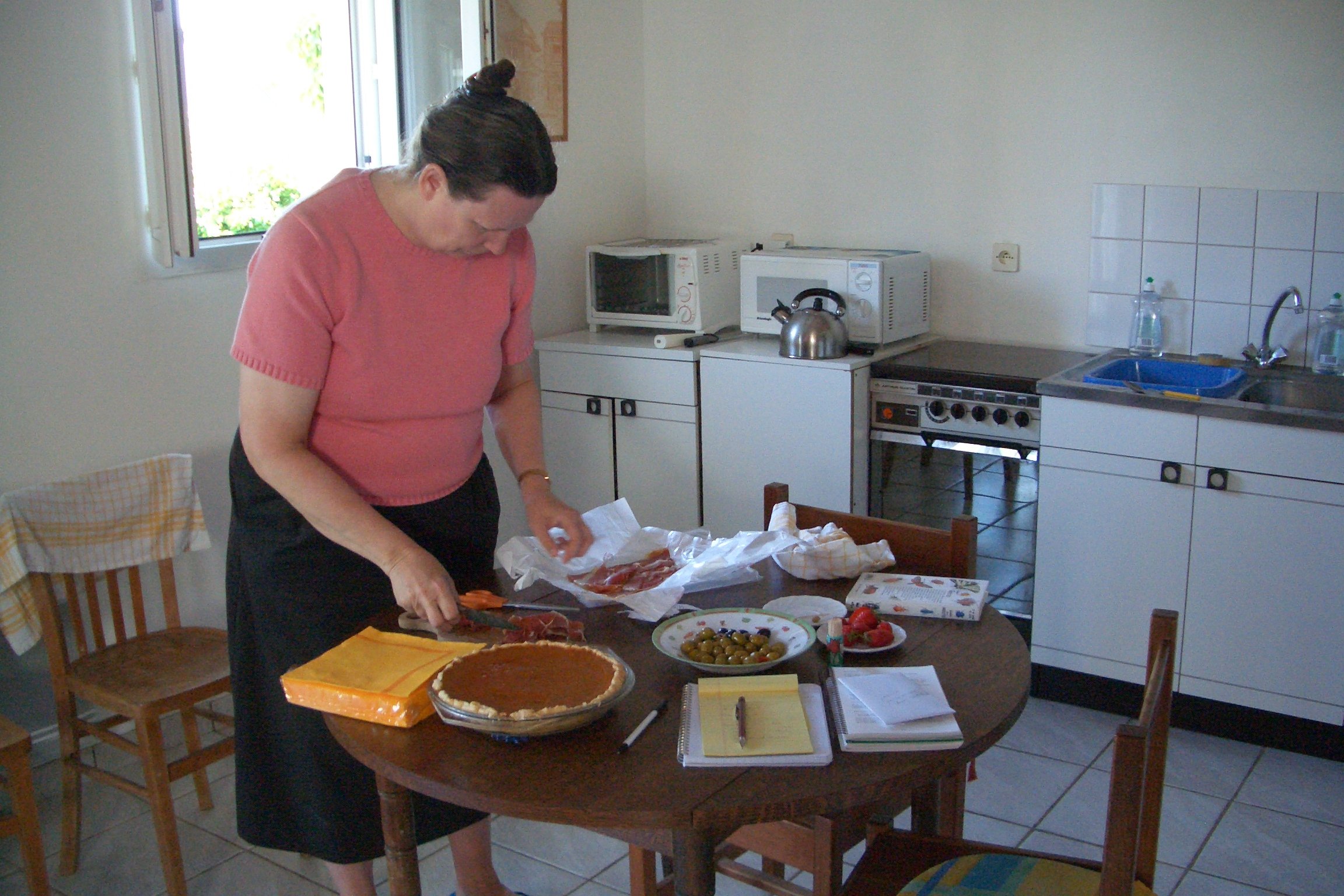 When we pulled into the dooryard at no. 16, Patrick and Patricia were busy cleaning the Gîte in preparation for our arrival. We were greeted by their large and vocal yellow lab, Roxanne, who for some reason was particuarly spooked by the inside of our car. She continued to bark at it for several days, every time the rear door was opened, but has since settled down and accepted us (and even the car) as part of the family. She still barks at anyone unfamiliar who comes into the yard, which is enclosed on all sides by stone walls and/or hedges. After being so careful in Villefranche and Nice always to lock everything—the car, the appartment, our offices when we went to lunch—and never to leave anything in the car, even locked, it's a little strange to live in a village, and work in a lab, where no one bothers. Patrick assures us that their house stands open all day while they're at work and that, if anything is ever stolen, everyone in the village knows who did it within 24 hours. Apparently, every house in the village is within the view of at least one sharp-eyed and inquisitive retiree. Add Roxanne and the dog next door, which we haven't seen but which sounds even bigger, and you've got a darned good security system. Anyway, when we asked Patrick and Patricia where we might find a nearby place to get a quick supper while they finished their cleaning in peace, they suggested we just come have dinner with them. Patrick had been fishing that day, and there was plenty to go around. We accepted with delight.
When we knocked on their door (about 10 feet from ours) at the appointed hour, bottle of wine in hand, the door was opened by a young black woman with masses of cornrows and tiny braids. After a moment of confusion (neither of us had any idea who the other was), Patricia appeared and introduced us, "This is Estelle; she's Camerounian." "No," Estelle protested (with good humor and apparently not for the first time), "I'm French, of Camerounian origin!" As we came into the dining room, more people appeared from various directions in the house—Eric (a big blond, nordic-looking guy), Felipe (a high-school student), and a blonde teenage girl whose name I didn't catch. We were baffled. We knew Patrick and Patricia were both teachers—were these exchange students? Did they take in boarders as well as keeping a Gîte? Eventually, though, we pieced it together, or at least we hope so. Eric and the blonde girl are Patrick's kids by a previous marriage. Eric lives in Paris now and was home for a week's visit; Estelle is his significant other. Felipe, who seems to be intermediate in age, is Patricia's son from a previous marriage. Patricia is from Colombia, but Felipe seems to have been born in France. So clearly, a couple extra people for dinner hardly mattered!
Patrick and Eric had spent the morning fishing, and Patrick fried up an assortment of their catch. I was served a "tacaud" (Trisopterus luscus, bib or whiting pout). David had a "lieu jaune" (Pollachius pollachius, pollock), both in the cod family. I also tasted some of the mackerel (Scomber scombrus, mackerel family, of course), and the "chinchard" (Trachurus trachurus, scad or horse mackerel, in the jack/tuna family). Talk about fresh fish!
previous entry List of Entries next entry