Gdynia, Part 4
posted 29 April 2005 (updated 24 May 2005)

Written 21 April 2005, ca. 9:30 a.m.

No more snow. The weather cleared up during the afternoon yesterday, and the temperature dropped. It was below freezing last night and was crispy cool this morning.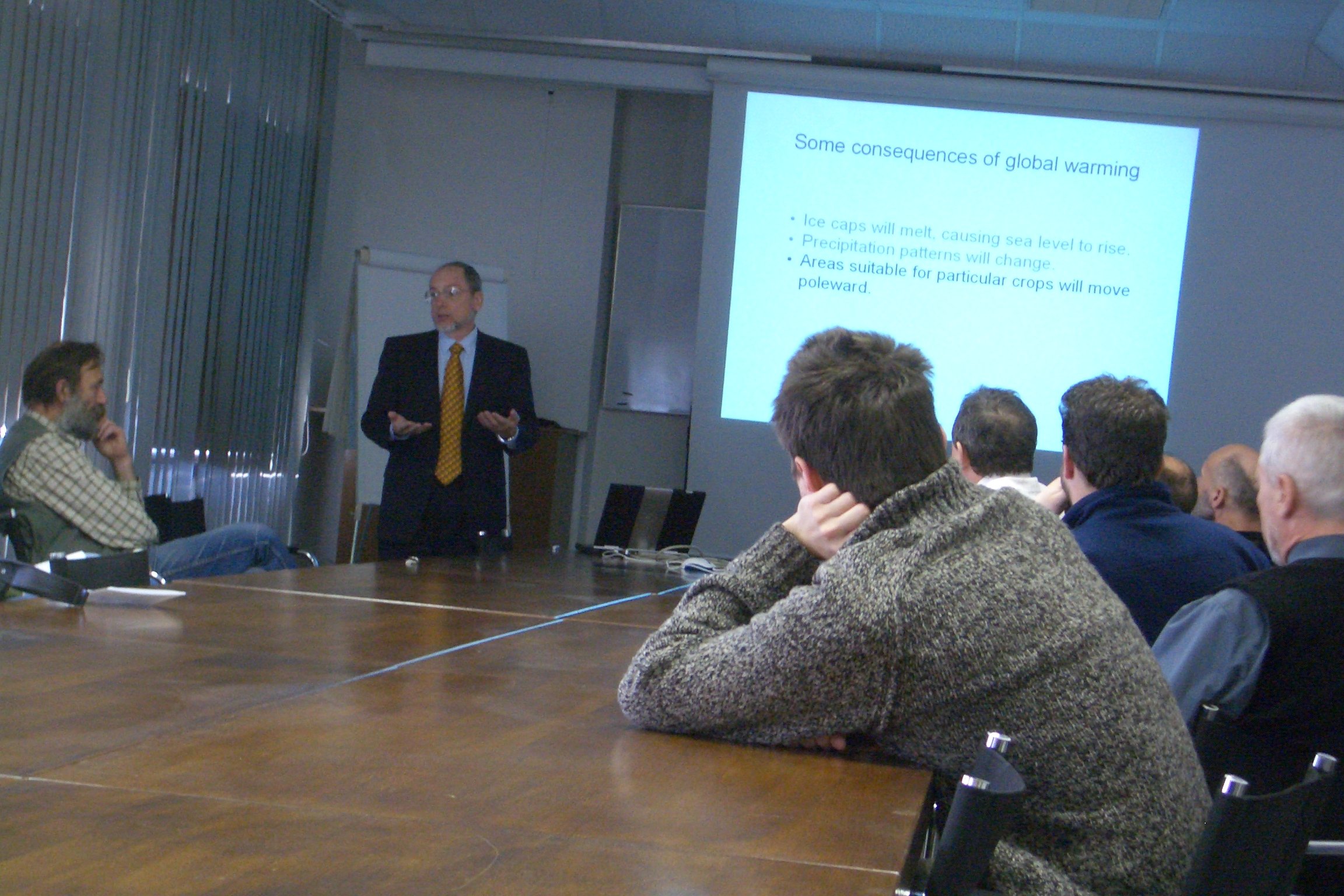 Olek picked us up a little early this morning (although not as early as intended, since he had to take time to change the proverbial flat tire), and drove us to the Institute of Oceanology in Sopot (a small beach-resort town between Gdynia and Gdansk), where David is presenting a lecture on his research on CO2 sequestration in the deep sea. (Yes, I'm in the back of the room, writing while he's speaking—sorry, David, I've heard this talk before.)
Written 22 April 2005, ca. 6 p.m.
David's audience was drawn from three different institutions, and several of the people attending my workshop were there (my usual morning lecture block was shifted to the afternoon so that people could attend both). After the talk, the head of the ecology and systematics department took us on a tour of the facility. He seemed like a really nice guy; we'll see him again in June, as he's coming to the ASLO meetings that we'll be attending in Spain.
Then Olek, David, and I walked along the beach to downtown Sopot, where we had lunch at Pinokio, an Italian restaurant recommended by the people at the institute. I had excellent pasta carbonara, David had a mammoth goat-cheese salad, and Olek had "chicken mozzarella." (The photo shows Olek and me in front of a building in downtown Sopot, a few doors from the restaurant. Yes, it really is shaped like that, on purpose. I don't know why.) Back at the institute, we picked up one of the grad students who was riding back with us and drove back to Gdynia, arriving only a little late for my afternoon workshop session.
In the evening, after our usual long walk to explore the area, we once again dined in the hotel—it's just been too cold and windy out to tempt us to walk very far to another restaurant. This time, David tried the "little pork purse stuffed with forest mushrooms," which came with broccoli and a four-inch cube of excellent ham-studded potatoes au gratin; he traded me a chunk for some of my little round carrots. I went back to the "stewed wels" with fresh thyme and cream sauce, a real winner. For dessert we ordered "ice cream with hot cherry jam," which consisted of three balls of ice cream (strawberry, maple-walnut, and sour cherry ripple) and a large dollop of hot stewed sour cherries, all served in a wide soup plate stewn with sliced almonds and garnished with the usual sprig of mint. Very good.
This morning, we went back to the usual schedule—Olek picked us up at 8:30 so that I could lecture in the morning and demo-edit in the afternoon. We got through all the lecture material right on schedule, but we didn't finish editing everything submitted. We had lunch in the restaurant in the building again; David went back to the borscht with dumplings, which has really won him over, and I had "chinese style dumplings. They looked just like (and had the texture of) pierogis, but they tasted like pork potstickers and were drizzled with a soy-vinegar dipping sauce and hot chili oil. Very tasty.
When we emerged from the conference room at the end of the afternoon session, we found that the cod fishermen were picketing the building—apparently, new restrictions have gone into effect, and they blame the Sea Fisheries Institute. They were polite about it, though, so we encountered no difficulty leaving the building to go back to the hotel. Our afternoon walk took us south along the ocean-front walk as far as it went, then back along a street high above the beach that runs along the top of a glacial moraine. Gdynia is striped with these moraines, which are tall, very steep ridges and interfere with the city's attempts at a street grid—it's much easier to run streets between and parallel to the moraines than to try to cross them.
Written 23 April 2005
We went out last night to a nearby Italian restaurant we've seen in our previous walks. For once, we could read the menu. We started by dividing a serving of crayfish tails (called "crayfish necks" here) in a garlic-fennel-cream sauce. David had pork tenderloin in mustard sauce with green peppercorns, served with grilled vegetables drizzled with a lemon butter sauce and a starburst of fried potato wedges. I had the house pasta, tagliatelle with spinach, cream, mushrooms, and shrimp. For dessert, we shared a scoop of ice cream drizzled with chocolate sauce and smothered in zabaglione.
previous entry List of Entries next entry