Gdynia, Part 2
posted 29 April 2005 (updated 24 May 2005)

Written 19 April 2005, ca. 7 :oo p.m.
Today's schedule was much like yesterday's, except that we covered "lesser problems I," "dangling modifiers," and a little of "lesser problems II." (That's Olek just to the right of me in the picture.) The hotel is fuller today than yesterday, and the breakfast buffet even more varied. I tried a different one of the cold sliced meat rolls—pork stuffed with cheese and dried fruit. And the whitewurst was delicious.
We had lunch at the institute restaurant again. I had planned to have something smaller, like a plate of pierogi, but Olek tempted us with the description of the "grilled loin with special mushroom sauce" (grilled whole pork tenderloin with a chanterelle cream sauce), while of course limiting himself to a bowl of white borscht. It was delicious, but more than we really needed, especially with more of those deep-fried potato chunks (which here are apparently called "American style" potatoes) and a pile of baby carrots.
We were warned that Gdansk was beautiful, but that Gdynia wasn't. And yes, most of the architecture is 1950's communist grim. The gray, slab-sided apartment buildings were designed so that each apartment had a tiny balcony, but they just look like buildings sprouting dozens of window-unit air conditioners. Still, a few of the newer buildings are beautiful, especially the maritime museum on which the finishing touches are just being put.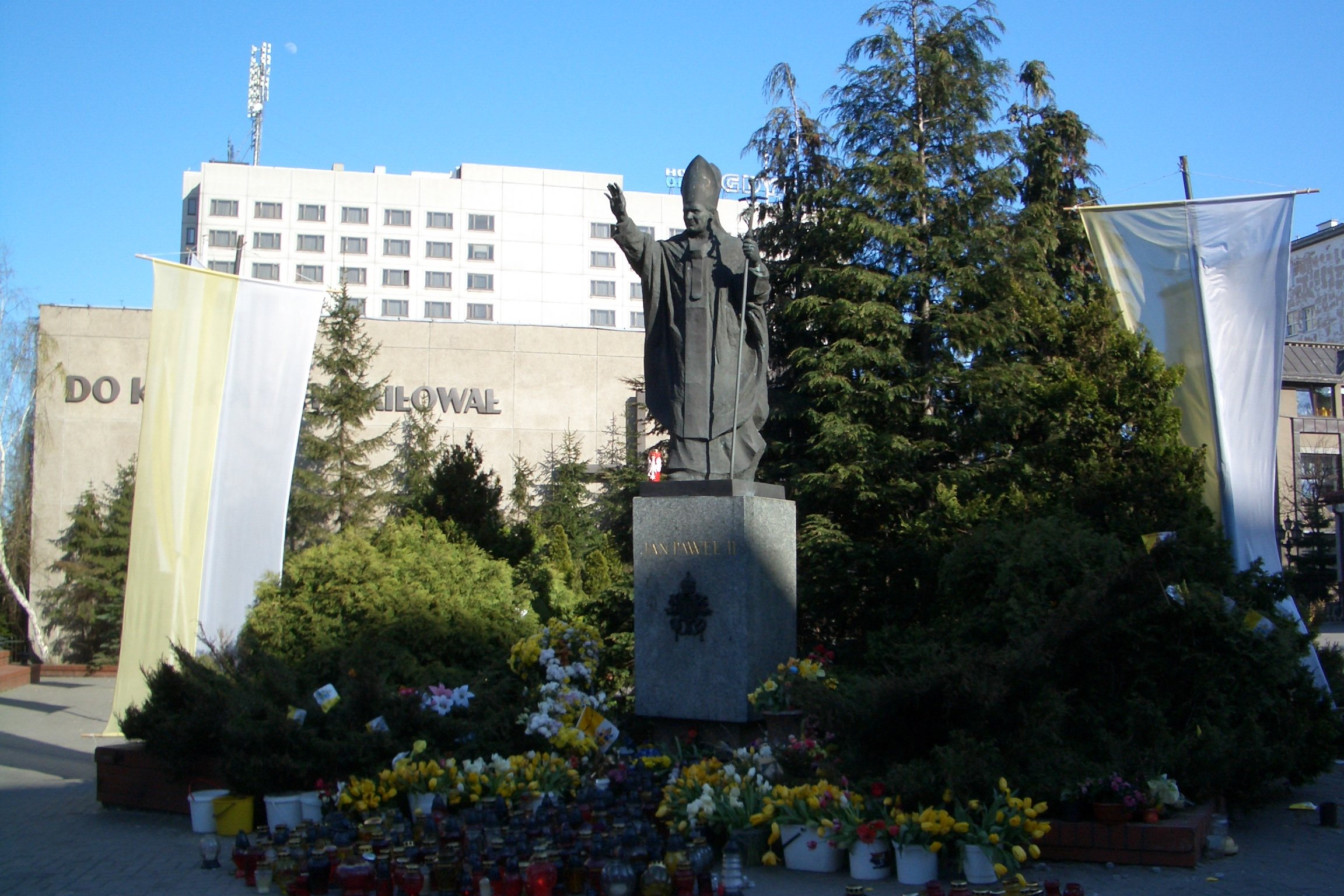 Spring is very late here, as it was in Villefranche and has been all over Europe, so the trees are just barely beginning to show green, and the flowering tree buds are bulging. Only the forsythias are really in bloom. Today after work, we walked around the business district for a little while and happened on a church with a large statue of Jean-Paul II in front of it. His funeral was yesterday and there had apparently been some sort of large vigil there, and today the clean-up was underway. They were clearing away about a ton of flowers and thousands of glass candle lanterns, anywhere from three inches to about a foot high, which covered the ground for yards around the statue, the adjoining sidewalk, and parts of a nearby courtyard. A few were still burning. (This photo was taken a couple of days later, after the clean-up, when a few more flowers had accumulated.) Jean-Paul was deeply revered here, because it's a decidedly Catholic country (our hotel is overlooked by an illuminated cross, 30-m high, mounted on a glacial moraine), and because he was Polish, of course, but also because Poles believe strongly that he gave them their freedom—made it possible for them to break away from the Soviet Union.
We had dinner at the hotel again—it has turned colder and windy, and the 300-yard hike to the nearest other restaurant didn't seem appealing. David had "roasted loin trapped in bacon" (roasted whole pork loin wrapped in bacon), which came with skinny French fries. I had veal stuffed with leeks and chanterelles in a cream sauce, which came with sautéed potato chunks. Both came with broccoli, cauliflower, and more of those great little round carrots. Both were excellent, especially once we traded potatoes. The guy at the next table was eating a heap of small, whole, deep-fried fish, about the size of smelts, which I hadn't spotted on the menu—I'll look for it next time. We followed up with "coconut dessert with chocolate mousse," which was balls of a sort of coconut fudge rolled in grated coconut and served on sweet creamy white sauce. No chocolate in sight, unless the sauce or part of the fudge was white chocolate. Good, though. I tried to talk David into the "banana in beerpie with ice," but he wasn't in that adventurous a mood.
Tomorrow, parallelism.
previous entry List of Entries next entry