Paris, Wednesday, Thursday, Friday, Saturday morning
posted 29 April 2005

Written 15 April 2005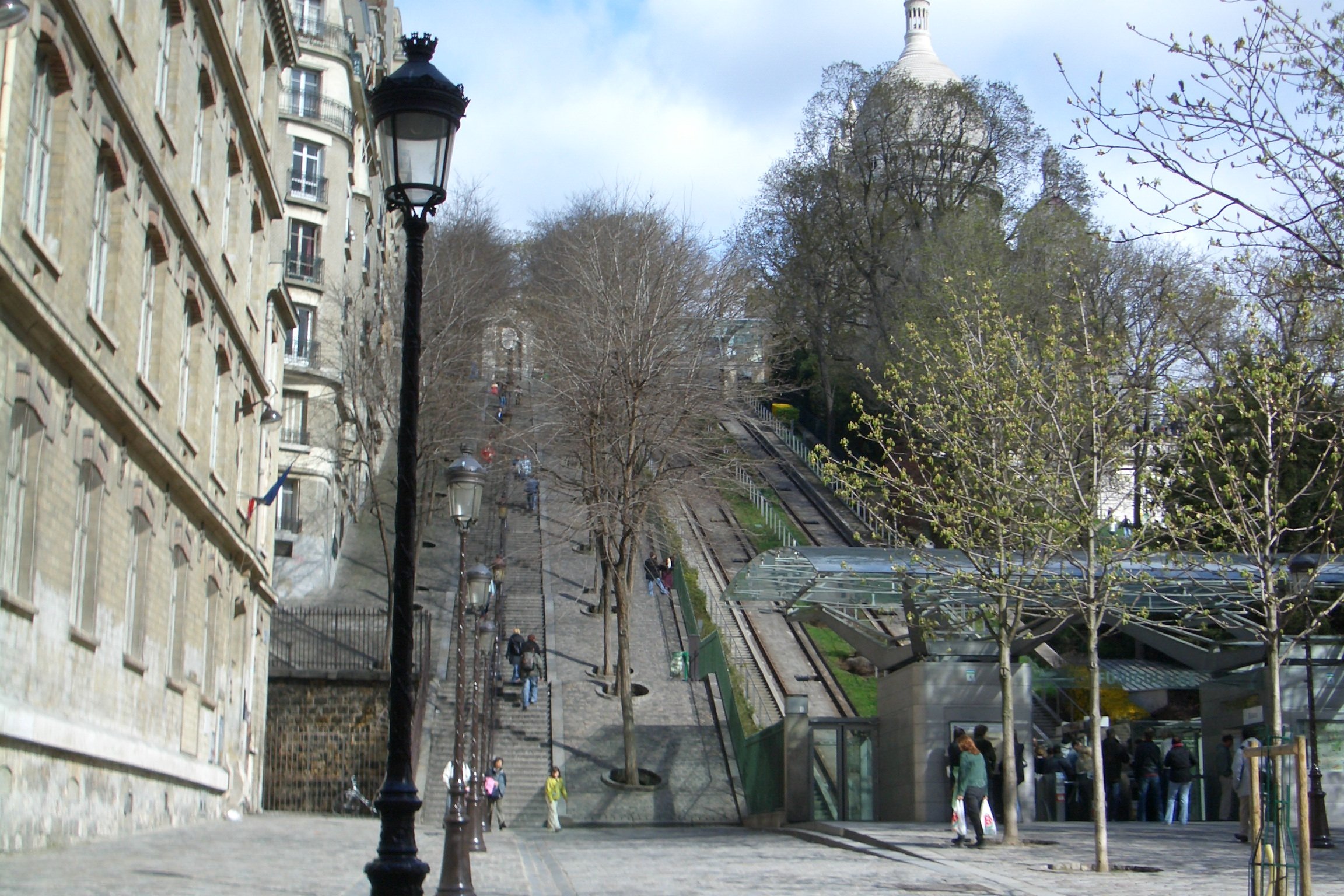 Wednesday was Montmartre. We caught the Metro to Blanche, then walked over and took the funicular to the top of the hill (except Ev, who walked up the steps you see here, which parallel the inclined tracks). At the top, we of course started with a visit to the Basilique du Sacré Coeur. Notre Dame may be of greater historical, architectural, religious, and artistic merit, but Sacré Coeur, with its white domes, hilltop location, and Byzantine-style mosaics is a whole lot prettier. Mass was in progress while we were there, and a small group of nuns was singing, but we tiptoed along the outside aisles and around behind the alter to visit all the side chapels and the mostly modern stained glass.
By then it was lunchtime, so we applied the hundred-yard rule and found a very French little place, not full of tourists, even though it was within sight of both the basilica and one edge of the teeming Place du Tertre. After our usual assortment of composed salads, omelettes, etc., we plunged into the Place du Tertre to look at art in the making. The very same guy who did David's charcoal portrait a few years ago was still in the same spot. Everybody foraged for his own dessert—I got a great triple scoop of ice cream—coconut, caramel, and coffee. Ev opted for a crêpe filled with sweetened chestnut cream.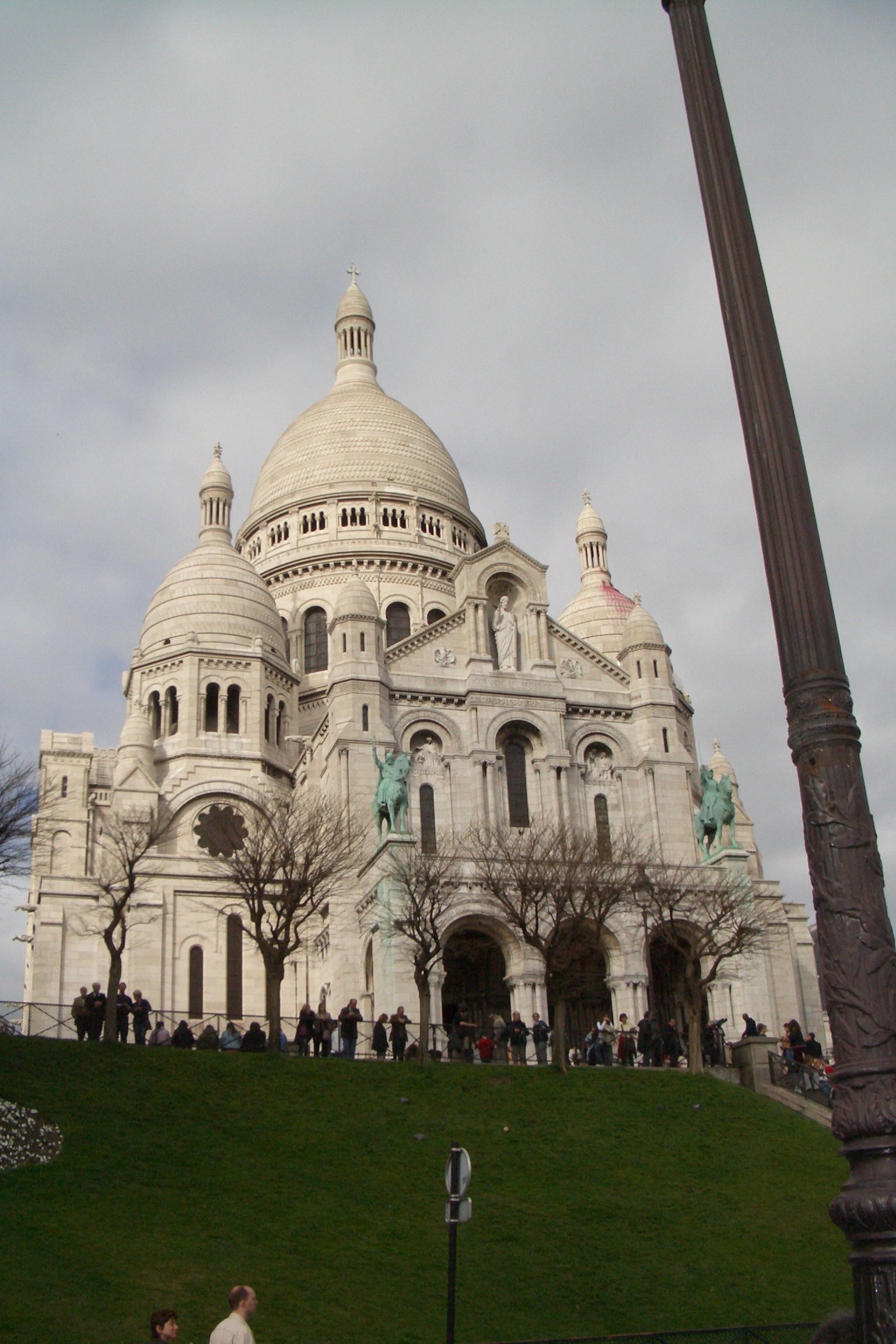 Then we made an early afternoon of it because we were due at the Lido for the dinner show starting at 7:30 p.m. As Rachel retorically inquired, how many wives take their husbands out to a girly show on their own (i.e., the wives') birthday? The dinner wasn't half bad, and during the last half of it the orchestra played for dancing, an a female singer ran through a repertory of standards in a mix of languages. Programs were available for purchase, and each copy came with a little set of folding plastic binoculars (with nice flat eyepieces to help the men keep their eyeballs from popping out). During dessert, the show began.
Written 20 April 2005
If asked to summarize it, I would have to say that it included, as promised, lots of naked women, one of the ice skaters was out sick, the elephant wasn't real, but the horse was. Well, the women were not completely naked, but they did entirely dispense with the pasties, relying solely on the g-string, many sparkly necklaces (carefully arranged so as not to obscure the view), and just enough rhinestone-encrusted harness to attach all the elaborate feathered headdresses, wings, and whatnot. The program actually listed two separate groups of "dancers": the "bluebell girls," who wore costumes and actually danced, sometimes with male dancers, and the "nude dancers" who, having no support whatever, mostly paraded and posed. The show, entitled "Bonheur" ("Happiness"), was (very) loosely strung together. It was divided into four "tableaux," each consisting of many scenes. Without a program, you could never have discerned any structure. Even with a program, I lost count of scenes a couple of times and couldn't necessarily match what was going on to any of the printed descriptions. Between the scenes involving the dancers, naked women (no naked men), and diva (a multilingual female vocalist, invariably clothed, who even danced a little) were a series of circus/variety acts—an extremely limber woman who slithered all over a trapeze (reminiscent of the non-flying trapeze in the FSU circus, but a lot more suggestive; probably the most sensual part of the show), a former Olympic male gymnast who did an amazing series of planches and handstands on one hand (reminiscent of the "strength and balance" act in the FSU circus; his wrists were thicker than my ankles), a guy who did a sort of still-rings act on a pair of hanging strips of white fabric (like the ones in Circ du Soleil); a pair of figure skaters (fountains, skating rinks, pyramids, and whatnot rose out of the stage and sank back into it as needed; the male figure skater wasn't there, so the lady did a short solo act); and a dressage rider whose horse performed fancy steps (in time to loud, throbbing music, during a laser light show, and surrounded by naked women waving huge feather fans; the horse was either deaf and blind or very, very calm and under amazing control). The rider wasn't billed as such on the program; I think he must have been the one listed as "replacement act," brought on because the figure-skating routine had to be cut so short. The elephant showed up during a number based on traditional Indian dancing (one of several original ways in which the diva arrived on stage), and standing still, it was quite a convincing audio-animatronics job, but the way it slid across the floor without moving its feet was kind of a give-away. Even for the dances intended to invoke those Indian ones that are traditionally performed barefoot, neither the Bluebell Girls nor the nude dancers took off their spike heels.
It really was quite a spectacle. It must have involved dozens of costume changes, and it was in no way raunchy—the majority of the audience were women, and one family had even brought a 10-year-old girl for her birthday.
On Thursday, we went to Versailles. David and I had been there, but on a July afternoon when the wait to buy tickets to the palace was three hours long, so had simply visited the gardens, the trianons (smaller houses on the grounds), and Marie Antoinette's famous "hamlet," the little pretend village where she played at being a shepherdess. This time, we took advantage of a package deal (Rachel spotted the sign in the subway station) where you buy your admission ticket along with your subway ticket. We therefore arrived already bearing tickets and were able to walk right by the lines and into the palace. It is just as huge, elegant, and ornate as it's cracked up to be, and we were pleased to encounter a whole room full of portraits of Nattier, one of our favorites. The hall of mirrors was under restoration, so most of it was behind construction walls, but they had left one end uncovered.
After touring the state rooms and the royal chambers, plus a temporary exhibit on Napoleon, we went in search of lunch. We couldn't find the restaurant David and I had liked so much on our previous visit, but the hundred-yard rule turned up quite a nice place nonetheless. After a turn around the gardens, we caught the subway back to Paris, because we had dinner reservations, and our friend Françoise was due to meet us at the hotel. Françoise and I met in the lobby and had a long chat before the others joined us and we set off on foot for the restaurant, which was on the other side of the Luxembourg gardens. We had hoped to walk across the gardens, but they were being locked up just as we arrived, so we had to go around.
The dinner was a strange mix. My starter was a crême brulée of foie gras with whole peanuts embedded in it and crushed peanuts sprinkled over. Bizarre but extremely delicious. My main couse, on the other hand, was confit of lamb stuffed with olives and dried figs and rolled in thin slices of eggplant. The concept was good, but mine was badly burned on the underside. The burned flavor was faint at first, so I thought perhaps it was just bitterness from the salt-cured black olives, but it got worse with every bite. Several of the others had the same menu, and Joyce said hers was slightly burned, but the others were apparently fine.
I'm glad we got to have dinner with Françoise, because it turns out she won't be able to visit us in Brest after all.
Friday morning, we finally got to the top of the Eiffel Tower. David and Rachel were a little later than the rest of us in getting ready to go, so four of us set off to stand in line for tickets, and the others agreed to join us half an hour later. So of course that day the lie moved so quickly that we had tickets in less than 15 minutes and had to hang back at the entrance until the others arrived. Once they had shown up and ducked under the fence to join us, we took the inclined elevator to the second level, then the vertical elevator to the top. As usual, the view was magnificent, despite a persistent mist that kept the horizon rather close.
We planned to visit the Musée d'Orsay in the afternoon, except for David and Ev, who opted for the army museum instead, so we applied the hundred-yard rule in the appropriate direction, then after lunch went our separate ways. David says the army museum gets better every time—it gets more organized, and they've air-conditioned the upper floors. The Musée d'Orsay, on the other hand, hadn't changed a bit—it's already perfect, and I'd been wanting Michael to see the gorgeous Art Deco and Art Nouveau furniture for years.
Again, we went back to the hotel early to get ready for our dinner with Albert, Claude, and Samuel. We were due at Aunt Frida's for cocktails at 6:30 p.m. Everyone opted for a kir, and Frida's bottle of cassis was so old the color had gone a little funny, but I'm told it tasted fine. When the time came to leave for the restaurant, there was some discussion of how we would get there, as we were too many to fit in Albert's car. Claude quite sensibly suggested that we split into two parties, one to go by car and the other by subway, but Albert seemed cdonvinced we could fit everyone in the car and kept suggesting different ways to do it. To tease Samuel, I said, "And we could put the kid in the trunk!" In the end, we followed Claude's suggestion, but as we in the subway party left, I could hear Samuel, entirely smitten with the idea, pleading to be allowed to ride in the trunk. (On the way by subway—it was only two stops—I expressed surprise that Albert would break out the car for such a short trip and to go somewhere with such difficult parking; Claude rolled her eyes and said, "He always breaks out the car.")
(Later, after dinner, when the valet parker was bringing the car around, it became apparent that Samuel has gotten his way and wanted to go back the same way. The car turned out to be an SUV, and the "trunk" was actually just the narrow "wayback" behind the rear seat, covered by a light plastic hatch. As they pulled away, we could see Samuel pushing up the hatch to wave to us through the rear window.) The restaurant is called Pinxo. It's in the 1st arrondissement, and the chef/manager is Fabrice Debos, a childhood friend of Albert's. The menu is organized like that of a tapas bar; it consists of many small plates designed to be ordered in series and shared around the table. We just left the choice to the chef, specifying only that Ev couldn't eat garlic or onion, so they just started bringing food. We got to taste virtually the whole menu. Whenever they brought a flight of dishes for the table, they brought Ev a separate plate with garlic-free versions or substitutes.
Flight 1: Chilled molded piperades (red peppers stewed with tomatoes and onions), each enclosing a soft poached egg; tiny finger peppers, and autéed ham on the side. Strips of white toast topped with strips of smoked salmon, pickled ginger, and dill. Soft spring rolls stuffed with king crab and shredded vegetables, with chopped peanuts and a strip of peanut sauce.
Flight 2: Skewers of chiperons (baby octopus) and fresh pimento with herbs, garlic chips, ginger chips, and ink sauce.
Flight 3: Chunks of seared lacquered tuna with sesame seeds on top, on a bed of very thinly slicked raw baby fennel marinated in lemon and olive oil (outstanding). Whole gambas (large shrimp) with the heads on, grilled with ginger and garlic, green onion, and another lacquer sauce.
Flight 4: Lacquered breast of goose, roasted and sliced, with rigatoni stuffed with mushroom duxelles and topped with white bechamel sauce. Slice grilled filet of beef on top of crushed potatoes, with home-made potato chips and green onions.
Flight 5: Three rice puddings (apple cinnamon, pineapple coconut, pistachio something). Three mascarpone parfaits (strong coffee, creme de marron, and "belle rose" (rose, litchi, liqueur)). "Crêpes norvegienne," crêpes filled with an orange cream (creme patissière, meringue italien) and sided with sliced orange and confit orange peel.
Wow! It was all outstanding. Rachel declared the orange crêpes the best dessert of her life.
Pinxo is another in the series of restaurants opened by Alain Dutourneuil (although Fabrice has full autonomy). We've always loved his first, "Au Trou Gascon," but we were very disappointed a couple of years ago with his higher-ranked "Le Carré des Feuillants." Pinxo is another winner. Better watch for Fabrice's name in the guides.
Saturday morning, alas, it was time to go home. We left first, taking a cab to the Gare de Lyon to catch the TGV back to Villefranche. The others left an hour or so later for Charles de Gaulle Airport. We all agree we've got to do this again.
previous entry List of Entries next entry