Montpellier
posted 5 April 2005

Written 25 March 2005
On Saturday, March 19, we got up early and set off by car for Montpellier, a 3.5- to 4-hour drive west of Villefranche to visit Jean-Louis Martin, Sylvie Blangy, and their 12-year-old daughter Sunny (a pseudonym). Jean-Louis and Sylvie spent a year in Tallahassee (1990, I think) visiting Dan Simberloff's lab (shown here with the terrific Alsatian chocolate cake Sunny made for us). Nicolas Mouquet, who spent some time working with Tom Miller much more recently, is also in Montpellier now. Sylvie is an expert on ecotourism, and Jean-Louis is an ecologist (and ornithologist). Jean-Louis invited David to present a talk on his recent experiments on deep-sea CO2 sequestration and me to do a short English writing clinic.
We got to Montpellier right on schedule—they had recommended we get there by 11 a.m., so as to go to the local farmer's market with them—but then got hopelessly lost in the city until we stopped to buy a map. Sylvie and Sunny had already left for the market, but Jean-Louis waited for us, and we caught up with them. The market was breaking up by that time, but we caught their favorite cheese lady before she left and were treated to a comprehensive tasting of her stock, including a delicious locally made perrail and a spectacular aged gruy`ere so dry it actually had crispy little salt crystals in it!
Back at their house, we had a lunch of Sylvie's market finds—a salad, cheeses, charcuterie (usually translated "cold cuts" but much more and better than the baloney-and-olive-loaf image conjured up by the term in English), country pâté, and two kinds of whole-grain bread. For supper that night, Jean-Louis used farmer's market produce to build a terrific deep-dish vegetable pie.
Their house is the end unit in a short strip of row houses in a dead-end street very near the university campus and some large natural parks, so they get a respectable amount of wildlife. Spring arrived with us. Saturday night was the first time it had been warm enough to eat dinner on the terrace, the daffodills burst into bloom over the weekend, and on Sunday Jean-Louis heard both swallows and the local hoopoe for the first time this year. The house i2 30 years old but very solidly built, with terrazzo floors and solid-wood doors. On the ground floor are the garage (converted into Jean-Louis's wood shop), the master bedroom, and Sunny's room, which has its own bath and private entrance from the back garden. On the floor above are the living room, kitchen, guest room and bath, and balcony large enough for a dining table. On the top floor are Jean-Louis's and Sylvie's offices and the entrance to the attic. The floors are linked by a spiral staircase with wrought-iron rails and terrazzo treads. It's all beautifully decorated with their vast collection of wildlife art, African basketry, and animal carvings.
On Saturday afternoon, we drove down to the coast to visit Maguelon, the oldest Christian cathedral in the area that is now France (and once the largest and most powerful as well), built in Romanesque style on the site of much older pagan temples. It's on a low, round island in the salt marshes. We got there just in time to cross the footbridge, which closes at 6 p.m., and set off to walk around the island, while Jean-Louis drove the long way round to park the car and walk back to meet us coming the other way. Just after crossing, we got to watch the bridge keeper close the bridge for the night. Actually, he opens it—it floats on pontoons, one end is hinged, and the other is equipped with a little motor and propeller like a boat, so the keeper crosses the bridge, fires up the motor, and sails it back to the mainland side, rotating the whole footbridge until it lies parallel to the mainland bank. During the day he moves it aside temporarily to let barges pass.
The bird life in the marshes is as spectacular as the church—we saw wild pink flamingos, shelducks (which nest in burrows at the water's edge!), two kinds of gull (Jean-Louis confirmed my identification of the "mouette rieuse," but the other wasn't the same one we have in Villefanche), a whole troop of red-legged partridges (looking like vastly overgrown quail), and as dusk advanced, a barn owl that nests in a ruined part of the cathedral. We heard a kestrel, quite close by, but couldn't spot it.
Written 3 April 2005
Sunday, while Sylvie went to check on her mother who was home alone and down with the flu, David, Jean-Louis, Sunny, and I explored another of those ancient, steep, quaint fortified villages. We were puzzled to find marbles—ordinary glass children's marbles—here and there in the gutters and behind flower pots. Then one came bouncing and rolling out of a side street, took a left, and rolled past us to join another in the angle of a wall. It's tough to play marbles in a town like that! First, the streets are all cobbled and sidewalks nonexistent, and second, overshoot a little and the marble zigzags off through the maze of tiny stone streets and doesn't stop rolling for 300 yards (unless, of course, it drops through a a grating into the storm sewers). We followed the marble gradient uphill, collecting them as we went, and returned them to the players near the top. Some had apparently been lost for a good while, and when we left, the kids were arguing over which ones belonged to whom.
From there, we climbed a steep and twisting set of streets, stairs, and footpaths to a well-known hiking trail and set off on a more or less level circuit of the plateau above the town—spectacular views, great vegetation and birding. We heard but didn't see a green woodpecker (Picus viridus). With Jean-Louis's help, I was able to match several commonly heard bird songs to the corresponding species. From my description Jean-Louis could also immediately identify the convoying caterpillar—it's the "processionnaire du pin" (Thaumetopoea pinivora, or perhaps T. pityocampa this far south). It lives in silk tents in trees and sets off in convoys by night to climb pinetrees and eat the needles; I was apparently lucky to come accross a group that had lost its way and was still out in daylight.
After our hike, we met Sylvie at a "ferme auberge"—a farm converted to an inn and restaurant—well known for its home-made traditional products like duck confit.
Monday, David gave a talk in the morning (on his deep-sea work on CO2 sequestration again), and in the afternoon, I did an English writing workshop. Six volunteers submitted abstracts, which I edited in real time on the big screen, explaining my changes as I went. Among them, the abstracts brought up many, many points for discussion, from basic points of English grammar (the adjective is invariant in English) to easy ways to shorten text to choice of English dictionaries to conventions of preparing manuscripts for publication. The workshop was scheduled for two hours, but we kept on going for almost three. It was great fun and a very useful dry run for the upcoming five-day workshop in Gdynia.
Tuesday morning, alas, we had to head back to Villefranche, as we then had only a day and a half to catch up at the office, do laundry, and pack for our trip to Paris.
Here are a few more photos from that weekend: a view of the cliffs of Hortus; the Pic St. Loup emerging suddenly from the fog that had shrouded it all morning; and wild daffodils, barely three inches tall, blooming in the "garrigue" (French for "chapparal").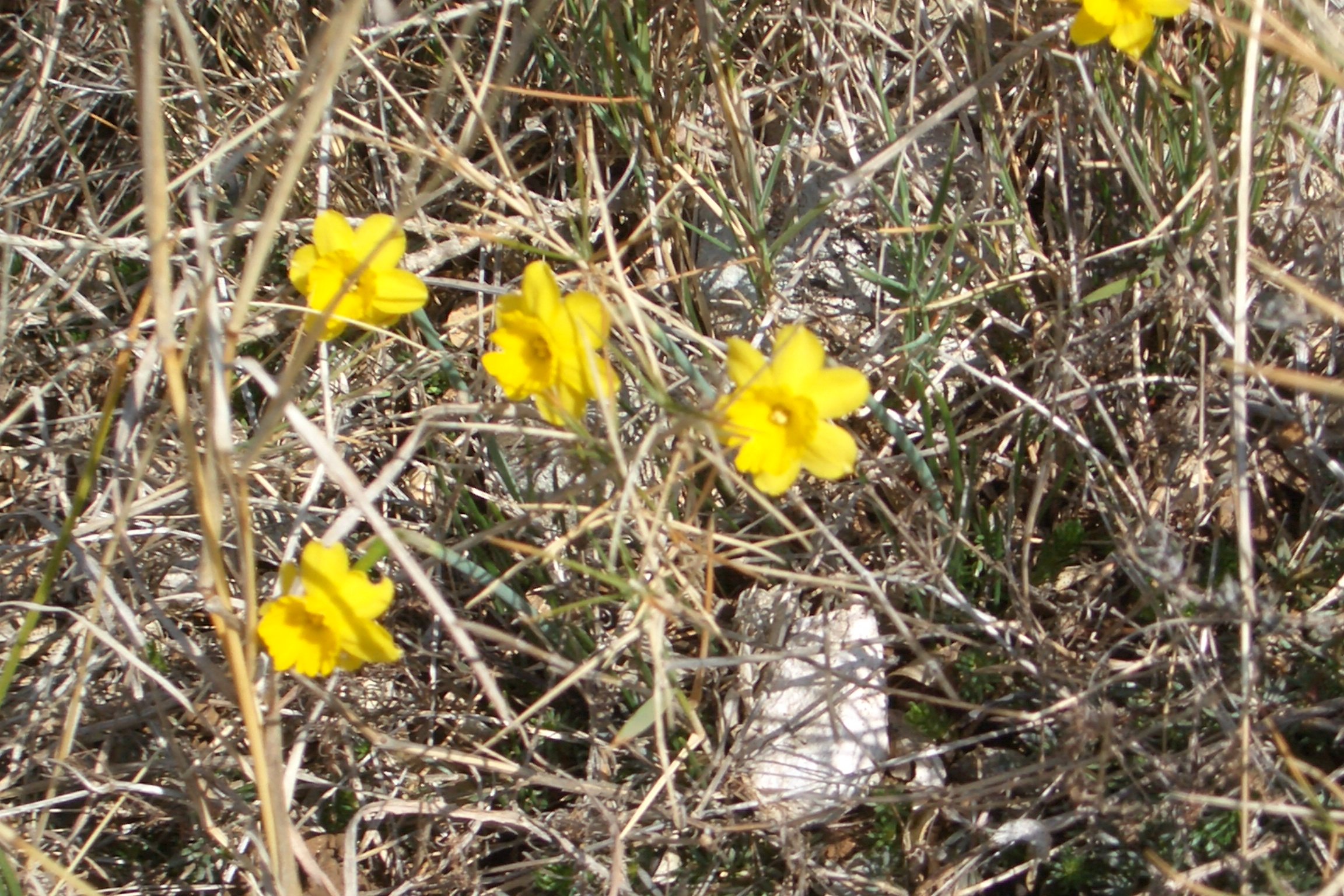 previous entry
List of Entries
next entry