Setting up Thunderbird for Windows (via IMAP protocol)
Thunderbird can be downloaded from http://www.mozilla.com/thunderbird. Thunderbird has similar functionality as Eudora, it's user friendly, and it's freeware. Please send an email to astuy@bio.fsu.edu if you need a copy and can't download it.
These directions cover setting up Thunderbird via IMAP (Internet Message Access Protocol). Who should use Thunderbird and why? If you are using webmail2.bio.fsu.edu to check your bio email and you created folders there it will be a good idea to use Thunderbird. IMAP protocol stores messages on the server, so you will be still able to use webmail2.bio.fsu.edu to check your e-mails as well.
---
How to install?
Download the installer file from the page above, and double-click the file.
If you got any programs running, close them as advised. Press next.

Read the agreement, if you agree, check the box and press "Next".
Choose standard, press "Next".

This is how it'll look as Thunderbird is being installed on your computer.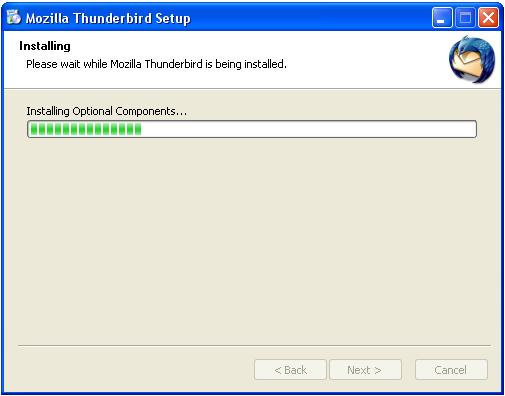 Press finish to start Thunderbird for the first time.

When you open Thunderbird for the first time, it will ask you if you want to import setting from other mail clients. Select "Don't import anything".

Select "Email account" and press next.

Fill in your name and email address, press next.

Select "IMAP" for the type of server and for the incoming and outgoing server, type "mail.bio.fsu.edu", press next.
Now fill in your user name for your mail.bio.fsu.edu email, for example "jsmith", press next.

Default will be your e-mail address, press next.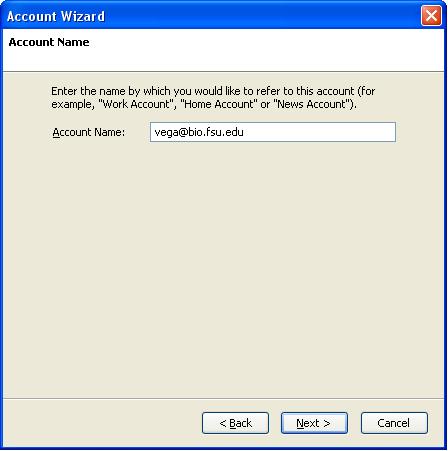 Summary of you account configuration.

If you mark your email address and press "Get mail," you should get this message.
We need to change few things on Account Settings; to do that right click on your email address and Click "Properties".
Hightlight the "ServerSettings" , and select "SSL" for the Use secure connection options.And Click on "Advanced"

"IMAP server directory" should be blank and uncheck the box for "Show only subscribed folders" and Click on "OK"
Highlight the "Outgoing Server(SMTP) and click on "Edit"

Make sure there is a check mark for "Use name and password" and "SSL" is selected for the "Use secure connection", Click "OK"
When you check your e-mail, it will ask you for your password, enter it and Click "OK"