Mutant Photographs by Chromosome
---
We grew out 120 mutant families and bulked seed in the summer of 2004 for the Maize-10-Maze field. Field pictures are available to the public via this web site. The image file names contiain information as described by the KEY below. The two photo galleries are organized by maize chromosome number. The first can be accessed by clicking on the field map foot path image below. The second, a more extensive gallery, can be accessed by clicking on the link for "zmXmz" at the bottom of this page.
Click here for a LIST of MUTANTS used in this project.

Photo File Name KEY: e.g. "1652_Hs1_701F_2966.JPG"

1652 = HWB family number, from the field
Hs1 = Mutant name Hs1, for the Hairy Sheath1 mutant
701F= The maize seed stock center number, 701F (*more info below)
1652 = Camera picture number.
Ear Pics: Filenames start with family number and cross (e.g. 1652-2@_etc.jpg)


CLICK ON A CHROMOSOME TO VIEW MUTANTS WITH A MUTATION WITHIN THAT CHROMOSOME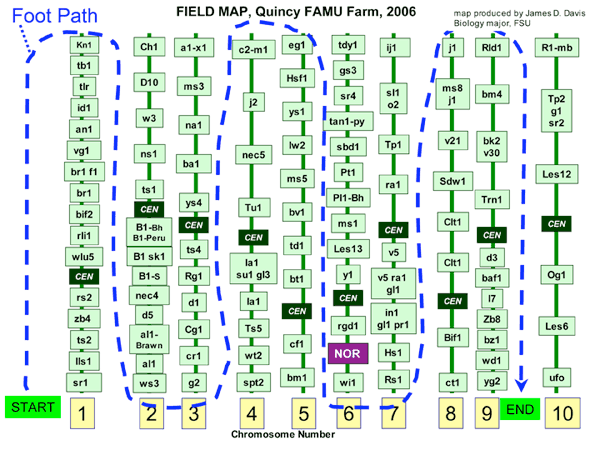 Mutant Field Pictures from 2004 summer field
Robert Garbriel (above right), one of the student field workers, helps with photography.
Mutants selected by:
Marshawn Hay and Hank Bass
Mutant Photo Credits:
Karen Graffius, Field/plant photos
Bobbye Hill, staging
Maria Conejo, Ear photos
---
Click here to view zmXmz version 4c,
a larger photo gallery collection with more images, higher resolution versi ons, and some additional ear pictures.