Monday, 31 August 2015: Aveiro by boat and jeep
Written 8 June 2016
Here's the view from my hotel window, through a rain-streaked and none-too-clean window. at the right, you can see a less-foreshortened view of the "I [heart] Aveiro" stairway. To get up there by car, you have to drive a loop that leads out of the photo to the left and is about six blocks long.
The right-hand photo is the view down through the center of the hotel's central staircase. The green space is a childrens' play area in the lobby.
We had breakfast with Buz and Kathy and British colleague Gordon Paterson. As is clear from the photos, the breakfast buffet was varied and copious. On this first day, the pastry assortment (left-hand photo) included a couple of kinds of little muffiny things, a couple of kinds of loaf cake, miniature pasteis de nata, an apple tart, an almond tart, raisin buns, and round, slightly sweet orange-flavored buns with an orange-peel glaze on top. On other days, other flavors were rotated in and out.
The cold meats included (behind the two stacks of plates) included platters of raw ham, cooked ham, two kinds of salami, cold roast pork, olive loaf, mortadella, and poultry loaf, in addition to such accompaniments as sliced tomatoes, cubes of fruit paste, and, at the far end, plates of sliced fresh and cured cheese.
The fruits included canned sliced peaches and pears, fresh grapes, pineapple, watermelon, and the ubiquitous white melon, and a big bowl of mixed fresh fruit salad that included many other varieties.
The breads (behind the two stacks of smaller plates) included miniature croissants, egg-bread buns, and six kinds of chewy bread buns (with and without seeds, white, dark, etc.), accompanied by bottles of olive oil and vinegar.
At the far end of the buffet were juice dispensers, a big platter of tiny jars of assorted jams, plus butter and honey, and dispensers of several kinds of cold cereals.
And that was just the cold buffet! Along the wall opposite the windows as a row of large chafing dishes filled with baked beans, sauteed mushrooms, scrambled and fried eggss, undercooked bacon, and very good little nubbly sausages.
The right-hand photo shows my breakfast (well, I had to try everything, right? that's research!). The long skinny thing next to the fried egg is one of the sausages; they were all odd-shaped like that. But delicious.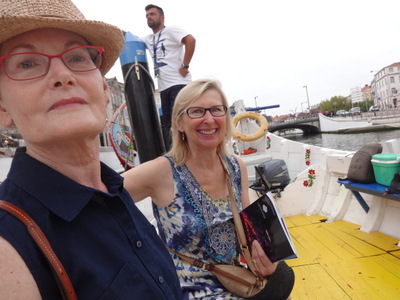 After breakfast, David, Buz, and Kathy went off to the meeting (Kathy wanted to hear Buz's talk) while I wrote. Kathy then came back at the first coffee break to rendezvous with me and grad-school friend and colleague Jeannie Davism and the question arose of how to spend our time.

At breakfast, colleague Sue Weiler said she'd heard there was a huge craft fair in Viseu on Tuesdays, so we promised to look into that. Kathy, having visited Aveiro before, had some ideas, and we all agreed that the fish market and a tour in one of those brightly painted canal gondolas were high on the list.

We therefore set off for the fish market, but a stop at the tourist office, which we encountered on the way, revealed that the fish market is closed on Mondays, but the gondola landing was right there, so we took a gondola ride instead, down to the first lock, back up to our hotel, and back down to our starting point, near the tourist office.

The two photos show the interior of our boat, without and then with Jeannie and Kathy.
All the boats are brightly painted and are decorated with scenes like this one, on a passing boat. I'm told they are usually racy, so I don't transcribe the caption, lest it be inappropriate to this venue.
The right-hand photo shows our intrepid guide perched on a platform in the bow, peering ahead. The orange object in her left hand is a seriously loud, hand-pumped air horn. Many of the bridges we passed under provided only low, narrow passageways, definitely not wide enough for two boats, so every boat is equipped with a horn used to warn anyone approaching from the other side that it's about to enter one of these tunnels.
Among the points of interest we passed was a huge shopping mall called the Forum, built in 1998-99 and supposed to be the best shopping mall in Europe. I could believe it. It has an olive orchard on its roof.
Near the Forum, high up on the bank, is a huge old cemetery full of family vaults of all sizes, the back of many of which we could see over the cemetery's stone walls. The guide joked that she tries to convince tourists that its a hotel.
As we passed our hotel, the guide waved a hand at the nearby appartment houses (visible in my photos of Kathy demonstrating the exercise equipment in the park) and assured us that buying a two-bedroom appartment in one of them would cost half a million euros!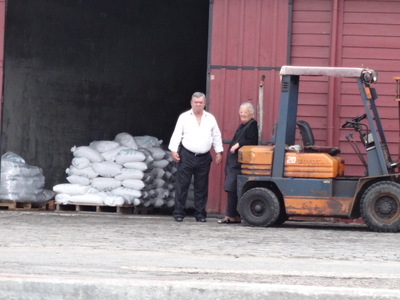 The left-hand photo here shows our boat passing through a particularly long such tunnel (under a large traffic rotary overhead), so long that it has a light-and-air shaft in the middle. Looking upward through the shaft, I could see bougainvillea blooming overhead—the tops of the air shafts are disguised as street planters, in this case, the one in the center of the rotary. Just upstream of this rotary, we passed through rather wider tunnels under City Hall.
Near the far end of our tour, we turned up a side canal that afforded this view of the last working salt warehouse in the area. The city still produces salt but not nearly in the quantities it used to, and most of it is stored elsewhere now, and the warehouses have been converted to other uses. One is a ballet school, and another a well-known restaurant.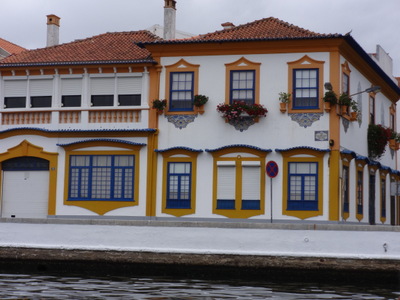 Along the same side canal, we saw many tiled and otherwise handsomely decorated houses. This was a prosperous neighborhood of fishermen—later in the week, we got to walk around its streets, a little away from the canal, and the variety of tiles was incredible.
We also passed under this little bridge, reputed to the be oldest and most beautiful in the city.
On the same side canal, we passed under a strange circular pedestrian bridge, made of wire mesh and intended to evoke the same of a fish trap. On another day, we got to walk over it.
Near the lock, we encountered these (and many other) mountains of white beside the canal—salt waiting to be packaged for storage and shipping. At first the guide tried to convince us they were this weeks shipment of sugar for the city's pastry shops!
In fact the gondolas in which we and the other tourists were riding were originally built for shipment of salt. Our boat, Ricardo, is 87 years old and was once a salt hauler, carrying 12 to 15 tons at a time; it was supposedly known to have carried 21 tons of salt at a time.
The city has 45 km of canals; the working boats used sails, poling, and the towpath (human powered). Since the locks were built, flooding is no longer a problem, and the gondolas can now work anytime, without waiting for the tide, but they can no longer conveniently take tourists all the way to the port or up some of the branch canals.
As a sort of party favor for taking the tour, our guide gave us each a little bag of genuine Aveiro sea salt. (I brought mine home, and we ate it.)
Since the gondolas don't go there anymore, we asked the guide and boatman how else we could get to Costa Nova, a beach community between Aveiro and the ocean, where we hoped to have lunch, and we were told that jeep tours went there.
We accordingly hiked down to the square those tours were supposed to start. We found the sign, but no one was in sight. Across the street, a lady was selling tickets for the little white train, and when Kathy inquired, she cheerfully dialed up the jeep-tour company and handed Kathy the phone so that she could ask what was going on. Yes, she learned, they could have someone there shortly if we were willing to wait. We were, so we window shopped, then found a shady spot in the adjacent park. Presently, this screamingly orange jeep pulled up, and we crawled onto the benches in the back.
Our guide, a young woman, was excellent and accommodating, although she was apologetic about not being a professional. Why not, we asked—you make your living doing tours, and we're paying you for this one; how are you not a professional? Well, it seems that she had not been to college to study Hospitality and Tourism, a booming field in Portugal just now. All she could do was drive us around showing us all the interesting stuff and telling us all about it in very good (but apparently not professionally polished) English—we assured her we were quite happy to settle for that!
Among the first things she showed us were these salt pans, where seawater was being evaporated for the production of sea salt. It starts out in deepish square pools, then is moved successively to shallower and shallower ones as the salt concentration rises. Needless to say, salt producers hate rain, which dilutes everything and sets them back (besides washing away part of their salt mountains).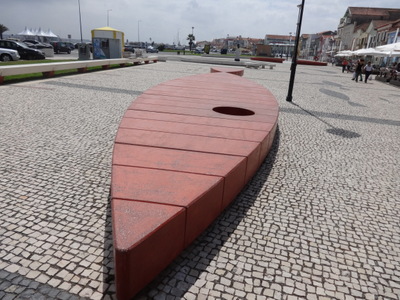 On our way, we passed through an area called "Gafanha"—leper colony—apparently it really was one once, but now that's just the name of the neighborhood. Then it was over the bridges to Costa Nova, which is famous for its houses vertically striped in bright colors—the whole town looks as though it were made of seersucker! It's a typical beach community/resort in that it's full of restaurants, souvenir shops, and other touristy places. By prearrangement, our guide dropped us off there for two hours so that we could have lunch and look around.
On the broad sidewalk, we encountered this large cement street bench in the shape of a stylized fish.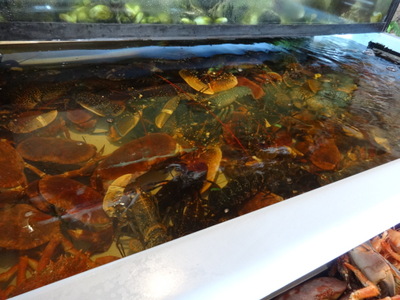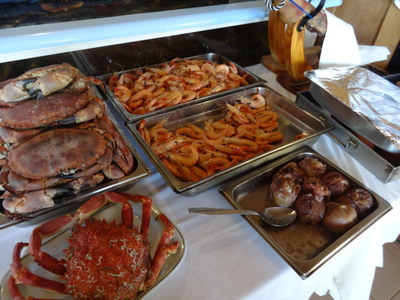 We read menus up and down the street and settled for lunch at Restaurante Marisqueira Costa Nova, where we had a fabulous lunch. As we entered, we were greated by displays of the seafood on offer, both on the hoof, as it were, in tanks and cooked, awaiting customers. Here, they include dormer crab (Cancer pagurus), spider crab (probably Maja brachydactyla), shrimp, and what I think is a pan of baked apples. At the upper right, covered by a white napkin, you can see a mostly carved ham.
Other tanks held lobsters, many kinds of bivalves, gooseneck barnacles, etc.
I'd been wanting to try eels, so I ordered the appetizer portion, and this is what I got—a tangle of small, whole, crispy fried eels, with a few olives and a lemon wedge. And were they ever good! Wow. My new favorite Portuguese dish and right up there with my favorite seafood dishes of all time! They were so young, you could eat them whole, bones and all. And I did, and ordered the same thing at every opportunity for the rest of the trip.
As a main course, I ordered the cold Cancer crab, which arrived neatly disassembled, cracked, and laid out for display on the plate. The fat, roe, and tomally (or whatever you call the hepatopancreas of a crab) were mixed into a sort of paste served in the empty carapace—extremely rich but delicious spread on bread. Also excellent.
Kathy and Jeannie ordered different renditions of roasted cod. Both were excellent but so copious that we began to think we'd misunderstood the menu and ordered dishes intended for more than one person.
One was smothered in a tomato, olive, and red pepper sauce and the other with potatoes and onions.
Outside the restaurant's door was a sign for another establishment advertising grilled fish and seafood and listing its specialty as whelk feijoada. Hmmm, that could be good . . .
Back aboard the jeep after lunch, our guide drove us all over the Costa Nova area, past many more striped houses (including these, decorated in a combination of stripes and colored glazed tiles).
This group of small boats were clearly equipped for fishing, but I suspect they were pleasure craft rather than commercial fishermen.
The lighthouse is the largest on the Iberian peninsula and the second largest of Europe. The smaller older one that it replaced is now part of a nature reserve.

This tiled balcony caught my eye as we went by, with its particularly beautiful shell motif. Each shell is made up of 9 molded and painted tiles; note that some of them are mirror images of the others. Amazing.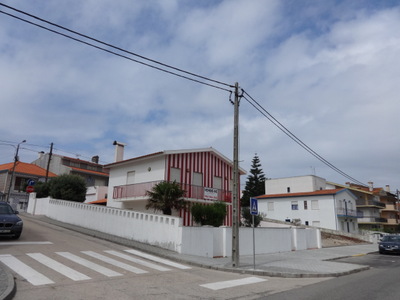 This handsome little church echos a light-house theme with its clock/bell tower.

This red striped house was for sale by owner? Any takers? This area used to be inhabited mainly by professional fishermen, but our guide said that most of the houses are now occupied by reitirees (many of them British) or are second homes for people who live and work elsewhere. Some of the stripes on the houses are painted on wood or cement, but these are made of red and white glazed tiles.
We also passed through the working area of the port, past several large prosperous-looking salt-cod production and warehousing operations and a number of working ships.
One large ship, is now the the Museu St. Andre, a museum of the cod industry. I'm sorry we never got a chance to visit that.
Periodically, we had the chance to get out and stroll around (our guide had brought along a friend, another young mom, and they chatted while we sight-saw). We walked the beach at Praya de Barra and admired the nearby dunes. A young man fishing off a bridge showed us the little bait-fish he was putting on his hooks. At that location, he said, he caught robalo (what the French call "bar"), octopus, and what he described as "little fish."
In the distance at one point, we could see the Boca da Barra, the pass to the sea through which all the fishing boats come and go. Aveiro was a busy cod fishing port until 1575, when a major storm closed the pass. The harbor silted up, and the city fell into decline; more than 70% of the population left. Reconstruction attempts in the 18th century failed.
In 1808, breakwaters made of stones from the old town walls reopened the passage to the sea and brought the town back to life. Today the important industries include salt production, grazing, rice paddies, and farming of land made fertile with seaweed gathered from the sea floor, but fishing is the primary livelihood. Important species include lampreys, sea perch, eels, mackerel, bream, and sea bass.
Finally, we crossed back over the bridges to the mainland for a driving tour of the University of Aveiro. Although, the first historical reference to Aveiro was in 959, the univeristy is quite new, dating only from 1973, and is built of modern, clean-lined red brick. During its short history, it has made a very good name for itself in marine biology.
Because the university borders on a salt-marsh, it has its own salt works! Our guide took us there for a closer look at the process.
There, we found this young man, next to his own small salt mountain, filling plastic bags with salt. (Little bags of salt are common as party favors, swag items, etc. David got one, from this very salt works, in his meeting registration packet. We ate that one, too.) He took a break to show us around, letting us walk out on the little dikes dividing the various pools from one another.
The map at the right, posted on the wall of a shed, shows the historical distribution of working salt pans in the Aveiro region (the city of Aveiro is marked by a small label in the blank space just above and to the left of the multicolumn legend at the lower right). Once 250 salt makers divided up the area; now only 8 are still active. The university salt works is at position 17 on the map (to the left of the "Aveiro" label, just touching the medium-sized waterway that runs from lower left to upper right; the salt-making areas between the Aveiro label and position 17 are now the site of the university). The salt works are active only between July and September, because of their dependence on weather.
Peering down into the evaporation pools, we could see, in the deeper ones, little fish and macroalgae. The young man explained that the algae helped to clear heavy metals and trash out of the water, early in the concentration process. During the winter, the pools are drained and the algae is scraped out. In the shallower, more saline pools, thousands of tiny brine shrimp were skittering around on the bottom.
When the brine gets so concentrated that salt crystals begin to form in a layer on the surface, this perforated skimmer is used to lift them off for drying. The resulting ultrapure flaky-textured salt (called "fleur de sel" or "flower of salt" in French) is much prized for table use.
when the shallowest pools are reduced to a salty slush, the wet salt is scraped up with the wooden implement in the right-hand photo, dried, and piled into the salt mountains we saw.
The plant at the left here is Salicornia, probably S. europaea. I chose a small isolated clump to photograph, so that it would show up better in the picture, but in fact it was rampant everywhere we looked. Common names are glasswort, samphire, and pickleweed. It's among the worlds most salt-tolerant plants, which is why it grows around salt pans. Some people think it's a seaweed, but it's actually a flowering plant in the same family as Amaranthus. It's very tasty, even saltier than celery, excellent in salads or cooked. We munched on branches of it while we listened to the guide's lecture.
In the right-hand photo are flamingos—rather pale specimens, because, as you can see, the salt pans and neighboring marshes where they were feeding were full of pale brine shrimp and bacterial, rather than the ones that turn flamingo feathers pink. I don't know whether the color difference is regional, seasonal, or what. Besides the flamingos, I saw stilts, egrets, tiny terns, and ducks.
At the end of the tour, the guide drove us all the way back to the hotel rather than making us walk from the nominal drop-off point. There, we met the guys and a few other folks from the meeting, and the bunch of us walked back down to the middle of things. Near a square that Buz and Kathy remembered from their previous visit, we found an outdoor table at a likely-looking place called La Cubata and ordered a bunch of tapas as well as main courses.

p>We started with these dishes of cold octopus salad and hot fried peppers with coarse salt. The peppers were thermally hot from the fryer but very mild in flavor. Both excellent.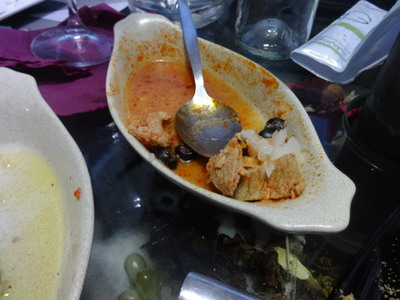 The nearly empty dish at the left held chunks of pork in a slightly spicy sauce with olives and giardiniera.
At the right is a a similarly ravaged platter of cheeses.
My notes mention a plate of linguica sausage, but it must have vanished without a trace.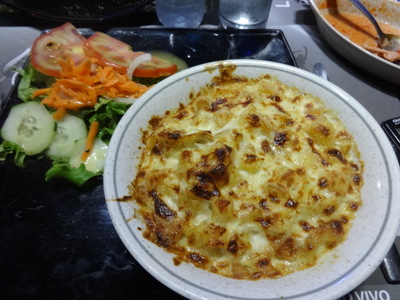 Kathy ordered the skewered prawns with pineapple, which as you can see came not just with pineapple (mostly hidden under the prawns) but with tomatoes, peppers, strawberries, melon, grapes, mango, and a physalis berry as well.
I ordered salt cod again, this time in the very popular creamed form. The cod is soaked for 24 hours or so, poached, flaked, mixed with onion and chunks of cooked potato, then baked in a rich cream sauce. Very yummy, but they always bring you a half gallon of it.
One member of the group (I think she was a vegetarian) ordered this large composed salad, which included artichoke hearts and cooked mushrooms.
Someone else ordered these cutlets (pork? veal?) with a redish sauce and small shrimp on top.
Finally, these two items. The one on the left is pretty clearly a steak with a lot of garlic on it. Pork or beef maybe? It seems to have a nobbly black sauce under it—lentils?
I have no idea what that is on the right, with the bright yellow sauce and the blueberries on top. Both came with broccoli, cherry tomatoes, new potatoes, and black-eye-pea salad.
I think some of the group went on elsewhere afterward, but David and I headed back to the hotel.