Thursday, 20 August 2015: Tallahassee to Lisbon
Written 30 August 2015
Okay, many readers tell me that they enjoy the detail that I include in my travel diaries, as a way of lending verisimilitude to my descriptions. So you want detail? Have I got detail for you! Viking River Cruises keep you so busy, and give you so much interesting information in the process—the kind that I can't encapsulate in a photo to remind me of it—that it's been all I can do to keep up with transcribing the notes I've kept on my little pocket recorder. No time left over actually to write anything up! Hence the date of this first entry, after the cruise actually ended.
So I beg your indulgence if I'm a little slow getting this diary written up. A client I hadn't heard from in over a year chose the second day of the trip to send me a manuscript, which I've told him I'll work on as soon as we get home, football season is starting, etc. I'll be busy.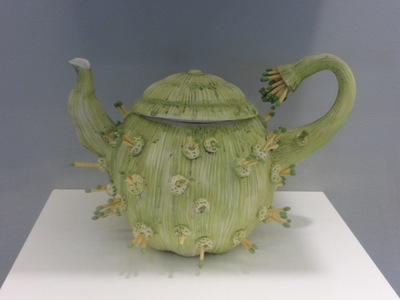 But to begin at the beginning. Our taxi was on time, and we left Tallahassee, also on time, on our usual 10:40 a.m.-ish flight to Atlanta. They dropped us off on Concourse A, so we rode the train to Concourse E for lunch. On the way, we passed a good deal of the ever-changing art that decorates the airport.
what caught my eye this time was a collection of ceramics, including unusual artistic teapots. These two were among the most attractive, i.e., least bizarre, specimens. I especially like the black and white one, though I wondered whether the items sticking out of the green one are really matches and whether they are real.
We had lunch, as usual when we have time, at One Flew South on Concourse E. We've traveled so much lately that the waiter asked us whether we hadn't just been there.
David ordered his favorite, the salad of frisée lettuce, Benton's bacon, goat cheese, basil-poached pear, and pink peppercorn vinaigrette. He declared this exemplar a particularly good one, with lots of bacon and cheese.
I tried something new, the "Dirty South," consisting of a slice of toast spread with pimento cheese and sautéed spinach topped with a (small) slice of meatloaf, bacon, barbecue sauce, and a fried egg (shown at the right). Not bad, but I sure wish they'd bring back the Kobe burger of yesteryear.
We also tried a new dessert, which turned out to be great (I can do without their banana pudding, which we've tried a couple of times). This was a caramelized pumpkin cake with spiced stewed fruit (mango, I think, or peach) with cumin seeds in it, and whipped cream on the side. Garnish of fine shreds of fresh mint. Scrumptious.
Then it was just a matter of waiting to board our plane, this Airbus A330-300, waiting patiently by its jetway.
Strangely, this flight left in midafternoon rather than the late evening we were used to, so David was a little worried about being able to sleep. I'm never able to sleep on planes, so I was unconcerned.
Somewhere over the Atlantic they fed us three-cheese ravioli, the only choice left by the time they got to our section, rather far back. I thought it was pretty good, and David said that he'd had it on a previous flight and like it then but that this one was dreadful. It came with quite a good salad with ranch dressing, a slice of colby-jack cheese, butter, crackers, a chilled bread bun, and a brownie. The single thing airlines could do that would most improve the meals they serve would be to stop chilling the bread!
Over the pasta, I watched The Avengers, then tried to sleep for a while afterward, but to no avail. At least keeping my eyes closed helped keep them from drying out.