Friday, 24 July 2015: Estes Park to Thornton, via El Dorado Canyon
Written 4 August 2015
Friday morning, we had to be out of the cabin by 10 a.m., so ate more leftovers for breakfast, packed a lunch of chicken and meatloaf sandwiches for Jan and Jack's lunch on the road, and repacked all our luggage. As we were loading the cars, Jack let drop that Jan had timed their drive home such that they could stay overnight at their usual stop, and Jan could run a half marathon there the next morning before they resumed their drive to Houston! Who'd have thought that Jan would get seriously into half marathons?! Better her than me!
We had other plans for lunch. A grad-school classmate of David's named Jim Herring has lived in the Denver area for decades now, and after his wife died a couple of years ago and he retired from the USGS, he decided to move to the suburb of Thornton. While out there checking on the construction of his new house, he strolled two doors down to introduce himself to his new neighbor, a woman who was checking on the construction of her new house. They hit it off immediately, were married a few months later, and after careful consideration of the two houses' relative merits, sold his and moved into hers, which is on the 13th green of the local golf course. Neither of them plays, but she plans to take it up.
When we proposed stopping by for a visit on our way home from Estes Park, Jim proposed that we start by meeting for a picnic lunch at El Dorado Canyon State Park, near the town of El Dorado Springs. As I relate to locations by their plant life, Jim relates to them by their rocks, and that particular state park boasts some of his favorites.
We rendezvoused at 11:30 a.m. (the GPS really does an amazing job of predicting ETAs) at a parking lot next to a nearby trailhead. I didn't like leaving our stuff fully exposed to view in the Kia, so we rearranged our packing to put as much of our luggage as possible into their Prius, along with the picnic paraphernalia, us, Jim, his wife Diane, Diane's grown daughter Stephanie, and Jim's dog Madeleine (a Coton de Tuléar).
Once in the park itself, we chose a picnic table (the one on the right in the left-hand photo) near the rushing stream (we didn't use the grill), and David and Jim brought the picnic cooler down from the car. We were surprised how busy the park was on a Friday morning; picnicking families were everywhere, and rock climbers were scaling every available face.
Jim had packed sandwiches (I had a shrimp po' boy on ciabbata), hummus, chips, crackers, cheese, crudités, and fruit, as well as soft drinks, water, and wine glasses and a vintage he (rightly) thought David would approve of.
After lunch, we took a stroll along the stream, where I got these photos of (what else?) wildflowers. On the left is that vibernum again, this time in green fruit. At the right is a wild clematis that I suspect isn't native to the area.
At the far end of our walk, we encountered, to my surprise, a good sized pear tree and an even larger apple tree, the latter hung with green apples—presumably remnants of some long-ago picnic or vanished homestead.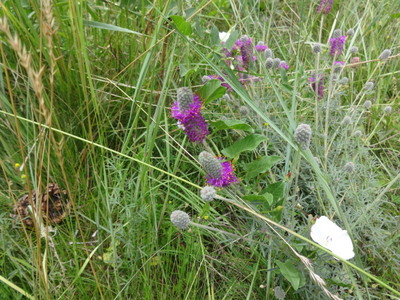 I couldn't identify this magenta flower, but it looks as thought it might be large, colorful relative of the lowly plantains that grow as weeds in lawns.

The large, showy stalks at the right (each one was maybe 8 inches long) are clearly a grass, thought I don't know which one. I can barely tell apart the grasses that grow on my golf course, let alone wild stuff that may or may not be native!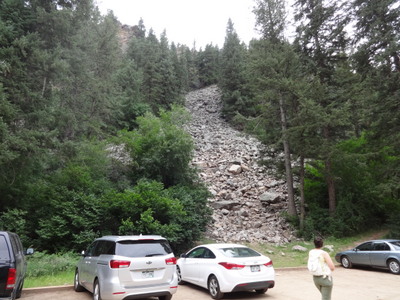 Of course, we looked at lots of rocks, too, including this impressive scree field and these jagged peaks in the distance. They're too small to show in the photo, but climbers dotted the distant rock walls.
We encountered a few closer up as well. Several kids were learning to rock climb, belayed by a calm and experienced instructor. They seemed to be enjoying themselves, but it just doesn't look like fun to me. Jim casually mentioned that the LD50 for rock-climbing falls is 13 feet, so that belaying job is important.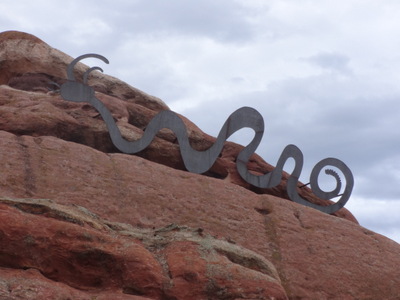 Jim had hoped to take us to Red Rocks Amphitheate, in Morrison, CO, but we ran short of time. As it turned out, he had more cool rocks to show us than we could possibly have fit into our brief visit. In the end, we did go to Morrison, but only to go to dinner at The Fort, a famous restaurant housed in a replica of Dent's Fort, a historical fur-trading post.
This impressive rock formation forms one wall of its parking lot and is dotted with signs saying "beware of rattlesnakes." To reinforce the message, it it topped with this large metal image of a rather fanciful rattlesnake.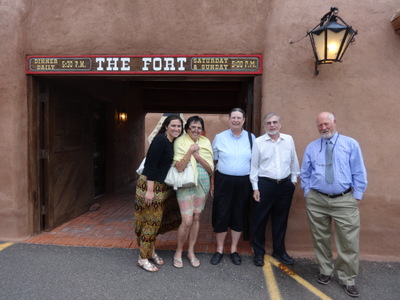 The building itself, seen here though a line of parked cars, dates from 1962, is built of handmade adobe bricks, and is the largest adobe structure in Colorado, one of the largest in the world. The restaurant is quite famous; Julia Child apparently raved about the appetizers of roasted bison marrow bones.
Here's our group, standing by the entrance to the courtyard. Left to right: Stephanie, Diane, me, David, and Jim.
In the courtyard is this teepee—the sign in front of it says "Welcome" in seven languages. Behind me as I took the photo were a fire pit (no bonfire just then) ad a tent housing a gift shop.
The double doors leading inside were furnished with these handles in the shapes of lizards, also rather fanciful. One wonders whether the local sculptor had ever actually seen reptiles.
Inside, the theme was definitely wild game. The chandeliers were made of elk antlers, and a large bison head hung on the wall over our heads. The view out the panoramic windows of the back wall was magnificent–you could see for miles out over the valley.
The menu also ran heavily to game. Diane had brought along a couple of coupons good for free appetizers and drinks, so we started with sharted orders of duck quesadillas (excellent) and pickled jalapeños stuffed with, of all things, mango and peanut butter. The were good as long as you stayed near the blossom end of the pepper, but up closer to the stem, they were way too hot for me. I was much happier with my plate of braised bison tongue, which was excellent (although the little croutons the slices rested on were unpleasantly hard. The tongue didn't even need the caper aioli it was served with.
The free drink was a prickly pear margarita. I would call that a color not found in nature, except that prickly pear fruits really are that color, in nature!
I of course gravitated right to the game sampler plate, which this time involved no sausage at all. My plate is shown in the right-hand image. Clockwise from the top: buttered asparagus, mashed potato, a teriyaki grilled quail (surely that's not authentic), a medium rare bone-in elk chop, and a medium rare bison filet mignon. All excellent. I'd go back there in a second.
David had two lamb t-bones, as thick as they were wide. Jim had a steak of some sort (bison, I think), and Diane and Stephanie both had quail.
We split three deserts five ways. The two shown here are a salted caramel crème bruleé and a butterscotch sunday with pine nuts. The apple crisp looked just like apple crisp with ice cream on top. It sported a candle, because it happened to be Jim's 70th birthday.
After dinner, we set out for Stephanie's apartment, a short drive from Jim and Diane's house. Jim and Diane have only two bedrooms, and Stephanie, who just moved to Colorado, to take up a teaching job in a charter school this fall, is staying in one of them until she gets a place of her own, so they had no way to give us separate rooms. The plan was therefore for one of us to stay in a nearby motel. Fortunately, though, Stephanie found a great two-bedroom apartment, which she would move into as soon as her furniture arrived, a few days after our departure. She kindly offered us the use of it. Jim and Diane furnished it for the occasion with air mattresses, sheets, towels, etc., and they convoyed there with us to help set everything up, then left us with instructions to come to their place for breakfast.