Tuesday, 3 June 2014: Carcassonne to Castres, Musée du Catharisme
Written 14 June
Between Carcassonne and Castres, we had to climb over "La Montagne Noire," The Black Mountain. Capturing what the terrain looked like turned out to be difficult, but I hope these shots give some idea. Mixed hardwood and conifers (with more conifers toward the highest points) and villages perched on peaks and hillsides, but apparently this area was never the national frontier, because the villages are just villages, not walled castles or bastides. The roads were good ones, though, so the driving was not a harrowing experience.
We still felt we didn't have a sufficient grasp of the Cathar phenomenon, so we were pleased to learn, from leaflets and regional guides we gathered along the way, that the town of Mazamet, which we would pass through on the way, had a museum devoted entirely to the subject.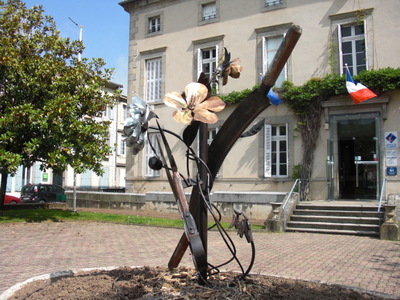 Roadwork just short of Mazamet necessitated a long detour out through rural roads; very scenic.
The GPS (after having mild hysterics over the detour, during which we ignored it and just followed the orange detour signs), led us unerringly to the street address of the Office de Tourisme, which turned out to be the same as that of the museum we were looking for. We were even able to find relatively nearby parking, despite its being market day.
In front of the Office de Tourisme was this metal sculpture, which made much more sense after we toured the museum. The giant implement in pointing upward to the left is a set of sheep shears, and that pointing upward to the right, which I initially took to be a cross-cut saw, is, I think, an implement for scraping the wool off sheepskins.
We actually began our museum visit before lunch and finished it after, but I'll present lunch first, just to keep things better organized.
We found lunch at "Le Grand Balcon" just around the corner. It was very popular and seemed to be the lunch place favored by the young office-workers' set. The waiters came and went in relays mostly serving the three-course lunch of the day, dessert for which was a quarter of a pineapple laid on its back, as it were, pointed edge up. The chef then cut lengthwise under the core and above the skin, then vertically to separate the edible flesh into chunks, every other one of which was nudged out of line with its neighbors for a decorative effect. Finally, a spoonful of chocolate sauce was ladeled over it. We watched many dozens of pineapples pass by our table in this form.
We, however, went with salads as usual. David got the "toast salad," topped with four pieces of toast spread with (a) grilled goat's cheese, (b) grilled Reblochon cheese, (c) tomato puree and raw ham, and (d) black olive tapenade. I had the country salad, with turkey gizzards, duck ham, and foie gras (the gizzards on my salads are often specified to be turkey gizzards, and I sometimes wonder what they do with the rest of all those turkeys; you seldom see turkey on French menus).
Because we had time to kill before the museum reopened at 2 p.m., David ordered a decaf "café gourmand" (coffee with an assortment of small desserts). He drank the coffee, and we split the deserts. Clockwise from the lower right, they were (a) a miniature "cannelé" pastry, a specialty of Bordeaux; (b) a little chocolate cake, sort of like a brownie; (c) a miniature vanilla panna cotta topped with red fruit sauce; and (d) a hollowed out peach filled with a gelled custard of some sort with a drizzle of sweet green syrup. All garnished with a couple of puffs of whipped cream and streaks of a pink fruit sauce. All very good.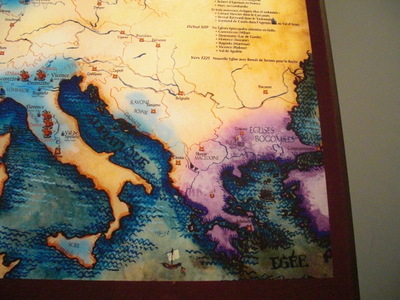 The museum was great. Not many Cathar artifacts exist, although they did have a Cathar bible, the first one translated into the local vernacular (a heresy in itself, apparently), so it was mostly panels of text but highly informative. I photographed them all so that I can reread them at leisure. It seems, among many other things, the Cathars also denied the humanity of Christ. Not his divinity, mind you, but his humanity. They maintained that he couldn't have died on the cross and been resurrected because (a) dead things don't come back to life and (b) gods can't die anyway. Instead, Jesus was a divine projection, an illusion, come to earth to spread his teachings. As a result, they taught, the whole transubstantiation thing was nonsense. We also watched a movie of a reenactment of of the ceremony of sharing bread (in memory of Jesus, not as his flesh) and the laying-on-of-hands ceremony.
The most surprising thing I saw there, though, was this map, which I couldn't get all of into one shot, showing how widespread Catharism was—from London to Berlin, from Madrid to Prague, from Bordeaux to Spoleto and all the way east through Slavonia, Bosnia, Macedonia and Greece, to Constantinople and beyond. The color-shaded areas were considered hotbeds. No wonder it took the pope a couple of hundred years to track them all down and exterminate them. The "Cathar country" we've been traveling through is just the area of the last holdouts at the very end.
In addition to the Cathar museum, the building housed some rooms of period furniture, a display describing Mazamet's now-defunct wool trade, and a room full of scale models.
In the last century, Mazamet was the site of a major wool market, the point from which wool produced in the whole surrounding region was shipped to market. Once the local production of wool died down, it became (within living memory) the major center for processing of sheepskins imported from New Zealand and Australia (strange, I thought, for a place so far inland). In Mazamet, the skins were sheared (so that the wool could be processed separately), then scraped clean of all hairs so that they could be processed into glove leather and parchment. Castres, our destination for the day, was in turn a major center of leather processing. While we strolled around after lunch, we stopped to read an outdoor panel about the processing of sheepskins, and an elderly gentleman stopped just to tell us wistfully that those were the good old days. We made sympathetic noises, and ue then shook his head sadly and went on his way. I wish I'd had the presence of mind to ask him about it—did he work in the trade? was I right about the wool-scraping tool? what did people do now instead?
The room full of scale models was wonderful. The one on the left is of the town of Minerve (Minerva, like the Roman version of Athena). The town is built on the peninsula formed by a deep oxbow river canyon. The bridge at the lower right is apparently a relatively new addition. For centuries, the town could only be reached by the road that runs along the peninsula's narrow neck (upper left). Minerve is the town that gives its name to the whole region, the Minervois. Caunes is only one of several towns that include "Minervois" in their names to distinguish themselves from towns of the same names in other regions of France. The area also produces good wines, which were among those the barrique traders dealt in; the capitainerie in Homps included a map of the region's vineyards.
Many of the models were of ruined castles occupied by the Cathars. The one at the right is Lastours, but you can see parts of several others in the background. The models were all made by the same man; the one of Lastours was completed in autumn 1990.
Our hotel in Castres was the Hotel Rivière, one of the few non-Accor places we used. It was nice enough except that it had no elevator. We had to lug our suitcases up one flight just to reach reception, then another flight up to our rooms
Dinner was at Bistro des Saveurs, which is owned and run by a British guy named Simon Scott.
Written 16 June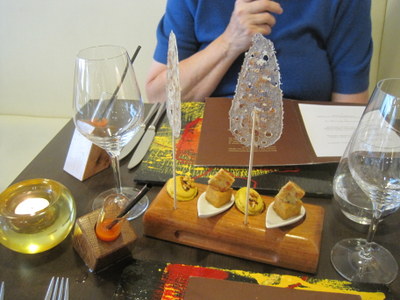 We ordered the "discovery menu," 43 euros a head, so once again, we ate all the same things.
The amuse-bouche was an assortment served in a little wooden tray. The objects in the little pointed porcelain dishes are cubes of foie gras coated with "pain d'épices" crumbs and topped with little pastry squares stood on their corners. The round objects are turmeric-flavored macaroons topped with puffed rice. In little glasses set in their own, separate wooden blocks was a cold red-bell-pepper soup, which we drank through the straws provided. Finally, the tall, translucent, leaf-shaped objects on sticks are shrimp lollipops. The chef (or his minions) laid bamboo skewers on a nonstick surface, pour on melted sugar (the translucent part), then sprinkled the still-soft lollipops with ground dried fermented shrimp and flaky sea salt. I ate mine, and it was odd but not bad. David couldn't get past the smell.
First course: A quenelle of duck foie gras, a disk of crisply toasted pain d'épices, orange and grapefruit segments, and, at the right, another quenelle of beet chutney. The dark brushstroke was a balsamic reduction, and the yellow streaks were citrus sauce. Not necessarily all synergistic, but all the individual elements were very good. Throughout the trip, we encountered sprouts like this—two cotyledons and the first two true leaves, resembling nothing so much as tomato seedlings. They were very tasty, but I never was able to identify them. I asked a couple of times, but the only answer I got was "atsina cress," which was often also present on the plate but looked completely different. I had always thought tomato leaves were toxic, but a little poking around on the web reveals that, despite the common assumption, they aren't. So maybe they were tomato seedlings; my other two hypotheses were arugula and lemon verbena, but they don't look as much like these as the tomato sprouts do.
Second course: Ceviche of tuna with Kaffir lime, a little crunchy salad of shredded raw vegetables, turmeric ice cream, prawn spring roll, and wasabi foam. This was the second time we'd been served a ceviche with essentially no taste of citrus; do the French marinate their fish in citrus and then rinse it thoroughly (soak it even?)? Or do they have a different definition of "ceviche"? Anyway, it was good but not at all citrus-flavored. The ice cream was bright yellow but didn't taste distinctly of turmeric, which the macaroons had.
Third course: Slab of excellent veal (from a named producer) seared on the flat-top grill and resting on a bed of sunchoke purée, surrounded by tender vegetables (zucchini, potato, and orange and yellow carrots; first simmered, then grilled), chanterelles, baby fava beans, and a pool of veal sauce. The dots in the sauce are a drizzling of white truffle oil. Very yummy, indeed.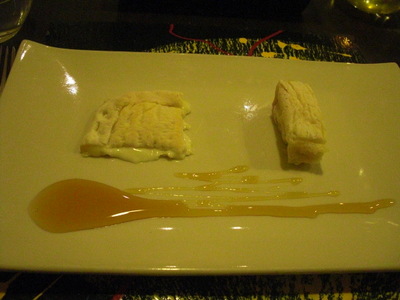 Cheese: Rather than bringing out a selection for us to choose from, the waitress just recited a list of a half dozen or so of cheese they had on hand. We told her our selections (David, Roquefort and tomme de brebis; me, creamy chevre and creamy brebis), and the plates were prepared in the kitchen.
As you can see in the photos, the plates were garnished with thick streaks of honey. On first taste of the honey, David and I both recoiled in surprise; it was very strongly and pungently flavored! To our question, the waitress responded that it was chestnut honey, and if you've ever smelled chestnut flowers, you'll have an idea of its flavor. Very strong indeed, but it grew on me, and I ate almost all of it. David was less enthusiastic but agreed that it went pretty well with the cheese.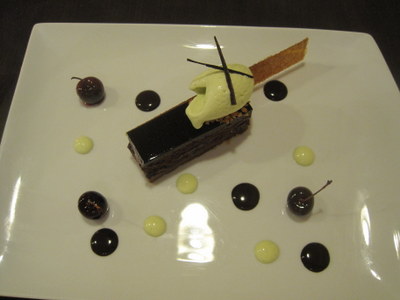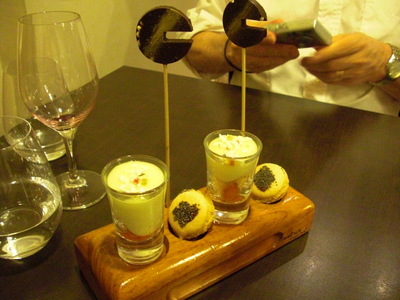 Cake made with "chocolat noir Maralumi 1er cru"—apparently a particularly rare and excellent chocolate—with glazed fresh cherries and pistachio ice cream. The three cherries have stems; the other dots are chocolate and pistachio. The brown object is a thin strip of crispy caramel stood on edge and pasted to the side of the cake. The objects on top of the ice cream are shards of vanilla bean (not edible). Very good as chocolate desserts go. Dark chocolate is usually too much for me after a heavy meal, but I ate all of this one (and the mignardises after it).
Mignardises: The chef is apparently wedded to his little wooden blocks and therefore constrained to serve something on a stick each time they come out. These were C-shaped dark chocolate lollipops with a few grains of puffed quinoa embedded in each. In each of the glasses were a bite of rich cake, a little piece of fresh apricot and some apricot syrup, and a foam of mango and Kaffir lime. The macaroons were strawberry and speculoos (a kind of Dutch spice cookie) with poppy seeds on top.