Saturday, 18 May 2013: Arles to Marseille; CJ arrives!
Written Monday, 3 June 2013
Saturday morning, CJ and boyfriend Jeff were due, flying into the Marseille Airport at 1:30 p.m., so the plan was to leave Arles at 9:30 a.m., so as to have plenty of time to get to the airport in time to meet them, and then to drive on to Marseille for two nights. I came down to breakfast planning to ask the hotel guy to fetch our car out of the valet lot as soon as possible after it opened at 9:00 a.m. Unfortunately, he was nowhere to be found! Instead, the only staff on hand was the woman serving breakfast, whom we had never seen before; she said the usual guy wasn't due until after noon. Had we told him we wanted the car this morning? Well, no, but he knew we were checking out this morning and would therefore certainly need the car before noon! What to do?
In the end, she said we would have to fetch the car. She could take me to the garage, but it meant she had to lock the hotel office, dining room, and outer door (keeping some guests waiting for their breakfast) while she walked me down there, in the rain. She did—the car was some blocks away, beyond the Mairie. Then I made her give me directions for navigating the one-way streets to get back to the hotel (which involved going through a "no entry except hotels" sign) before she went off to resume the breakfast service.
Getting the car out through the stone gate of the courtyard and turning left into the street would have been simple if somebody hadn't parked another car just opposite the gate, narrowing the space in which I could turn. Drat. I was in too much of a hurry (we were already late to start for airport) and managed to scrape the driver-side rear door against the stone gatepost. Drat again. Fortunately, a passing businessman put down his briefcase and directed me backward and forward until I could get the car out. Then it was through the set of turns, through the "no entry" sign, through an entire busload of Italian tourists filling the street side to side just where I had to make a very sharp left turn (I had to back and fill once, right in the middle of the crowd, to get the car around it, and the tourists applauded when I made it through), and back to the hotel door, where David was waiting with the luggage.
We were therefore a little late getting on the road, but the drive back through the Camargue was lovely, and the airport was well signposted—and a good thing, too. It's quite near a tangle of intersecting freeways, and one must "exit" fully six or seven times before finding its approach road. After negotiating that number of clover-leaf intersections in quick succession, my usually reliable sense of direction was a little boggled. The timing was good, though. We had time to park and walk back to the terminal in time for their flight, even it if hadn't been about nine minutes late.
"Marseille Vieux Port" was also well signposted, and because we'd already spent time in that neighborhood, we knew just how to get to the hotel. The hotel has a small "lay-by" into which you can pull your car while you unload luggage, but we had to go around the block once, because it was blocked by a car parked in the street. Eventually, David got the car into it; then he sat tight while the rest of us went inside, checked in, and stashed the luggage in our rooms. Then I went back down to help him navigate to the parking garage recommended by the hotel.
Surprisingly, since it had been valet-parked in Arles, the car's GPS navigation system (which we had declined at the rental agency) had come alive. Perhaps the hotel guy had stuck his SD card into it (although we can't figure out why he would, to navigate to his own hotel, in his home town, a few blocks away, to or from a garage he visits daily). While I was checking the troops into the hotel, David had fiddled with it, and by the time I got back, he had already mapped out the route to the garage! The walk back to the hotel was short, but it involved a couple of flights of stairs that we had not wanted to wrestle the luggage up.
We were once again in the hotel's "other" building, reached via the little bridge over the courtyard, but this time just one floor above the square (i.e., we entered at street level on Rue Sainte, on the hotel's uphill side, crossed the little bridge, then took the elevator down two floors, ending up one floor up from the ground on the downhill side). The upper floors, where we had been the week before, looked quite modern, and below eyebrow level, so did the new rooms, but the age of the building was revealed by this wonderful ceiling over my bed. I was only a couple of walls away from the amazing rafters in the mezzanine of the arts and crafts museum, which occupies the same building.
Amazingly, in the huge heap of lost-and-found items in the back office, they had David's flashlight and alarm clock!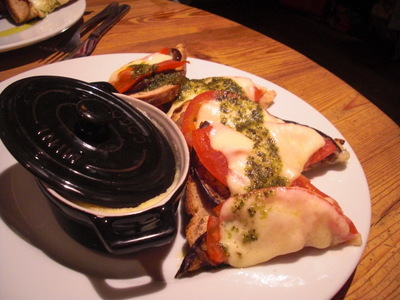 Reassembled in the lobby, we set out in search of lunch. It was still raining, so we didn't go far—just back to Pain & Cie, which I knew CJ would like because (a) she loves aligot and (b) she loves Pain Quotidien (which has a couple of stores in D.C., where she works).
David had a "farmer" salad: duck magret, Fourme d'Ambert (a blue cheese), honey, and cilantro.
CJ and Jeff both had the grilled eggplant, tomato, and mozzarella salad with aligot on the side—the same thing I'd had when David and I were there before.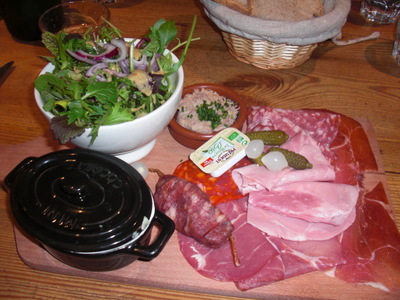 I ordered the "country style" board, which turned out to be huge! It was an assortment of cold cuts (raw and cooked ham, rosette salami, chorizo, coppa, dry sausage with nuts), rillette d'oie (a goose-meat spread), a basket of bread, a small salad, and aligot on the side. Butter, cornichon pickles, and pickled onions in case I was still hungry!
Unfortunately, even though we declared the nut allergy and asked about the dish she ordered, CJ took one bite of the eggplant thing, and her lip swelled up like a balloon. She popped her usual massive dose of Benedryl, which brought it under control, but she didn't dare eat the rest of the sandwich—she just polished off the aligot. I asked the restaurant's manager about it later, and looked over the sandwich-makers mise-en-place. One of the bins of ingredients he was sprinkling on sandwiches and salads was full of walnuts—he clearly touched the ingredients of CJ's tartine while he still had walnut dust on his hands.
We all then adjourned to our hotel rooms, so that CJ and Jeff could nap after their long flight, before reconvening for dinner.
For some while now, I've realized that it's probably time for CJ to come out from behind her pseudonym. She still seems awfully young to us (from our vantage as old enough to be her parents if not her grandparents), but she really is a genuine grown-up now. she is Carolyn Jennifer Sinnett, known as Carolyn (or, occasionally, Petunia) to friends and acquaintances, and even to me when I'm not writing a travel diary. She's the youngest child and only daughter of Everett and Rachel Sinnett, whom we visit annually in Rockville, Maryland, for New Years. Ev was a graduate-school classmate of David's, and in 1972 Rachel threw such a terrific New Year's Eve party that we've kept up the tradition ever since (although David and I missed a year or two when we were still in California but the Sinnetts had moved east, and we had to do it in October once, because that was the only time everyone could make it).
Those of you who read my diaries closely (or who know us pretty well) will long since have deduced her identity. For example, in my 2005 sabbatical diary, Ev and Rachel are identified and pictured (see, e.g., "Paris 3" entry, http://bio.fsu.edu/~thistle/blog/05-04-29a.html), and in the photo from CJ's graduation in my 2007 "It's Official" entry (http://bio.fsu.edu/~thistle/blog07/07-06-01.html), there they are again, with CJ and her two older brothers.
But I'll probably keep calling her CJ in my diary entries, through force of habit and because it's short.
Dinner was back at Une Table Au Sud, where we were greeted like regulars and once again given a choice table by the windows with a panoramic view of the harbor. I don't seem to have enough photos to account for everything we ate, but I'll try to piece it together.
The first amuse-bouche, with the champagne, was the same crispy, buttery bun David and I had gotten the last two times, only this time, they left out the mustard seeds.
The second, shown here, was a creamy pea soup with black sesame seeds and what looked like a small brownie but was actually a square of black-olive flavored panisse, i.e., chickpea cake. It was warm, tender, and creamy and completely delicious.
First course, me: Sautéed foie gras topped with roasted asparagus, in turn topped with smoked eel, in turn topped with "wild asparagus." Yummy. I think David had the same thing, and CJ and Jeff both ordered the foie gras with blood orange sorbet that I'd had on an earlier visit. I was disappointed not to be able to get the morels that David had on our first visit, but they never reappeared on the menu.
Main course, Jeff: The same braised pork cheeks I'd had on our first visit, and apparently just as good, since Jeff demolished them in short order. The ultimate comfort food for meat eaters.
Main course, David: Pigeon—the legs braised and the breast grilled rare. A favorite of his. This rendition came with asparagus and another comet of that delicious sweet potato (or maybe carrot) purée we'd had with other dishes.
If you're headed for Marseille, I can definitely recommend Une Table Au Sud for reliability and basic deliciousness.
Main course, CJ: Bouillabaise, haute-cuisine style. The long skinny crouton was spread with rouille sauce and then decorated with little veggies and whatnot. The waitress recommended breaking it into the soup, which included potatoes and three species of fish. One of the fishes was "vive," which I'd heard mentioned several times. It turns out to be Trachinus vipera, "weever" in English, also called "scorpionfish" because, as an ambush predator, it has a habit of scooching down into the sand until only its eyeballs, mouth, and (here's the "scorpion" part) venomous dorsal-fin spines show on the surface. Stepping on one can be painful and even dangerous. "Weever" has nothing to do with weaving but comes from the old French word "wivre," meaning serpent or dragon.
Main course, me: I had the same "denti" that David ordered on our first visit.
Dessert, all: We were intrigued to find out what a "chaude-froide de kiwi" could be. David was delighted to find that it was a kiwi-flavored variation on his beloved "choco-sphere." It was brought to the table as a shiny, intact sphere of chocolate, which was then melted open by hot chocolate sauce poured over the top to reveal a ball of kiwi sorbet inside. On the side, chunks of kiwi alternating with tiny, thin cookies standing on edge.