Wednesday, 15 May 2013: Aix-en-Provence to Arles, via the Camargue
Written Sunday, 26 May 2013
Wednesday morning, we set off for Arles. We missed a few turns, but the resulting round-about route was scenic, so we made no serious attempt to turn back to the originally planned one. We did decide to drive through Ventabren, the home town of a French friend who lives in Tallahassee. That took two tries, because the town is perched high on a crag, and the sign-posting was a little confusing. We missed a turn and soon found ourselves heading downhill again, which couldn't be right, so we circled around the mountain and drove back up. To prove we made it to the village proper, here are two photos.
On the left, the view down a particularly picturesque little street. On the right, the church, unfortunately, with a road-maintenance vehicle parked unpicturesquely in front of it.
Many of the roads we traveled that day were lined with single of double allées of trees, most often plane trees but sometimes lime trees, or even conifers.
By "plane tree," I mean Platanus (probably occidentalis or the "London plane," occidentalis x orientalis), what in the U.S. would be called a "sycamore." In Europe, though, "sycamore" means the common European maple.
By "lime tree," I mean not anything related to citrus fruit but a tree in the genus Tilia, also called "linden" or "basswood" (French: tilleule). The dried flowers make a good herbal tea, popular in France.
The photo on the left shows an allée of conifers of some kind (the roaded boardered a plantation of them), one sided because the bank on the other side of the road was sufficient.
The double allée one on the right is of plane trees of only moderate age. We saw some that were much much older, with huge trunks. They're all pleached or otherwise heavily trimmed both to keep them in the desired shape and, in agricultural areas, to keep them shading the road but not the neighboring crops. The shade was important when most vehicular traffic was horse-drawn, but the allées are gradually disappearing now, because they obviously hinder the widening of the road.
We found lunch in Saint Martin du Crau, a quiet and attractive little town near the edge of a large industrialized and/or militarized area. The most promising-looking restaurant was l'Oasis, a little colorfully tiled Moroccan place that promised brik à l'oeuf.
We both ordered the salad with brik à l'oeuf and got salads topped with a hot, crispy, cushion-shaped object, shown here broken open to reveal the interior. The prototypical brik à l'oeuf is a sheet of very thin flexible pastry, which you spread with a little Moroccan seasoning (cumin, harissa sauce, etc.), crack an egg onto, fold into a triangle enclosing the egg, and deep fry until the pastry is crispy, the egg white is set, and the yolk is still soft. We've been served several different variations, including a sort of quesadilla-style, where the round brik pastry was folded over two raw eggs into a half-moon shape and fried on both sides until the eggs were hard. Sometimes they contain other ingredients. These were filled with beaten eggs to which herbs, cooked potato, and possible finely diced ham had been added, then deep-fried until crispy with a soft center. Different, but very good.
By then, it was starting to rain, so rather than spend the afternoon walking around Arles, we decided to defer our arrival there and instead to take the time at this point to follow the Michelin-recommended driving tour of the Camargue, the huge, triangular marshy area between the Rhône, a branch of it called the Petit Rhône, and the Mediterranean sea. It's a world-class birding and "planting" destination. Lots of rice is produced there, especially wild rice and "red rice" (I'm not sure if that's the same things as wild rice or something different). Along the Mediterranean coast are major sea-salt production areas, amazing to see from the air because of the bright colors of the bacteria that inhabit the increasingly concentrated brine in the evaporation pools.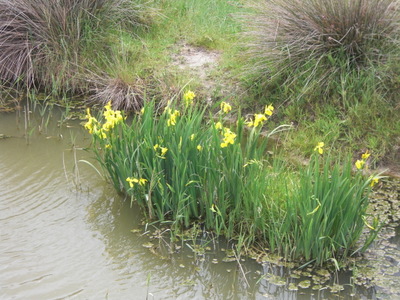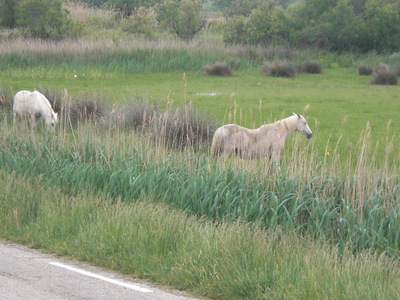 For the passer-by, though, they are famous for three iconic animals. (1) Camargue bulls: small, black, long-horned bulls used for the bloodless local bullfights (during which the torrero attempts to snatch off a small rosette tied between the bull's horns; he's not allowed to stab the bull, but the bull is under no reciprocal restriction). (2) Camargue horses: small white horses used for herding the Camargue bulls. They're born brown but turn white after three or four years. (3) Wild flamingos: Both resident and migratory flamingos range the area, munching on small aquatic animals and turning pink as they consume crustaceans up the food chain from the amazingly red bacterial in the salt pools.
In the ditches along all the roads, we saw these yellow irises in bloom. The horses in the right-hand photo are a little grubby, but we saw many others, white and brown, that were rather cleaner. The bulls are not necessarily herded on horseback anymore, so most of the horses are now kept for tourism; lots of signs advertised horseback-riding opportunities, both on Camargue horses and on Andalusian horses (which we also saw). We passed two museums I would have like to visit, but the museum of the Camargue was closed for renovations, and the museum of rice looked as though it had been closed a good deal longer; the driveway was all grown up in weeds.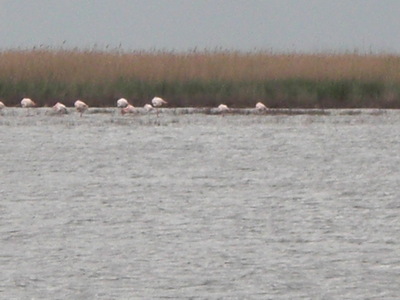 I found this little blue flower in the ditch at a road-side overlook, where we climbed a low tower to look out over the largest lagoon in the Camargue. I don't immediately know what it is, but it rings faint bells in the back of my brain, so I'll see if I can look it up later.
We also pulled over to get this highly telephotoed, rather blurry shot of flamingos, rather pale at this place and time, feeding in a shallow pool. We saw many others, both closer up and flying in V's overhead, but never where I could get a good photo.
We drove all the way down to Salin-de-Giraud, one of the larger salt-producing towns, hoping to see the salt-pans, but the town didn't seem set up for tourists, and the road ended, short of the coast, at gates marked "authorized personnel only."
Finally, we headed back to Nêmes, where getting to the hotel was tricky. You had to drive up a steep, narrow little street (so narrow that it set off the "parking assistance" beepers on both sides of the car, just driving up the middle), around a very tight curve and down a slightly less narrow street. We stopped at the door of the hotel, and I went in to ask where we would find the parking we had reserved. The manager (owner?) told us just to pull to the side of the street while we unloaded (really, he assured us, other cars would be able to get by). We did, and they were (barely, and not happily), until a delivery truck pulled up behind. He then insisted it was compulsory valet parking—only he was allowed to enter the private courtyard where the hotel's three reserved spaces were located. We were a little nervous about letting him drive the rental car, since we were supposedly the only two drivers assigned to it, but he again assured us he was insured for that situation. So he drove the car off to parts unknown (appeasing the truck driver, who by this time was in the lobby asking—rather politely, actually—if somebody couldn't move that car out front), while I had a long discussion with the somewhat muddle-headed assistant manager (owner's mother?) about our reservation. I had reserved two rooms for three nights, by e-mail (one single and one double, because they didn't have two singles). I had then telephoned to give them the credit-card number to guarantee the reservation, and somehow they had mismatched the call and the reservations, resulting in a reservation of one room for three nights and the other for just one. So one of us (David, by chance) got a single room he could stay in for three nights, whereas I got a slightly larger double room at the originally agreed price but had to move to a different room for the third night. Not a disaster. Nice enough rooms, but the least adequate water containment of any shower on the trip, and no way to hang the hand-held shower head on the wall.
Our dinner for the night was at Le Bristro d'à côté, that is the Bistrot Next Door, which is the more casual establishment run by Jean-Luc Rabanel, next door to his Atelier (workshop or studio), where the prices are much higher. His whole cluster of eateries was practically around the corner from our hotel.
When, as usual, I ordered a large Evian to accompany the meal (we just get tap water at lunch, but in fancier places, I go for Evian), we were told that the restaurant served only its own bottled water. Okay, not a problem.
The amuse-bouche was (as many times before), olives, tapenade, and toasts, so I don't bother to picture it. First course, David: Roasted asparagus with foie gras (hidden underneath the rest of the dish), vinaigrette, Parmesan, and arugula. Delicious.
First course, me: The chef's take on a pissaladière. A pissaladière is ordinarily a thin, pizza-like tart topped with caramelized onions (with herbs and garlic, of course), anchovies, and olives. This one had, in addition, roasted red peppers, pistou (French pesto), and an arugula salad, plus a hard-cooked egg and caper berries on the side. Tasty.
Main course, me: Skillet of mussels, shrimp, "salamanque" (which turned out to be sausage, sort of like chorizo), and soft stewed garlic. It turned out to be mostly mussels (as you can see on the left), but in the bottom I found three large shrimp (as you can see on the right), lots of salamanque, pieces of poached fennel, and a large clove of deliciously tender garlic, as well as the usual scattering of arugula. Very good. I squeezed the garlic out of its peel and spread it on bread, then used more bread to soak up the tasty juice in the bottom of the dish.
Main course, David: "Brandade de morue," a traditional dish made of reconstituted and poached dried salt cod mashed together with potato (and garlic, of course). This one specified that the cod was fresh rather than dried, and it was baked in a gratin dish and served ferociously hot, topped with pistou and arugula. More pistou on the side. Excellent.
Cheese, both: I'm afraid I ate my cheese course before remembering to take a photo, but I can show you where it was (photo at right). It was a round, flat slice of very dry fresh goat cheese, served with toasts and a little pot of fig jam. Excellent.
Dessert, David: "Pavé au chocolate," literally "chocolate paving stone," but usually translated "slab o' chocolate," which it was—sort of like fudge would be if invented in France. It came with two raspberries, a blueberry, vanilla ice cream on a bed of cookie crumbs, a streak of raspberry sauce, and a sprinkling of chopped pistachios. Yummy.

p>Dessert, me: "Strawberry tiramisu." A layer of stewed strawberries in the bottom was deeply covered with a mascarpone mixture thickly studded with crunchy cookie chunks. Fresh fruit and sort sort of pale golden syrup on top. Also yummy.

I wish I'd taken a photo of the dinner of the Midwestern couple at the next table, but when it arrived, we had not yet struck up a conversation, so it seemed forward to do so. Because Camargue bulls are a specialty of the area, many restaurants offer bull on the menu, typically a "bull chop" (a rib steak). So did this place, but as she handed out the menus, the waitress told each party that they didn't actually have the bull chop tonight; instead, they had substituted a nice chop of ordinary beef. We didn't realize the Midwesterners had ordered it until it arrived sizzling from the kitchen for inspection. All four of us stared at it in astonishment—it easily weighed three pounds and hung off both sides of the plate, with a big rib sticking out of it. It was then whisked away to be carved and plated, and we assumed it must be intended to be shared, but no; when they brought it back, they also brought the plate of braised ham the wife had ordered! It looked terrific, and the guy later assured us that it was, but of course he couldn't even eat half of it (or the potatoes and other veggies that came with it). Fortunately, they were renting an appartment in Aix-en-Provence with their three daughters and planned to drive all the way back that night. The restaurant cheerfully made them up a doggy bag so that they could take it back to their own kitchen and reheat it the next night.