Thursday, 25 June 2009, Joigny to Paris, the hard way
Written 10 July 2009
Alas, the time had come to bid farewell to Burgundy and head back toward the big city, a nice enough destination in its own right, but a sad prelude to the trip home. So after breakfast we took this last photo of the view from our Rive Gauche room (the river is just out of sight on the right but it also visible in the distance, beyond the pond), loaded the car one last time, and set off toward Paris.
Our route continued for a long way to parallel the Yonne, and in several places as we approached and by-passed Sens, we saw swans with families of half-grown cygnets on the river. I was struck by this bridge that crossed our route between Sens and Pont-sur-Yonne but puzzled that, on the map, it didn't seem to connect to a road on either side. A closer look as we passed under it revealed that it carried not a road but a large pipeline.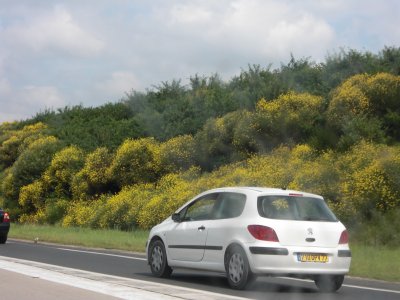 Banks of bright-yellow scotch broom were in bloom along the road, and at one point, just as we left the Burgundy region, we passed a whole field of tall pink and white poppies and, right next to it, another of poppies in the pod.
As we left Burgundy, though, we ran off the edge of our trusty Michelin map and were flying blind. We knew we were southeast of Paris, and we were already seeing frequent signs pointing to Fontainbleau, also known to be southeast of Paris. Finding Paris is not a problem—signs point to it from everywhere, no matter how small. The difficulty was that we didn't actually want to go to Paris. (Drive a car in the city of Paris? Heaven forfend!) We were headed for Charles De Gaulle airport, in Roissy, north-northeast of Paris, where we would turn in the car and take a cab into the city. So we continued to head for Fontainbleau, on the theory that, as we approached the city, we were sure to pick up signs directing us around one of the ring roads to CDG. But we reached and passed Fontainbleau and still saw no mention of Roissy, although signs everywhere directed us to Orly, the older, smaller airport south of the city. So we pressed on, looking for some sort of indication of how to skirt the city to east. We finally decided to follow signs to Lille, which is almost in Belgium—surely the optimum route from south of Paris to Lille would be via a by-pass, right? But the tangle of highways grew ever thicker—picture the stacks of freeway overpasses in Houston, three and four levels high, and multiply them for miles in every direction—, and we had yet to spot a sign for a place anywhere near Roissy. We were close enough to the city now that I could catch occasional glimpses of the Eiffel and Montparnasse towers through breaks in the high-rises, factorys, warehouses, etc.—not a good sign. We couldn't even tell where we were, because a turn marked "Champigny" might mean either "exit here because you've reached Champigny" or "turn here to head toward Champigny, 20 km away."
We had to stop for gas anyway, before turning in the car, so we pulled into a service station. While David filled her up, I bought a Michelin map of Île de France (the Paris region) and asked the nice lady at the cash register just where we were. "Right here, Madame, in Creteil." Aargh. Still east and a little south of the center of the city, but we were way further inside the Paris agglomeration than we had ever intended to venture, at least two ring-roads closer to the city than we would have chosen. The ring-roads are hard to follow because, unlike those in the U.S., most of which were built for the purpose and therefore have their own, consistent route numbers, the rings around Paris seem to have been patched together from segments of existing roads, all of which kept their own route numbers. Holding the map at arm's length, you can see the ring shape, but refraining from making turns doesn't necessarily keep you on the ring. Armed with the map and my pocket magnifier, though, I was able to keep us headed in more or less the right direction until (finally!) we came to a sign directing us to the airport. From there, it was a matter of trusting the road-sign people—follow "Roissy-CDG" until you can start following "car rentals" (a little icon of a car with a key over it) and finally "rental car returns." They may keep rearranging the airport, but we've come to know the little Europcar parking lot well.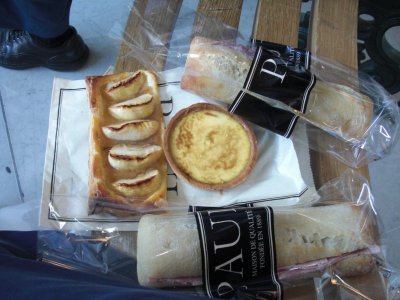 By this time, it was after 1 p.m., and most restaurants stop serving lunch at 2 p.m., so we got lunch at the airport. The Paul bakery chain makes good pastries, but I was a little disappointed in their sandwiches—all chilled, and no raw ham. Still, the sandwiches were passable, and the pastries were excellent. We split both a little rectangular apple tart and an absolutely outstanding crême brulée tart.
The taxi ride into Paris was the slowest we've ever experienced (traffic jams), and traffic was worse than usual in the city. We're not usually here before the end of June, when Paris is still in full swing (i.e., before a large segment of the population leaves the city for its July vacation). On the way, David asked the driver if it would be difficult to get a ride back to the airport on Saturday morning, since it was supposed to be (a) the weekend all those vacationers planned to leave the city and (b) raining. He was astonished that we would be leaving again so soon (until we explained that we had not, in fact, just flown in that day), but he promised to pick us up himself. We did some back-calculations and agreed on a 7:30 a.m. pick-up, at our hotel. Always good to have that squared away in advance.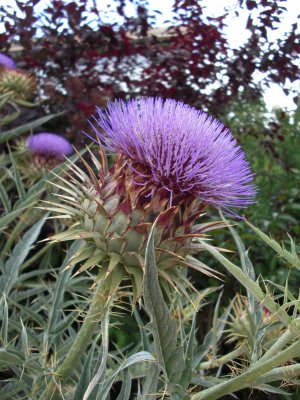 Once installed at the Relais Bosquet on the rue du Champ de Mars, we walked up to the École Militaire stop and rode the métro to Concorde, where we first strolled around the gardens between Concorde and the rotary at the foot of the Champs Elysées (is that technically part of the Tuilleries Gardens or something else). As usual at this time of year, workmen were busy erecting bleachers and reviewing stands for the upcoming Bastille Day festivities, as well as the Tour de France, which will end on the Champs Elysée. I stopped to get a photo of this magnificent thistle, and another with a second magnificent Thistle in it for scale.
We also spent a few minutes looking at a group of sculptures dedicated to Jean Moulin (1899-1943), hero of the French resistance. I didn't know his story, although David did and even knew that the detail pictured here is a protrait of Moulin himself. Coincidentally, our restaurant for this evening is on the rue Jean Moulin.
Then a stop at the W. H. Smith near Concorde (our favorite English-language bookstore in Paris; they now also carry a selection of British food products hard to get in France, like golden syrup, Ribena, Horlick's powder, Coleman's mustard, and Wheatabix) before catching the Métro back to our neighborhood. As we got onto the crowded train at Concorde, pickpockets tried for David's wallet. They were three girl teenyboppers; the oldest dawdled in the doorway, while the two younger pushed us into the car from behind, just squeezing in before the doors closed. David felt the attempt and grabbed behind him, trying to catch the youngest girl's hand. He missed, but he made her drop the wallet and visa card on the floor at our feet, where he was able to retrieve it. A quick check revealed that nothing was missing from it (they usually go for the cash). There's nothing to be done in these cases. You can't prove anything, and besides, kids under 12 can't be arrested in France (that's why it's always the youngest who play the principal role). We glared fixedly at them until they got off at the next stop (I only realized too late that I should at least have taken their picture); they seemed to think it was funny.
We decided to take our apperitif early in the nearby rue Cler, a pedestrian street in perpetual market mode. On the way there, we passed the window of the Cantin cheese shop, known as one of the best in Paris, and in the rue Cler itself, I couldn't resist photographing the wonderful charcuterie (cured pork) displays (looking a little sparse toward the end of the day). The merchants in that area (just blocks from the Eiffel Tower and Napoleon's Tomb) are used to tourists and tolerant of those like me who photograph without buying.
After passing up a couple of cafés as being too smoky (as of this year, smoking in restaurants in illegal, but smokers can still, and do, light up at outdoor tables), we chose the TriBeCa (yes, I know, wrong city) for our pastis and syrup and sat watching the world go by. On the tables were little signs advertising the two martini flavors of the week—order one and get free antipasti! We payed no attention until the affable waiter came around handing out little sample cups. I passed, but David tried one and pronounced it not that bad.
Many sources over the years have recommended La Régalade, but this is the first time we've ever gotten around to eating there. For one thing, it's out in the 14th arrondissement—we would have had to change trains twice to get there by subway—so we decided to keep things simple and take a cab. Its remoteness keeps it from being popular with tourists, despite its great food and low prices, so we were the only English speakers there.
It was crowded and noisy (the photo was taken before all the tables filled), in a friendly and festive kind of way, and so full that the waiters literally had to squeeze between diners' chairs to get around the room. The basic price of dinner is 32 euros—starter, main course, and dessert (one of the dessert choices is Reblochon cheese). You get about half a dozen choices for each course. Then the blackboard announces the day's specials and how many euros you have to add to the basic price to order them. David went for an appetizer special that added 6 euros, but otherwise, we chose from the regular menu.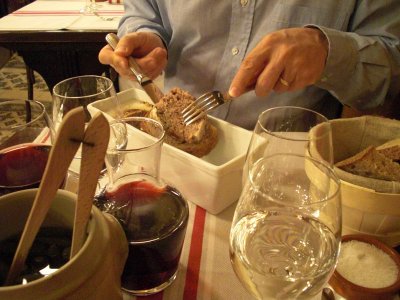 Amuse-bouche: Shortly after you order and they take your menu away, they plop on the table a large basket of country-style bread, a quart crock of little pickled cucumbers and onions with a pair of wooden tongs, and a white ceramic terrine full of country-style pork pâté with a knife stuck in it. No plates. You are invited to slice off slabs of the pâté and spread them directly on the bread. When your food comes, they take the terrine and pickles away and put them back on the sideboard with the others to be plopped on the next table that needs them. If you should finish off a terrine, they bring a fresh one from the cooler out back.
First course, David: A heap of chanterelles and cêpes (two kinds of fresh wild-collected mushrooms) sautéed with shallots and "jus" (presumably meat juice of some kind).

First course, me: A serious contender for best dish of the trip. "Royale" of duck foie gras, which turned out to be a tremblingly tender and fragile foie gras custard, awash in an outstanding hot creamy soup of the "mushrooms of the moment." Wow, was that good. Definitely going to have to try that one at home.
Main course, both: Slab o' caramelized pork belly, from a special farm-raised pig, with a little salad. Delicious, but very rich; I had to cut out some of the veins of fat, which you're supposed to eat with the meat. The skin was in fact caramelized, but it was not so much crisp as too hard to chew. On the side, a pot of silky mashed potatoes flavored with coarse-grained mustard.
Dessert, David: Vanilla cream custard topped with strawberries and raspberries, accompanied by "cat's tongue" cookies.
Dessert, me: Outstanding. Layers of, from the bottom up, stewed rhubarb, fromage blanc beaten with vanilla, and raspberries and strawberries in a light strawberry syrup. Yum.
Mercifully, no mignardises.
On the dessert menu, I was interested to see "rice pudding just like my grandma's," just like a similar entry on the menu at Chez l'Ami Jean, our restaurant for tomorrow night. Here, though, they serve it with "dairy caramel" rather than cinnamon whipped cream.
Over dessert, we struck up a conversation with the guy at the next table, who turned out to have worked in the U.lS. for many years and to speak excellent English. He promised to send me a recipe for duck rillettes, which he has sent, and which I look forward to trying!