Monday, 22 June 2009, Saint-Père-sous-Vézelay to Chablis

Written 6 July 2009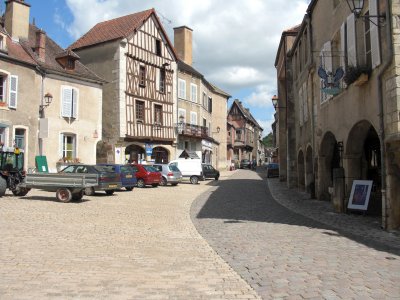 On Monday, on our way to Chablis, we planned to visit the Châteaux de Tanlay, in the town of the same name, and the Michelin guide recommended the picturesque little town of Noyers (which means "walnut trees"), which lay on our route there, so we stopped in. Again, the recommendation was to park outside and walk in, which we did, on the flat this time, through the gate shown here. Far from being up on a hill, Noyers is right down on the river—inscriptions mark various flood levels on the walls. The water was knee deep in the main street in 1910, 1936, and 1956, for example. The architecture was a mixture of Medieval half-timbered houses with carved wooden corbels and lintels and Renaissance stone construction with carved stone over the windows.
On the outside wall of the school was a sundial with a Latin inscription. Someone had provided a French translation, which I render into English as "What better guide to our life, what teaches better things here below than the time, through the rapid pace with which it flees; you have only one thing to fear: it comes and goes, accompanying your route, the shadow that you dread. We are nothing, we men, but a fugitive shadow that will not come again." Take that, school kids!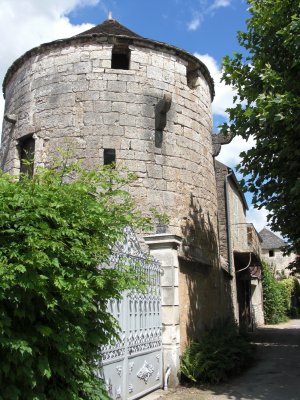 We walked down a side street a block or two to the river, where a line of old plane trees shaded the tow-path. Portions of the old town wall ran along it, and its round stone towers had been incorporated into residences. We were saddened to see that several houses there and elsewhere in the town were for sale. The economic downturn rears its ugly head again. We walked all the way through the town to the back gate and out to look at the old stone watch tower, connected to the town by a well-preserved section of wall. (On the way, we passed a house marked "Here lived Charles-Louis Pothier (1881-1962), troubadour, lyricist, author of the immortal song "Les Roses Blanches"; I don't know the name or the song—another thing to look up). Then we walked all the way back again, looking for lunch.
Only three possibilities presented themselves: a newsstand-cum-snack-bar of last resort, selling soft drinks and popsicles, and two restaurants. The first restaurant was empty and dark but had hung out a small sign saying "All booked up for lunch"—ah, probably that tour bus we saw pulling in a few minutes after us. The other restaurant was also closed, but I could see inside that they had laid out dozens of little plates with identical cheese wedges on them. Finally, on our third pass through the area, we saw that the second restuarant's back door was open and a few people, obviously locals (the usual guys in work clothes, taking a break from their carpentry, plumbing, or automechanics), were sitting at tables in the alley. We walked over and started to look in the open door, but a waitress, carrying six plates and looking harried, said "No service inside today; we wouldn't be open at all except we've got a group." Ah, another tour-bus load presumably. But one of the little tables in the alley was vacant, so we sat down and hoped for the best.
The group seemed to be in a separate building, across the alley from the main restaurant. Waitstaff dashed in and out, and a middle-aged lady worked steadily at an outdoor sink, under a canvas canopy, washing dishes. We were entertained by a fidgetty six-year-old at the next table who was driving his father nuts, at one point managing to knock a good-sized carafe of water off the table to shatter on the cobbles and at another to twist the shaft of an unused café umbrella far enough that it came out of its base and fell over with a clatter.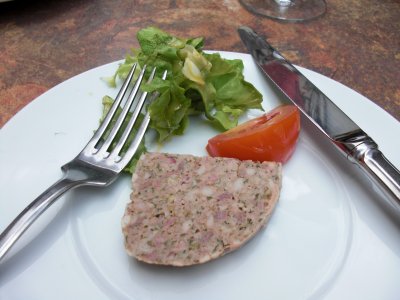 Presently, a waitress came over to say "Only one choice of menu today—country paté to start, then blanquette de veau [creamy white veal stew], then cheese or dessert." Could we split a paté, get a veal each, and skip the rest? No problem. The veal came with a little dish of lentils and one of braised cabbage, both excellent, and David really liked the veal (I have that recipe—it's a classic— and I'm confident I can duplicate it at home).
At Tanlay, we had just missed one tour and had to wait for the next, so we strolled around admiring the old stable block, now mostly disused (though one section was in use as an art gallery). Then David sat down in the shade in the gatehouse to doze (it was getting pretty hot) while I watched the fish in the moat with binoculars. Most of the ones I could see were "gardons" silvery fishes with reddish fins and tails. The guide showed up and sold us tickets, then because the tour still wasn't due to start, identified the fish for me. He said they stock the moat with trout but they can only put in big ones, because otherwise the pike eat them. (We later saw a couple of small pike from windows of the castle). He also claimed that the moat harbored strange, exotic "silver carp" with bizarre forward-facing eyes, but I never spotted one. I was watching a flock of swallows swooping just over the water, chasing bugs I guess, when another bird swooped in that at first glance I took for a pigeon, but after a brief aerial dog-fight, it snatched a swallow right out of the air and few off with it! I stood there with my mouth hanging open, then looked up to find the guide also standing there with his mouth hanging open. We both said, more or less simultaneously, "Did you see that! It caught a swallow on the wing! It looked like a pigeon!" Neither of us could identify the bird of prey. "I watch these birds every day," he said, "and I've never seen that before."
Written 7 July 2009
When the tour finally started, photography was forbidden in the furnished rooms but was allowed elsewhere. This shot of the front entrance hall captures perhaps one-eighth of the collection of trophies on the walls.
The 15th-century part of the château was built (as usual, on the ruins of a much older structure) by one of the three Coligny brothers, who left it unfinished. It was completed in the 17th century by one of Mazarin's ministers. The owner as of 1705 was created Marquis de Tanlay, and his descendents are the ones who still live there. As you move through the house on the tour, the guide points out the junctions between the earlier and later buiding periods, made obvious by changes in the flooring you walk over. The bedrooms were equipped with little partitioned-off "toilet corners" for personal ablutions, made popular by some French queen or other. The guide went so far as to explain that ladies would never had entered the marquis's bedroom. The master and mistress of the house customarily had separate bedrooms, and the gentlemen customarily visited the ladies, rather than the other way around.
The furnished rooms were beautiful, and from the windows, we could see out the back windows to the other side of the moat (where the pike hang out) and the private part of the garden. This château is also still inhabited by the family that owns it. They ordinarily live in just one wing, which isn't open for tours, but for special occasions like family weddings, they close the place to the public and use all the rooms. In addition to the ancestral portraits on the walls, modern family pictures (including some wedding shots) stand around on occasional tables.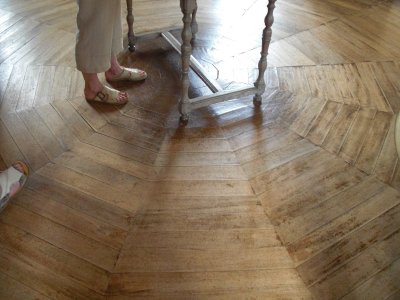 A large part of the grounds is open to tourists and the public for a small fee (we didn't opt for the surcharge on our tour tickets), but the part directly behind the chateau (seen here from the windows of a room where I was allowed to photograph only out the windows) is reserved for the family.

At the very top of one of the house's towers is a circular room whose windows are in deep recesses in the walls (i.e., cannot easily be looked in through, even from a height). Its parquet floor is arranged in this an unusual "spiderweb" pattern. The room is accessible from outside the château's walls through a tunnel and a secret staircase and was an meeting place for protestants during the wars of religion. Its domed ceiling is painted with an elaborate allegory of the royal court, in which all the personages are portrayed as Greek gods. King Charles IX and his mother, Catherine de Medicis are portrayed as one Janus-headed figure, he looking toward the protestants, she toward the Catholics. Charles's sister, Marguerite de Valois (the future Queen Margot), appears as Minerva, and two of the Coligny brothers look on (one of them as Neptune). Off to one side King Henri II (Charles's father) appears as Mars, with his mistress, Diane de Poitiers.
The characters' state of undress is a little too racy for this venue, but you can see photos if you Google-Image "Tanlay Allegorie." To sort out who all these characters are, you should read Alexandre Dumas's Queen Margot.
Asked about the stables, the guide said that the stables once housed 100 horses, a lot even for a household of that size. Apparently the master of the house was alway a little worried about security and kept a small, secret personal army on retainer, just in case, and some of the horses were for them.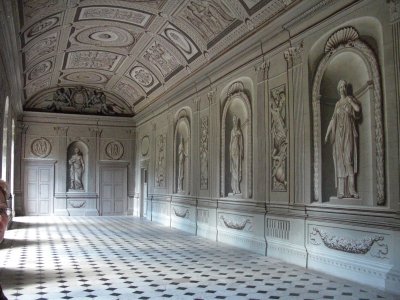 Finally, one of the Château's most famous features is this magnificent gallery painted in trompe l'oeuil. Let me emphasize the fact -- the wall and ceiling of this room are entirely flat; everything you see is painted on flat plaster. In the château's heyday, they held gala all-night music and card parties here. Unfortunately, it's now only half the size it was. At some point in history, a fire damaged the far end. The trompe l'oeuil couldn't be restored, so they just put up a partition (the end wall you see in the distance, clad in portions of the damaged painting that could be saved) and used the damaged space for something else.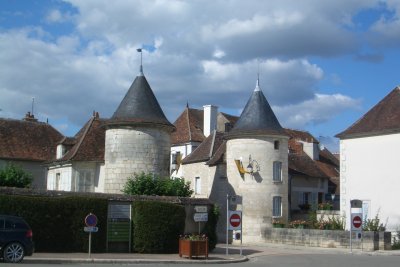 From Tanlay, we headed on to the town of Chablis, where, David specifies, the real chablis wine comes from, not that stuff they make from Thompson seedless in California. David scoped out the tourism office (closed for the day) and took advantage of the lovely low-angle light to get these shots of the war memorial and towers flanking the gate to the old town while I worked on this diary at our hotel, l'Hostellerie des Clos. Then we freshened up and strolled downstairs to dinner in the same establishment.
While we sipped our apperitifs in the lounge and studied the menu (and David perused yet another encyclopedic wine list), they brought us Comté gougères, crispy feuilletés, and canap&eacutes; of salmon rillettes. I tried once again to order a cassis syrup, and once again, they didn't have it (what is with these people?!). So I settled for mint again—very good, but hardly a specialty of the region. We chose the lesser of the two menus (having had a larger than usual lunch), saving the larger one for the next night, when we would be dining in the same restaurant.
Once at the table:
Amuse-bouche: A cold, smooth shellfish bisque topped with a puff of whipped cream and a chive. Delicious.

First course: Excellent tartares of salmon and tuna, with a cheese crisp, a chive, a ribbon of crisply toasted leek, and a large sprig of a delicious plant that I couldn't identify. It had thick, fleshy leaves with a slightly lemony flavor and lucious texture, and the stem and parts of the backs of the leaves were covered with shiny dots I at first thought were dried sap but which turned out to be little blisters turgid with water. I asked the waiter what it was, and he said he was an old-fashioned salad green that the chef had taken a fancy to, called "ficoïde glacier." Say what? I had no clue, but I've looked it up since and was startled (perhaps horrified) to learn that it's Mesembryanthemum crystallinum (Aizoaceae)! A congener of that awful ice plant that covers coastal southern California like a fungus?! I sincerely hope it's not as invasive as its relative, or that chef's neighbors aren't going to be very happy with him in a few years. It is tasty, though, so maybe local grazers and salad fanciers will be able to hold it in check.
Second course: Filet of "omble chevalier" (char, a salmonid fish) with sorrel sauce. Very good; I love sorrel with fish. (I've often wished char showed up on more American menus, if only because "blackened char" would be such a great name for a dish.)
Third course: Breast of duck with cherries stewed in pinot noir, served with little roasted potatoes, spring vegetables, and an individual pitcher of extra sauce.
Palate cleanser: A little glass of cold, sweet mint tea with a lime ice cube.
Cheeses, David: Just some chaource, I think.
Cheese, me: Chaource, Pierre-qui-vire, Vézelay (a dome-shaped white chevre), and Puligny-St. Pierre.
With the cheeses came a large wooden basket full of dried apricots, prunes, and hazelnuts and walnuts in the shell (nutcracker provided).
Dessert: Shortbread cookies sandwiched with slices of lightly roasted apricots, with apricot coulis and a very vanilla-flavored whipped cream. The sweetness of the cream balanced the tartness of the apricots.
Mignardises: Almond tuiles, macaroons, fruit paste, little brownie bites, and little cakes with pistachios on top. Sorry, no appetite left.
As we passed back through the lobby toward our room, and every time we did, we were struck by the fragrance of lilies. The giant lilies that were just in bud when we visited Fontenay are now in full bloom all over the region, in colors from purest white to almost black, and everyone is decorating with them. Their scent pervades every restaurant and hotel lobby.