Wednesday, 10 June 2009, Mustard and Gingerbread
Written 11 June 2009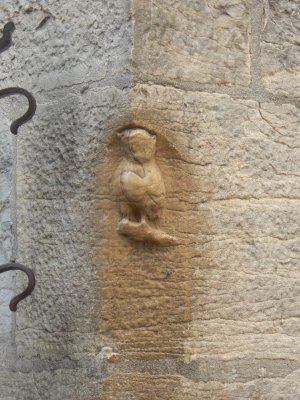 Wednesday morning's priority was a visit to the Office de Tourisme, located in the middle of downtown Dijon, near the cathedral and the Palais des Ducs de Bourgogne, where we collected brochures of things to visit and asked about guided and self-guided tours. We signed up for the mustard-and-gingerbread-tasting tour at 3 p.m. and acquired the guide booklets for the self-guided "Parcours du la Chouette" (Owl's Trail"). A beloved symbol of Dijon is a little owl (a "chouette," similar to our screech owl) carved in high relief at about shoulder level on the side of the cathedral (left). Generations (centuries!) of residents have rubbed it for luck, always with their left hands, in passing. It is therefore much worn down (and highly polished), but still a charming depiction. Alas, in the night of 5-6 January 1991 it was "roughly amputated of its left side"—the surgeon was never identified (my theory is that it was a clumsy truck driver making a nocturnal delivery to one of the surrounding restaurants who cut the corner a little too close; I sincerely hope that, for his own safety, he's changed his name and emigrated to Australia). The town was outraged! Donations poured in, and the little owl has since been restored to its worn, polished, and patinated condition, and we saw many people rub it in passing (mostly tourists, I suspect). It has also been adopted as the symbol of the town's self-guided tour, so we walked all over town (in several sessions rather than all at once), following the little trail of owl-embossed arrowheads (right) set in the sidewalk to 22 different sites of interest and reading about them in our little booklets.
One of the stops was a 17th century town house, now owned by the city and used for exhibitions, where we stopped in to take a quick look at a collection of antique and modern alphabet books and illustrations intended to teach the alphabet. In addition, we admired the building's decor and furnishings, including this painted wooden ceiling that I found very reminiscent (in all, of course, except sophistication and subject matter) of the one at Wakulla Springs. (We've since encountered many more like it—the style is definitely typical of this region.) Another stop was to admire the cathedral's famous "Jacquemart," the mannequin that strikes the clock-tower's bell. Apparently he started out by himself, until his celibacy became a local joke, at which point "Jacqueline" was added to strike the half hours, then when their childlessness became a joke, two children were successively added to strike the quarter hours. Another was the famous monumental kitchens of the ducal palace, but they were inexplicably closed. Drat. Yet another was the birthplace of Bossuet (Bishop of Meaux and famous orator), in the square that now bears his name. We even saw the "Tour de Bar," the tower where our old friend René (le Bon) d'Anjou (who was, it seems, Duc de Bar in addition to all his other titles) was locked up from 1431 to 1437. The guy was everywhere!
For lunch, we settled on Café les Grands Ducs in Place de la Liberté at the front gate of the ducal palace (some of the palace was designed by the same guy who did Versailles, and it shows). David had "jambon persillé" again (served, to our astonishment, without mustard), with fries and salad. I had a "french bread flammekuche"—a split baguette spread with the toppings of a flammekuche (cream, stewed onions, bacon, cheese) and browned under the broiler, also with fries and salad. As you can see in the photo, the fries were strangely V-shaped in cross-section (good for making extra crispy edges). The shape reminded me of the little "V" on the chouette arrowheads (monogrammed VD, for Ville de Dijon), but perhaps I'm overinterpreting . . . . I had a café liègois (a coffee sundae) for dessert.
The "grands ducs" for which the café is named were the four successive ones who were in charge during Burgundy's heyday, when the dukes were more powerful than the kings of France: Philipe le Hardi (Philip the Bold), Jean Sans Peur (John the Fearless), Philipe le Bon (Philip the Good), and Charles le Téméraire (Charles the Daring); the first was born in 1342, and the last died in 1477. They are portrayed everywhere around here, and nowhere more densely than in that café. (Interestingly, Charles le Téméraire was the guy who tried at one point to annex Nancy and was beaten back by the 17-year-old René II, grandson of René le Bon. Charles was killed in the battle, and the famous incident is widely protrayed in art (see my blog entry of 25 May 2008. The story of just who was rightful heir to what in these regions is very , very complicated—if you're really interested, read (and listen) all about it (in French) at http://sites.radiofrance.fr/chaines/france-bleu/?nr=4b4aaf9a30932d79d65369935da97f99&3d45ffd8760d2728fae3879991a1b49b_container_id=18943&3d45ffd8760d2728fae3879991a1b49b_container_mode=).
After following more of the little owls, and admiring the antique carousel in the place François Rude (not as elaborate as the one we just saw in Troyes or last year's in Épernay), we reported to the Office de Tourisme for our guided tour. The tour guide divided us up into the French group and the English group, so that she could give each lecture twice—David and I stuck with the French group, since the French narration is often so much fuller and more comprehensible (and so it proved in this case). We were to have started with a visit to the ducal kitchens, but (as David and I had discovered earlier in the day) they were closed, so we visited several other sites of interest in the neighborhood before arriving at the flagship store (the mother house, as it were) of the Maille mustard company. Along the way, the guide explained some of the reasons why the Burgundy region should have become the home of the French mustard industry. First, prepared mustard requires (depending on the recipe) wine, vinegar, or verjus (i.e., the juice of green grapes), all of which Burgundy can supply in abundance from local sources. Second, the region is forested (where it isn't planted in grapes), so many charcoal burners plied their trade there, and after clearing an area and make its trees into charcoal on the site, they planted the area in mustard, which thrived because charcoal burning enriches the soil in potassium. The mustard seed was used in medicines and condiments, and the greens were consumed as a vegetable. Today, though, 95% of all the mustard seed comes to France from Canada—the mustard-growing areas of France have been converted to the closely related (and more profitable) oil-seed rape. I was pleased to learn, though, that Maille mustard (at least that destined for consumption in France) is still made in a factory in Chevigny-Saint-Sauveur, about 40 km from Dijon. (So is Amora mustard, in the same factory, and both brands are actually now owned by Grey-Poupon.)
In the Maille shop, little bread-stick sort of crackers were provided for dipping, so that we could taste half a dozen different flavors of mustard, including fresh "draft" mustard, sold from pumps like beer, which contains no vinegar and is therefore more perishable, and a variety of flavored mustards. Maille brings out seasonal lines each year, and this year's theme was the vegetables of Provence, so we got to taste basil mustard, as well as watercress mustard, black currant mustard (the "third" specialty of Dijon, after mustard and pain d'épices, is black-currant products), and others. We resisted the temptation to buy any of the many assortments they had packaged to go.
David's feet gave out at this point, so he went back to the hotel while I continued the tour. As it turns out, he should have stayed. Next, the guide walked us just one block to the flagship Auger store and took us upstairs to a little classroom, where we got to sit down for half an hour of lecture and movies. Auger is one of the two major brands of pain d'épices still made in Dijon; the other is Mulot & Petitjean, and once again, the two are now under the same ownership. They've kept the separate brands, though—Auger is still flavored with orange extract, and MP with anise. Auger's is baked in wooden molds, and MP's in (the shop lady sounded slightly shocked) metal pans! "Pain d'épices" means "spice bread" and is usually translated "gingerbread," but in fact it contains no ginger and no spices (unless you count the orange and anise). It's made of flour, honey, egg yolks, baking soda, some milk, I think, and one or the other of the two flavorings. Dijon pain d'épices is always made with wheat flour and only orange or anise, whereas the pain d'épices of other cities (notably Strasbourg) is made with rye flour and other stuff (though not much in the way of ginger or spices; in Alsace, we saw sheet cakes of it shingled with lemon slices before baking). As the movie showed, flour and honey are mixed to form a thick paste, which is then aged for 7-14 days. The remaining ingredients are added, and the mixture is shaped and baked. The dough is as stiff as playdough, so it is rolled out perhaps two inches thick, cut into rectangles that fit the pans with big cookie-cutters, dropped into the pans, and baked, ending up perhaps 4 inches high. It's thick enough before baking that you can press a design into the top that will still be there when it's done. Auger's is baked as 6-kilo slabs, as 6x10-inch loaves, as eight-inch "ladyfingers" (often iced), and as little round "nonettes." At Christmas time or for special celebrations, the loaves are brushed with jam and decorated with candied fruit. The nonettes are injected with black-currant jam and glazed like doughnuts. Rather than gingerbread men, the traditional "fun" shape is the sanglier (i.e., wild boar; I think that was the symbol of one of the dukes). I'm glad they told us that's what those shapes were, as I would not necessarily have recognized them. The stuff will apparently keep for months at room temperature. It was going out of favor for quite a while but has enjoyed a recent resurgence—we certainly have encountered it in many forms on restaurant menus (like a pain d'épices creme brulée that we didn't order last night)—and young adults are coming to favor it as a breakfast food (because it keeps for months at room temperature, you don't have to go out and buy it fresh every morning, like French bread).
The pain d'épices shop sold all kinds of other gourmet specialities like black currant "cassissines" (black currant fruit paste filled with cassis liqueur) and kilo (!) jars of mustard.
Written 12 June 2009
At the end of the tour, I rejoined David at the hotel, and we soon set out on foot (under a light rain, but it wasn't far) for our dinner at l'Hostellerie du Chapeau Rouge, not actually in, but around the corner from, the Rue du Chapeau Rouge. Its decor turned out to be (like the food) resolutely modern, with Asian influences, and I show a photo of virtually every dish because the chefs presentations were absolutely lapidary—every plate was beautiful. In one section, a large round tree-trunk rose out of the floor all the way to the ceiling and was surrounded by a dense array of square dowels hanging down to different heights, to suggest its foliage. In another, a puffy white fabric cloud hung from the ceiling. On each table was a square, white, china lamp designed to resemble a plain block of porcelain on top of which a single wooden match lay burning, but in the photo, you can just see the tip of the wick protruding up through the center of the match. The match is actually metal, painted to resemble a half-burned wooden kitchen match.
The table itself was also unusual. Its center was covered by a runner-shaped tablecloth, but the ends of the cloth hung into our laps not over the edges of the table but down through slots near the edges. To my right (David's left, a strip of metal inlaid in the tabletop divided our side from the narrower area reserved for the lamp and our water or wine bottle (a round coaster was inlaid there for the purpose. Between the lamp and that edge of the table, a groove in the table top was stuffed with a small hedge of real (dried, and probably artificially colored) moss. Odd, but not unattractive. Behind the lamp, you can see our tray of amuse-bouches. We ordered the relatively simple "clin d'oeil" menu.
First amuse bouche: For each of us, a piece of sushi (salmon, cucumber, and salmon eggs), a little chick-pea croquette, a tiny sandwich of curried cream, and a glass filled with crispy fried onions, with a yogurt dipping sauce.
Second amuse-bouche: A small square of warm cooked mackerel on a bed of seaweed salad with crustacean broth.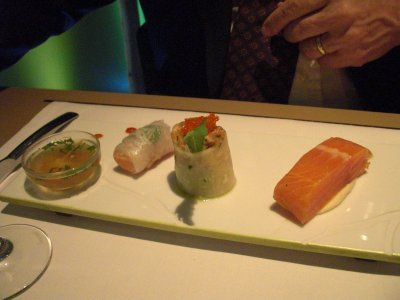 First course, David: Variations on salmon. A very lightly smoked (and meltingly tender) parallelipiped lying on a purée of celery root, a dollop of salmon tartare wrapped in a rice noodle (the lower half of which turned out to be filled with avocado mousse, not mentioned on the menu; good thing I didn't order it), and a noodle-wrapped salmon spring roll accompanied by a nuoc nam dipping sauce and two dots of ferociously hot red pepper sauce.

First course, me: A round slice from a cylindrical loaf of foie gras, its outside surface thickly crusted with coriander and black sesame seeds. The center had been punched out and set to one side, so that the center could be filled with crispy cooked spring vegetables. Accompanied by a parsley purée, a dot of balsamic syrup, and a tuft of arugula salad.
Second course, David: "Quasi" of veal, roasted and accompanied by mashed potatoes wrapped in a leek leaf and topped with half a small grilled onion. Small spring vegetables are lurking behind the potatoes.
Second course, me: Simply grilled "fletan" (halibut) surrounded with small spring vegetables and a frothy crustacean broth. Under the fish are fine dice of shiitake mushrooms.
Cheese course: David had Brillat-Savarin, a Swiss gruyère, and Roquefort. I had Chaource, Brillat-Savarin, and a rather dry young Valençay.
Dessert, David: Chocolate "lait pris" (i.e., gelled milk), which took the form of a cylindrical glass dish layered, from the bottom up, with chocolate lait pris, vanilla lait pris, black-sesame whipped cream, ice cream, and and plain whipped cream, all topped with a thin cookie whose center had been cut out and turned up edgewise.
Dessert, me: A sheeps-milk yogurt cheesecake (excellent) topped with fresh raspberries and a cookie "cigar," in turn filled with lemon cream, a streak of raspberry purée; a raspberry, honey, and rosemary sorbet; and one tiny dot of mint jelly.
The mignardises were chocolate crinkle cookies, sandwiched macaroons, cubes of black-currant fruit paste, and individual one-raspberry raspberry cakes. The fruit paste was excellent.
With this meal, David drank a Frédéric Magnien Chambolle-Musigny premier cru, vieilles vignes (recommended by the waiter), which he declared a strong contender for best restaurant wine of his life.