Monday, 8 June 2009, Troyes
Written 8 June 2009
The hotel's breakfast is quite good. A machine dispenses one's hot drink of choice—fierce French coffee, milder American-style coffee, café au lait; hot chocolate, tea, hot water, hot milk (no decaf)—and a separate machine dispenses orange or mixed-fruit juice. Bread buns, minicroissants, minipains au chocolat, madeleines (plain, chocolate chip, raisin), two cheeses, three cold-cuts, butter, jam, yogurt, raw eggs and a little egg-boiling machine. Nice. The only other group in the breakfast room was a young couple with, yes, twin infants. Both were quiet and well-behaved but so distracted by my presence that their mother had trouble getting them to eat the cheese, bread, and babyfood. They were both extremely solemn babies, but I finally managed to elicit smiles (a little hand jive goes a long way).
David didn't sleep well, so I saved him a couple of pastries from breakfast, and he's only just getting up now (about noon) while I write in the lobby. Just outside the window, in the hotel's front courtyard, is a large, handsome, fruit-laden cherry tree. The proprietor tells me that, although bright red, the cherries aren't ripe enough to eat yet—it's been cool, and they're late. Outside, a merle (European blackbird) is singing (just as monotonously as it's close relative, the American robin). It sang yesterday, too, and late into the night (David threated to shoot it, but it finally shut up when darkness fell).
Later . . .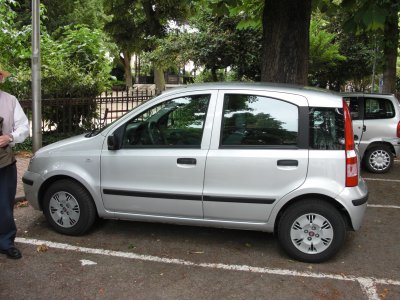 Once David was upright, we set out for town in search of lunch. Here's our little Fiat Panda, parked in one of the little tree-lined gravel pay-and-display lots that ring the downtown, just outside the ring of parks that occupy the space once covered by the city's walls. Beyond it, you can see the steps leading up to a handsome wrought-iron bandstand in the park. For lunch, we settled on the Grill St. Jean, where I had a Salade Champenoise—a heap of dressed salad greens topped with shaved raw mushrooms and two toasts topped with grilled Chaource cheese (Chaource is a specialty of the Champagne region). Around the sides are slices of tomato and thick slices of warm grilled andouillette (the famous tripe sausage that is a specialty of Troyes). David had the salade de Chaource, which looked just like mine except that the andouillette was omitted, roasted walnuts were sprinkled in, and the slices of tomato alternated with like-sized slices of apple cooked in red wine.
The tourist office reopened at 2:00 p.m., so we presented ourselves there and rented excellent audioguides. Here I am wearing around my neck not just the audioguide but the little itinerary map that accompanied it, printed on a card in the shape of a cartoon cat. The actual cat is printed on the other side. Cats are a major theme of Troyes, mostly, I gather, because of the "ruelle aux chats"; local gift shops will sell you cat figurines of all sizes, varieties, and colors, ranging from the entirely realistic to the completely ridiculous. I especially liked this graffito, above the sign for the Rue de la Monteé des Changes.
We could have spent hours more following the audioguide (although we had to have it back to the office by 6 p.m.), but our feet gave out, so we cut off some of the longer and more distant loops and headed back to the hotel. Most of the items it featured were architectural, and many were hard to photograph because they were enormous houses on tiny narrow streets, so that you couldn't back up far enough to get a meaningful amount of the building into the photo. Here are a couple that caught our eyes, though (even though they weren't significant enough to feature in the audioguided tour). In the one on the left, with the greenish half-timbering, I wonder whether the floors are as far from level as the half-timbers across the front! In addition, the tour pointed out the Museum of the Tool and of Artisan Thought. It seems so interesting that we plan to visit it tomorrow, before leaving for Dijon. It doesn't open until 10 a.m., so we may hang around and have lunch in Troyes before leaving.

Tonight, we drive about 5 km out of town for dinner at the Hostellerie du Pont Sainte Marie (rated GM 15/20).

Written 9 June 2009

The drive to Pont Ste. Marie was short and uneventful. We found the restaurant without much difficulty, and as we slowed to pull into its parking lot, another car pulled up and asked us directions to some nearby town. Unfortunately, we couldn't help them, but it confirms our impression that we must look exceptionally well oriented, since we get asked for directions so often.
The restaurant had a very modern decor, set in a very old building, and the two were combined to rather good effect. These lilies were precisely aligned on a neighboring table, accompanied by a decorative ball of twigs. Ours was set with three enormous (maybe 4 ft tall by 6 inches in diameter) clear glass cylinders, each with a few pebbles and some water in the bottom and containing two hugely tall green calla lilies and a coil of that green viney stuff you can see in the photo. Instead of a twig ball, we had three brown woven-wicker hearts. A table for five bore just one of the very tall vases, laid almost on its side, so that people on opposite sides of the round table could see one another. Behind the vases of lilies, you can see some of the exposed beams.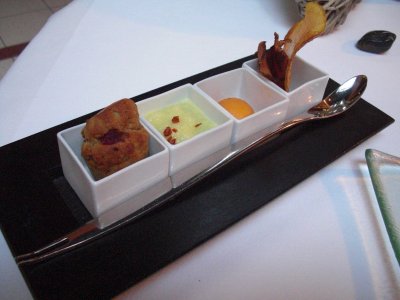 We chose the "Menu Decouverte" (the "discovery" menu), their top-of-the-line tasting menu, with the wine pairings for David and without for me. While we studied the menu and examined the three bowls of salt on the table (one grey, one pink, and one flaky and white), we were served this four-part "amuse bouche." The implement that accompanied it gives a new meaning to "spork." The right-most is a small collection of "vegetable chips" of different flavors. The next is a ball of excellent Charentais melon flavored with saffron, the third a purée of fresh cucumber and olive oil, sprinkled with a little piment d'Espellette, and the last (and best) is a tiny warm chorizo-and-olive pound cake. I ate David's melon and most of his cucumber stuff (at least he was willing to taste it).
Then the courses began:
Amuse bouche: This was the official amuse bouche (as opposed to the teaser we'd already eaten": A "bonbon" of foie gras (that is, a very tiny piece of foie gras rolled into a little tube of phyllo dough, of which the ends were twisted to resemble a candy wrapper and tied in place with bits of raffia. It was accompanied by a streak of white balsamic vinegar syrup. With it came a single cold marinated shrimp balanced on a little heap of shredded apple and vegetables and surrounded by a dark balsamic vinegar syrup. Pretty good, but it set a recurring theme of the meal—"main ingredients" that you couldn't taste. I would not have known the phyllo had anything inside (though the vinegar syrup was good).
Rather than offering a selection of breads periodically, from which the diner chose one, this restaurant served a different one with each course, starting with little miniature white baguettes for the amuse bouche. Each of us was also served another of those little white cube-shaped dishes filled with very salty (and utterly delicious) butter; the salt was from a named source.
First course: Eucalyptus-smoked salmon "Irish coffee style" consisted of three cubes of vitually raw eucalyptus-smoked salmon, each topped with a toasted pistachio and accompanied by a toasted slice of olive-oil-Parmesan brioche, some streaks of coffee syrup, and another little white cube-dish of granité (i.e., icy sorbet) of whisky (it wasn't full strength, and it had been sweetened, so I actually liked it). All very good individually, but the parts created no particular synergism that we could detect. Served with an excellent bread studded with pine nuts, squash seeds, and flax seeds.
Second course: Actually three dishes served together, described as "all lemon verbena." First (shown here) came a little heap of green peas cooked with lemon verbena, topped with a langoustine tail marinated in a lemon-verbena vinaigrette, and roofed with a sheet of salty dried squid ink. Second was a bundle of little white asparagus stalks wrapped in lemon verbena leaves and cooked in a clear cellophane "papillotte." The third, and best, was a cylindrical glass containing a salad of crabmeat ("tourteaux") and tiny diced vegetables topped with a lemon-verbena foam, and then with a soft lemon-verbena meringue. I could taste the lemon verbena in the peas, but not thereafter. Either it was vanishingly subtle or one's tastebuds simply got acclimated and stopped registering it. (Or maybe the chef's botany isn't that hot; at least once during this meal, we were served shiso and told it was arugula.) Served with olive bread.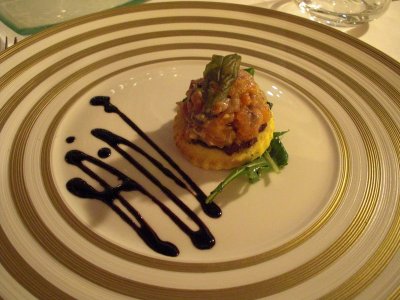 Third course: Another triple play—theme and variations on (fresh not canned) sardines and pork. First was a little basil-flavored shortbread cookie topped with a layer of puréed "boudin noir" (i.e., blood pudding), then a scoop of salad of diced sardine and diced tomato. I had trouble detecting the sardine but thought it was okay. David did not care for it, but ate the cookie and boudin noir. Next was a flat, crispy phyllo envelope filled with a vanishingly small amount of cooked pig's foot and topped with four raw, marinated, smoked sardine filets. David really didn't care for those—he scraped them off and ate the phyllo packet. Third was slices of raw local ham wrapped around a "fruited cream" laced with diced sardine; they were topped with some sprouts that looked like alfalfa but were very peppery-tasting and nested on a bed of fresh chervil sprigs. That was okay—David ate the whole thing.
Palate cleanser: A champagne snowcone—the chef filled a tall slender shot glass with ratafia (champagne liqueur), set it (leaning against the side) in a large martini glass,then filled the rest of the glass with a fine-grained snow of sweetened champagne sorbet. I spooned a little ratafia over over the snow and ate it like that; David ate his straight, then drank the ratafia. It was delicious, but I didn't dare eat all of mine, because I couldn't tell how alcoholic it really was. I was the designated driver and, not ordinarily drinking at all, presumably have no acquired tolerance of alcohol.
Fourth course: Sautéed veal (described as having been raised by its mother and not in isolation) with fresh morels, but either the morel delivery had not arrived or the chef doesn't know his fungi either, because it was actually served with chanterelles. Good, though. Served with bacon flavored bread.
Fifth course (the cheese): Cheese ice cream. Locally produced chaource was coarsely puréed with cream, flavored with Szechuan pepper, then frozen and served on thin slices of fig bread with a a streak of balsamic syrup and a little salad on the side. Sounds weird, but it was excellent.
Sixth course: Described on the menu only as "Gourmandises," dessert turned out to be two flights of three dishes each. First came three chocolate desserts: an intensely (read "overwhelmingly") chocolate "teardrop" decorated with peppermint whipped cream and a hard caramel squiggle, a white-chocolate croquette set on a decorative swirl of chocolate sauce, and a long narrow slice of a chocolate ganache cake (a crisp chocolate cookie topped with a thick layer of chocolate ganache and topped with a layer of chocolate laced with bits of nut brittle. The croquette was okay, but the other two were just too chocolate for me; the filling of the teardrop in particular just seemed to suck every drop of moisture out of my mouth and left me gasping (the sheet of chocolate in which it was encased was excellent, though; it was studded with bits of almond brittle). The second, all-strawberry, flight included a shortbread cookie spread with lemon whipped cream and a layer of sliced strawberries and topped with a few leaves of "arugula" (actually shizo); a scoop of strawberry-mint ice cream balanced on a crisp, toasted slice of pear and decorated with another caramel squiggle; and a small wineglass full of cold strawberry-red-bell-pepper soup. The thing with the shortbread cookie was pretty good. The broad, red rim of its plate was decorated with a line of glistening dark-red dots, and as many of the dishes had been served on fused-glass plates, it was even money (until we could poke them with our forks) whether they were part of the desert or part of the plate. They turned out to be strawberry-vinegar syrup. I expected to like the strawberry-mint ice cream—I like strawberry, and I like mint—but it was distinctly odd and not to my taste at all. The mint sprig it was decorated with was peppermint, rather than spearmint (the usual culinary variety), so maybe that was the difference. The pear chip was good, though. The mixture of strawberry and red bell pepper was also odd but pretty good. The caramel squiggles were excellent—essentially deeply caramel-flavored hard candy.
We refused coffee, but they brought us mignardises anyway— two house-made chocolates, two minicreampuffs filled with chocolate cream (I couldn't face any more chocolate), and two lemon macaroons. As we paid the bill, they brought us the lastest in finishing touches—skewers topped with wisps of pink cotton candy.
I managed the drive home without difficulty (despite all the frozen whisky, champagne sorbet, and ratafia).