1 August 2007, More meetings, the poster session, and churrasco!
Written 1 August 2007
8 a.m. start today, so David once again blew off breakfast in favor of another hour's sleep, but I got to try another fruit juice—"caju" (cashew fruit, as opposed to cashew nut); okay but not terrific. The tapioca pudding was replaced by excellent cinnamon-flavored rice pudding. These odd but attractive planters (outside the breakfast room) are made of driftwood-like logs with clumps of Sanseveria attached to them.
This morning's session is on the deep sea, so David will be both chairing part of it and presenting his paper. Later in the day, he'll present his poster during the poster session. For the first time, the session has fallen behind schedule, because the computer projecting the speakers' slides decided, near the beginning of the first speaker's talk, to reboot itself, setting him back several minutes (out of a closely timed 15-minute talk). The first paper mentioning sequestration of CO2 in the deep sea was also delivered this morning, and the discussion immediately became very lively—it's a very controversial topic!
No new or different fruit juices were offered at coffee break this morning, but I tasted the dark-purple grapes accompanying the fruit salad. I suppose I should not have been surprised that they have a distinct muscadine flavor, even though they grow in large, tight clusters. This area must have the same problem we have in Florida—ordinary cluster grapes won't grow in such a warm climate, and the southern "muscadine" grapes that do grow there (and produce produce small, loose clusters of just 1, 2, or 3 berries) make very sweet, odd-tasting wine. Would-be wine makers in Florida have set about hybridizing wine grapes with muscadines, trying (without great success) to make a wine-grape variety that will grow in the subtropics. Here, they must have done the same thing but have the sense to market the hybrid as a table grape; they're very different from "ordinary" grapes but delicious.
Written 2 August 2007
At lunch, the buffet featured a new dish, "tutu," a thick purée of brown beans (like think refried, only smoother) stewed with bits of sausage and meat, traditionally ladled over rice and topped with finely shredded kale quickly sautéed with bits of bacon and garlic. A chef was busily sautéing small batches of it at the buffet table, so that everyone could get a freshly cooked serving.
The afternoon session ended at the coffee break, which was followed by the poster session and cocktails. (A "cultural presentation" was supposed to accompany the cocktails—another dance exhibition, rumor had it—but that never materialized.) As predicted, quarters were a little close among the posters, but enthusiastic discussion was prevalent anyway, and the cocktail waiters managed to circulate with trays of canapes (although the ones with trays of beverages didn't brave the crowded conditions among the posters and remained in the adjoining lobby).
The canapes consisted of little geometrically shaped slices of bread topped with cheese and olives, quail eggs and anchovy, ham, salami-like sausage, salmon, etc. Later, they switched from canapes to hot nibbles: fried bits of fish, small deviled-crab balls, breaded and fried cheese cubes, small fingers of kibbee (the best), tiny shrimp empanadas, etc., all accompanied by tartar sauce for dipping. Meanwhile, other waiters passed trays of drinks: red and white wines, beer, soft drinks, and fruit juices. I had a glass of graviola juice and an excellent, bright-pink, sort of guava milkshake.
When the session finally wound down, we wanted to venture farther afield for dinner but were unsure of ourselves, not knowing either the culture or the language. David therefore invited Janet Reid, an American colleague who had lived for many years in southern Brazil to come with us, so in the end four of us set off for "Fogo de Brasa" (fire of the coals) the nearest churrasco restaurant, a block or two off the beach and midway between the two hotels. We were pretty early, so the restaurant was mostly empty, but we were graciously received and even presented with little cheat sheets listing the English translations of the most common cuts of meat for churrasco. The place was clean, bright, and modern. For a fixed price, we got all we could eat salad bar, unlimited churrasco (usually translated "barbecue," but actually meaning "grilled meat"), and a shot at the dessert trolley (I suspect the dessert was unlimited also, but after the other courses, we were in no condition to find out!).
The salad bar was huge, feature not just basic salad with many, many toppings and dressings, but rows and rows of pickles and composed salads, like slaws, chopped salads, vegetable salads (or radishes, squash, cucumbers, artichokes, cauliflower, okra), seafood salads, fruits and fruit salads, cheese, quail eggs, olives, roasted garlic, chilis, dried and fresh tomatoes, fresh and (several kinds of) marinated mushrooms, and a huge tray of sushi! The shelf above it was loaded with bottles of soy sauce, many bottled salad dressings, many olive oils and vinegars, and condiments like Tabasco and Worcestershire, which you could take back to your table. We made a valiant effort, but there was no way, even working together, that we could have tried everything. To one side was a large, green coconut-shaped urn with a tap dispensing green-coconut milk, so I got to try that.
Once we had eaten most of our salad, we turned to the little metal device on our table and rotated its wheel from the red "Não, obrigado!" (No, thank you) position to the green "Si, por favor!" (Yes, please) position, and immediately a waiter appeared at our tableside with a three-foot skewer bearing a sizzling slab of "faldinha" (literally, "little diaper"; skirt steak). He rested one end of it on a little round dish he placed on our table for the purpose, whipped out a large and amazingly sharp knife, and asked "mal passada" (literally "poorly passed (over the flame)," meaning "less cooked") or "bem passada" (well passed, meaning more well done)? They apparently cook the meat on one side of the skewer longer than that on the other, so depending on your choice, the waiter deftly spins the skewer to slice from the rare side or the more-cooked side. He starts a slice, which you then grasp with a little pair of tongs set by each plate for the purpose (just like the tongs you'd find in an ice bucket). When you've got a good grip, he slices your piece free from the skewer, and you transfer it to your plate. If you hold out your tongs for more, he'll keep slicing away.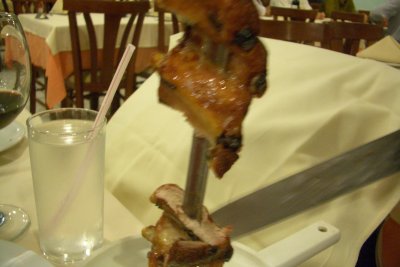 While the rain pelted down outside, we started on our skirt steak (bloody rare and outstandingly good), but another waiter shortly appeared bearing a skewer of "picanha" (rump steak), of which we all accepted a slice or two, then another with grilled pork ribs (excellent, shown here being slid off the skewer onto my plate; the glass in the background is filled with chilled coconut water), then whole filet rolled in Parmesan cheese, then a skewer of "linguica" sausages, then a (somewhat smaller) skewer loaded with chicken hearts, then one bearing a large coil of spicier linguica. By that time, we were pretty overcommitted, so we waved away the guy with a skewer full of chicken legs and the guy with chunks of filet wrapped in bacon before grilling, then rotated our little wheel to red to fend off the rest. We still hadn't seen half of the cuts listed on our cheat sheets, let alone all the seasoning variations, but I for one had overindulged in cocktail munchies, so we decided to move on to dessert.
The dessert trolley carried six major desserts, plus many sauces and garnishes, but three out of the four of us opted for the caramel flan, which was delicious.
previous entry List of Entries next entry