Saturday, 16 June 2007, Off to Compiègne
Written 16 June 2007

Breakfast this morning was supplemented by a small dish of unadorned fresh strawberries. They had the size, glowing color, and chunky shape of maras des bois (my all-time favorite variety) and were certainly tasty enough to be, though I didn't ask.

Once we got packed up, we set off for our next stop, l'Hostellerie du Royallieu in Compiègne (sister city, I was surprised to learn, of Raleigh, NC). We arrived about noon, finding it easily despite the rather sketchy directions supplied on their website, checked in, and set off downtown in search of lunch. It was market day, so parking on the street was tight, but we found a space easily enough in the underground "Vinci" garage, the very company that ran the one in Nice where our car was broken into. I'm glad, therefore, that we've made a practice of going to our hotel first, to drop off all our luggage, before going sightseeing and leaving the car at the mercy of thieves.

We found our lunch at Le Grand Café in the Place de l'Hôtel de Ville, facing a statue of Joan of Arc (one of several in the town—she was captured and imprisoned here). After we verified that the tuna was canned (which she can eat) and not fresh (which she can't), CJ ordered a "croque Niçoise"—a slab of whole-grain "pain Poilâne" covered with tuna, tomato, and cheese and run under the broiler. David had a salade Avergnate (sausages, cooked onion, tomato, potatoes, and cheese. I had an "omelette paysanne" (filled with potatoes and lardons), which turned out to be more like scrambled eggs with potates and lardons but was no less delicious for its disorganization. Salad on the side.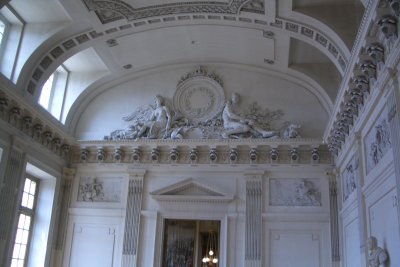 After lunch, we had just time to take some photos of Joan and the town hall before the Office de Tourisme opened. They provided us with a map and an invitation to come back tomorrow for the specially arranged tour of the royal theatre before we set off to visit the chateau, which has served as a residence for the last few Louis's and all the Napoleons. We'd have had to wait for hours for the super-deluxe guided tour, which would have been in French anyway, so we opted for audioguides and viewed just the state appartments—pretty impressive. I especially enjoyed seeing the antique pinball table, on which the balls were actuated with billiard cues, and two matching pieces of furniture: a sofa with an S-shaped back, on which two people sat side by side but facing in opposite directions, called a "confidante" and a matching piece with three curved backs, arranged pinwheel fashion, called an "indiscrète." At the end, we fit in a quick turn (because rain was threatening) in the acclaimed gardens (including the rose gardens, which are normally closed to the public but are open for a few weeks this year only).
On the way back to the car, we passed an old church, now an exhibition space, in which a quilt show was going on! David agreed to stop on the condition that a bench was available for him to sit on while CJ and I looked at the quilts. One was, so we did. Surprisingly, the theme of the show was Americana; several quilts depicted the original 13 colonies, a couple the Lewis and Clark expedition, several the Republican and Democratic parties (complete with elephants and donkeys). The quilters had boned up on state birds, state flowers, state trees, etc., and went wild. It was a hoot! And the space itself was gorgeous.
It must be June. While we strolled around in the course of the afternoon, two different weddings drove by, honking loudly and trailing baloons and ribbons.
Written 17 June 2007
Dinner, at Restaurant Alain Blot in Rethondes, was an adventure to find—in fact it was the first dinner this trip that we had to drive to. Using a combination of the Michelin map of Picardy and maps from the French on-line yellow pages, down to the level of the street, we set off through the Compiègne Forest, going around each rotary twice to make sure we turned the right way. The cavalier signposting of the French is nowhere more evident in this region. For example, for the last few days, we've been making extensive use of the the N3 (for National route 3), featured prominently on all our maps, but nowhere does the road itself admit to being called that—it is marked and signposted everywhere (that it's marked at all) as the D1003 (for Departmental route 1003). Similarly, over a complicated zig-zag path near Compiègne that we've had to negotiate several times, now (to and from the town, the restaurant, tourist attractions), a national, a departmental, and a European route are coexistensive, but at each turn, only one or two of them are marked, so if you're following the E46, and you come to a rotary with six exits, none of which is marked E46, you just have to know that (for about six kilometers along here), it's coexistensive with the D973. At the next rotary, the E46 might be marked, but not the D973. The Michelin Guide gives directions in terms of the names of rotaries: "At the Francport rotary, follow the signs to Senlis, then at the Grand Oak rotary, follow Vieux Moulin." Unfortunately, most of the rotaries aren't labeled. We'd wind up saying, "Well this one is labeled 'United Nations rotary,' so it can't be Grand Oak rotary" and "Okay, this is clearly the monument to the Alsace Lorraine regiment on our left, so that must have been the Francport rotary we just came through."
Anyway, we found Rethondes okay, but it took us three passes to find Avenue Maréchal Foch (in a town that has about six streets total). Once we were there, the restaurant was lovely. They had been hard to get in touch with, not to say outright flaky—I mean, who posts a website with photos and accolades but no contact information other than a street address?! My e-mail to the address I tracked down through other sources bounced back twice. It took me three phone calls to get someone to answer and take my reservation. But they answered on the first try when I called two days in advance to reconfirm, and they were the first place I haven't had to spell "Thistle" twice before they could locate the booking.
The decor is definitely pink. And frilly. Even the large round convervatory room, whose walls are clear glass, seemed pink and frilly because of all the pink roses planted just outside. The wait staff, unusually for France, was entirely female—they could easily have been mother, daughter, and two granddaughters. They were also pink and frilly.
The food was great. First, the menu was quite different from the others we've seen this trip, which have been theme and variations on lobster, langoutines, pigeon, fish, and beef. We all got the 55-euro menu, which took very little modification to accommodate CJ's allergies.
First amuse bouche: salmon rillets with thin, crisp toasts.
Second amuse bouche: miniature grilled ham, cheese, and mustard sandwiches and miniature leek quiches.
Third amuse bouche: outstanding smooth, sweet, tangy gaspacho. Yum.
First course: Foie gras three ways, topped with a sesame cookie and sided by toasted brioche; stuffed with leeks, accompanied by dried-fruit compot; and coated with three peppers and served atop vinegar-spiked stewed pears. Definitely the best foie gras yet.
Second course: A crisp cup (made of toasted crêpes?) filled with creamy white potato salad, of special "ratte" potatoes, topped with a thick thatch of summer truffles. Delicious, but as usual, the truffles contributed little other than texture.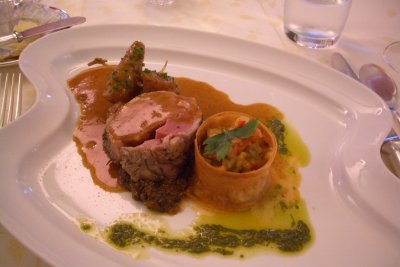 Third course: An extremely tender and flavorful cylinder of roasted lamb (cooked, according to the menu, very slowly at low temperature) accompanied by an intensely flavorful ragout of mushrooms, a crisp crêpe cylinder filled with finely diced ratatouille, and creamy ratte potatoes threaded on little bamboo skewers and roasted with the lamb.
Predessert (which came with everyone's meal): Ice creams and sorbets, accompanied by a small frozen chicory parfait made and served in an individual old-fashioned canning jar. The waitresses carried from table to table a large silver serving piece the size and shape of a punch bowl, presumably filled with ice, with four wells in it, each containing a different house-made ice cream or sorbet and topped by a bell-shaped silver cover. The flavors we were offered were caramel and vanilla ice creams and melon and red fruit sorbets. I chose a scoop each of caramel (so intensely flavored it was the color of coffee) and red fruit, which were scooped before our eyes into a little chilled silver skillet and placed before me. CJ got the two sorbets, and David stuck with vanilla. The parfaits might have been mistaken for coffee; they seemed to be frozen chicory-flavored whipped cream. We're not sure what made them "parfaits," because no layers were involved.
Mignardises: Mignardises seem to be creeping earlier and earlier in the meal. They often come with dessert now, but these came with the predessert. They were crisp pink meringues, yet a third kind of sesame cooky, and two kinds of small fruit-studded cake.
Dessert: David, warm brioche French toast with fresh fruit and apricot sorbet. CJ, "raspberries au gratin," a sort of tall free-standing crème brulée studded with raspberries and glazed on top with a blow torch, surrounded by more raspberries and a lemon sauce. Me, a crisp meringue disk topped with stewed rhubarb, fresh strawberries, whipped cream, and a flat tuile cookie. We all thought ours was great, but CJ declared this the best dessert of the trip so far, at least the equal of that amazing rice pudding at Chez l'Ami Jean.
While we waited between courses at one point, one of the waitresses wheeled out a huge square cake layered with cream and fresh strawberries with a small roman candle in the middle, for the large party sitting in the conservatory. She set the candle off, then stood back while it fountained sparks for quite a long time, then wheeled cake and all back in to the kitchen, whence it later emerged neatly cut into squares and arranged on plates, along with matching squares of something the color of chocolate.
previous entry List of Entries next entry