Thursday, 14 June 2007, Château-Thierry
Written 14 June 2007

Wednesday morning, as David was preparing himself for breakfast, his faithful electric razor, dual-voltage-equipped and veteran of many European campaigns, made an odd noise, emitted a puff of smoke, and stopped.

After breakfast this morning, therefore, CJ and I drove into Fère-en-Tardenois to visit the Super-U and the post office. It was a fine Super-U and made me wish mightily for a kitchen in which to prepare all the wonders available in French supermarkets. But I restrained myself and we restricted our purchases to disposable razors, shaving cream, AA batteries (for the moribund CD player), Michelin road maps of the region, and a liter and a half of Evian for the car (well, for us while we rode in the car; even in France car radiators are not filled with Evian). At the post office, we bought more of those wonderful 20-g international envelopes and asked the nice clerk to weigh CJ's postcards. To our surprise, not only could a 20-g envelope take two postcards, it could take three! Definitely a useful piece of information.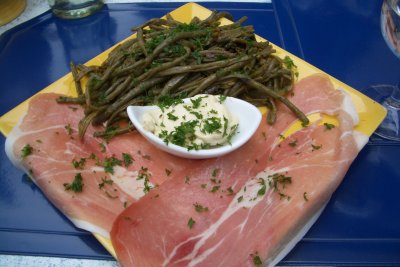 Then, after picking up David and the luggage at Au Fou du Roy, we headed for Reuilly-Sauvigny, where we dropped off our luggage at Auberge du Relais (where we'll be for the next two dinners and the next two nights) before driving into Château-Thierry for lunch. Applying the 100-yd rule, we settled at Le Cigale, where David had a plate of raw ham with delicious braised green beans, CJ had an even better mushroom and tomato omelette, and I had a tasty andouillette (chitterling sausage, specialty of nearby Troyes) with fries and mayo. We initially passed up dessert and coffee, but while we were settling the bill, the skies opened, so we moved inside from our sidewalk table, chose another, and ordered coffee and ice cream.
The rain also gave us time to study the city maps and choose the La Fontaine museum (just a block and a half away) as the next site to visit. It's in the house where Jean de La Fontaine (of the Fables of La Fontaine) was born and lived, off and on, all his life. (Here, CJ and I are standing in front of the disused front door; the main entrance is through the gift shop and rear garden.) The audioguide was excellent; almost every segment ended with, "To hear the fable of the fox and the grapes" (or the lion king, or the tortoise and the hare, or the grasshopper and the ant, or excerpts from La Fontaine's letters to his wife, or what the critics said about his second book, etc.), "press the yellow button." The exhibits included many portraits and statues of the man himself; artifacts of his life and work; editions of his books from the time they were written up until 1970; many, many depictions of his fables in and on everything from stage plays to dolls to paintings and drawings to dishes to wallpaper. A tree in the garden was laden with ripe "tart" pie cherries. CJ and I each ate one; they were quite sweet; the tartness doesn't really develop until you cook them. As we've driven around the region, we've seen many other trees heavy with the same sort of cherries.
On the way back to the car, we strolled by the Office de Tourisme, where they gave us directions to the American War Memorial and the Belleau Wood Cemetery, both of which David and I had visited on our barge cruise through the region back in the 80's. The war memorial is seriously imposing, much larger than the photo really makes clear—we could see it plainly, up on the hillside overlooking the town—but I'm glad we asked, since getting to it wasn't necessarily obvious. On the map of the area engraved on the memorial, David explained the troop movements to CJ and me. The U.S. was only in WWI for a little more than 18 months, so the area between Le Chemin des Dames and the Marne encompasses about the only major campaign it engaged in and the location of most of the American casualties.
The nearby Belleau Wood cemetery, like all the American cemeteries in France, is magnificently kept. CJ and I wandered for quite a while among the precisely aligned white marble crosses and stars of David, looking at the names and states of origin of the thousands of young men buried there. During the last half hour of the day, the carillon in the tall, stone memorial chapel played the Marine Corps hymn, "Yankee Doodle Dandy," and a few other selections. We left just before closing time to visit the German cemetery a short distance away, so near that we could hear taps played over the American cemetery as it closed for the day. In the German cemetery, each cross bears four names, representing two graves, side by side, on each side of the marker. Where the two on one side are of different faiths, an extra marker appears to the side, and each bears one name, one a cross and one, for example, a star of David.
Tomorrow, we'll start at Meaux (where the Brie comes from) and drive the Michelin "Valley of the Ourcq" circuit, which visits several major battlefields and memorials.
Written 15 June
Dinner was very good, though not, perhaps, up to those of the previous two nights. The restaurant was so full that they'd set up tables in what was normally a corridor, so the waiters had to carry everything around through the lobby on the way to the dining room. Once again, we chose the tasting menu (at 77 euros).
With apperitifs: small bits of raw ham, a tall jar of crisp grisini breadsticks (I almost said "pencil-thin," but they were a lot thinner than pencils), and for each of us a little individual dish with a dollop of fromage blanc with chives and one of seasoned eggplant purée for dipping. This is one of my candidates for best amuse-bouche of the trip.
Amuse bouche: Melon three ways: a tall glass of cool melon soup with melon balls in it, a small molded dome of melon gelatin with bits of ham, and a tiny dish of fish and melon ceviche with dill. I took one look and asked the waiter if that dish he had just put in front of CJ had fish in it. He said "Absolutely n— . . . oh," snatched it away again, and went to substitute something innocuous for the ceviche.
First course: Fresh green pea soup with whole green peas, plump langoustine tails, parmesan shavings, and a crisp, paper-thin slice of chorizo. The soup and the langoustines went together well, but the rest seemed superfluous.
Second course: Roasted cod filet with asparagus and morels on a chervil emulsion—excellent. The fish was exquisite and went very well with the rest. As negotiated when we ordered, they served CJ a larger portion of asparagus and morels, without the fish.
Third course: Turbot "truffled" with with slivers of chorizo and roasted, with an algae-butter beurre blanc and quenelles of purple potato. CJ got lobster with spring vegetables. Ordinarily, I find this newfangled matching of chorizo with seafood pretty odd, but this combination worked quite well.
Palate cleanser: Cold cream of fennel soup with bits of cooked green bean, confit olives, and a drizzle of olive oil. I liked it, David (a great fan of fennel) loved it, and CJ (who dislikes licorice) didn't care for it.
Fourth course: Rare roasted breast of pigeon, the mostly deboned and stuffed leg of pigeon, some cooked Swiss chard with a confit tomato slice, and a very vinegary herb salad to set off the richness. Our salads and stuffings included pine nuts, but they omitted those from CJ's portion.
Predessert: Theme and variations on pineapple. Pineapple mousse on a crumbly chocolate-chip crust that they swear didn't have nuts in it (though I had my doubts, and CJ didn't eat it), a quenelle of mango-pineapple (?) sorbet, and a skewer of pineapple chunks poached with golden raisins.
Dessert: Another theme and variations on strawberries. Strawberry sorbet, strawberries with sweetened strawberry sauce, a little almond spongecake with pistachio cream on top, strawberry cream between layers of pastry, and a glass filled with compote of rhubarb and topped with streusel and more strawberries. All excellent.
We wanted to take a stroll after dinner, but it was raining slightly, so we just stood under the roofed gateway to the courtyard and enjoyed the night air.
previous entry List of Entries next entry