Tuesday, 12 June 2007, Fère-en-Tardenois
Written 13 June 2007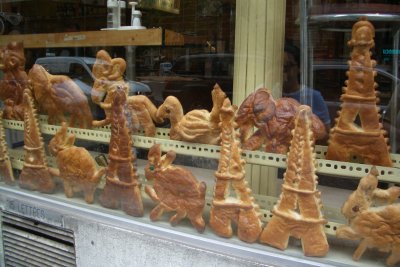 David decided on another lazy morning, so CJ and I headed off alone to see the Musée Jacquemart-André by ourselves. (We passed this whimsical bakery window on the way.) It was even better than I remembered. The Nattier of Mathilde, countess (duchess?) d'Antin, whose poster hangs in our livingroom, was there, of course, as was any amount of wonderful art both that I remembered and that I'd forgotten. The museum was the private home of a married couple, Ms. Jacquemart and Mr. André, who were amazingly good art collectors. She was also a painter in her own right. They travelled extensively, buying things that struck their fancy, and because they had such good taste, lots of it by people who later got discovered and really famous. They were also very responsible collectors; they instructed their agents not to outbid French museums (then woefully underfunded), and they sometimes just bought things outright and gave them to the museums. When they died, childless, the collection and the house built to display it were given to the French nation. It's the first museum where we ever encountered the now widespread hand-held audioguides, where you punch in a number posted next to some work and hear a little treatise on that work, in the language of your choice. Its audioguides are still the richest we've ever encountered. Every room has a number, as do several works in each room, and almost every audio segment ends with several cross references to further information, like more information on the couple's travels, how they chose what to buy, Nellie's painting career, how André made his money, what parties at their house were like, how the mechanisms worked that slid whole walls out of the way to open up most of the ground floor into a ballroom, etc. It really is a marvelous house; CJ wants to move in. Too bad they don't allow photography of any kind, even without flash.
We had lunch in the museum's restaurant, but the service was so slow that we ran short of time for the metro, so we caught a cab back to the hotel, getting there (whew!) just in time to meet David and catch the shuttle we had arranged to take us to the airport.
Picking up our rental car (shown here a couple of days later) at the airport entailed more paperwork and keyboarding than buying the Clio did back in 2005 (!), but they finally sent us out to the lot to collect our grey Nissan Note. It's a little bigger than the Clio, for the same price. We packed it up (not everything will fit under the hatchback cover, so one suitcase has to go in the back seat). We won't be able to use the right rear door, because the latch is broken. Once it's opened, it's hard to reclose securely—it swung open unexpectedly as we were driving out of the parking lot!
Written 14 June 2007
Once we were well away from the airport, the drive became scenic. We never did find the D80, which was supposed to take us to Fère-en-Tardenois, so we just drove around by a different, slightly longer route and found the place without difficulty. We had tried to stay at l'Hostellerie du Château, on the grounds of the ruined local chateau, but it was booked up (seems there's a conference meeting there), so we booked two nights at its restaurant anyway, then looked around for another place to stay. On the internet, I found Au Fou du Roy, a bed and breakfast located just at the foot of the chateau's driveway. (It's the place that wanted its deposit wired because it doesn't take credit cards.) It has turned out to be just great! Proprietor Nicolas Perraud and his significant other bought it about 15 months ago, worked furiously, with the help of friends and family, and opened for business about a year ago. The result is wonderful. It's an old stone building (a restaurant a hundred years ago) covered with ivy. As you might gather from the name, the theme of the place is the king's jester, so jesters figure largely in the decor, which is comfortable, beautiful, and elegant. The five rooms are all different, all extremely comfortably furnished, and the plumbing is a marvel—no concerns about getting a real shower here; I've already heard one other couple staying here say they're measuring and taking down all the specs so that they can go home and have their bathroom remodeled to match.
I'm sitting in the conservatory (full of large houseplants in addition to the blooming orchids sprinkled throughout the rooms and the rest of the house), overlooking the covered pool, the goldfish pond, the patio with arbor and concrete barbecue grill. The garden includes fruit and fig trees, a decorative spiral hedge framing a topiary, a gazebo, rose beds, a pétanque court, and young but beautiful plantings, some of them mulched with old champagne corks! The flower beds flanking the front entrance are planted with culinary herbs (CJ is delighted that they have parsley, sage, rosemary, and thyme.)
Behind me, the large dining-room table is set for seven for breakfast, and beyond that are the billiard room (which houses a big-screen TV in addition to the billiard table) and the salon, which has a large central fireplace, comfortable chairs, and a small library. The chorus of birds is the loudest and busiest we've ever encountered in France. In the evening, the table is reset for "table d'hote" service, gourmet dinners for up to 20 people.
At dinner time, we strolled up the driveway to the Hostellerie du Châateau. Its stately lawns are home to dozens of rabbits.
We started with apperitifs on the terrace while we studied the menus. With David's champagne and CJ's kir, they brought little slices of ham-pistachio cake, tiny gougères, and tiny pizzas. When we had ordered and our table was ready, they showed us into the dining room. The hotel is booked solid with a conference of some sort, but all those people were dining elsewhere, so the restaurant was half empty.
Amuse bouche: For David and me, langoustine and salmon terrine, a crisp sesame cracker, and a fried quail's egg; for CJ, the terrine was replaced by confit cherry tomatoes, a common garnish in this restaurant—they must poach hundreds of them daily.
First course: cold foie gras with brioche toast, ratafia jelly, red fruit compote, and a stripe of balsamic reduction.
Second course: warm sautéed lobster on a risotto of quinoa and herbs.
Third course: filet of St. Pierre on a slice of eggplant, sided with a deep green purée of sorrel For CJ, they substituted a plate of beautiful asparagus, with which she was delighted.
Palate clenser: a little ball of mixed-herb sorbet (I could taste rosemary in it) drizzled at the table with charteuse liqueur.
Fourth course: rare roasted squab (CJ's first) with spring vegetables. Excellent, juicy and tender.
Fifth course: assortment of four chocolate desserts (chocolate cream with a ball of mint ice; tiny mi-cuit; multi-layered cake with coffee, chocolate, and hazelnut ganaches; white chocolate mousse with a raspberry. For CJ, they substituted other little chocolate things for the mi-cuit and the cake.
Sixth course, chef's surprise dessert: Warm soup of fresh cherries with chocolate chip ice cream. Mignardises: red fruit paste, tiny cannellées, little molded chocolate things.
As usual, the portion sizes were carefully controlled, so we weren't too overstuffed at the end, but we were still glad that the walk home was all downhill . . . .
previous entry List of Entries next entry