Sunday, 10 June 2007, The Musée d'Orsay
Written 11 June 2007

The hotel's breakfast buffet was quite good: hot sausage, bacon, ham, potatoes, and scrambled eggs (plus eggs to order), all of which we ignored; the usual breakfast pastries and baguettes with butter, jam, etc.; whole and cut fruit; several juices; cold ham, salami, pickles, and brie; yogurt and applesauce; three cereals. David and I had good (although instant) cafe au lait.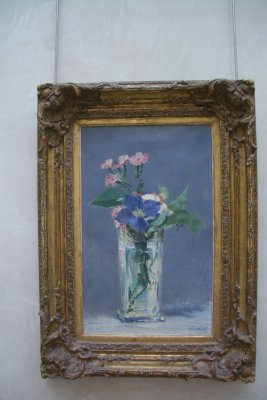 We timed things to set off for the Musée d'Orsay to arrive at opening time, 9:30 a.m.. We stood in line for maybe five minutes while a large busload of students got checked in. Then, according to the usual strategy, it was off to the back wall to take the long escalators all the way to the top, to start with the impressionists before they got crowded. They were there, as usual (although it seemed as though more stuff than usual was out on loan), and as usual, with the exception of a few individual works (often still lives), they were less to my taste than the slightly earlier pre-impressionists and the slightly later realists. We remember this lovely Manet from the Impressionist still life exhibition in Washington a few years ago, which we loved.
Our arrival at the museum's beautiful restaurant for lunch was also perfectly timed. They opened at 11:45 a.m., just as we joined the line, so we were seated immediately. Alas, the salad and hors d'oeuvres buffet of yesteryear is no more, replaced by a brunch buffet. We passed on that and ordered from the menu.
With David's champagne apperitif, they brought a dish of peanuts mixed with golden raisins and a tall glass of green olives, raw onions, mushrooms, and bell pepper squares in an herby lemon marinade—delicious. At a nearby table, a two-year-old girl was shrieking at the top of her lungs, but she was instantly quieted when given one of the marinated olives on a skewer. She spent a long time licking and sucking it like a lollypop before eating it with obvious relish and then shrieking for another. This was her pattern throughout the meal—shriek uncontrollably until given something to eat, eat it slowly and with great enjoyment, then shriek uncontrollably for the next. We came to know her shriek well and could trace her family's progress through the museum in the course of the afternoon as it floated to our ears from various galleries.
After we shared a plate of cold foie gras with toast and excellent aspic (cut into the shape of the museum's stylish trademark apostrophe, as in "D'O[orsay]"), David had the special: plain white fish with curry sauce and couscous tabouleh. CJ got the cheese plate with arugula salad (camembert, reblochon, livarot, St. Maur, fourme d'Ambert); until recently, she was allergic to diary products, so she's experimenting, beginning to learn her preferences in cheese. I got the frisée salad with lardons, croutons, tomato, and a poached egg. For dessert, we split the three scoops of ice cream that came with David's special (coffee for CJ and me; chocolate for DT), just as the two-year old was plowing through two of her grandmother's scoops (all chocolate, all the time).
We found CJ's beloved Bouguereau "Birth of Venus" right where it usually lives, in the "Salle des Fêtes," but my beloved Millet "Le Printemps" was missing from level 2—I found it later, down on level 0, in a "Millet and Corot" room, poorly lit and suffering from it.
Here, CJ and I pose by a sculpture in the main hall while David takes our picture from one of the other levels. We eventually hit every room, though of course we spent more time some places than others, before returning to the hotel to rest up for dinner. As I worked at this diary in the lounge, Nadal was ahead of Federer in the French open. CJ's dad, tennis fanatic, is in utter disbelief that CJ is in Paris during the open and that we're not spending all our time there.
We took the metro to Beaubourg for dinner at l'Ambassade d'Auvergne. It's not the same location, but it could be the same restaurant that Françoise, took me to years ago, over on the left bank.
While studying the menu, we munched on dark bread, sweet butter, and an outstanding rillettes/coarse paté sort of thing.
CJ started with rabbit terrine, then progressed to duck magret with aligot, then stawberry gaspacho with basil sorbet. That's the aligot beside the duck breast; the waiter makes a sort of leaf pattern on top with the edge of the spoon after putting it on the plate.
David opted for warm lentil salad with lardons, magret with aligot, and chunky rhubarb soup with fresh mint chifonade.
I started with langoustine (Nephrops norvegicus) tails sautéed with sesame seeds and a couple of cherry tomatoes, served warm over baby spinach (excellent); then veal liver sautéed with tiny sweet onions (good but I've had better) and ragout of new broad beans and carrots (and aligot, of course, which I ordered on the side); then the same rhubarb soup.
Aligot is an Auvergne specialty, rare outside the region even in restaurants, consisting of mashed potato beaten with an almost equal volume of grated cheese (preferably young tome de Savoie) and a somewhat smaller amount of crushed raw garlic. The mark of a good one is that you can lift and stretch it four or five feet out of the pot—each time it was served (to virtually every table), the waiter brought a copper pot of it to the table and demonstrated that it stretched readily from the pot, held as low as he could reach, to the wooden spoon, as high as he could reach. It was delicious.
As we strolled back to our hotel from the Ségur metro stop, we were again struck by how quiet and calm Paris has been these last two days (and by our impression that 90% of the people we encounter, on the street, in the metro, in restaurants, are speaking English or Italian). Monday will provide an interesting comparison.
previous entry List of Entries next entry