Paul's Party
Saturday, I was ready for a break from the Café on the Square breakfast, so we went to (yes, I admit it) Starbucks. Honest, there wasn't any other bakery with tables and chairs for blocks around. The pastries were quite good, and to my surprise, the coffee was served in large stonewear mugs rather than paper cups.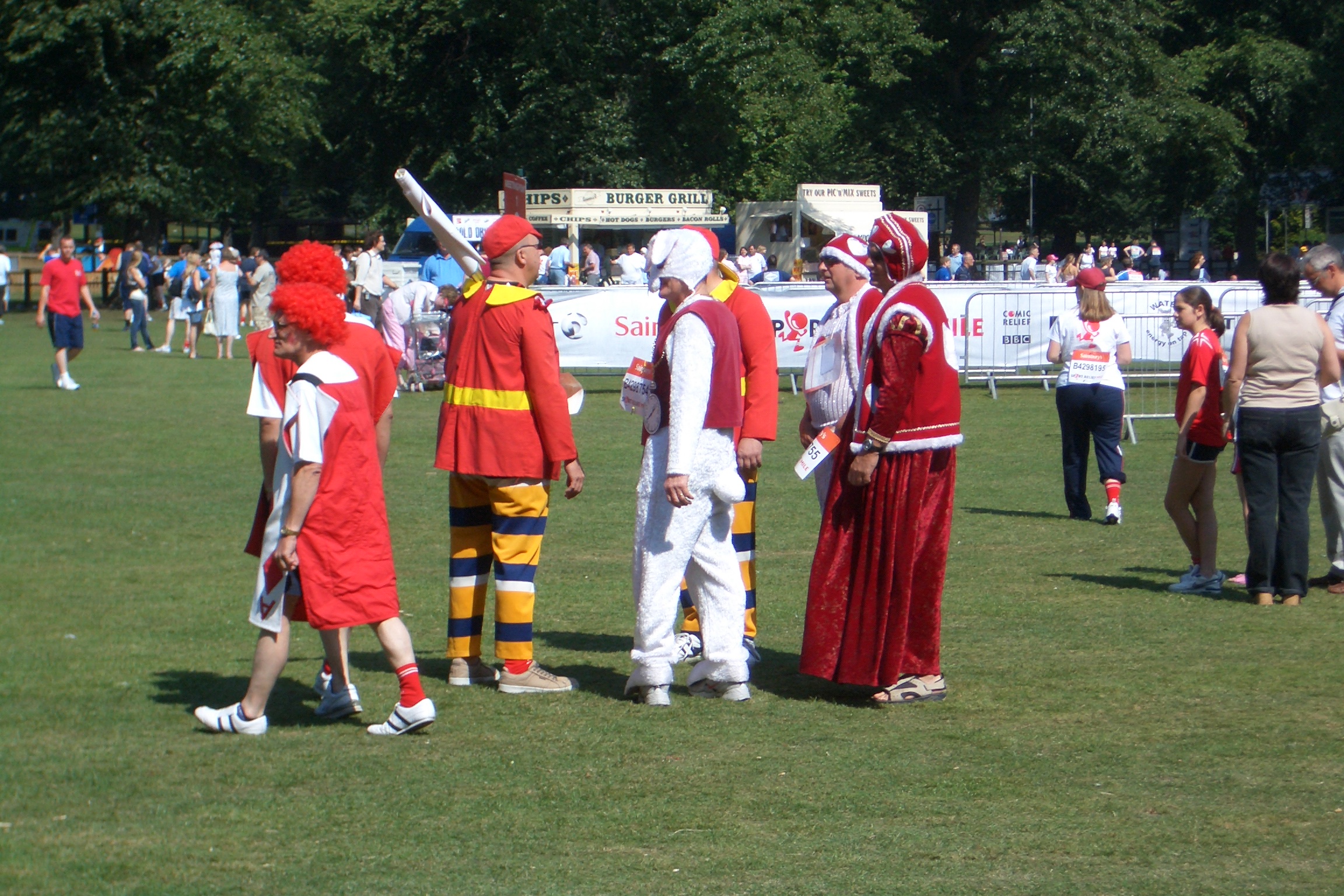 The large park across from Kimber Hall was teeming with runners preparing for a series of one-mile fun runs for charity. They were being led in warm-up aerobics by an energetic young woman on a portable stage, whose moves were repeated nearby on what proclaimed itself "the world's largest mobile LED screen." Many runners were in uniform or costume. I spotted Alice and the Mad Hatter, and these other folks can only be part of their entourage (one seems to be a white rabbit, and the guy on the left is wearing a giant playing card). The day's special guests were the British women's rugby team, who were standing around in front of the VIP tent in the background behind Alice.
David hadn't had a chance to walk the Southampton walls, so we did a more thorough walk around them than I had had time for earlier. Friends had recommended The Grapes on Oxford St. for lunch, but they don't do food on weekends, so on their recommendation, we went across the street to the London Hotel pub, where David has an excellent Stilton ploughman's (I know, 'cause I filched quite a bit of his Stilton), and I had a delicious ham, brie, and tomato panini.
From there we walked down to the Oceanography Center to catch the shuttle van to Paul Tyler's long-awaited, gala 60th birthday garden party. His actual birthday wasn't until the following Monday, but all his friends and colleagues were in town for the meeting. I understand the guest list topped out at about 110. I've described Paul and Mandy's beautiful house, Pen-y-Fan, on Frog Hill, Frogham, in the "Southampton" entry of my 2005 sabbatical diary. Mandy took a couple of days off during the week just to groom the garden, which she is perennially diappointed in but which is always drop-dead gorgeous. She had rented a large square party tent, as well as portable restrooms from an outfit called "Classic Loos." The menu was a mixture of home cooking and take-out from Marks and Spencer .
The birthday boy spent most of the beginning of the party serving drinks, but here he is later, chatting with some of his guests. After we'd all had time to chat, tour the garden, admire the fruit trees and the lily pond, and give Paul a hard time about his age. Mandy opened the buffet supper, which included, among other things, cold poached salmon garnished with shrimp, mayo, and asparagus; platters of ham, roast beef, turkey, and pork; three kinds of pâté en croute; three kinds of quiche; vegetarian loaf; green salad; potato salad; pasta-and-salami salad; coronation chicken (chicken salad with curry and mango chutney); coleslaw; plates of olives, pickles, and pickled onions; and a big bowl of tomatoes.
For dessert, Mandy had made a big bowl of fresh fruit, purchased a lemon cheesecake, and baked several of her signature Pavlovas (some strawberry and some kiwi), and just because it was England in the summer, set out a huge bowl of strawberries and a large pitcher of cream.
And just when we thought we couldn't eat another bite, Mandy brought forth the beautiful, beribboned birthday cake!
The restrooms had to be seen to be believed. The company apparently bills them as "as used by the Queen," although Mandy remarked that they could not guarantee that the queen had used these particular ones. On the outside they looked like a big blue trailer. On the inside, wood panelling, marble counters, porcelain sinks with golden fittings, a selection of toiletries. I've encountered worse in three-star hotel lobbies!
When the sun was setting, empty wine bottles were stacked like cordwood behind the garden shed, and Paul had been well and truly fêted, we piled back into the shuttle vans and headed back to Southampton. These people really know how to thow a party!