13 July 2006, The Isle of Wight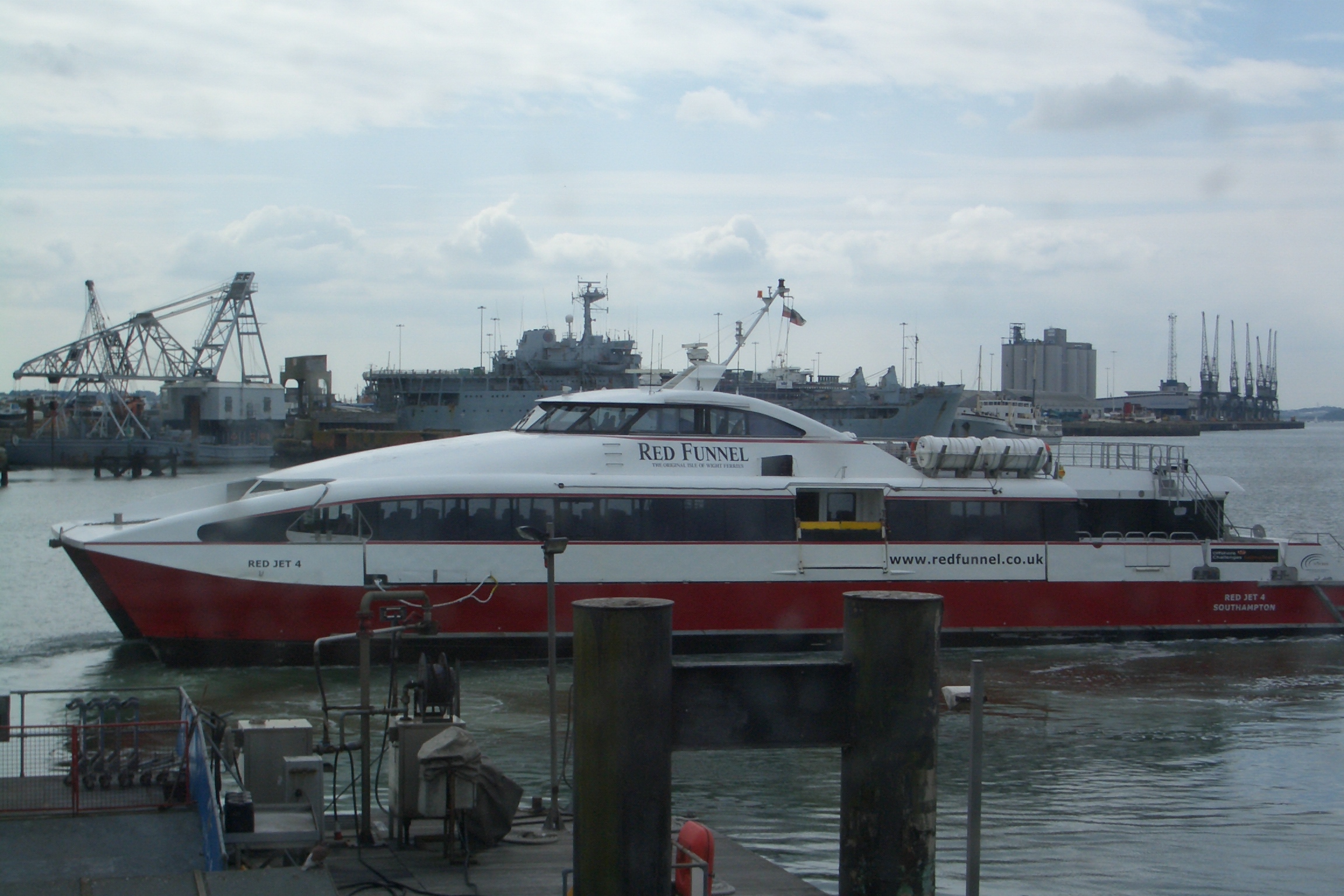 Thursday, for David and Buz, it was back to the salt mines, so Kathy, Tristan, and I walked down to the docks and took the ferry to the Isle of Wight. We took the "fast service," for foot passengers only, which makes the crossing in 25 minutes. The "regular service" (which carries cars) takes about 45 minutes, and there's a hovercraft (from Portsmouth to Ryde only) that does it in 10 minutes. In Cowes, where the ferry lands, we bought day passes to the buses and set off touring. We had hoped to visit two castles, but in the end we were seduced by a lovely lunch in Yarmouth and had time for only one.

After walking around the streets of Cowes for a few minutes, we caught the No. 1 bus (which starts right at the ferry terminal) to Newport, in the center of the island. From there, we got the bus to Yarmouth, site of Henry VIII's last castle. (Once Henry had fortified the entire mainland coast, the French were left with nothing to raid but the Isle of Wight, hitherto not considered worth fortifying, so after a couple of raids, Henry built them a fort, too.) It's small as castles go—8 or 10 rooms, including the Town Gunner's residence—but mounted a number of guns and was apparently quite effective at defending the port and the Solent.
After touring the castle and part of Yarmouth, we had lunch at Salty's, which promised (and delivered!) excellent local seafood. Kathy had a cold lobster with mayonnaise, I had a cold tourteau crab with mayo, and Tristan had a large slab of battered cod and chips. On the side, they served a large plate of lettuce and excellent local tomatoes dressed with oil, vinegar, and herbs.
We then caught the open-topped tour bus (included in our day passes) for an hour's circuit through Colwell Bay, Totland, Alum Bay, Freshwater Bay, and back to Yarmouth. The bus ran only every hour, so we didn't get off, but we caught a glimpse (in Alum Bay) of the famous "Needles"—eroded limestone pinnacles that mark the spot where the downs trail off into the sea— and the colored-sand beaches on the way by. The whole ride was very picturesque, and we even saw the proverbial warrens of rabbits on the hillsides—rabbit colonies almost like prairie-dog towns, in which the hillside is dotted with mounds marking burrows, each with a rabbit sitting next to it.
The open-top tour was great, but it ran us a little late for the tour of Carisbrooke Castle near Newport, so we just changed buses there and headed back to the ferry terminal. Tristan's fond of insects and spotted, caught briefly for inspection, and released many specimens in the course of the day. This Vanessa atalanta ("red admiral" in English; "vulcain" in French) is perched on the clear wall/ceiling of a glassed-in walkway at the ferry terminal.
Buz had brought a special bottle of wine from Australia to share with David, and they didn't feel that a curry dinner was the ideal accompaniment, so on the way back from the ferry terminal, Kathy and I stopped in to make a reservation at La Parisienne, a French restaurant we had spotted in the High Street. They agreed that we could bring our own bottle of wine but warned that they would charge 25 pounds corkage fee (!) to open it for us.
Back at the conference center, though, we found that Buz hadn't thought to bring the bottle with him that morning, so rather than trek all the way back to Kimber Hall to fetch it, then pay 25 pounds corkage, he decided simply to send it home with David. So we went to La Parisienne anyway, and drank their wine instead.
First course, David: Sautéed sea scallops.
First course, Anne: "Salade Parisienne," a bizzare concoction that I think was supposed to approximate the composed salads we were getting in France, but just about everything in it was a substitute for something else (slices of chicken breast fried crisp, English-style bacon, flakes of Parmesan), and it was made with caesar dressing, so I doubt a Parisian would have recognized the intent. Tasty enough in its own right, though.
Second course, David: Pork tenderloin in a mustard sauce. Bundle of tiny French green beans, grilled tomato, square of bakd ratatouille.
Second course, Anne: Rare breast of duck with creamy peppercorn sauce. Same accompaniments.
Dessert, both: Apricot tart.