10 July 2006, Southampton and Winchester
Our lodging at Kimber Hall included breakfast daily at Café on the Square, adjacent to the conference center. It was the same every morning: steam-table trays of bacon (British bacon, more like ham, served limp rather than crisp), sausages (the same "bangers" served with mashed potatoes in pubs), beans (what we would call "pork and beans"), mushrooms (whole sautéed mushrooms, rather watery), and scrambled eggs (tinted greenish-gray where they touched the metal tray they were cooked in), in that order, doled out in meagre portions by a timid teenager in her first summer job. Baskets of cold toast (toast is always served cold in England; I think there's a law), butter, strawberry jelly, orange marmalade, OJ, apple juice, coffee, and tea (cereal, apples, and bananas on request).

After breakfast, David went off to the first meeting session, and I went shopping for toiletries (Kimber Hall supplied only the bare minimum), then wrote until mid-morning, when I rendez-voused by prearrangement with Kathy and Tristan, and we all set off for Winchester, just two stops (about 15 minutes) up the rail line from Southampton. David and I had been there briefly during last year's sabbatical, with local friends Paul and Mandy Tyler, but we hadn't really had time to explore.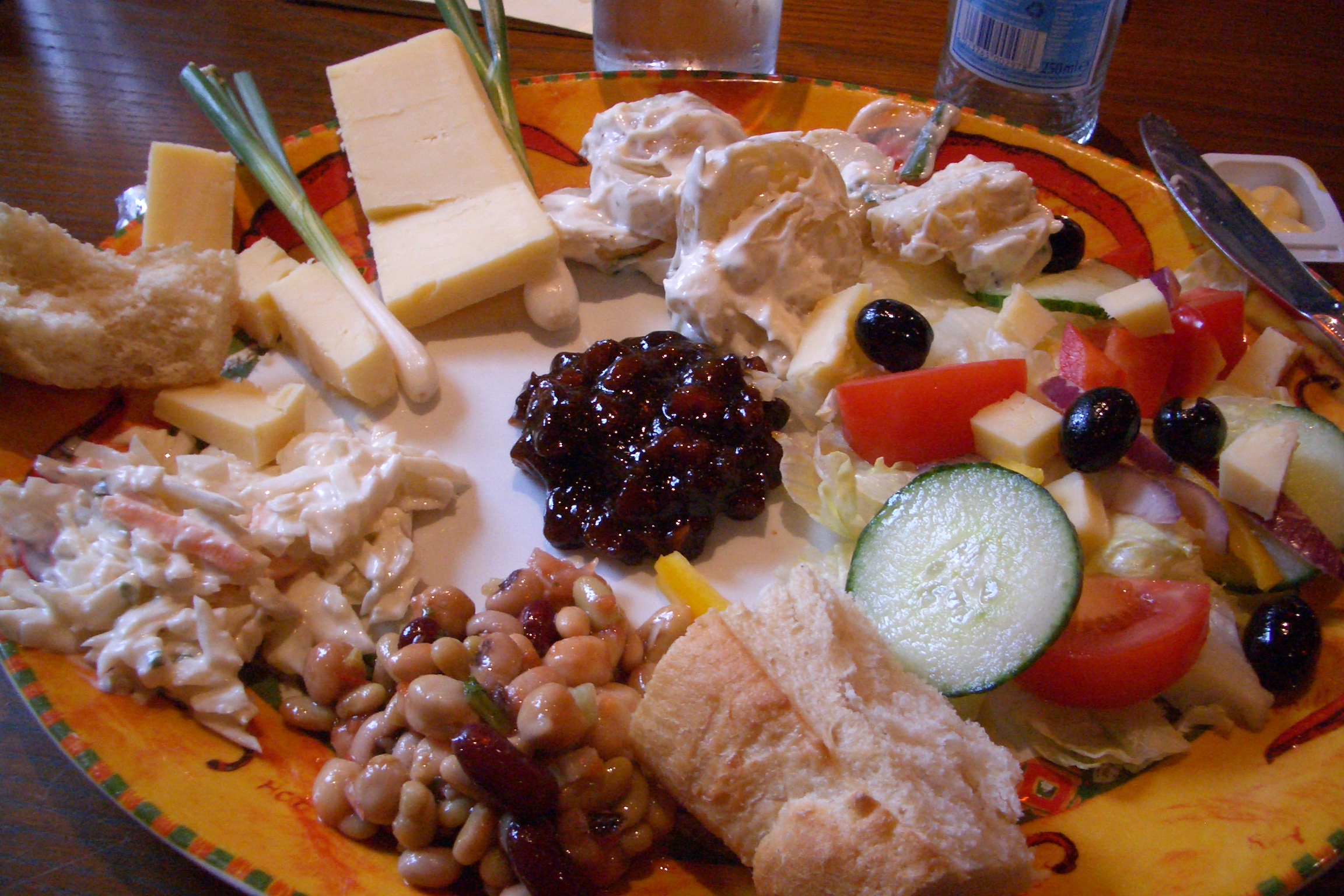 Kathy, Tris, and I had lunch at a pub. Tris and I ordered the "ploughman's lunch" and Kathy had bangers and mash (sausages and mashed potatoes). Traditionally (or at least originally, since it was invented within living memory to accompany "real ales"), a plougman's lunch consisted of a large chunk of crusty bread, a large chunk of cheddar, a somewhat smaller chunk of butter, some lettuce and tomatoes, a couple of pickled onions, and a spoonful of Branston pickle (diced pickled vegetables in a dark brown, sweet-and-sour sauce). Variants quickly developed; one could choose to replace the cheddar with Stilton, Brie, ham, or pâté. Now, it has sometimes evolved to near unrecognizability. Tris's and mine had the cheddar and the indispensible Branston pickle, but the bread had gotten pretty soft; the butter and shrunk and withdrawn into a little sealed single-serve packet; the pickled onions had morphed into fresh, raw scallions; the lettuce and tomato had been joined by cucumbers, olives, red onions, and more cheddar; and potato salad, coleslaw, and bean salad had somehow found their way onto the plate! Kathy's bangers, though, were entirely traditional—copious, smothered in onion gravy, and including almost as much starch in the sausages as in the potatoes.
Winchester cathededral features amazingly carved wood work, among many other elements, but I was rarely able to hold the camera steady enough to get good pictures in the dim light. The cathedral is also famous for having been saved from collapse in the early 20th century (or maybe the 19th?) by a hard-hat diver (I've forgotten his name, but there's a statue of him in the walkway behind the choir) who spent days underwater reinforcing the submerged foundations.
We caught the train back to Southampton in plenty of time to greet David and Buz as they emerged from the last session of the day. After beers at a neighboring pub, we set off in a party of nine (us, the Wilsons, the Icelandic contingent, and a Norwegian) looking for dinner. We settled on Junnes for Indian food, where, for such a large party, we ordered sort of "one of everything."
Starters: lamb kefta, fried veggie balls, chicken tikka, prawn samosa, etc.
Main courses: Naan, chicken tikka massalah, lamb biryani, two baltis, tandoori chicken, sag prawn, veggie patia, an incendiary chicken vindaloo (for Tristan), and a bhuna. Rice. Excellent. On the way out, the Icelanders spotted an Icelandic family at another table (apparently they all know each other on sight) who just happened to be vacationing in Southampton and stopped to chat.